Question Time: How Do I Undo Or Replace My Rolex Strap?
Arguably the most revered horological brand of all time, Rolex has created some stunning watches since its inception in 1905. With stunning models like the legendary Submariner, the revered Daytona and the classy, newly released 1908, one thing is common. There is always the opportunity to swap and change the band according to each model.
From the luxury of the leather strap to suede, nato, denim and even their own creation, The Oysterflex bracelet, they allowed the user every opportunity to suit the timepiece for every occasion. Without further ado, join us as we guide you through the details of how to undo or change your strap.
What Are The Types of Rolex Straps?
Oh, Rolex does love a good strap. And as such, they were not content with just one. Below are the different types that you will invariably have if you own a model.
The Oyster Bracelet
The Oyster Bracelet is typically associated with those sportier models.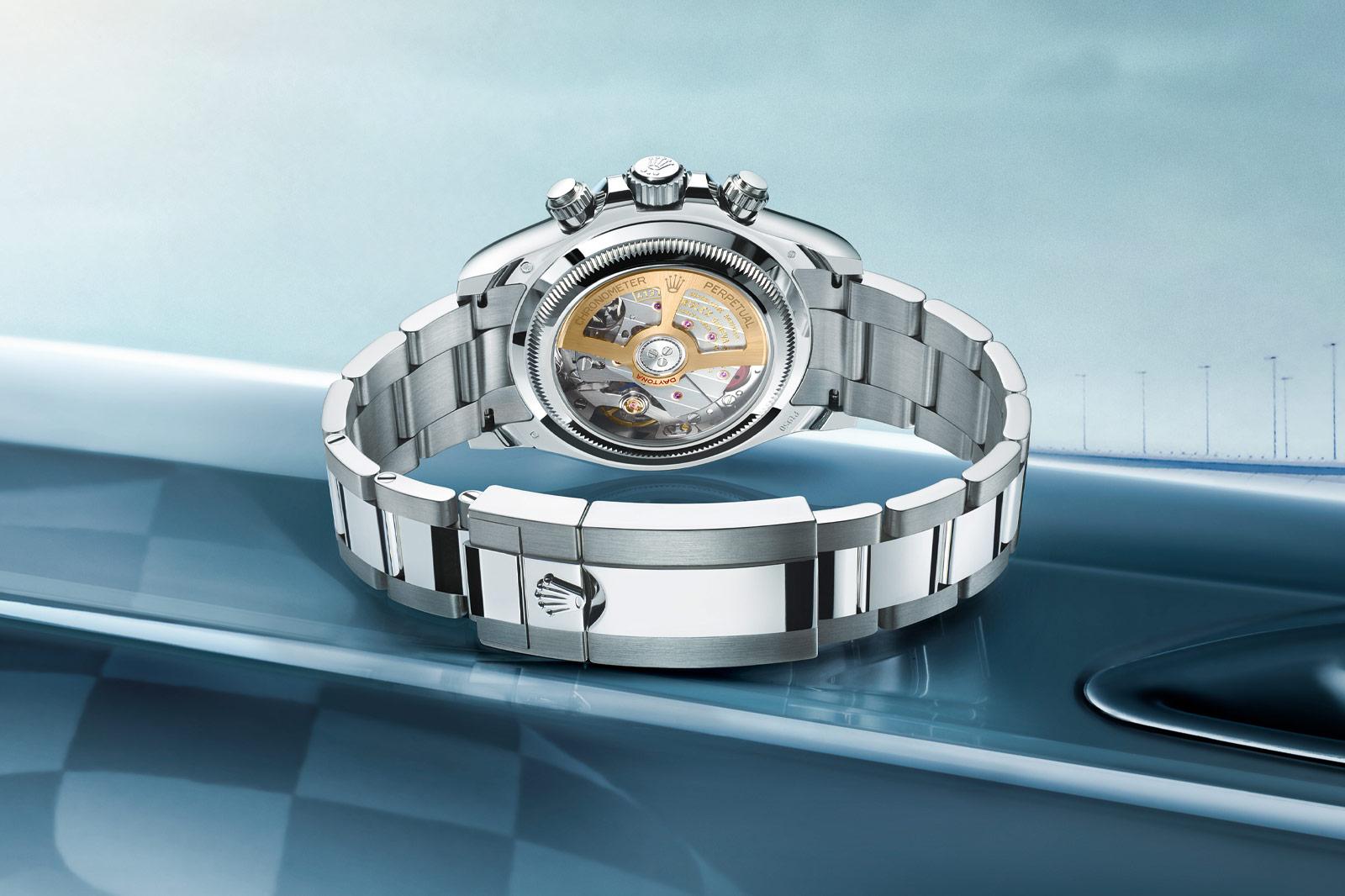 Daytona Cosmograph - Source - Oracle Time
For models such as the Rolex Submariner, The Daytona and The Yacht-Master, there is a common theme of it being associated with durability and robustness, especially those associated with being outside exposed to the elements. If you happen to own one of these Rolex models, you will have noticed that the links that make it up tend to be square in design and built to be resilient. The links are crafted to be interlocked and secured with a pin which enhances the strength of it.
It's not built to be as hollow as a tree. In fact, the links are wide and when typically finished in a beautiful brushed or polished effect, it can be worn in formal settings due to the precise craftsmanship. With the ability to be crafted in a variety of materials, including precious metals or even in two tones, it comfortably enhances the timepiece effectively.
The Jubilee Bracelet
Introduced in 1945, The Datejust was the first model from Rolex to proudly adorn this specific bracelet.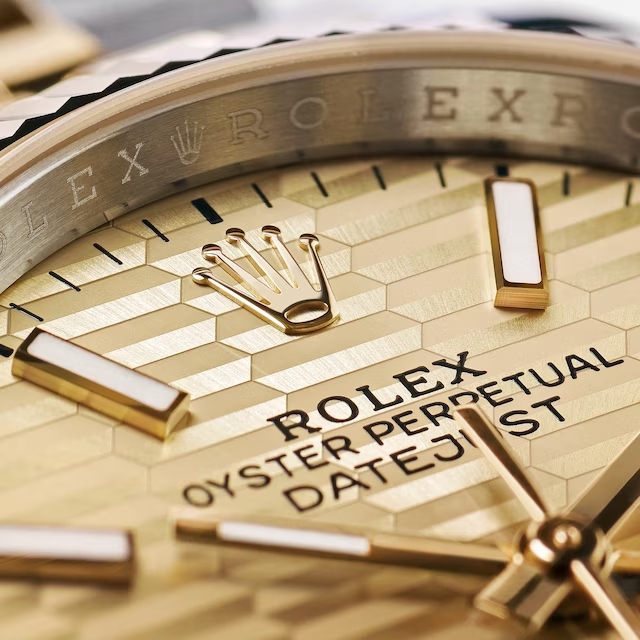 Datejust - Source - Rolex
If it's good enough to end up on a Rolex Datejust, it's certainly associated with wealth and luxury. It is designed with smaller links which show gaps in it. Don't worry folks, this is an aesthetic choice and not some cheap rendition of the Oyster! As is the same as the Oyster bracelet, it has the capability to be crafted from a wealth of materials such as yellow gold or titanium. What we can say, is if you are wearing a Rolex Datejust, we suggest that the precious metal adaptation of the bracelet is a surefire winner!
The President Bracelet
The President Bracelet is as rare as spotting The Yeti due to its infrequency on Rolex models.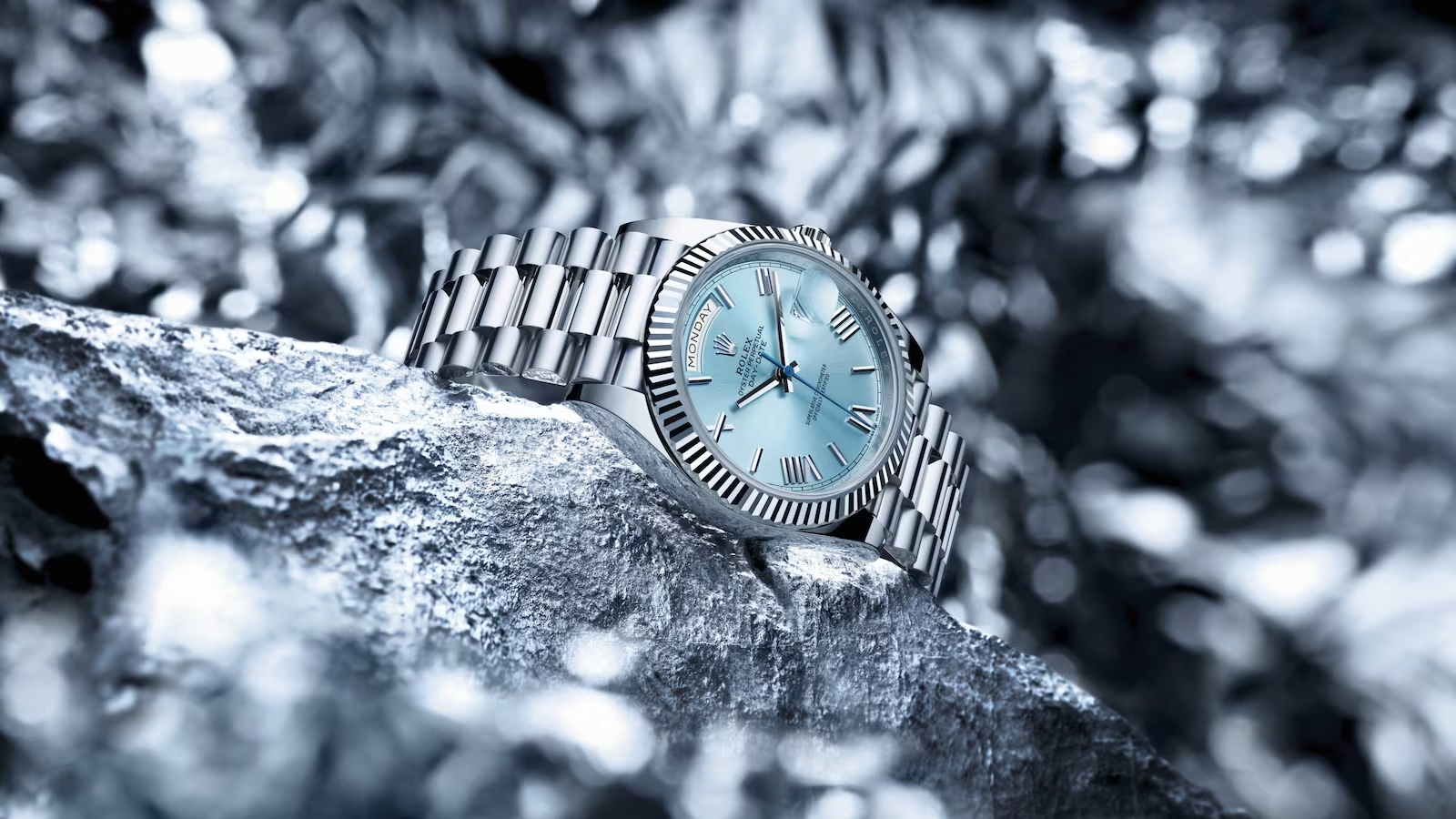 DayDate, Source - Rolex
Its use on models is very few and far between. In fact, it's only noted that the President Bracelet is on the Day Date and the Lady President, two very expensive, Haute Horlogerie watches that are associated with those with deep pockets. Available in a few exclusive materials such as solid yellow gold, white gold, rose gold and platinum materials, all of which are on the pricey end in relation to steel. This is a genuine piece for the elite amongst us.
The Pearlmaster Bracelet
Released in 1992, it is the most avant-garde creation out of all of them. Since it is so unique, it is only available on the Pearlmaster and may we say, it suits it like a charm! As per its instantly identifiable build, it is only available in gold, white gold and rose gold. It is also available in the extremely rare 'Tridor' which is a combination of all three types of gold.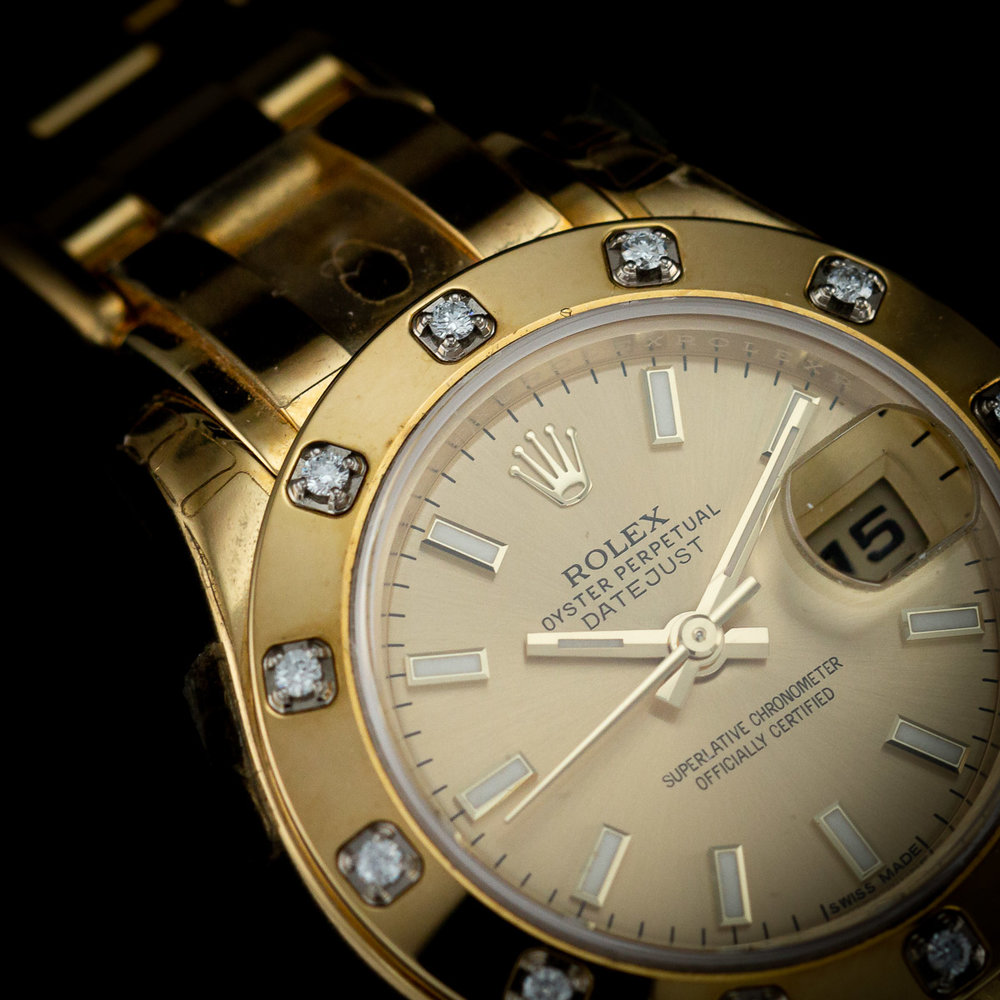 Pearlmaster - Source - Regal Time
It utilises two styles of interlocking links which are both horizontally and vertically connected, resulting in a seamless design and one that we can't get enough of at Chrono Hunter!
Leather Strap
Leather straps are something that is fairly common with Rolex watches.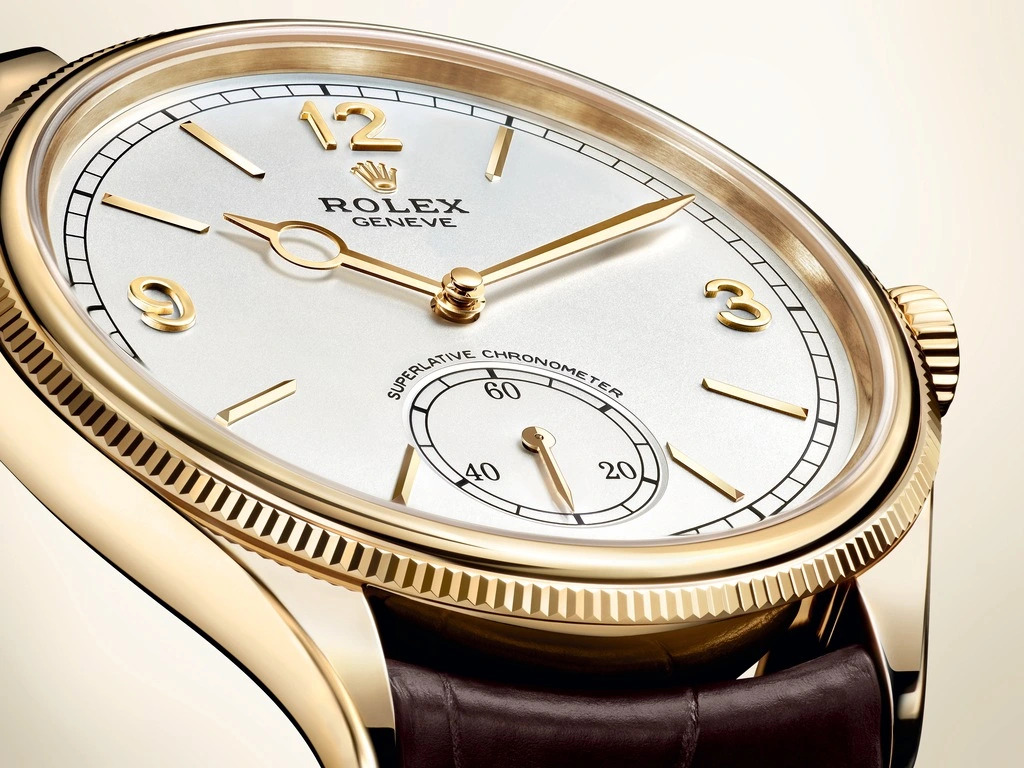 Perpetual 1908 - Source - Italian Watch Spotter
They usually accompany each of its designs and can de-formalise the most professional of watches. Suffice to say, they aren't built using cheap materials, rather, they are crafted with only the finest leather on the market. The only watch that was built as the primary band was the Rolex Cellini. As we know, this has since been replaced during Watches and Wonders 2023 with the very formal and spanking new Rolex 1908 which utilises alligator leather. Ideal for those fancy dos or showing off at an office party.
OysterFlex Bracelet
Rolex created the Oysterflex as their own spin on the standard rubber band that some brands produced such as Tudor on the Black Bay 54 model.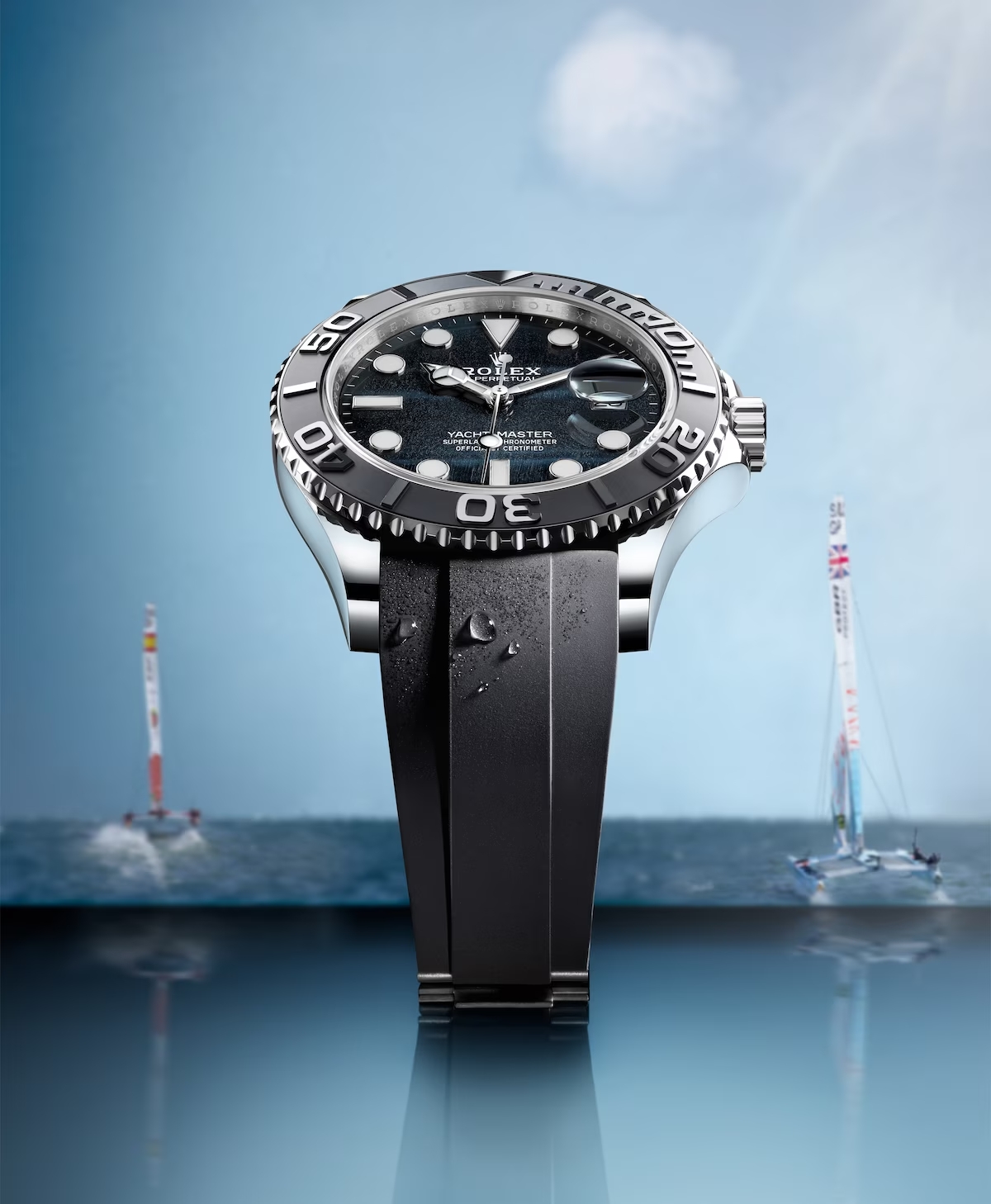 Yacht-Master - Source - Rolex
First seen on the Everose Yacht-Master in 2015, it is crafted out of titanium and a nickel alloy and then coated in elastomer. Both flexible and durable? Yes please!
How To Remove The Rolex Bracelet Or Strap
Unlike that brand new Prada coat, these aren't as easy to take off or remove as you may originally think. You simply can't use your fingers to unlock it from its hinges, in fact, you'll need a few bits and pieces in order to get it off and put your new one on. The key things you will need are;
A clean and soft towel or cloth to position your Rolex watch on to deter any abrasions.

A bowl or small tray for all those essential pieces.

A spring bar or if you don't have that to hand, a pin, a small cocktail stick or a SIM card inserter to reach into small nooks and crannies.
Without further ado, here is the key information on how to change your strap or bracelet!
Check The Lug Hole On Your Rolex Watch
Now, it's important to take your time and check the lug situation when you buy a Rolex. The lugs are the metal parts of the watch that stick out from either end of the case. It's on these specific elements that you will notice the bracelet is connected to. If you can see any holes on the sides of the lugs then jackpot! You've hit the lottery as the holes make changing it significantly easier.
However, if the lugs don't have holes, fret not, timelords. The method of changing the bracelet is a little different but still very much do-able. We can generally predict what watches have holes in the lugs due to the age of the models. Typically, the older the watch, the more likely to have holes in the lugs. In fact, it was towards the end of 1994 on Oyster models like the Rolex Explorer, Air-King and Datejust finished using lug holes. Newer models aren't so lucky and typically don't like the professional watches after 2000 such as the Explorer II and Sea-Dweller.
Changing A Strap On A Rolex With Lug Holes
They are very tough and as such, it's not an easy job to remove them from your Rolex watch.
The bracelet is built onto the case via spring bars which means that in order to shift the bracelet, the spring bars must be removed. You can locate these spring bars conveniently through the lug holes so a few gentle pushes with your tool, cocktail stick or paperclip should move the bar across sufficiently to release the bracelet from the lugs.
You should be able to see the bar protruding out of the other lug hole. Give it a firm tug and remove it from the hole then stick it somewhere where you won't lose it. As you can probably appreciate, you should do this to the other side of the case in order to release the bracelet entirely from the case. Repeat the procedure and Bob's your timekeeping uncle! You have successfully released it from the case!
Changing A Strap On A Rolex Without Lug Holes
So, you're one of the unlucky ones…
You've realised your Rolex model has no lug holes whatsoever. Now is not the time to cry, oh devoted watch lovers. That's why Chrono Hunter is here! The first thing you should do is turn your Rolex around and have the caseback in your line of sight. You should then see four holes in between the lugs and bracelet. A quick glance in these holes should reveal the spring bars running through the bracelet and into the lugs. In order to shift the spring bar, you will need to use your tool or paperclip again to prod the bar through the hole and it should eventually be removed.
As per the example with lug holes, the bar should be pushed through enough for you to grab it and pull it out. This should be repeated on the other side of the case in order to remove it completely. Make sure you keep those small parts safe! For this task, we suggest a shallow bowl or ramekin.
Connecting A New Strap To Your Rolex
Whether it's a bracelet or strap, it's the same process when attaching it to the case.
While we have been carefully removing the spring bar when we want to take it off, we want to attach the spring bar for our new band. This is a fairly simple process that requires you to feed the spring bar into one loop that is on the strap. Here is what you need to do;
Firstly, line the loops up with the lug holes and proceed to run the entire spring bar through both loops and the lugs.

It's best to start with the loop side that will be running into the case first as it will make the process a lot faster.

Once it's all the way in, you should test if it's secure by giving it a good pull and ensuring the spring bar is running all the way through.

Repeat this process on the other side of the case and congratulations! You have yourself a stunning new rendition
Why Would I Want To Replace My Rolex Strap Or Bracelet?
There are a few reasons why you would want to change your Rolex band.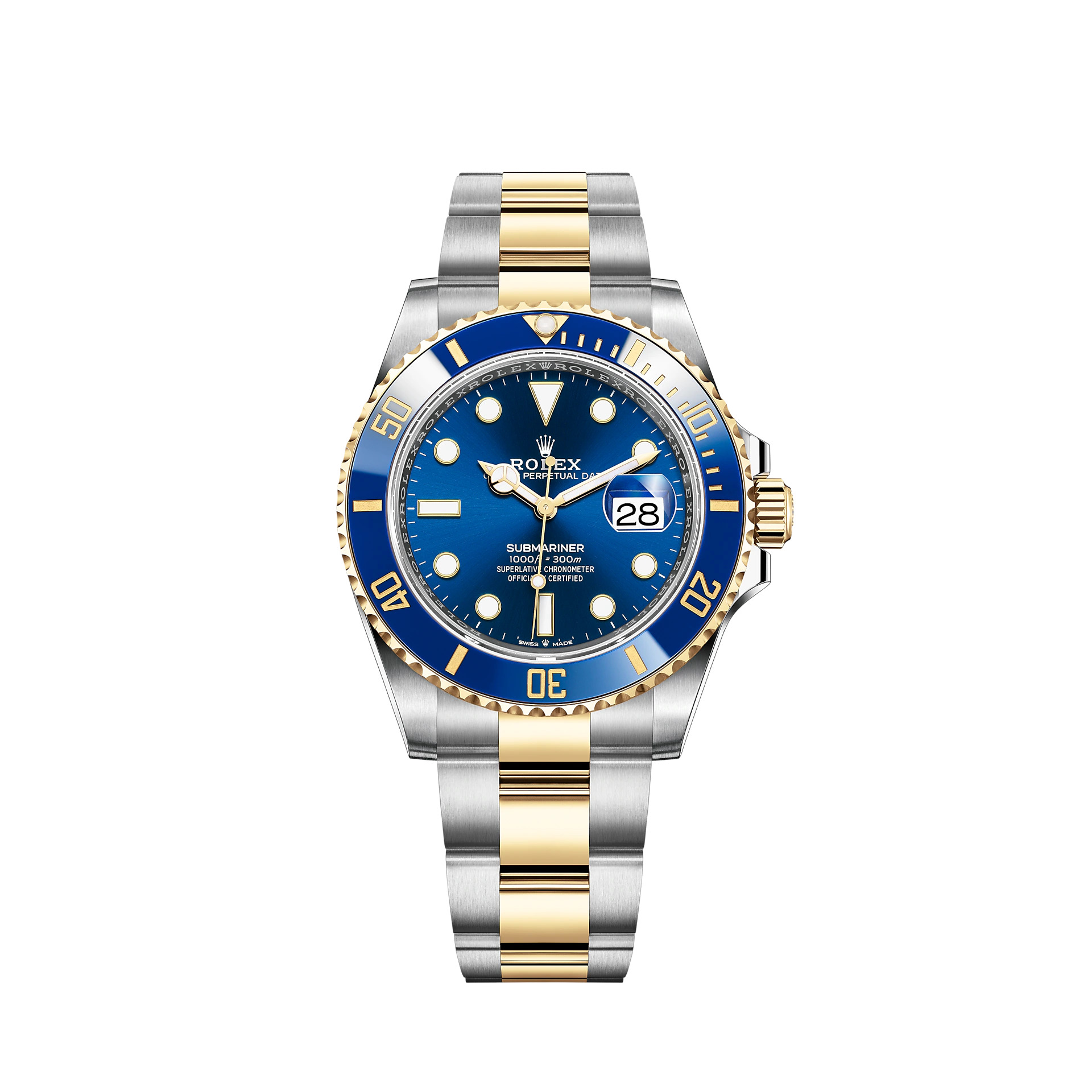 Rolex Submariner 126613LB - Source - Rolex
Style
For example, if you change it, the watch could easily change dynamics in an instant. By replacing a steel bracelet with a leather strap, even the most sporty watch like the Rolex Submariner can be worn and upscaled as a dressier item to look the part.
Price
In the current cost of living crisis, we certainly wouldn't blame you for saving a bit of cash and going with a cheaper one. The secondary market is becoming the go-to place for such transactions and they aren't too bad either. Replacing them can easily cost you a chunk of money so venturing for something cheaper may be the way forward.
To Preserve Your Investment
Some folks like to buy a Rolex watch for both the thrill of wearing it and due to its exceptional ability to increase in value, even after purchase. Investment potential is fast becoming the talk of certain watch circles. In this way, most collectors prize the watch on originality. As such, replacing may be a case of preserving it and eventually re-attaching it when the time comes to sell a watch.
The World Of Colour
We are moving forwards in the world with a bright array of colours. In fact, we predicted that colour would be a staple for this year and as we move into the spring and summer months, it's becoming more and more prevalent. Fancy a complete horological style upgrade? Looking to liven up your watch appeal? You may want to revamp your Rolex Daytona with a red band or add a little vibrancy to your GMT Master Pepsi with a blue band. It's completely up to you!
Conclusion
We hope that we've given you enough insight into the wonderful world of removing, adding or replacing your Rolex strap. For those who are proud owners or looking to buy a Rolex, we outlined in detail the different types so you know what watches and models they are commonly associated with.
A strap or bracelet injects personality into your timepiece. It says a lot about who you are and whether or not you have dressed accordingly for any given situation. For example, while it may not be the best idea to walk into a big business meeting with a neon blue band on that new Rolex Sky-Dweller, it may be ideal for heading out on the tiles with your buddies. Choose your bands accordingly gents, and keep on reinventing that timekeeping wheel!
Can't wait to buy a Rolex strap? Want to be hobnobbing with the best watch and bracelet on your wrist? Why not get informed and talk to Chrono Hunter here. With such a strong portfolio of buyers and sellers, feel free to check out our TrustPilot reviews to see why we are your essential source when you want to buy a watch or sell a watch. Save time by using our dedicated app on either Apple or Android platforms and receive multiple offers in less than 24 hours. What's not to love?
Discover, hunt, buy, sell
Further Reading:
Goodbye To "John Mayer" And The Meteorite Dial: All 2023 Rolex Watches Discontinued
Watches And Wonders 2023 Rewind: Our Standout Timepieces From Geneva
Buy Or Sell A Luxury Watch The Smart Way With Chrono Hunter
If you are considering your new purchase or perhaps the sale of a beloved timepiece, Chrono Hunter is the smart way to buy or sell a luxury watch.
Compare Offers from the world's most reputable luxury watch retailers.
Save Time.
Save Money.
Personalised Service.
Hassle-Free.
Trending
Former Procter & Gamble Executive Takes Over As New CEO Of Audemars Piguet
Rolex 1908: Is This The New Face Of Dress Watches For Gen-Z Spenders?
Lab-Grown Diamonds And The Impact On Luxury Watches
New Launch: Hublot Big Bang Unico Nespresso Origin 42mm Made With Recycled Coffee Capsules
Pink Out Your Watch Collection With Our Top Salmon Dials
Question Time: Should You Buy The New Breitling Premier B01 Premier 42mm Anniversary Watches?