Clean Your Watch Regularly To Avoid It Getting Ruined! | CHRONO HUNTER
Contents
Why should you clean your watch? (dirt can act as an abrasive and wear down the links of your watch, cleanliness etc...)
What you will need to clean your watch
How often should you clean your watch?
Cleaning a Leather Strap Watch
Introduction
You clean everything else you wear, why not your watch? Let's break down the best way to clean your watch, what you should and (more importantly) shouldn't do. If you follow these simple tips, you can make your watch sparkle like new and retain its value.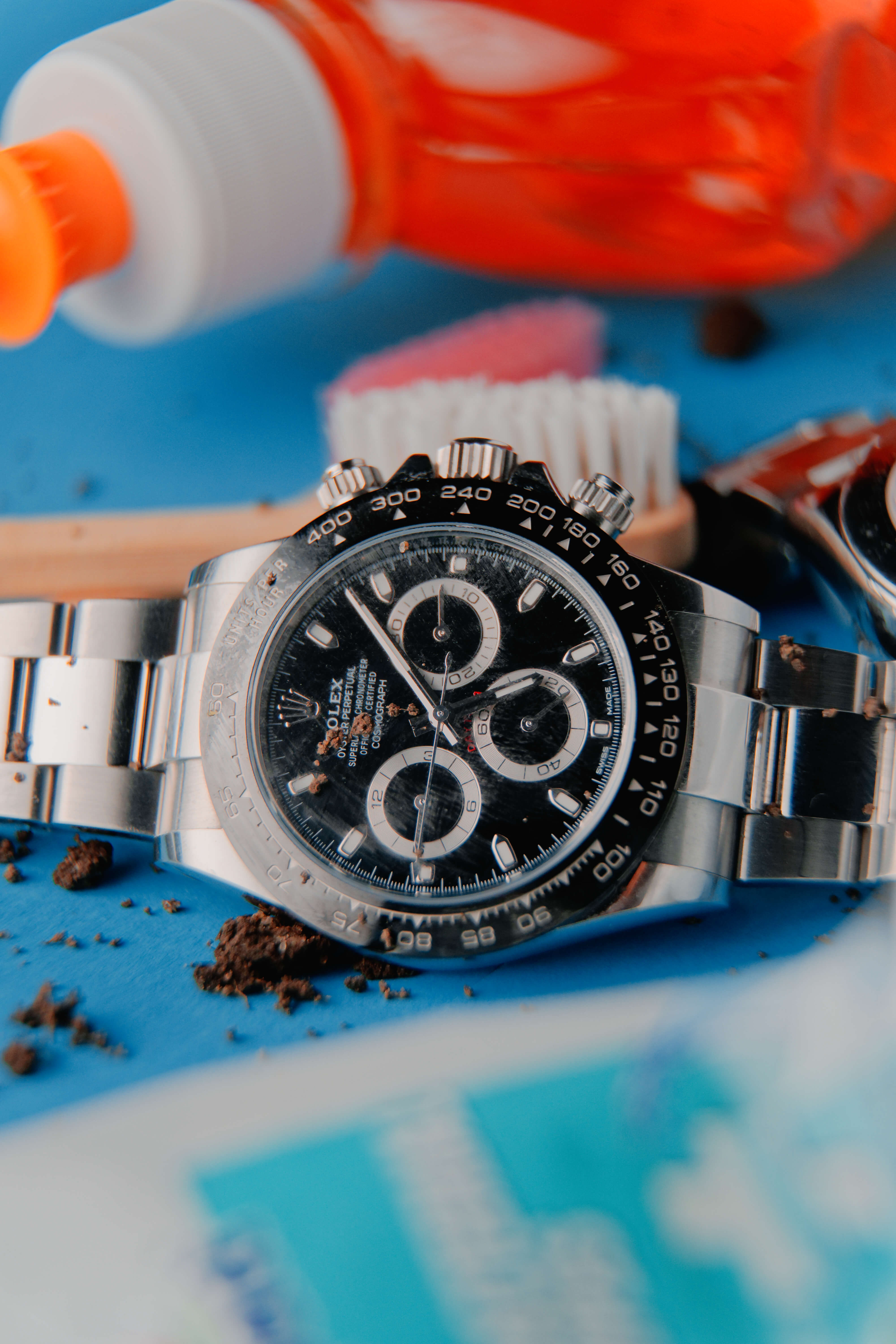 Why should you clean your watch?
Human beings are dirty. Some of us don't sweat very much, but we all shed skin, loose hairs and secrete oils from our skin. It's not very pleasant to think about, but it is part of our biology, you can't avoid it. These oils and loose bits of skin can dull a watch, making it look not only dirty but also ugly, concealing some of the original features. In some cases, dirt can even damage a watch, wearing down the links, blocking the crown and dials.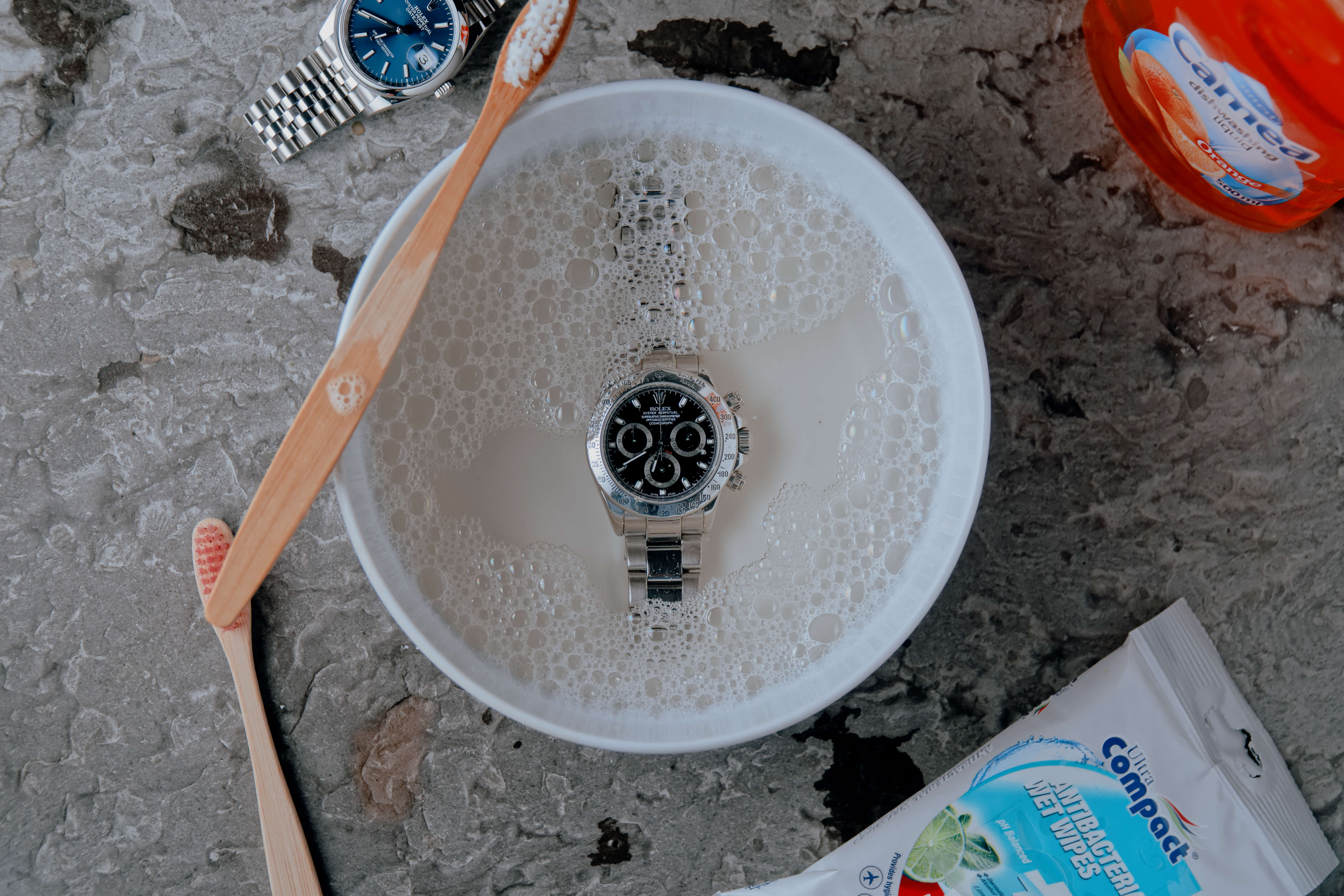 We haven't even mentioned dirt that comes from an active lifestyle. If you wear your watch whilst swimming, working or even just whilst eating it could be teeming with filth. Cleaning it regularly could help your watch aesthetically and mechanically, avoiding any complications from rust, corrosion or components getting clogged.
Cleaning your watch doesn't have to be difficult either. You can of course get your watch professionally serviced, but most watch owners only do that every few years. You don't need professional watchmaking skills to clean the outside. By using our super easy tips, you can keep your timepieces in pristine condition, avoiding the costly charges for regular servicing.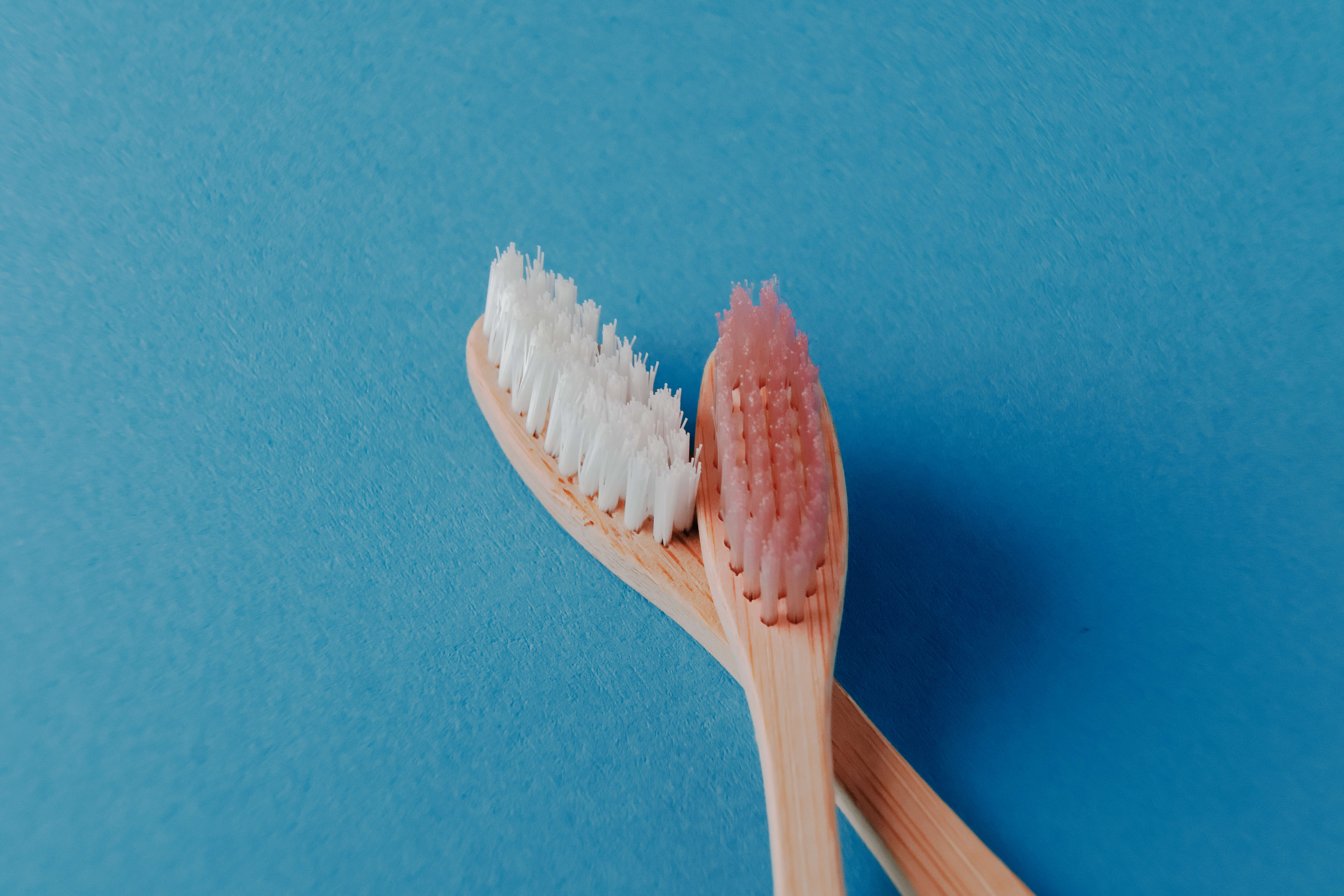 What you will need to clean your watch
The kind of cleaning we are talking about is not as thorough as a professional servicing. You won't need any elaborate tools or training.
All you'll need is;
Antibacterial wipes

Toothpicks

clean microfiber cloths

a watch-specific brush or a soft-bristled toothbrush if you're on a budget.
You might also need these for cleaning gold;
toothpaste with a non-gel formula

phosphate-free dish soap

baking soda, (Sodium bicarbonate)

ammonia
If the toothbrush has been used beforehand, it will be less likely to scratch or damage delicate areas of your watch. You don't want to go too old though as nylon bristles age and split with use from toothpaste and saliva. If you're going to use a toothbrush, then I would suggest a child-size one with a very soft head.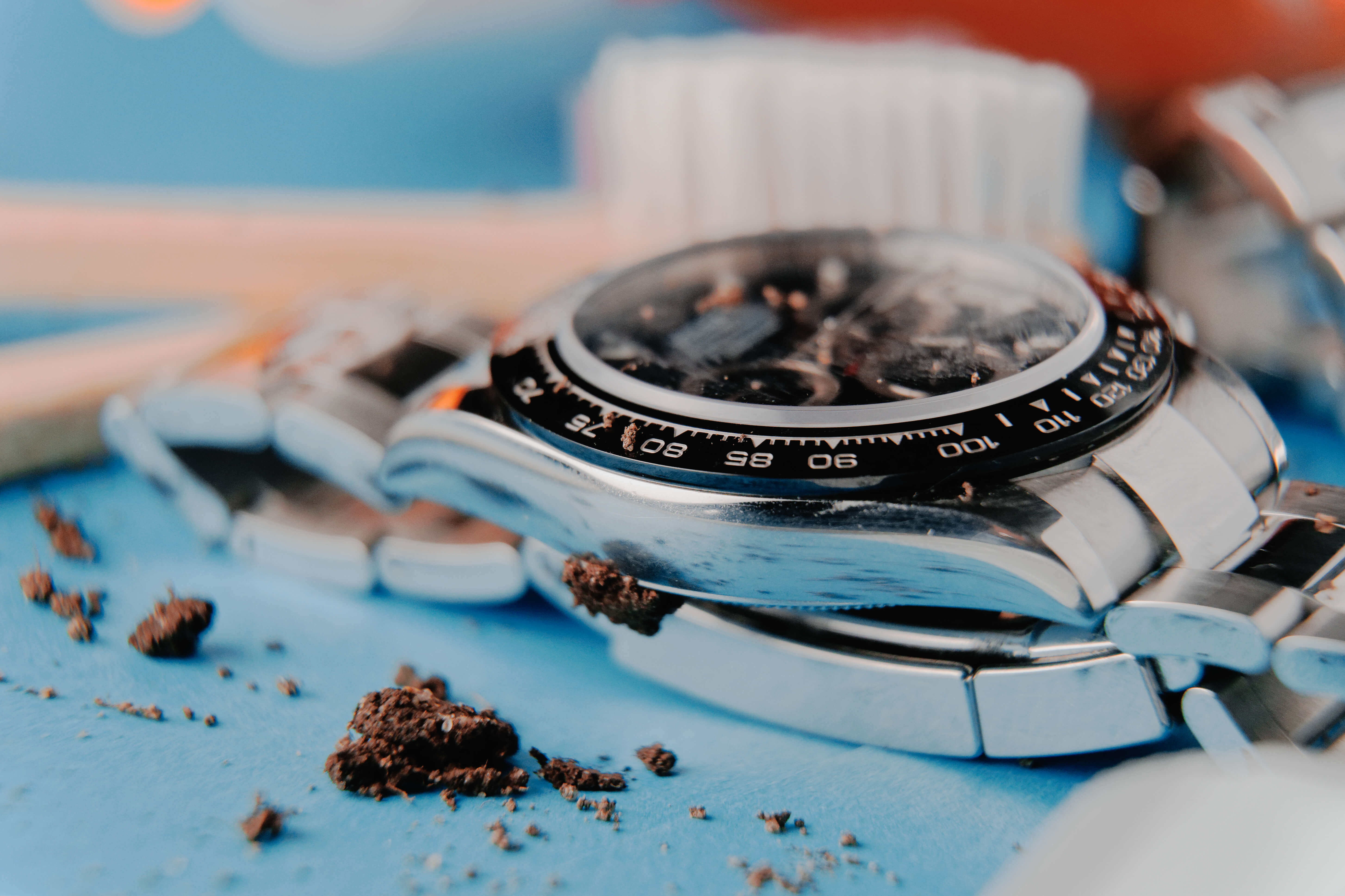 Don't try to remove any of the smaller parts of your watch or disassemble the innards. Do not remove the watch face or try to clean the dial in any way, as this does require specialized tools.
If you have a vintage watch from the early 20th century, take it to a specialist jeweller. Many old watches contain radium, which can be deadly.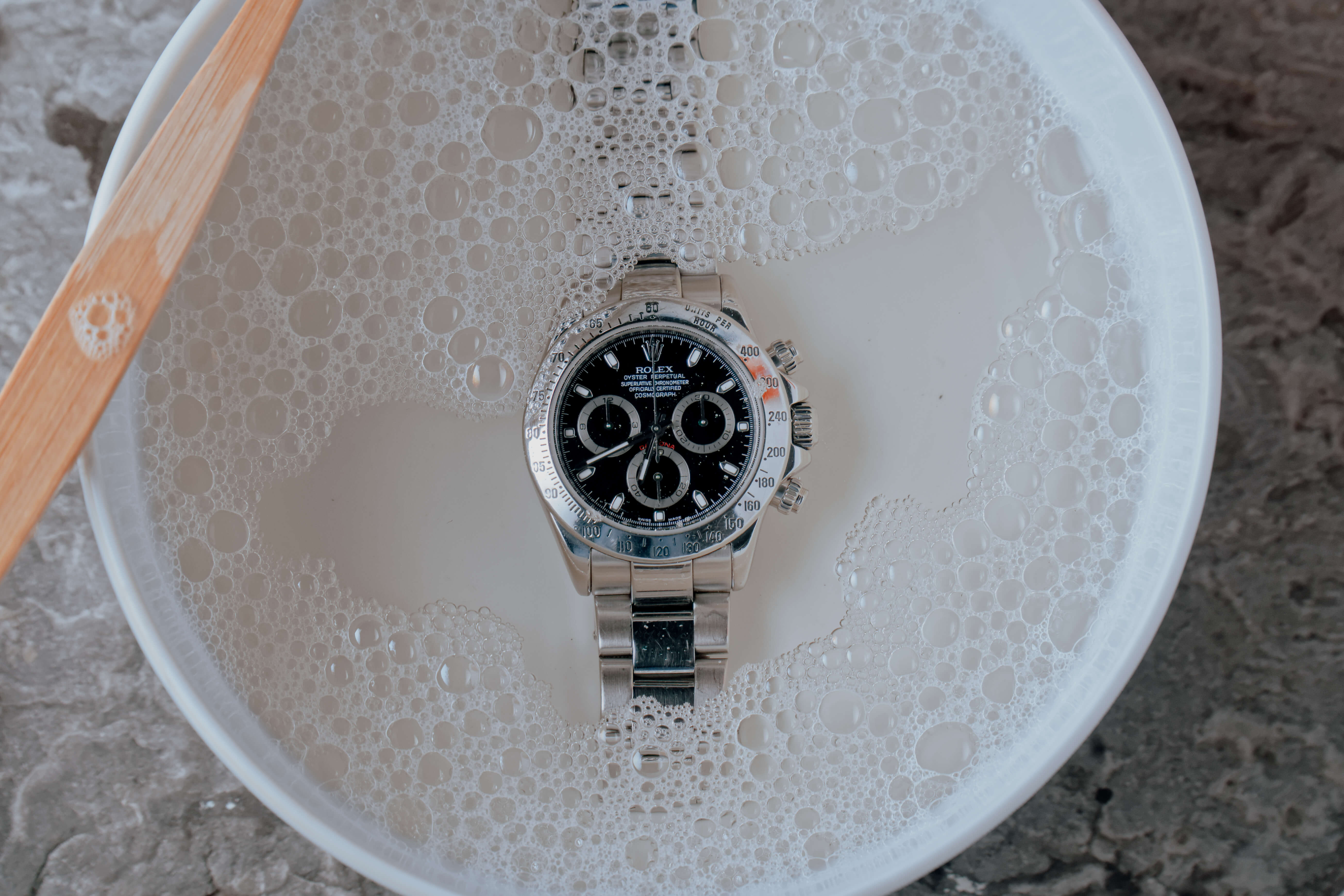 How often should you clean your watch?
Once a month should be sufficient in most cases. One of the main reasons people don't regularly clean their watches is because it's a chore. Some of you readers may have heard of ultrasonic cleaners, they look like a dishwasher for your jewellery. These are timesavers, but they can damage a watch. Ultrasonic cleaners should only be used for bracelets and straps, if at all. Never put a watch with a movement into one of these things.
It's not that difficult or time-consuming to clean your watch so try to do it once a month.
The dirtiest part of a watch is as you can imagine, the bracelet. There are all sorts of cracks and crevices that dirt can accumulate in overtime if you're not careful. If unchecked your watch will eventually smell. That's why the band needs to be cleaned at least once a month.
You can separate the watch if you're comfortable with that, removing the bracelet and washing it by itself. However, you should still clean the main case too.
Cleaning is a great time to get reacquainted with your watch and give it a check-up. Part of the benefit of regular cleaning is you get to examine your watch thoroughly, checking for any chips, scratches or dents that could allow moisture to get inside and ruin the inner mechanisms. You should pay specific attention to the crystal and crown, checking the areas where they touch the main case if you find any noticeable chips (or God forbid a crack) then it's time to bring a professional in before things get worse.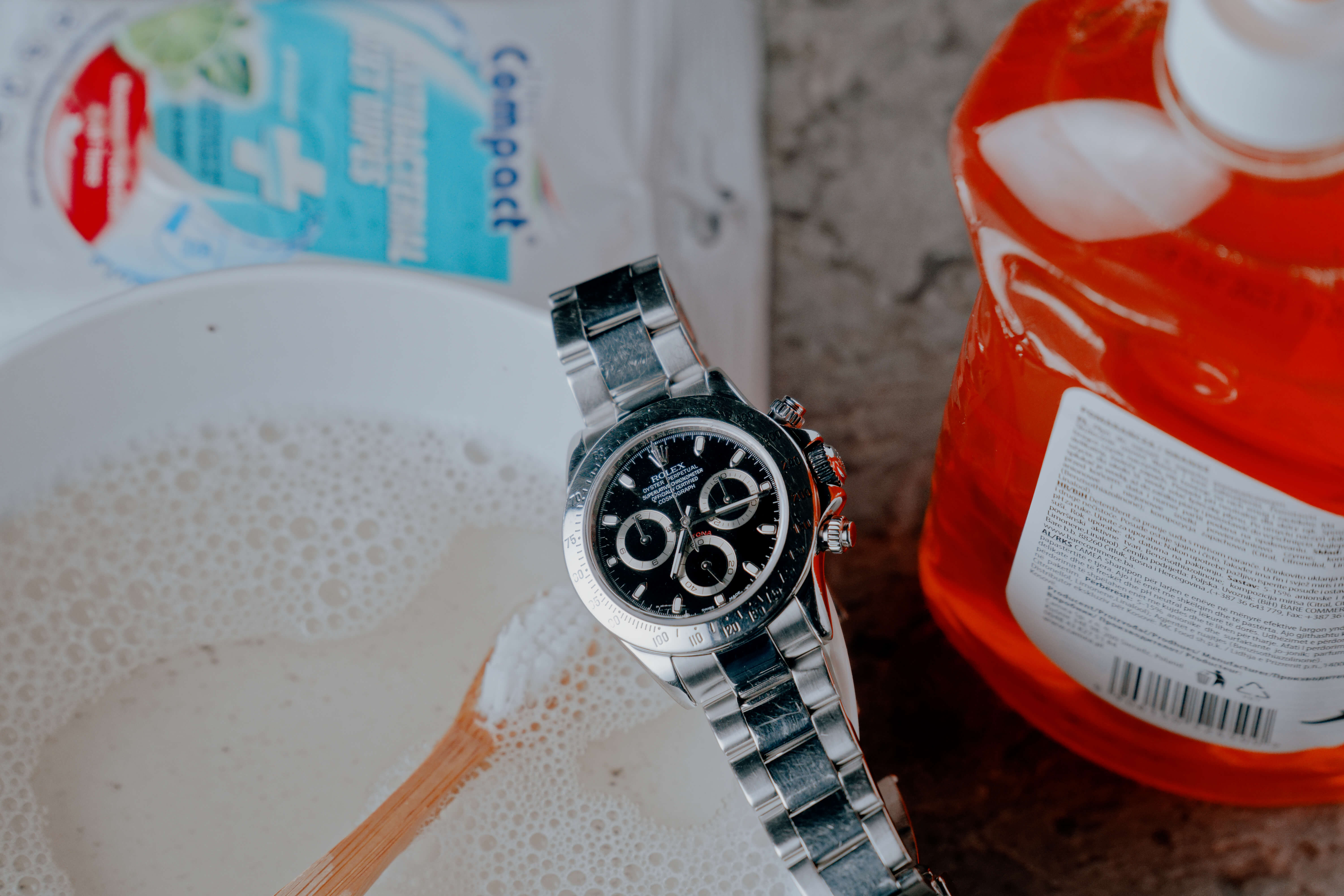 Cleaning a Steel Watch
Despite the term "stainless steel", these watches do still need to be cleaned and maintained. Stainless steel can actually rust when exposed to the skin's fatty acids and sweat.
Steel watches are still quite hardy though, so any grease-cutting dish soap will be perfectly fine for cleaning it without damaging the metal.
Harsh chemicals like lye or ammonia might kill germs, but they will also ruin your finish.
The best way to clean your watch is to disconnect and disassemble the bracelet first, allowing you to get into those hard to reach places. If you are unconfident in this or can't separate the bracelet from the main body of the watch, then absolutely check that it is water-resistant up to 10m. Most watches are, so you should be able to lightly brush all over it with your watch-specific brush and soapy water.
Cleaning a bracelet is much easier after a quick soak in some warm soapy water beforehand.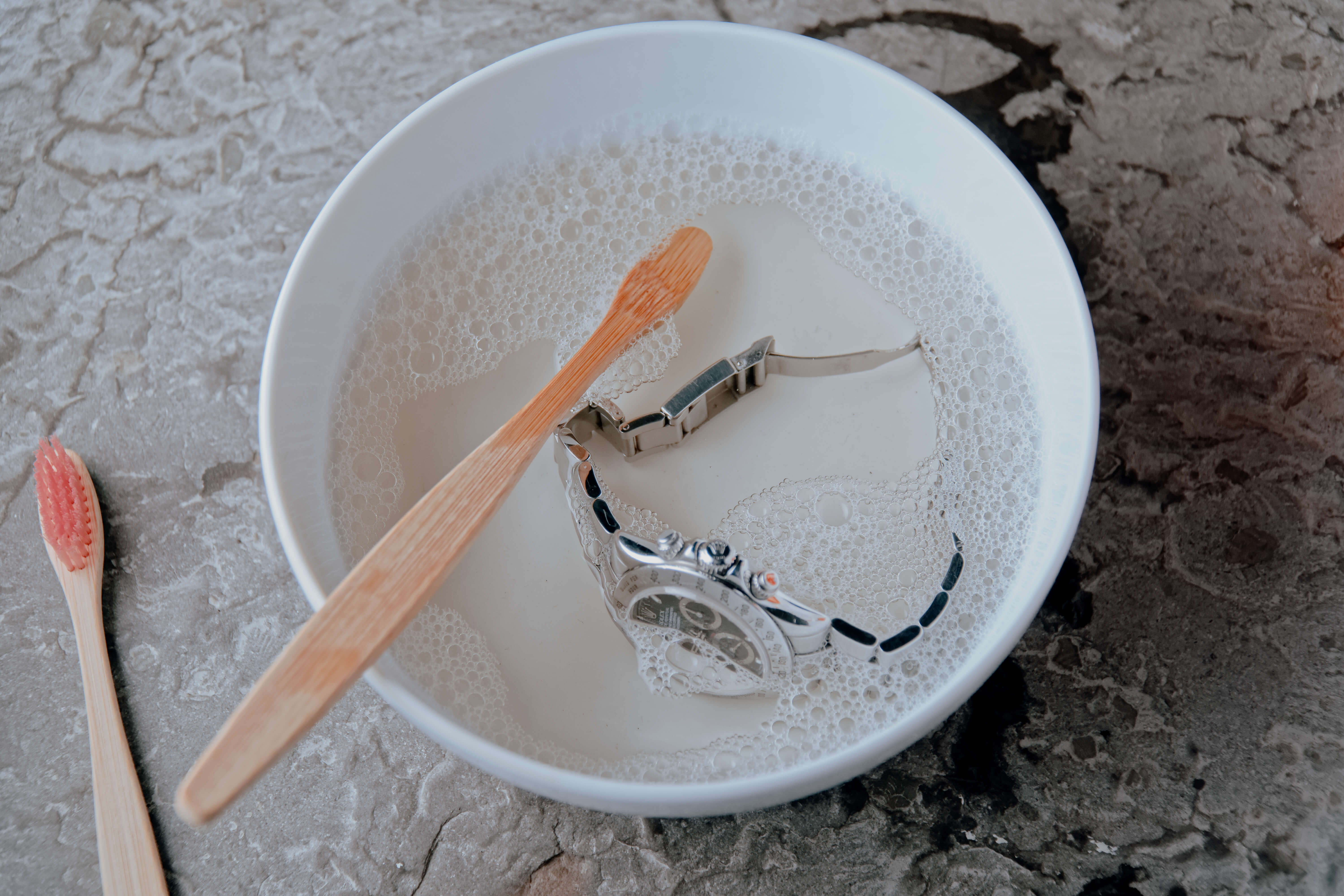 Try not to put too much pressure on your brush while cleaning, to avoid scratch marks. The place you should be using the most force is in between the links of the bracelet. If you get the bristles of your brush in there, you will be cleaning out the area where most of the dirt accumulates.
The best way to clean a separated case is to take one of your antibacterial sanitary wipes and carefully wipe the watch. You can use your brush on most of the watch, but not the crystal. Using the wipe all over avoids any scratches or scrapes. You don't need to do this for more than a couple of minutes, but make sure to get into every tiny pocket where dirt might lay. If you watch is not water-resistant up to 10 meters, then this alone is the best way to clean it.
A popular way to get into those hard to reach places is to use a toothpick. Simply wrap the edge of the wipe around the toothpick and carefully use your new tool to get inside any crevasses you missed before.
Once you have wiped the watch down make sure to wash off any excess soap with fresh water before using your microfibre cloth to dry it off. You can get these cloths in watch specific kits, but they also come with glasses and many different devices to clean their screens. It's the smoothest way to clean the crystal of your watch, removing any fingerprints or smudges without any chance of scratching it.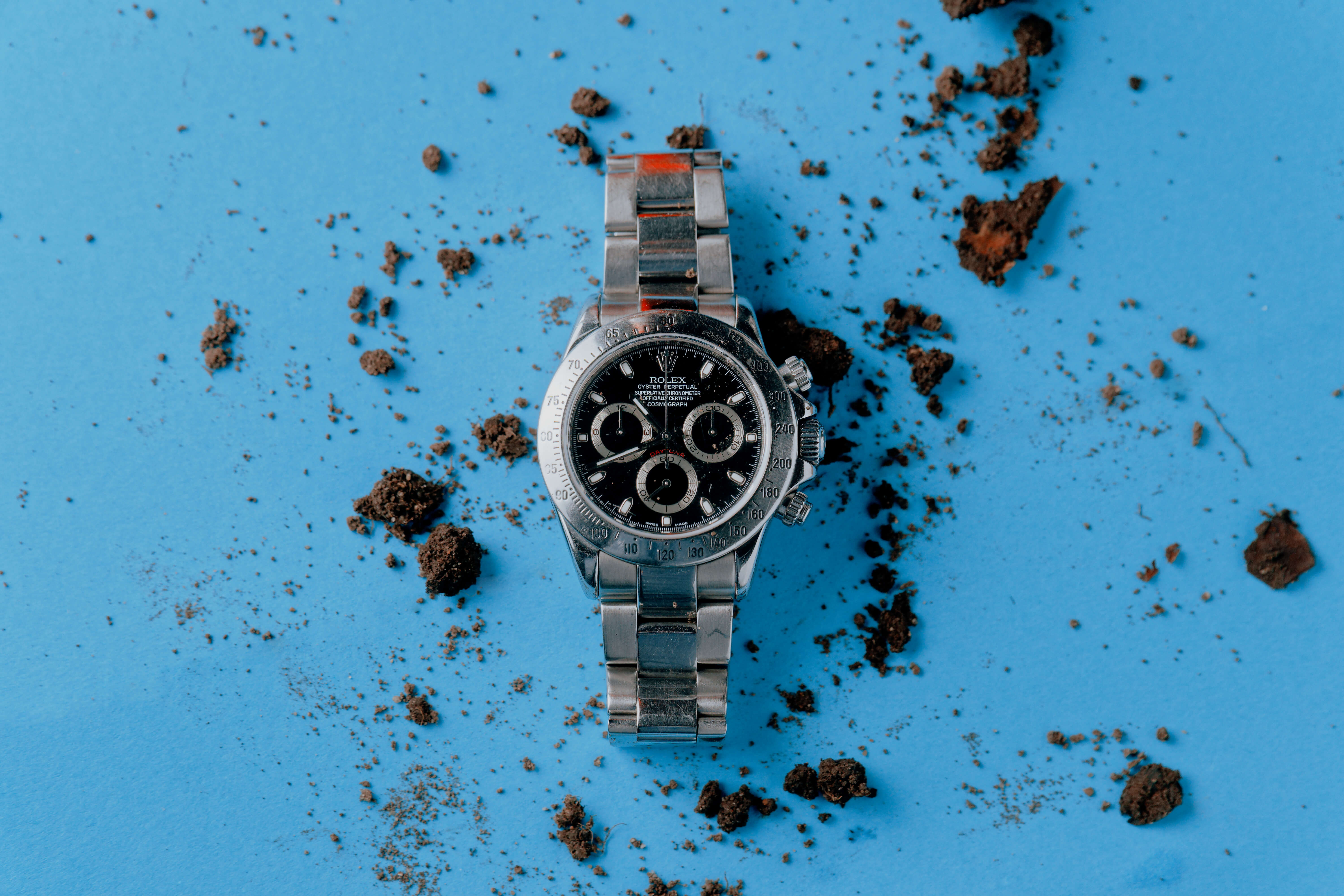 Cleaning a Gold Watch
If your watch is made of gold, then you will have to take a different approach. The bracelet is still the dirtiest part and should be separated if possible, but gold is a soft metal, so you need to be extremely careful when cleaning it.
Unlike a steel watch, you absolutely must avoid basic soaps. Chlorine is the real danger when dealing with gold. Especially at high temperatures like in a hot bath to scrub your bracelet in, it can permanently damage or discolour gold. You shouldn't even wear a gold watch whilst cleaning or swimming for this reason.
Wash the bracelet in a bath of room temperature water. You can just use regular water here if you want, but some add a few drops of ammonia. You can also use mild, phosphate-free dish soap with the ammonia, or toothpaste.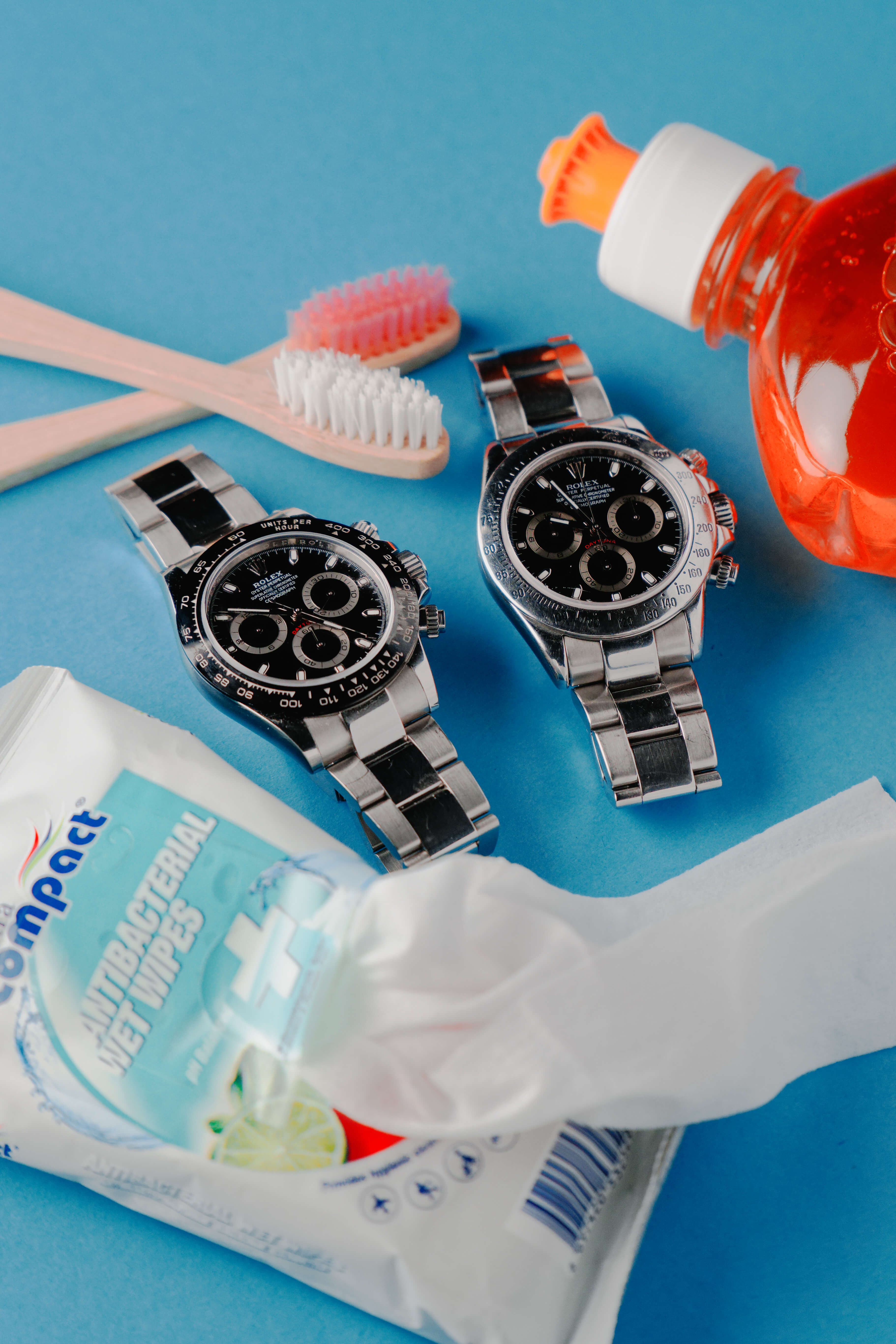 It sounds strange but toothpaste is actually good for cleaning gold. It must be a toothpaste with a non-gel formula for this to work.
Place a small amount of toothpaste onto a damp microfibre cloth and carefully rub the toothpaste over your watch. You can use your brush now if you need a deep clean or just the cloth. Once you've scrubbed your watch, wipe it clean with another wet microfibre cloth, making sure there is no toothpaste left on the metal.
Cleaning a Gold-plated Watch
A gold-plated watch is very much the same as a regular gold watch, but you need to be even more delicate when scrubbing it so as not to remove the plating. Scrub softly with a brush, or if you are worried then use a washcloth for the band and a microfibre cloth for the main body.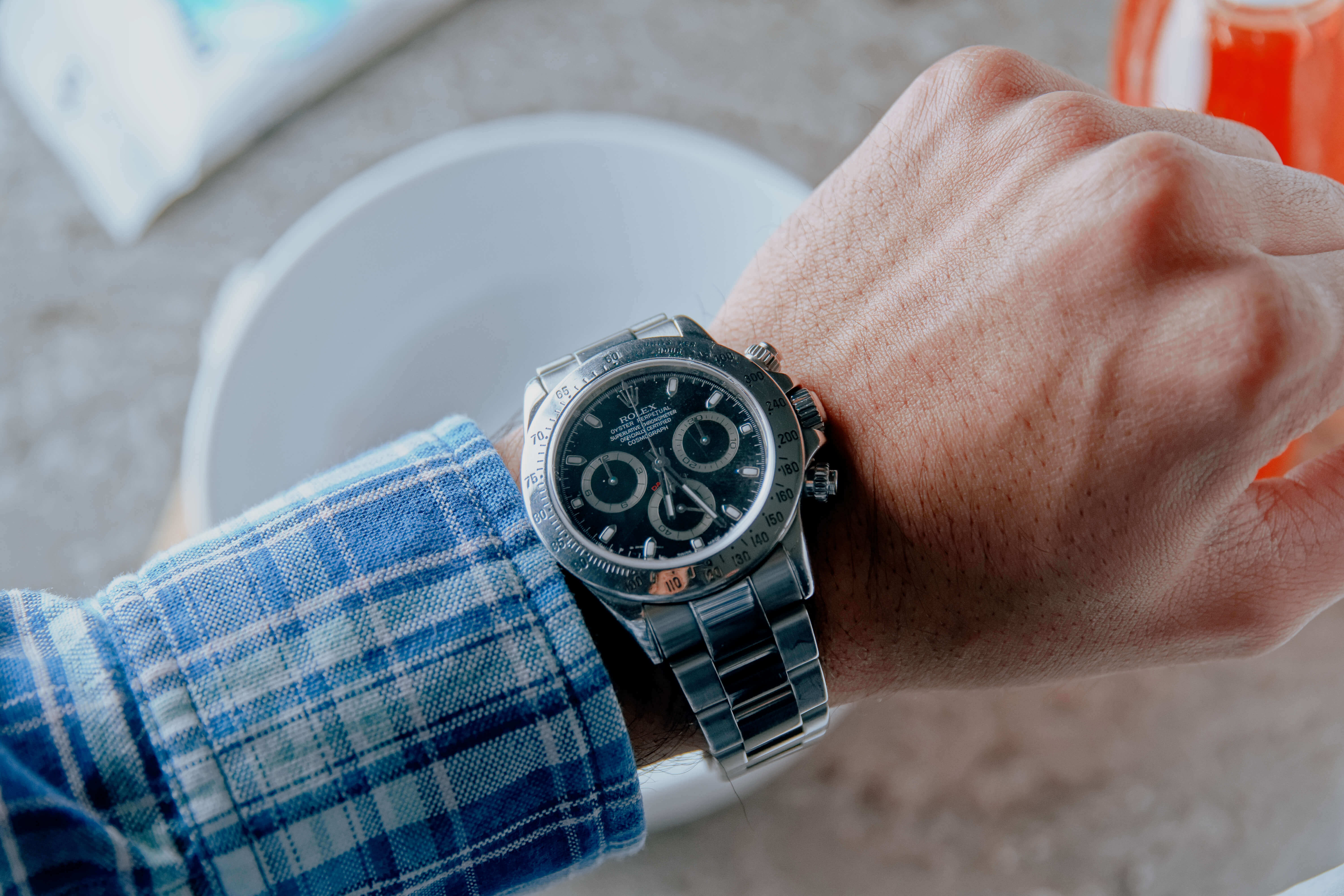 Cleaning a White Gold Watch
Avoid toothpaste when dealing with white gold. Often the chemicals in it can erode the rhodium plating. Also, beware of cleaning tips that involve vinegar for this same reason.
You can clean white gold with baking soda. Mix the baking soda with water, slowly adding more until it becomes a paste, then use this instead of toothpaste, scrubbing in all the watches nooks and crannies.
Be gentle as white gold is even easier to damage than yellow gold. Once you have cleaned the layer of muck, wipe away all of the paste with clean water and dry with a microfibre cloth.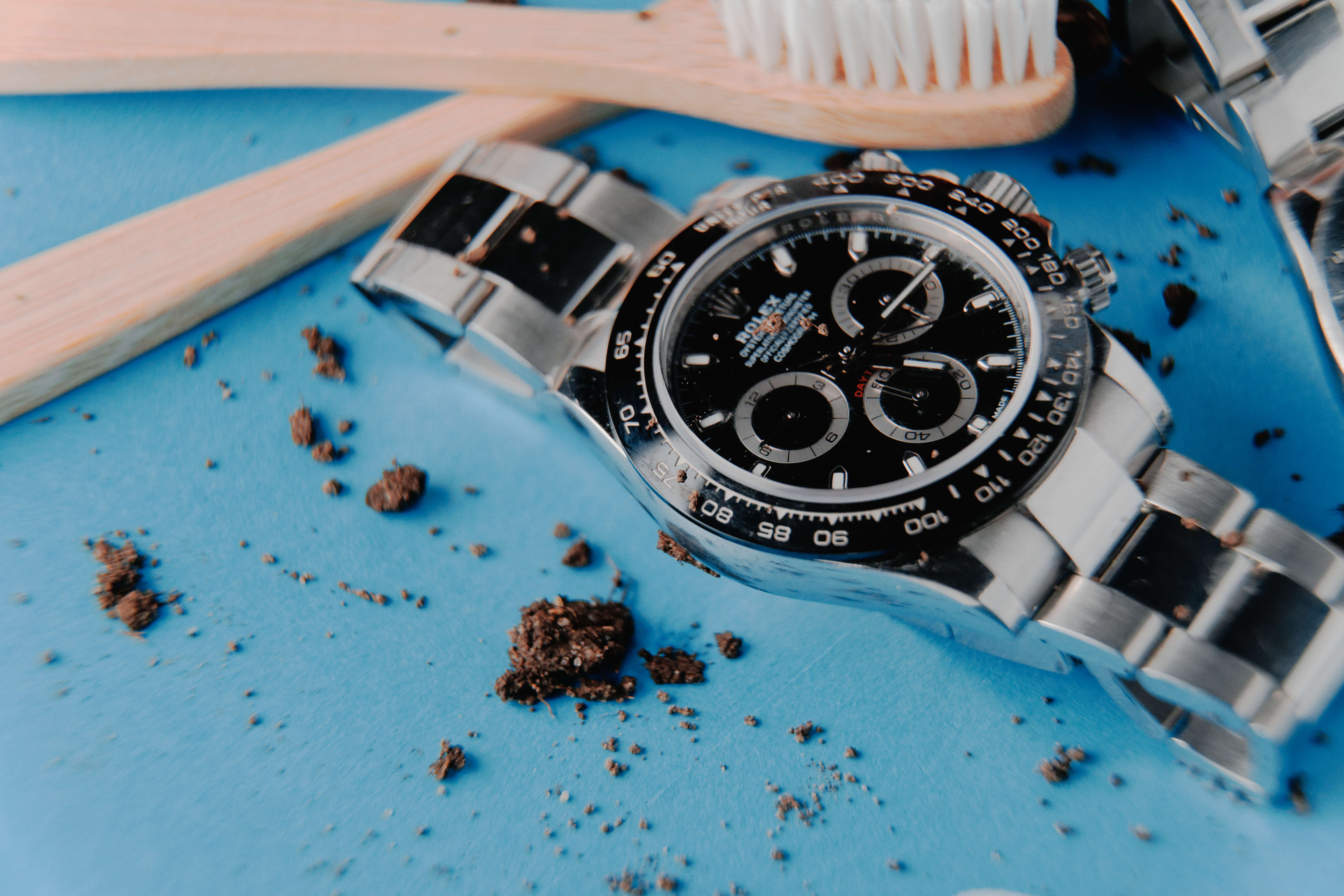 Cleaning a Rose Gold Watch
Rose gold is again, very delicate. The rose colour comes from copper, which is nutritiously easy to tarnish.
You will want to avoid scrubbing a rose gold watch, instead soaking the band in a special solution and only wiping the main body clean with a microfibre cloth.
A rose gold bracelet can be dunked into a vinegar and salt solution. You can make this yourself by adding salt to distilled white vinegar. Add salt until it won't dissolve into the vinegar anymore. You only need to put the bracelet into this solution for a few seconds; there is no need to soak it.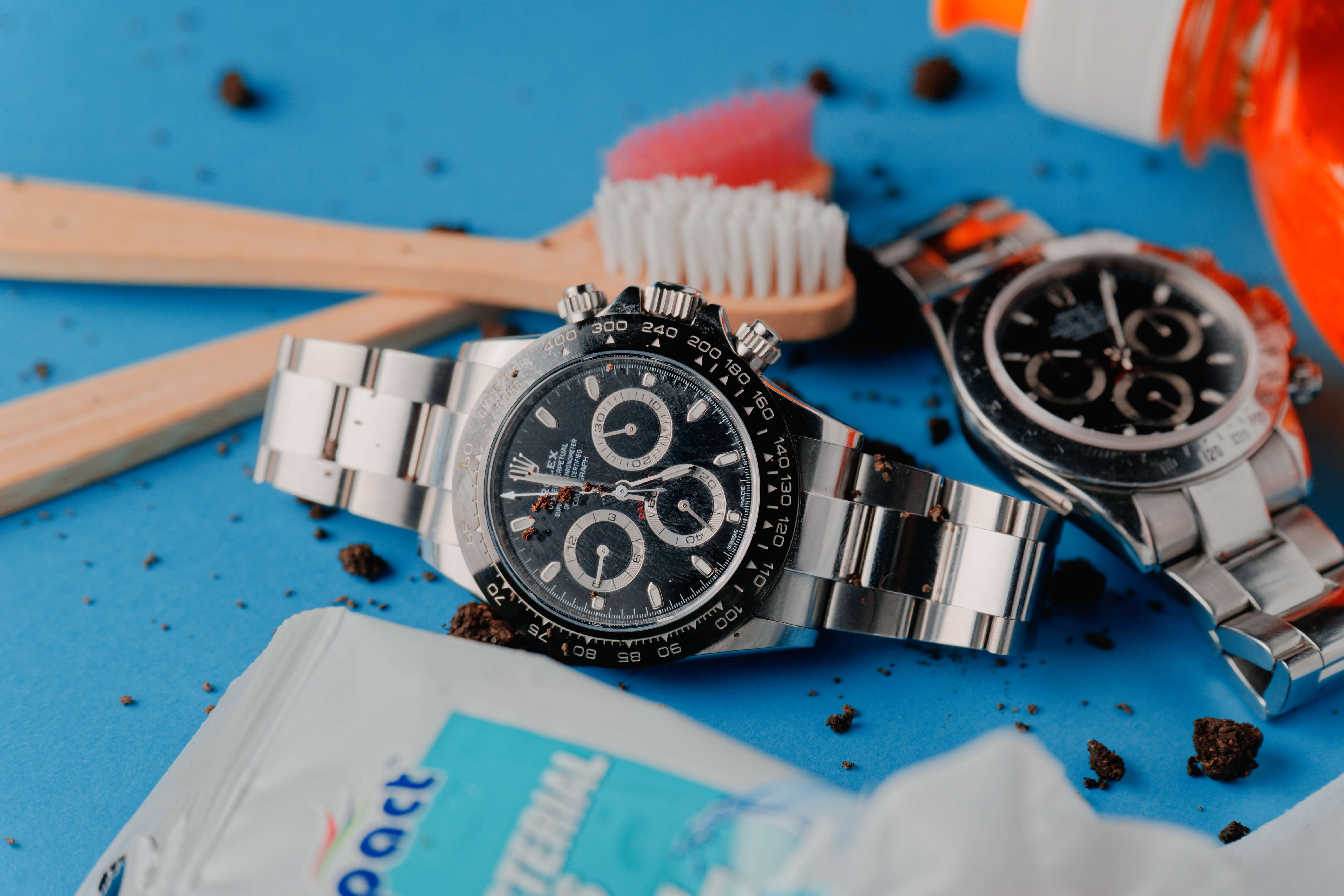 Cleaning a Leather Strap Watch
Do not get a leather strap too wet or too hot. Washing and drying most kinds of leather causes it to crack, change shape and colour. Instead of scrubbing it in a bath of soapy water, you can try a leather lotion or handbag wipes. These are designed to not only clean your leather but condition it, making it look soft and subtle.
Make sure that you use an allergy-tested leather lotion or wipe, otherwise they may discolour and warp the strap as much as water. Also, check if your strap is unfinished leather if it is then it will need specialized wipes and oil.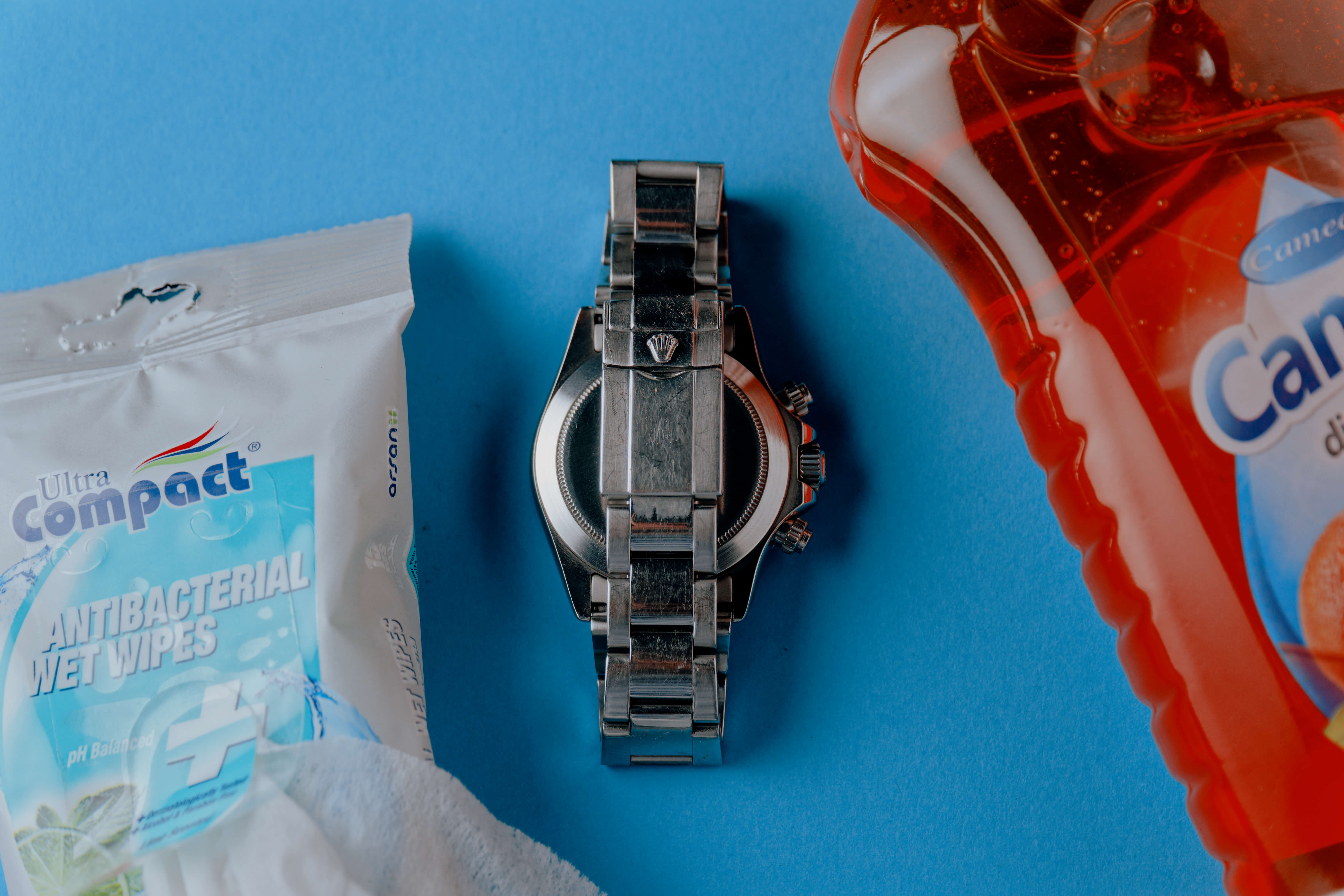 Cleaning a Rubber Strap Watch
Rubber straps are a bit easier. Some argue that you don't need to clean them at all so long as you wipe them with an antibacterial cloth each night.
If you find your strap looking, or smelling, a bit funky it's perfectly fine to submerge it in soapy water and scrub it with a watch specific brush or toothbrush.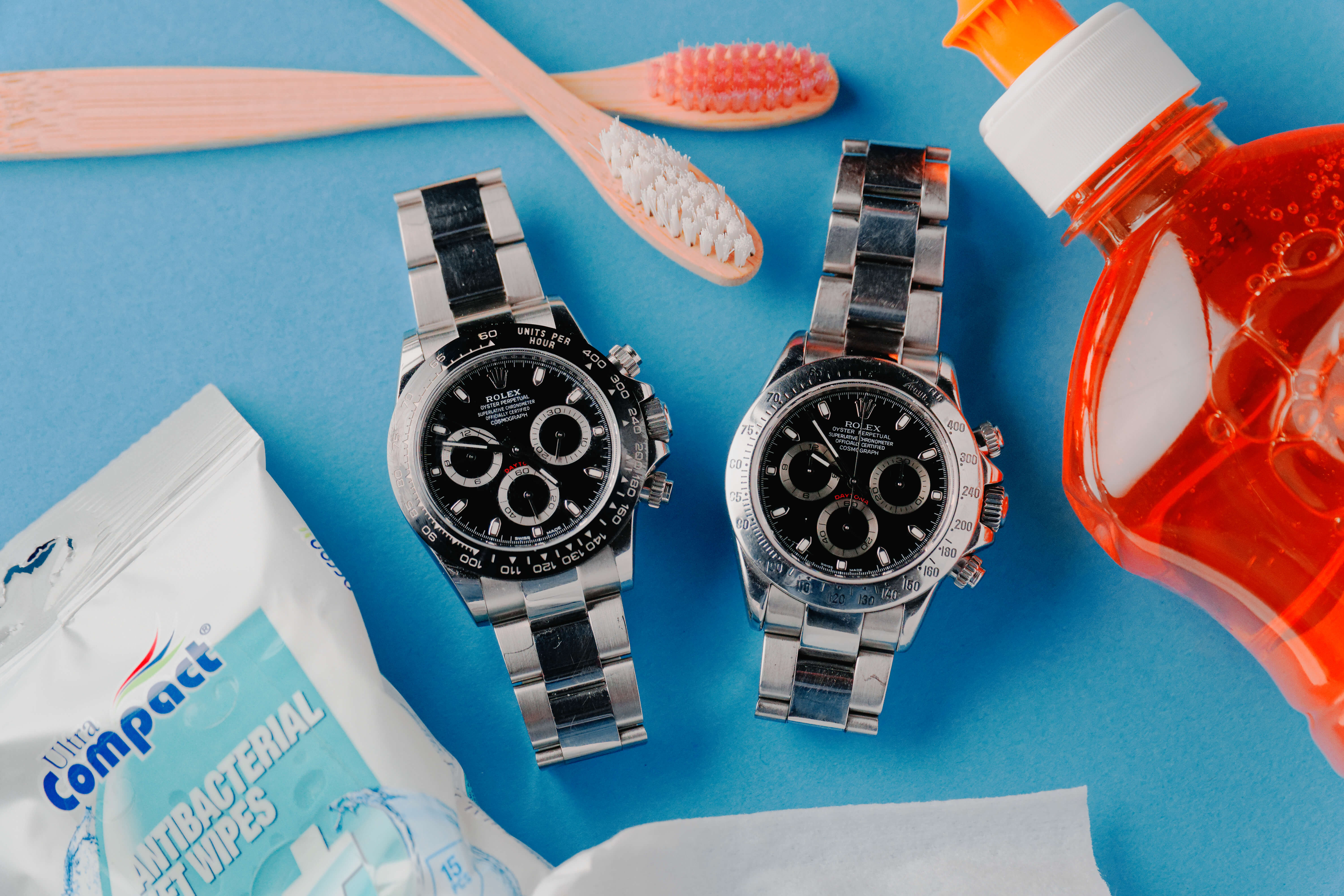 Conclusion
Most watches are not too hard to clean; it just depends on how thorough you want to be. Of course, the most thorough way is to take it to a jeweller's and get it professional services, but for everyday life the tips above are acceptable.
Just remember to examine your watch before you clean it. You want to know just what kind of material you're dealing with so that you can find the best way to clean your watch.
We hope you have enjoyed this article. Don't forget Chrono Hunter is the smart way to buy or sell a luxury watch. Simply enter the details of the watch you are looking to buy or sell and receive offers from our network of reputable luxury watch retailers. Save Time, Save Money and Make sure you are buying or selling your luxury watch in a safe and secure environment.
Buy Or Sell A Luxury Watch The Smart Way With Chrono Hunter
If you are considering your new purchase or perhaps the sale of a beloved timepiece, Chrono Hunter is the smart way to buy or sell a luxury watch.
Compare Offers from the worlds most reputable luxury watch retailers.
Save Time.
Save Money.
NO Fees For Buying Or Selling.
Personalised Service.
Hassle-Free.
Don't miss
4 Of The Best Watches To Invest In For 2021 | CHRONO HUNTER
January 26, 2021
Has the Patek Philippe Nautilus 5711 really been discontinued? | CHRONO HUNTER
January 22, 2021
5 Tips on how to sell your watch successfully | CHRONO HUNTER
January 15, 2021
Follow us on instagram
Timeline
November 1, 2020

Chrono Hunter launches watch accessory store, Complimentary to the main platform.

May 14, 2020

WatchPro Originals - Watch talk with Chrono Hunter

February 15, 2020

Chrono Hunter featured in Hertfordshire life magazine acknowledging businesses that are thriving in the area.

December 15, 2019

Chrono Hunter commits to attending The first London Watch Show to be held in April 2020.

November 14, 2019

Chrono Hunter attends Aston Martin Christmas event

November 5, 2019

Chrono Hunter attends WatchPro Awards 2019

October 31, 2019

Chrono Hunter shortlisted for Ecommerce retailer of the year for WatchPro Awards 2019

July 7, 2019

Chrono Hunter attends GoodWood Festival of speed

June 29, 2019

Chrono Hunter attends Yiannimize GT finish line

May 21, 2019

Chrono Hunter attends McLaren Hatfield showroom launch evening

May 14, 2019

Chrono Hunter attends Aston Martin Hatfield new showroom launch evening.

March 27, 2019

Chrono Hunter attends the Porsche Hatfield Launch of the 992 Carrera

March 24, 2019

Chrono Hunter attends Baselworld 2019

February 18, 2019

Chrono Hunter watch sales surpassed £300,000

January 9, 2019

Registered Retailers Increased by 125% and over £100,000 worth of business through Chrono Hunter in the first three months of going live.

November 22, 2018

Chrono Hunter Attend Salon QP, kindly invited by James Gurney Executive Director of Salon QP

November 6, 2018

Chrono Hunter attend WatchPro Awards, kindly invited by Nicholas Hickey Director of Luxe Watches

October 29, 2018

ChronoHunter.com goes live to the public

October 24, 2018

Chrono Hunter partners with Shortlist Magazine to give away a Rolex Submariner

August 16, 2018

Pre registration opens and 500 people sign up