A closer look at the Patek Philippe Nautilus 5711
Take a closer look at the Patek Philippe Nautilus 5711
Luxury watches - an enduring appeal
Like Esperanto, luxury is an international language, and the beauty and craftsmanship of a 'thing well-made' is appreciated and desired by individuals across cultures.
Luxury watches are a pinnacle of style and engineering, and each piece has its own story to tell. To own a fine watch is to own a piece of history and many pieces are held for their investment value or to pass on to future generations. With so many classic designs and limited editions created over the decades, the search for the perfect watch becomes a treasure hunt, with all the excitement and anticipation of unearthing buried treasure.
While 'smart' wearable technology continues to become more mainstream, many still appreciate and actively seek out the engineering and ingenuity of a classic luxury sports watch. Designs and styling may have modernised over time, but the attention to quality and precision has remained unchanged, allowing such watches to hold their enduring appeal, value and esteem.
The Patek Philippe Nautilus 5711 is one such timepiece that demonstrates the timeless elegance of such fine watch design and manufacture.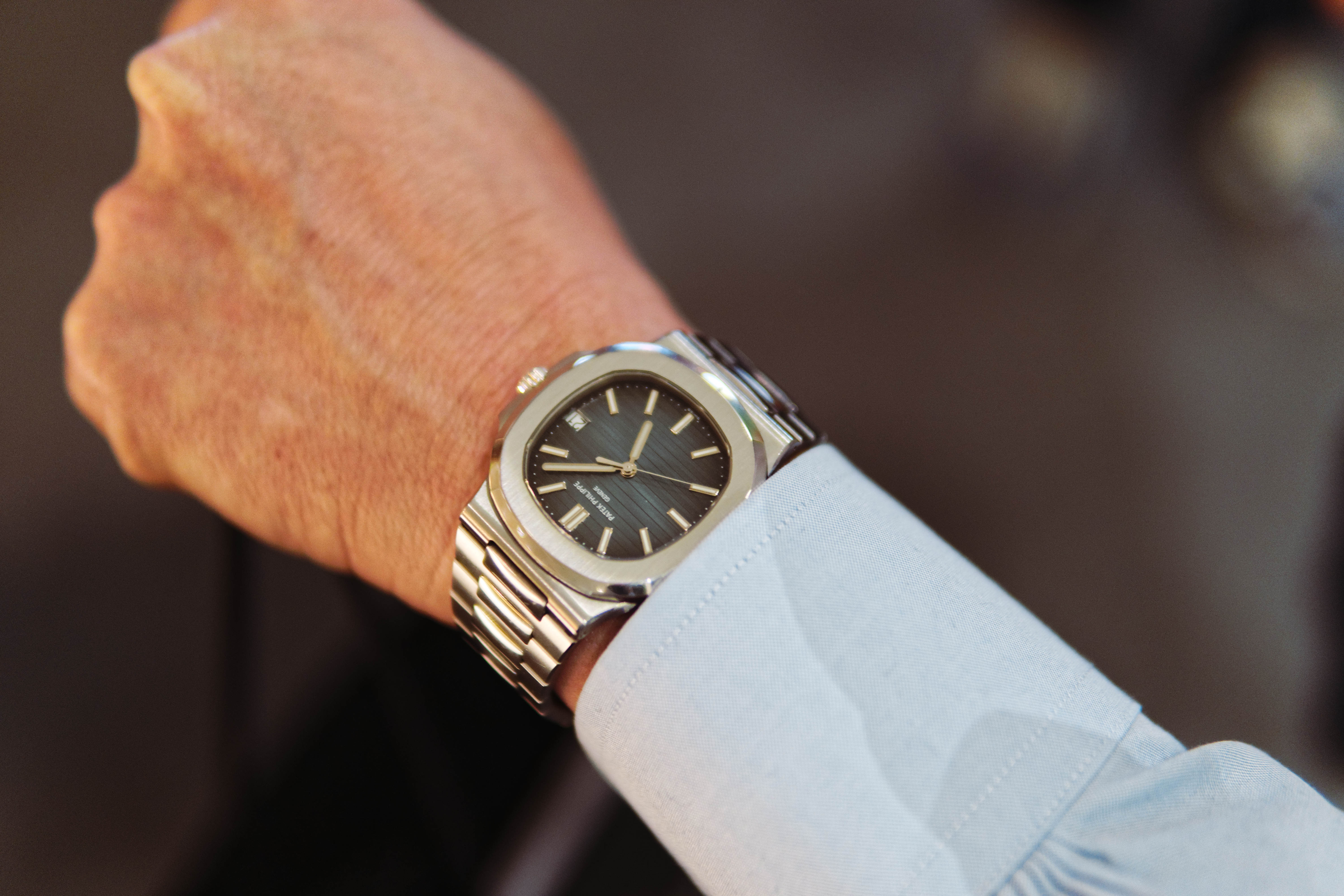 Patek Philippe – at the forefront of fine watch making with the Nautilus 5711
The Swiss watch and clock manufacturer Patek Philippe has enjoyed over a century at the forefront of luxury watchmaking. Tracing its origins back to 1839, Polish watchmaker Antoni Patek partnered with other leading watchmakers to form a new company manufacturing pocket watches. Their innovative movements, winding mechanisms and embellishments made their watches popular with the European monarchy and aristocracy of their day, including Queen Victoria. They are also credited with the production of the first Swiss wristwatch.
Restructuring of the business over the proceeding decades led in 1851 to the creation of Patek Philippe as it is known today. It has been owned by the Swiss Stern family since the 1930s, who garnered international reputation for the brand, building it into one of the world's most exclusive watch companies. Over the years, Patek Philippe has continued to garner notable patrons including kings, queens and celebrities.
The Nautilus – a combination of the contemporary and traditional
The Patek Philippe Nautilus collection, first produced in 1976, marked the company's decision to create an exclusive luxury sports watch with the finest detailing and finishes. Designed to compete with the Quartz watches that were gaining popularity at the time, the Nautilus featured the high-quality mechanical engineering at which Patek Philippe excels. The feted watch designer Gérald Genta is credited with the original Nautilus design, the Ref. 3700, made from stainless steel with a unique porthole-esque appearance.
The Patek Philippe Nautilus 5711 /1A
The enduring appeal of the Patek Philippe Nautilus lies in its adherence to traditional engineering and manufacturing techniques as well as simple, accessible and contemporary design. This has seen the Nautilus remain at the top of the market for the past 40 years. In 2006, the much sought-after Patek Philippe Nautilus 5711 /1A model was launched, which has since established itself as the market leader in the Nautilus family.
The Patek Philippe Nautilus 5711 - the new generation
The reception of the Patek Philippe Nautilus 5711 has been frenzied, with it becoming arguably the most successful luxury sports watch on the market. The Nautilus 5711's understated yet iconic design has experienced runaway popularity, proving somewhat overwhelming for Patek Philippe. The Swiss watchmaker has had to increase prices as they are struggling to meet demand. Pre-owned model dealers are finding themselves inundated with requests for the luxury Nautilus watch.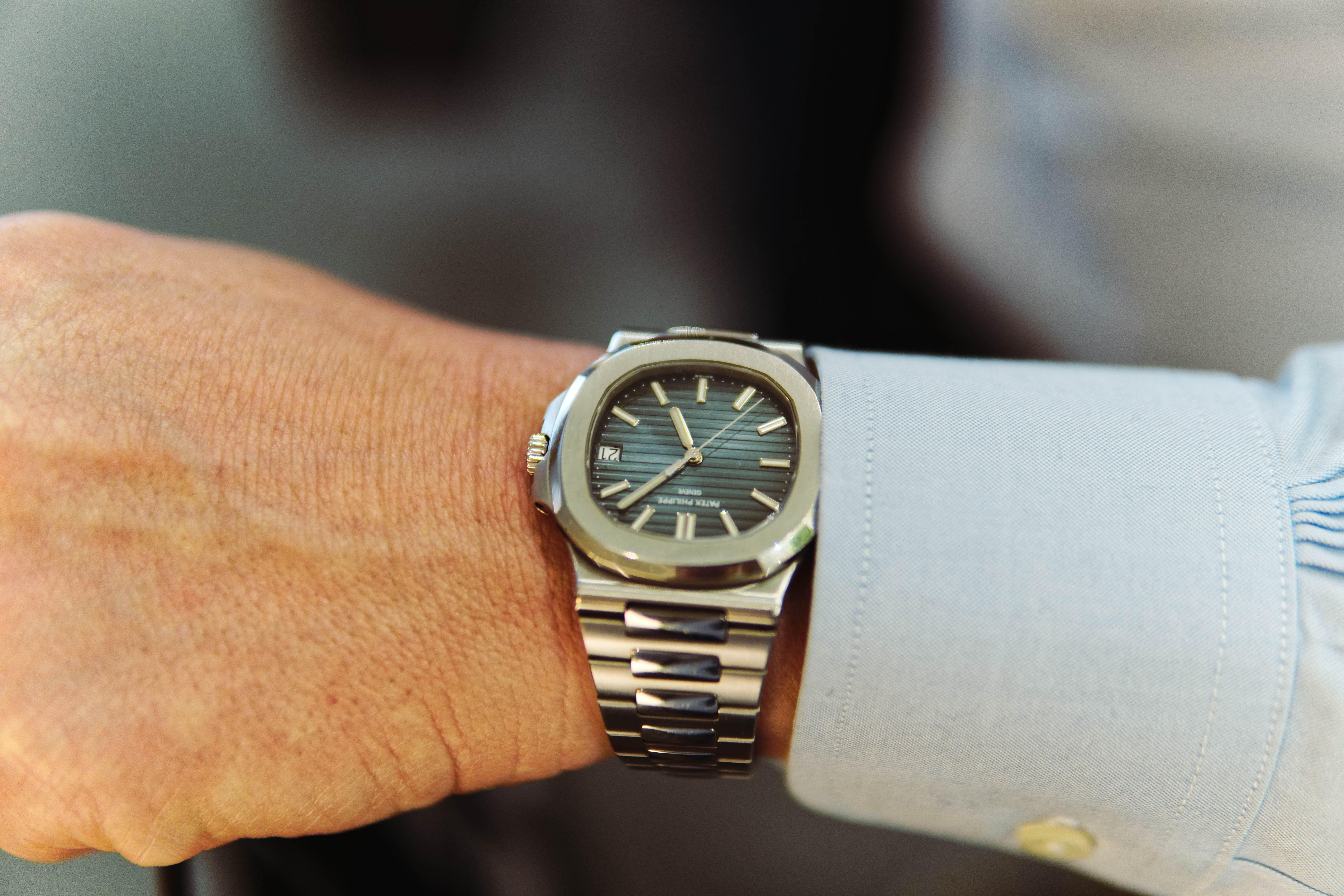 So what is driving the appeal of the Nautilus 5711?
Design: The Nautilus 5711's classic design is instantly recognisable worldwide. Yet it is distinctly understated in comparison to its competitors. Its minimalist design is made from stainless steel, a remarkable yet robust choice, given the lust for the precious metals, stones and embellishments that adorn even Patek Philippe other luxury watches. The Nautilus 5711's softly rounded octagonal bezel and 'porthole'-shaped case comes in at 40mm and is said to be reminiscent of a transatlantic liner. This 3-hander watch sports a dial with distinctive horizontal grooves and a thin (8.3mm thick) integrated steel bracelet with fold-over clasp. The hour markers, hour and minute hands of the Nautilus are finished in white gold with a luminescent coating. A popular feature of the Nautilus is the practical date window in the 3 o'clock position. Nautilus models are available for both men and women.
Engineering: Aesthetics aside, the Patek Philippe Nautilus 5711 enjoys all the precision engineering you expect from a Patek Philippe mechanical watch. The Nautilus 5711 contains the Caliber 26-330 S C. Patented features include the Gyromax® balance wheel and the Spiromax® balance spring which integrates Silinar® ground-breaking silicone technology for precise maintenance of oscillations. The Nautilus has a maximum power reserve of 45 hours. The central rotor of the watch is made from 21 carat gold. Throughout, the Nautilus 5711 enjoys exceptional craftsmanship and the fine finishing of its parts, which is characteristic of Patek Philippe.
Functionality: Water resistance to 120m means that the Nautilus 5711 integrates well with an active lifestyle and isn't out of place while yachting, relaxing on a beach or skiing. With Patek Philippe's dedication to designing the Nautilus 5711 for an active lifestyle, it is no surprise that it has been well received by a wide range of celebrity owners such as Brad Pitt, Victoria Beckham and Don Cheadle.
How much does it cost to obtain a Patek Philippe Nautilus 5711?
The price of a Patek Philippe Nautilus 5711 is heavily influenced by not only its quality and fine manufacture but its relative scarcity. Availability of this prized watch is noticeably limited, with Patek Philippe only releasing a handful of Nautilus models annually. To purchase a new Nautilus 5711 you must already be the owner of a Patek Philippe watch, but you will be joining a waiting list that currently exceeds 8 years. We've seen the Nautilus 5711 listed for sale today over £50,000 (EUR 58,780 at today's exchange rate).
*We have also seen examples of older Pre-Owned Nautilus models exceeding budgets of £40,000 - such is the continuing obsessive desire to attain this symbol of luxury prestige.
Why should you own a Patek Philippe Nautilus 5711?
Getting your hands on the Patek Philippe Nautilus 5711 will be an achievement in itself, but owning this iconic timepiece which is rich in heritage, style, quality and class means that it is well worth the chase. The Nautilus 5711 may well be the perfect luxury watch purchase.
The Chrono Hunter team is here to help you with all your luxury watch purchase and sell requests. Our service is 100% free and we're dedicated to make sure you always get the best possible deal for your watch. We look forward to speaking to you soon.
You can find more information about buying a watch with Chrono Hunter by clicking here or selling a watch with Chrono Hunter by clicking here
recent news
Prices Have Dropped! but just for one day
November 28, 2019
This could be a costly mistake when selling your watch
April 9, 2019
April Fools: Rolex Daytona & Patek Philippe Nautilus available at Retail Price Today Only!
April 1, 2019
Follow us on instagram
Timeline
November 14, 2019

Chrono Hunter attends Aston Martin Christmas event

November 5, 2019

Chrono Hunter attends WatchPro Awards 2019

October 31, 2019

Chrono Hunter shortlisted for Ecommerce retailer of the year for WatchPro Awards 2019

July 7, 2019

Chrono Hunter attends GoodWood Festival of speed

June 29, 2019

Chrono Hunter attends Yiannimize GT finish line

May 21, 2019

Chrono Hunter attends McLaren Hatfield showroom launch evening

May 14, 2019

Chrono Hunter attends Aston Martin Hatfield new showroom launch evening.

March 27, 2019

Chrono Hunter attends the Porsche Hatfield Launch of the 992 Carrera

March 24, 2019

Chrono Hunter attends Baselworld 2019

February 18, 2019

Chrono Hunter watch sales surpassed £300,000

January 9, 2019

Registered Retailers Increased by 125% and over £100,000 worth of business through Chrono Hunter in the first three months of going live.

November 22, 2018

Chrono Hunter Attend Salon QP, kindly invited by James Gurney Executive Director of Salon QP

November 6, 2018

Chrono Hunter Attend WatchPro Awards, kindly Invited Nicholas Hickey Director of Luxe Watches

October 29, 2018

ChronoHunter.com goes live to the public

October 24, 2018

Chrono Hunter partners with Shortlist Magazine to Give away a Rolex Submariner

August 16, 2018

Pre registration opens and 500 people sign up

August 4, 2018

Chrono Hunter's first advertisement appears in the Financial Times, How to Spend It, magazine.

July 26, 2018

The concierge service hunted down a Rolex Skydweller in Yellow Gold

June 23, 2018

Chrono Hunter Defenders wow at the Modball Rally

May 5, 2018

Website goes into production