The Best Watch Winders For 2021: Store Your Watch In Style
A watch winder is a must-have accessory for anyone who collects high-quality watches. Most luxury watches, such as Rolex and Tag Heuer, are self-winding, which means they rely on motion to keep them ticking. When you take a self-winding watch off your wrist the lack of motion results in the timepiece gradually winding down and stopping, leaving the wearer having to reset it the next time they put it on. Automatic watch winders offer a convenient way to store and wind luxury watches so that they're always right on time.
Last Updated: 14 Sep, 2021
The Best Watch Winders For 2021: Store Your Watch In Style
Table of Contents
Watch winders are not only practical, but they're also an elegant way to store and display luxury watches, particularly for those who like to collect high-end timepieces. Plus, the best watch winders offer good protection against dust and other pollutants in order to keep them in the best possible condition, an important factor when investing in expensive watches.
Although not the cheapest of watch accessories, automatic winders make for a really good investment for anyone who is serious about luxury watches. We've rounded up a list of the very best watch winders for 2021 and there's a little something for everyone, no matter your budget or the size of your luxury watch collection.
Best Single Watch Winders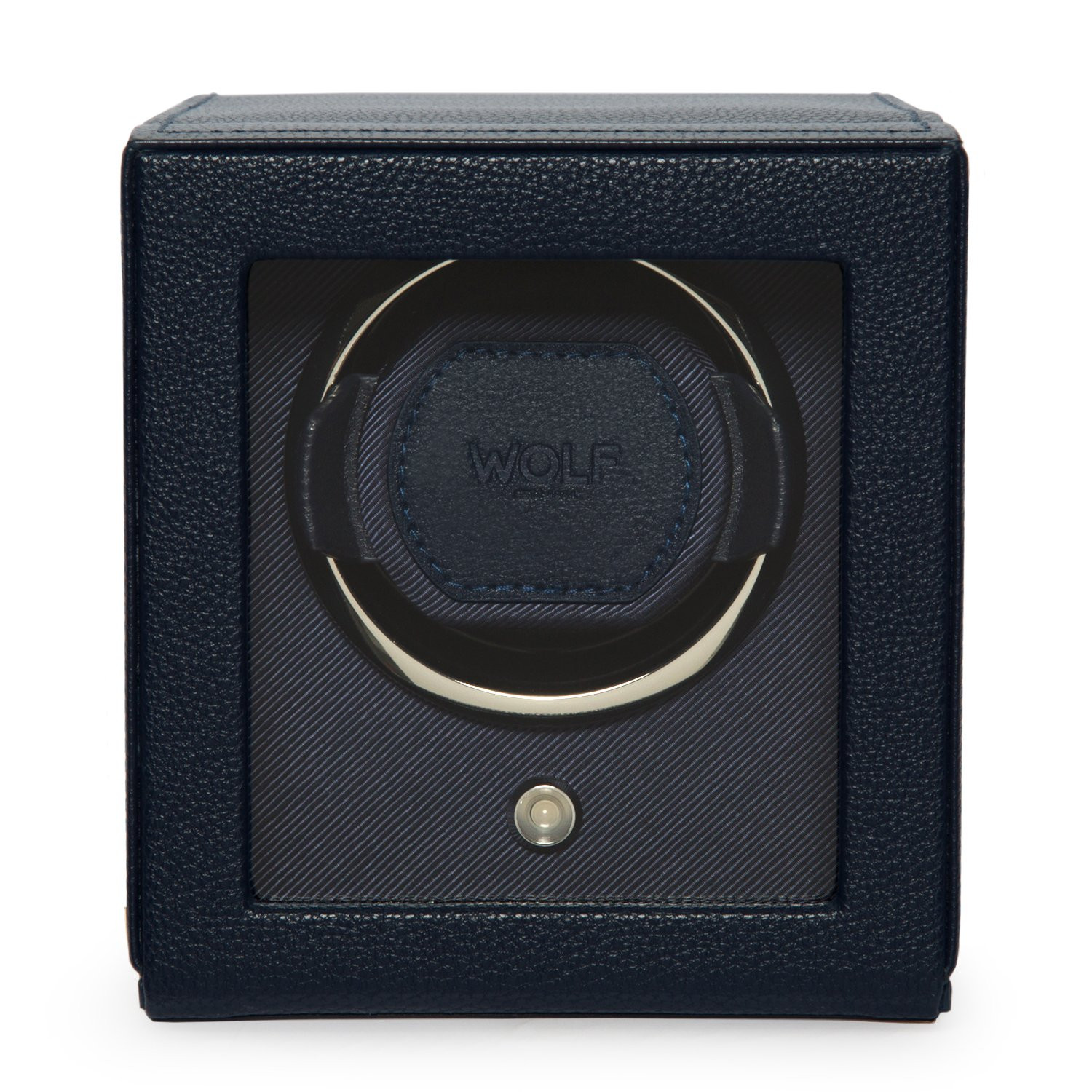 This simple and sophisticated winder features a protective cover, sleek vegan leather and chrome hardware which gives it a classic and versatile vibe that would fit right in on any dresser.
All WOLF winders count the precise number of rotations rather than estimating them to make for the perfect wind.
The Cub delivers 900 turns per day and offers intermittent rotation with sleep and pause phases, and it can be run on AC power or AA batteries.
It is available in a wide range of colours too - classics such as Navy, Black, Brown and Cognac are the most popular shades, but Green, Bordeaux, and Orange are perfect for those who want their winder to stand out from the crowd.
RAPPORT Evo Single Watch Winder - £325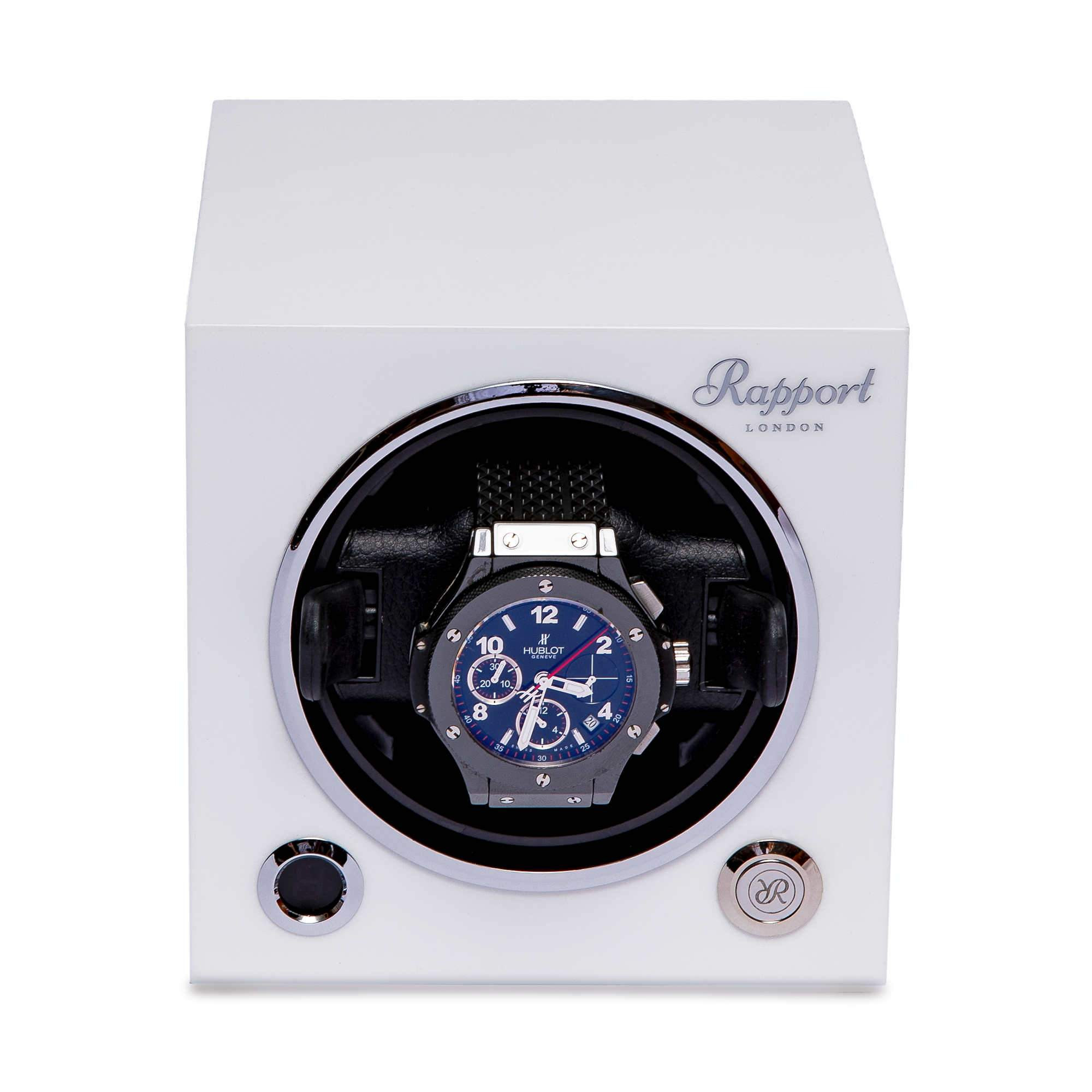 The RAPPORT Evo is a smart single winder cube precisely crafted from wood and finished with glossy lacquer. The Evo is a great option for those thinking of growing their watch collection because these chic cubes look brilliant lined up neatly along a dresser. With three direction settings and multiple levels of control, the Evo is a versatile and elegant choice. It is available in Polar White, Black, Racing Green, https://www.chronohunter.shop/collections/watch-winders/products/rapport-evo-single-watch-winder-crimson-red">Crimson Red, or Admiral Blue in high gloss finishes, or if you'd prefer a natural wood finish there is Macassar and Maple to choose from.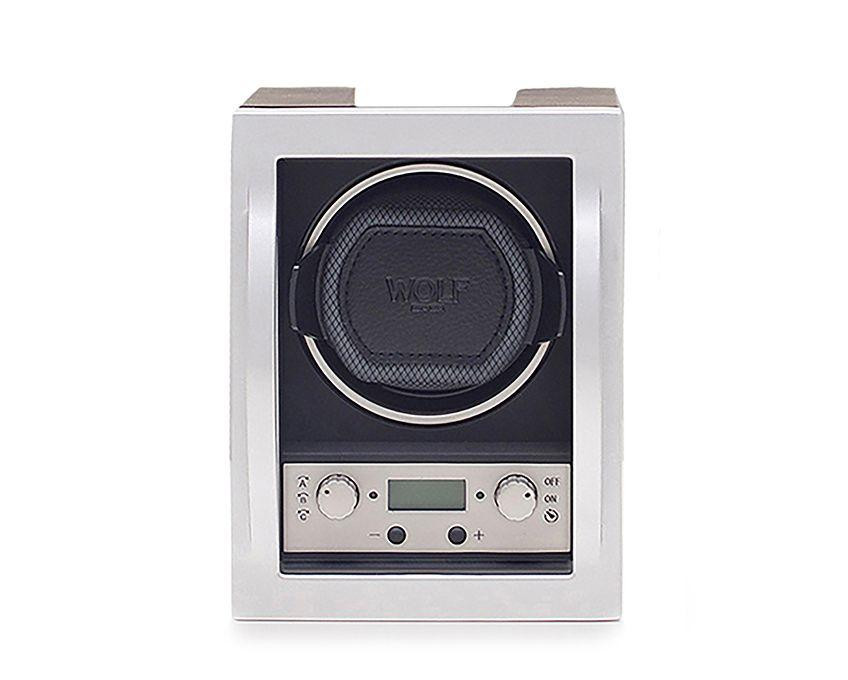 The innovative Module 4.1 is the perfect solution for those with growing watch collections because each single 4.1 winder interconnects with another, allowing you to build up a tower of winders with each new watch you invest in. With just one AC adaptor you can power up to 12 modules at once, and since each module can be set between 300 and 1200 turns per day you can ensure every unique watch in your collection gets the perfect wind. A backlit LCD display and glass cover gives the Module 4.1 an ultra-modern finish.
Best Double Watch Winders
RAPPORT Formula Duo Watch Winder - £795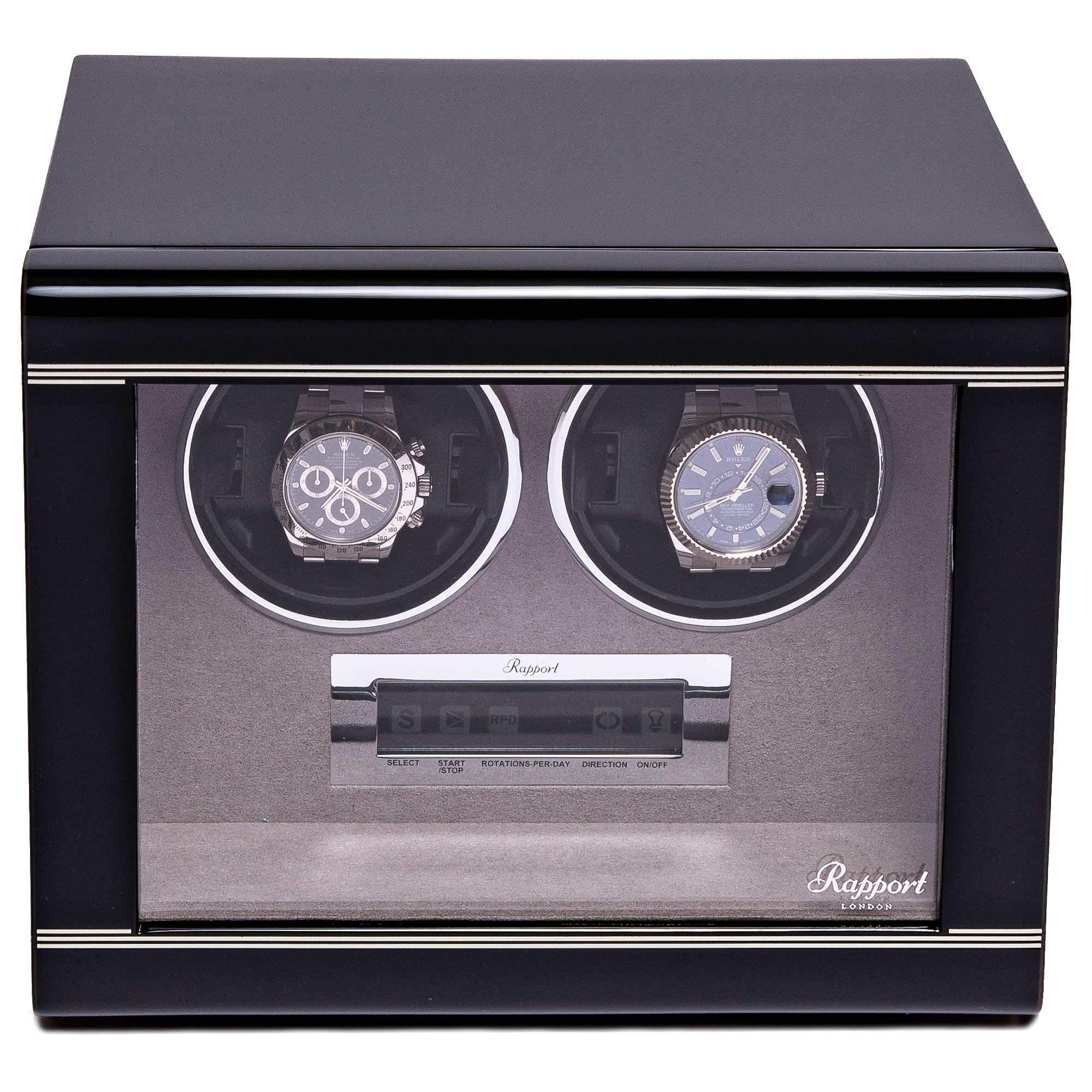 The Formula Duo is designed to keep two watches safe, running smoothly and in exceptional condition thanks to its lockable glass door and soft velvet lining. It has a touchscreen LCD control panel to adjust winding settings, and interior lighting to make your timepieces the focal point of your dresser. This chic, modern and luxurious double watch winder is available in glossy Black or durable Carbon Fibre.
WOLF Axis Double Winder - £1009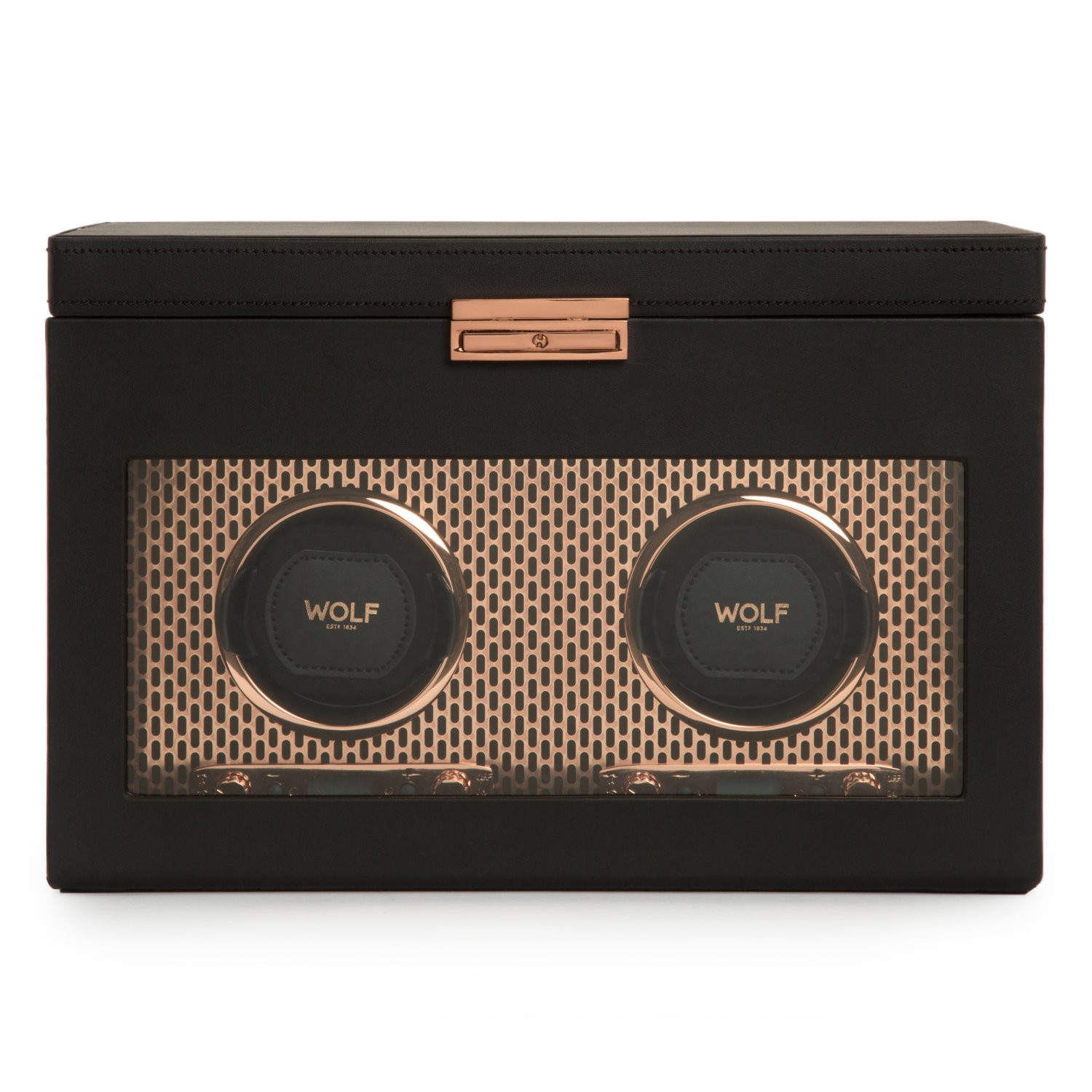 The seriously sophisticated WOLF Axis Double Winder features laser-cut perforated steel to safe keep your watches in bold, modern style. It has a microsuede interior, a locking glass cover for security, and a backlit LCD display, plus a handy storage compartment on top which includes a cuff and a travel case, and is big enough to accommodate an additional three watches. Our favourite version of the Wolf Axis is in Copper, but it's also available with powder coated Black hardware.
WOLF Savoy Double Winder - £1099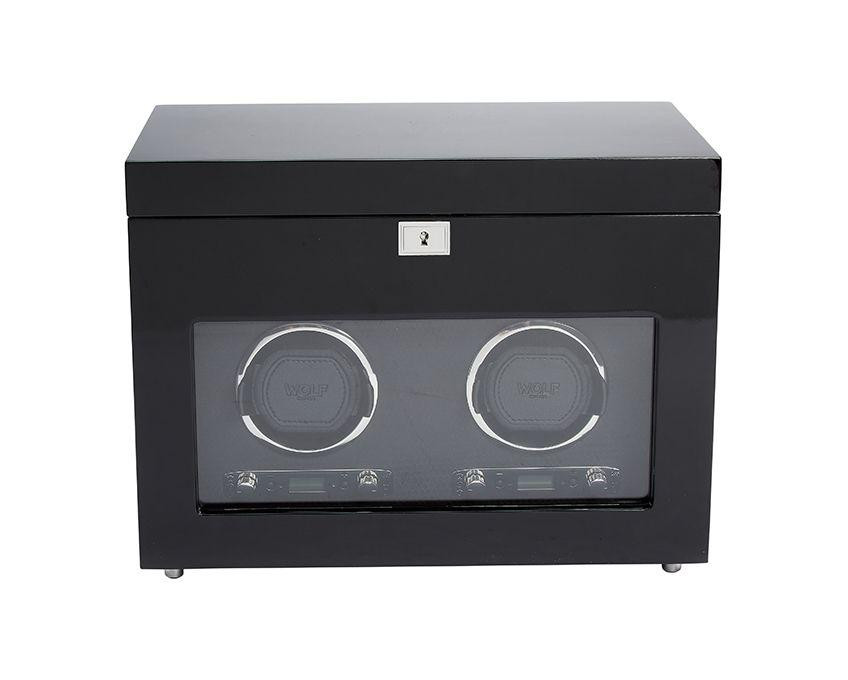 The WOLF Savoy Double Winder has a classic black wood exterior which has been hand polished ten times for a pristine finish. It has a locking glass cover on the front and a storage compartment up top that can house up to six additional watches. Each winder can be set between 300 and 1200 turns per day, with clockwise, counter-clockwise and bidirectional settings available. The Blackvariety is finished with silver hardware, while the gentlemanly Burlwood model's hardware is finished in gold.
RAPPORT Mariners Chest Two Watch Winder - £2900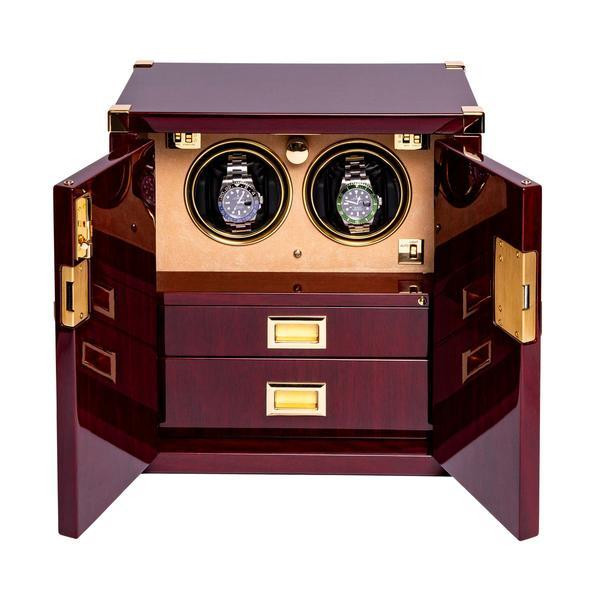 The Mariners Chest is a true work of art handcrafted from rich Mahogany or Black Ebony. It is designed in the traditional style of a Sea Mariner's chest with durable brass or chrome hardware and lockable doors. The soft, velvet-lined interior has internal lighting and two storage draws with space for additional watches or other pieces of jewellery. The winders themselves have high-quality leather holders which adjust to any size strap.
Best Triple Watch Winders
WOLF Roadster Triple Winder - £1519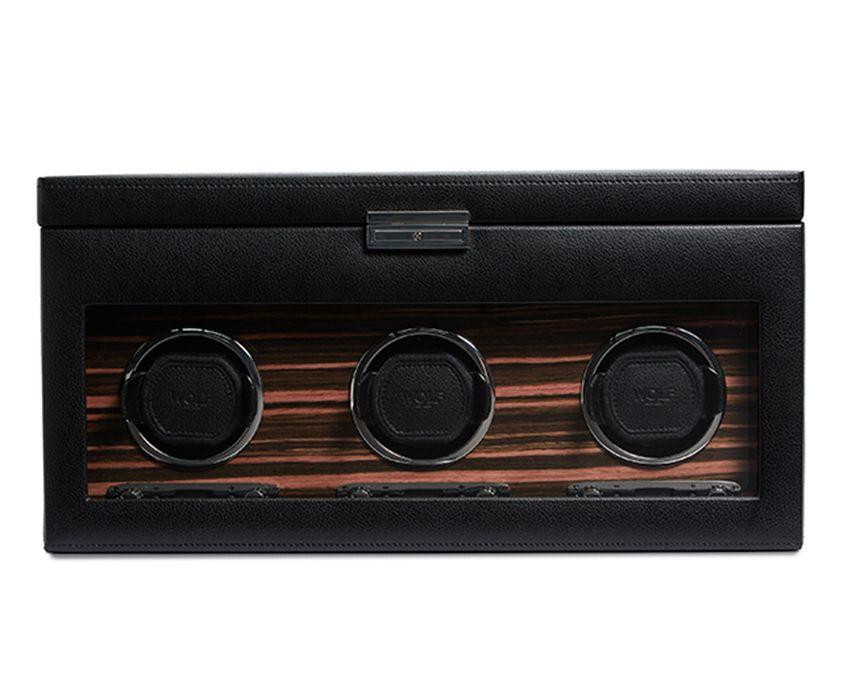 The edgy Roadster Triple Winder from WOLF was inspired by classic British motorcars - think Aston Martin, Bristol and Jaguar. The winder has a vegan leather finish surrounding high-quality ebony Macassar polished wood, with chrome hardware giving the perfect finishing touch. Not only does the Roadster have three winding modules each with an LCD display, but it has storage space for up to five additional watches or pieces of jewellery, plus a handy travel case.
WOLF Axis Triple Winder - £1519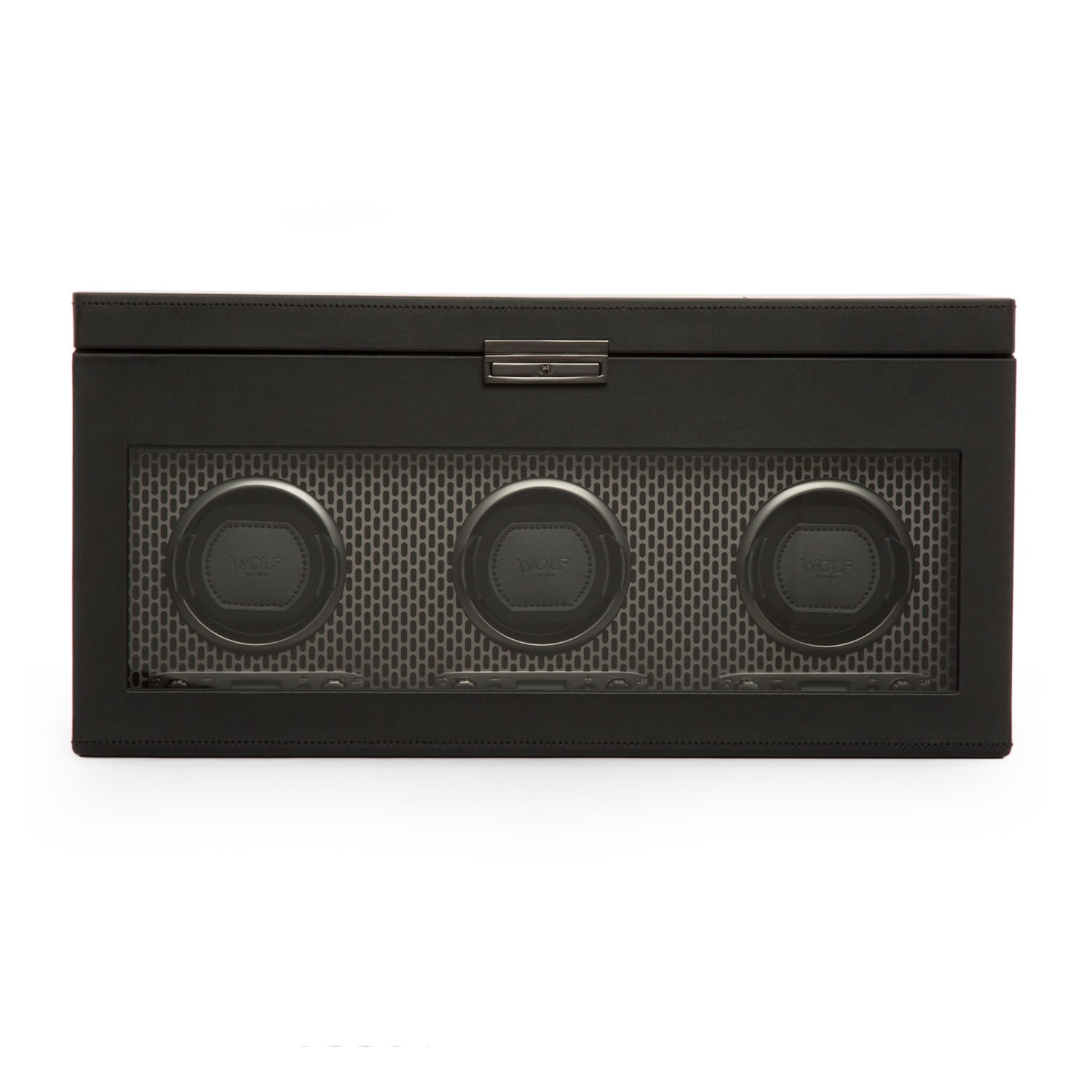 Perforated steel and clean lines make the Axis Triple Winder a modern design classic. Three winding modules are protected by a locking glass cover, while a storage compartment on the top has space for up to five more watches and houses a vegan leather travel case. This winder has WOLF's trademark patented rotation counting technology for the perfect wind, and it's available with a beautiful Copper finish or chic grey powder coat.
WOLF Viceroy Triple Winder - £1519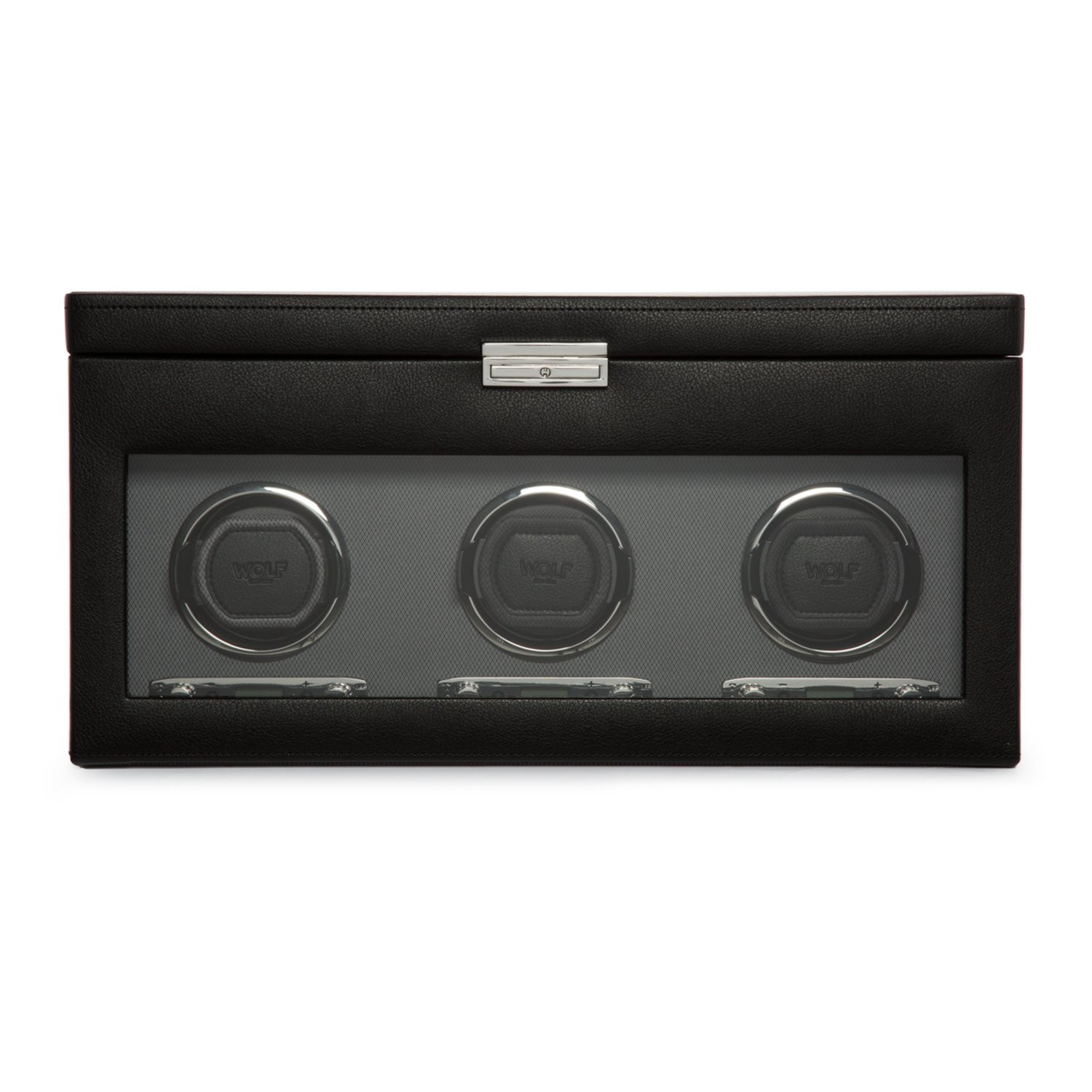 The Viceroy vegan leather triple winder has a smooth, black pebble exterior and silver textured silk lining which gives it a true timeless elegance. It can be run on AC power or batteries, has three directional settings, and precisely counts the number of rotations. The three winding modules are upfront covered by a lockable glass door, and on top is additional storage for up to five more watches plus a carry case.
WOLF Savoy Triple Winder - £1599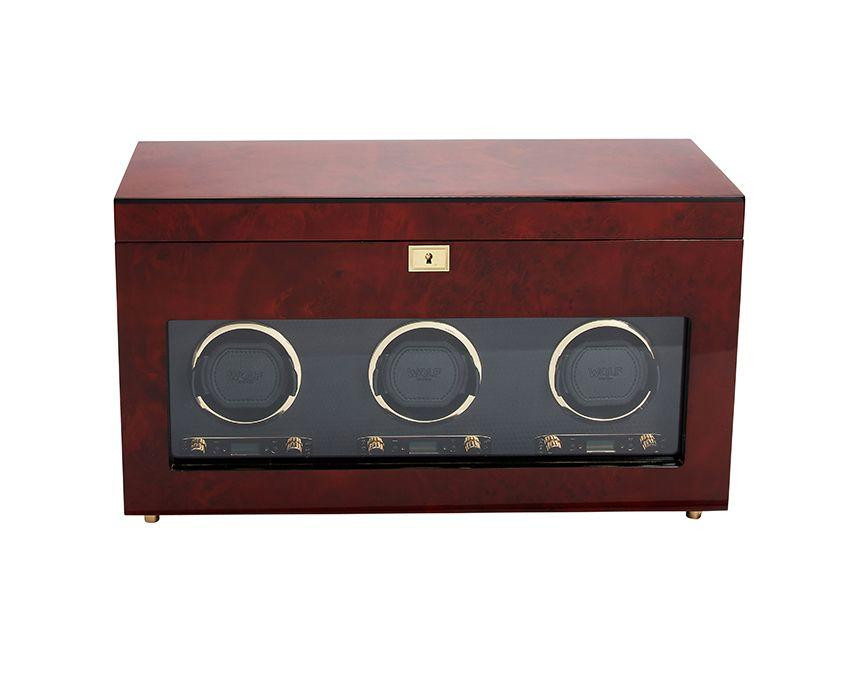 The hand-polished wooden Savoy blends traditional design with contemporary clean lines. With WOLF's patented winder count technology, multiple rotation options and three directional settings, it has everything you need to keep your favourite automatic timepieces running in style. The storage compartment on the top fits up to five additional watches and has a travel case for additional pieces of jewellery. Choose from Black Ebony with chrome-finished hardware or Burlwood with gold-finished hardware.
Best Quadruple Watch Winders
WOLF Axis 4 Piece Winder - £1729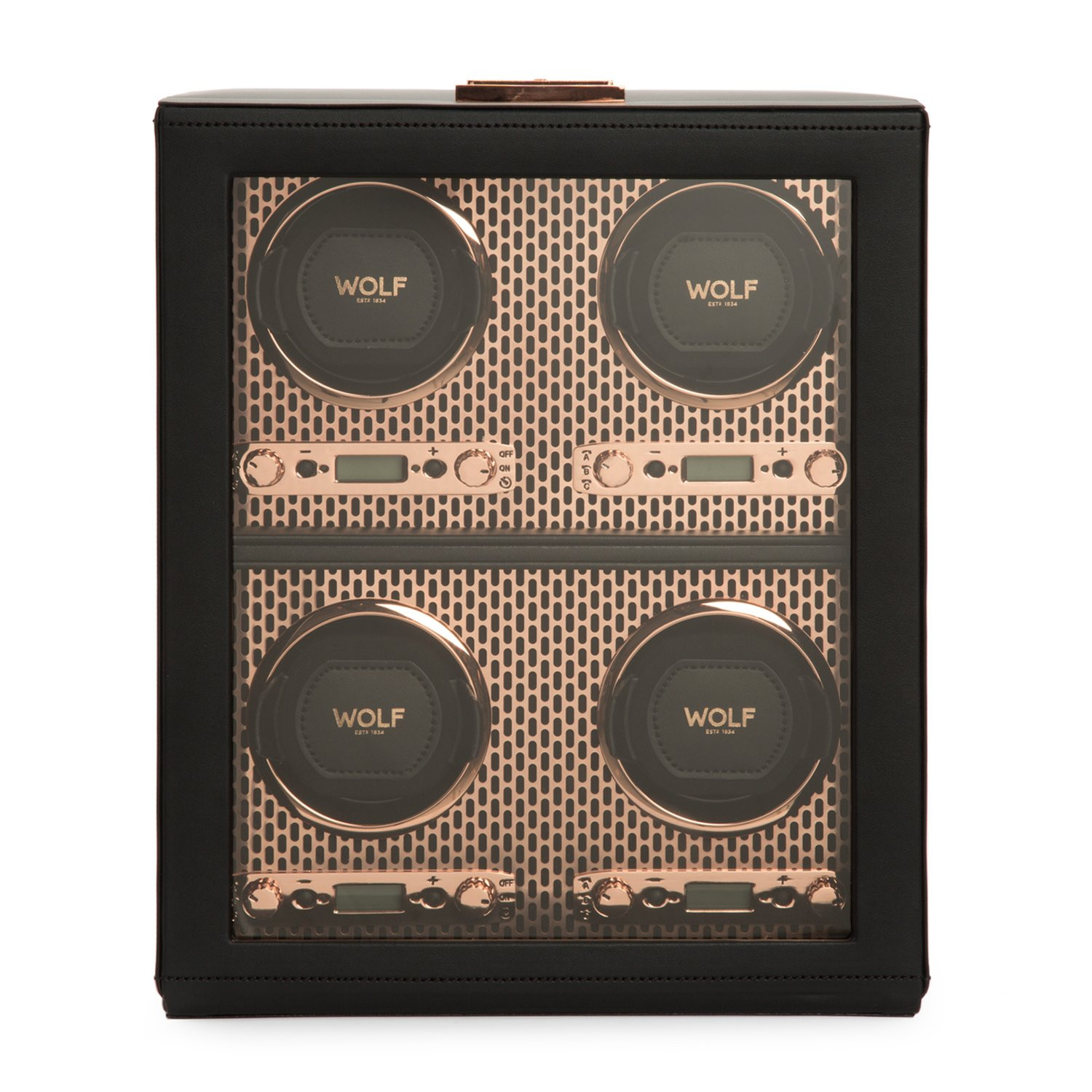 Laser-cut steel panels give the WOLF Axis a bold, industrial look for those who want to house their watches in true eye-catching style. Each of the four winders precisely counts rotations which can be set between 300 and 1200 turns per day, or double when a bi-directional setting is applied. This winder runs on AC power, has a lockable glass cover, a microsuede interior and backlit LCD displays. Choose it in Copper or Powder Coat.
WOLF Viceroy 4 Piece Winder - £1729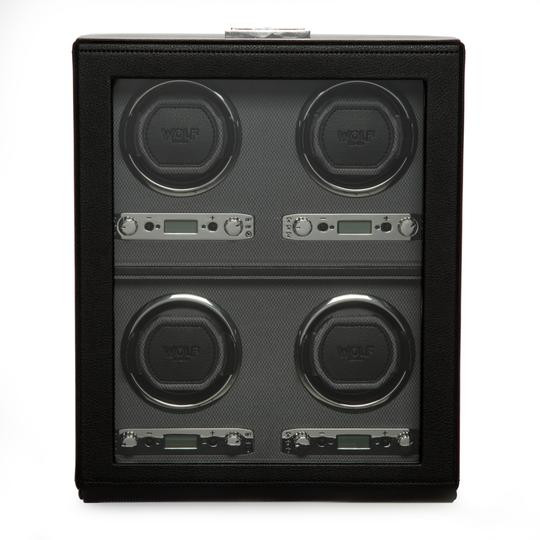 The Viceroy 4 Piece Winder is a modern classic with a smooth vegan pebble leather exterior, silver silk lining and chrome hardware. There is a backlit LCD display on each winding module allowing you to choose with ease the perfect rotation settings for each of your watches. Rotations are precisely counted and can be set clockwise, counter-clockwise or bi-directional between 300 and 1200 turns per day. To ensure your luxury watches are safe you can lock up the glass cover for security.
RAPPORT Templa Watch Winder - £4750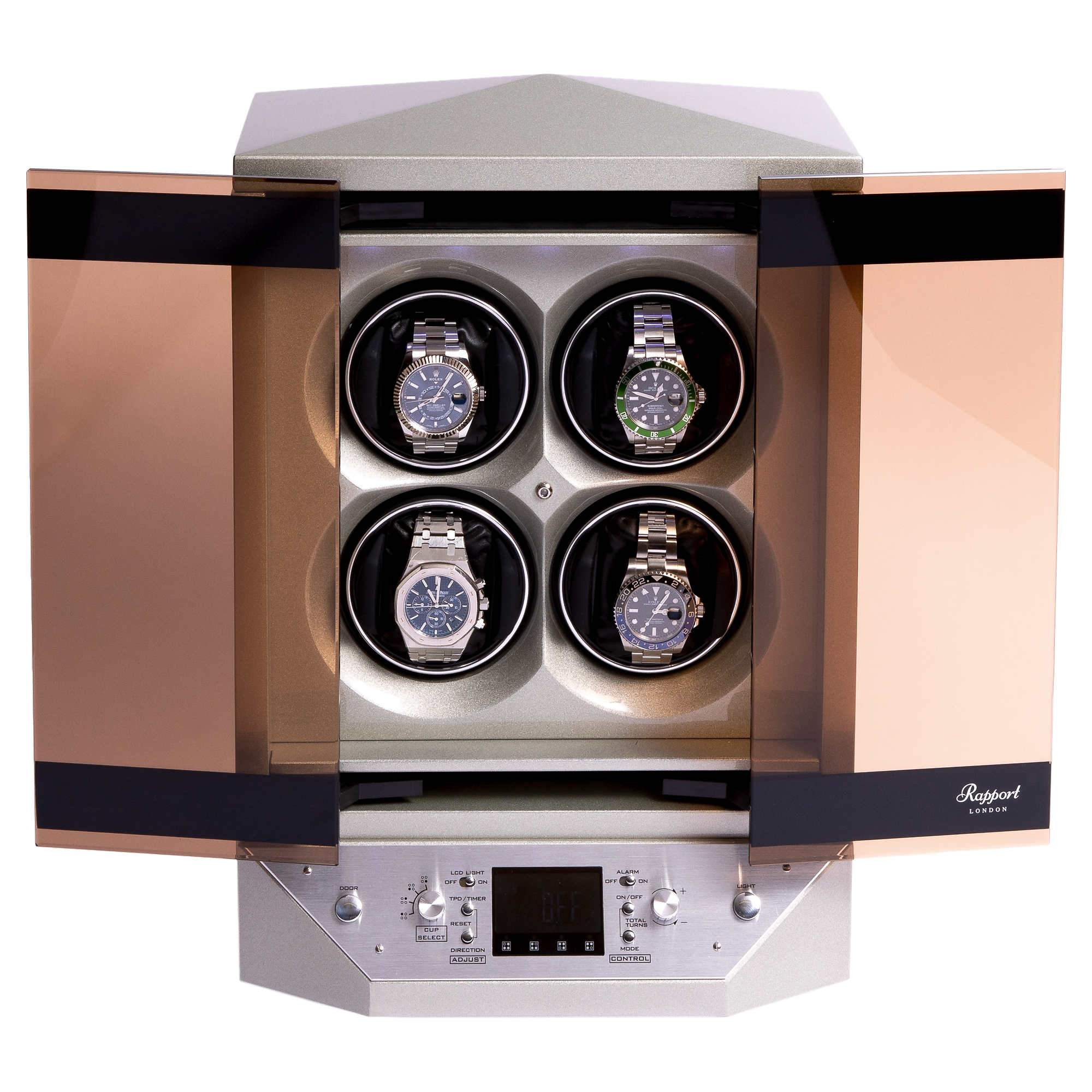 Make your luxury watches a true focal point with the ultra-modern and high-tech Templa watch cabinet, which houses four LED-illuminated winder modules within electronic smoked glass sliding doors. The four leather watch holders are fully adjustable, and an advanced LCD control panel gives you nuanced handling of each winder's settings to ensure each unique watch stays running smoothly. Choose from chic Black Ebony or futuristic Silver Platedcasing.
Best 6 Watch Winders
WOLF Viceroy 6 Piece Winder - £2499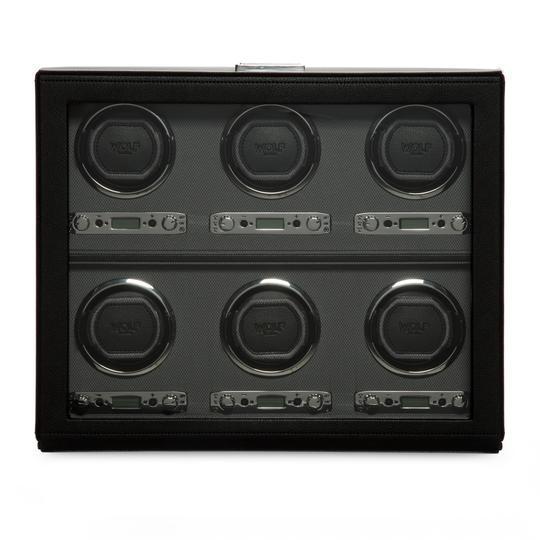 If you're looking for a six-piece winder that delivers reliable, precise rotation and effortless style, the Viceroy is for you. It has a smooth, vegan pebble leather exterior, a textured silver silk lining and chrome finished hardware, plus backlit LCD displays on each of the winding modules. This AC powered winder has three directional settings and rotations can be set between 300 and 1200, and double when bi-directional settings are applied.
WOLF Roadster 6 Piece Winder - £2499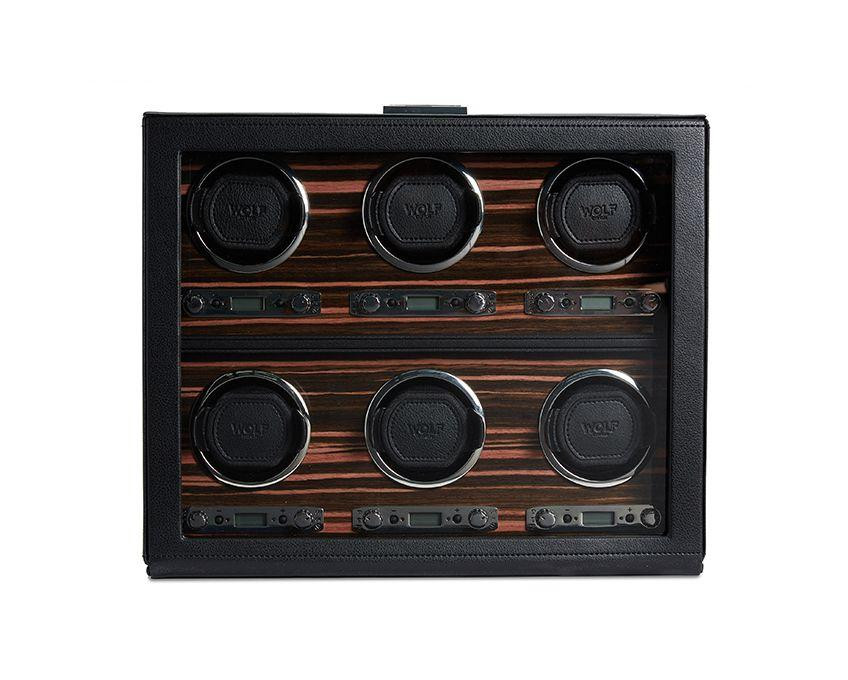 Inspired by Jaguar, Aston Martin and Bristol, the WOLF Roadster instantly conjures up images of classic British cars with its chic vegan leather exterior and beautiful polished ebony Macassar wood panels. Each winding module has a backlit LCD display and precisely counts the number of rotations delivered to ensure the perfect wind for every watch. Plus, the glass cover is lockable to keep your luxury timepieces safe.
WOLF Axis 6 Piece Winder - £2499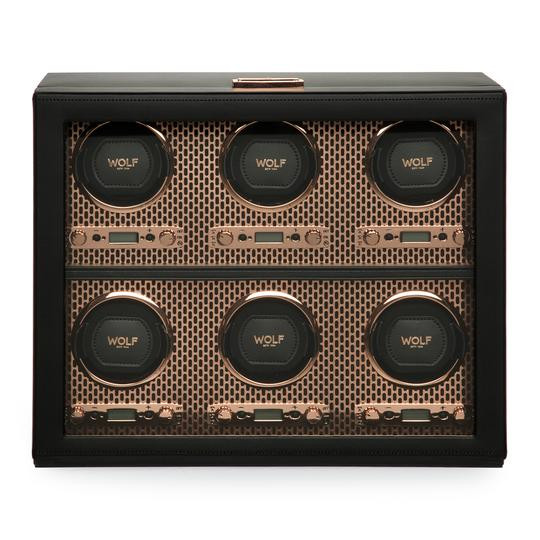 The industrial and modern Axis has laser-cut perforated steel panels which are either Copper Plated or Powder Coated depending on your style preference. The interior is soft microsuede to keep each watch safely stored, and you can adjust rotation settings with ease via backlit LCDs on each winding module. With a lockable glass front and elegant hardware to match, this bold winder has everything your luxury watch collection needs.
Best 8 Watch Winders
WOLF Viceroy 8 Piece Winder - £3279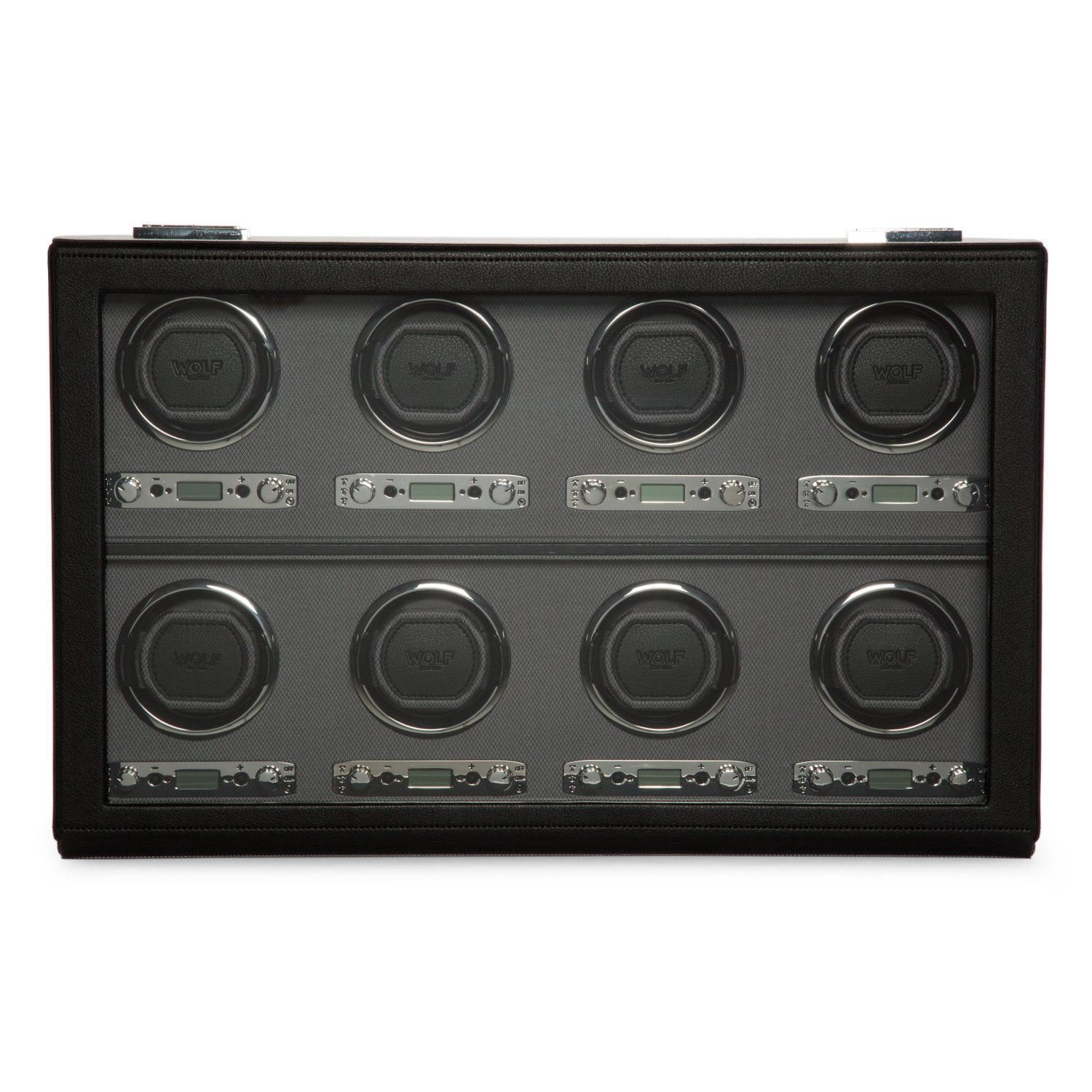 The 8 piece Viceroy from WOLF is truly the ultimate modern-day winder, combining elegant style with reliable functionality. Each winding module is controlled via a backlit LCD display and can be set between 300 and 1200 turns per day with the ability to double turns when the bi-directional setting is on. WOLF winders precisely count the number of rotations rather than estimating, which means that every watch in your collection is guaranteed to stay running smoothly. Finally, a soft pebble vegan leather exterior and a silver silk interior combine to ensure this winder delivers effortless, elegant style.
WOLF Axis 8 Piece Winder - £3279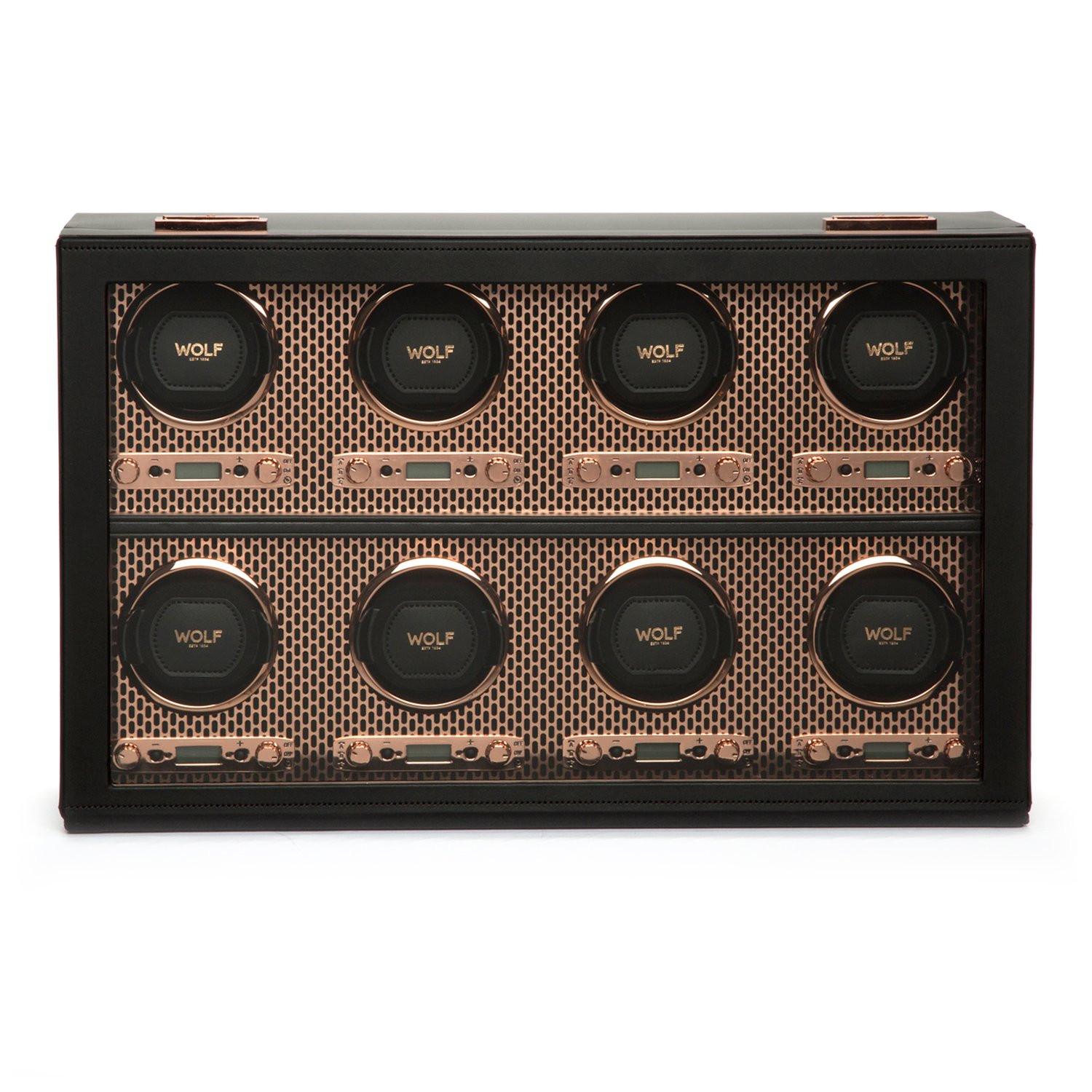 The Axis blends clean lines with Copper plated laser-cut perforated steel for an incredibly bold, industrial look that is the perfect complement to a modern luxury watch collection. WOLF's trademark patented rotation technology ensures each rotation is precisely counted, and a soft microsuede interior keeps each timepiece in perfect condition. A lockable glass cover and LCD displays are the ideal finishing touches. The Axis 8 Piece winder is also available with a Powder Coated finish if you'd prefer a subtle alternative to bold copper.
There you have it; the best watch winders of 2021 to suit all collections and budgets. Don't forget to check out the Chrono Hunter shop for even more watch accessories for your treasured timepieces.
Don't miss
The Top 12 Most Popular Patek Philippe Watches For Men
May 14, 2021
The Best Place To Buy A Rolex Watch And The Reasons Why | Chrono Hunter
May 11, 2021
Is a Rolex watch a good investment? | Chrono Hunter
April 28, 2021
Timeline
November 1, 2020

Chrono Hunter launches watch accessory store, Complimentary to the main platform.

May 14, 2020

WatchPro Originals - Watch talk with Chrono Hunter

February 15, 2020

Chrono Hunter featured in Hertfordshire life magazine acknowledging businesses that are thriving in the area.

December 15, 2019

Chrono Hunter commits to attending The first London Watch Show to be held in April 2020.

November 14, 2019

Chrono Hunter attends Aston Martin Christmas event

November 5, 2019

Chrono Hunter attends WatchPro Awards 2019

October 31, 2019

Chrono Hunter shortlisted for Ecommerce retailer of the year for WatchPro Awards 2019

July 7, 2019

Chrono Hunter attends GoodWood Festival of speed

June 29, 2019

Chrono Hunter attends Yiannimize GT finish line

May 21, 2019

Chrono Hunter attends McLaren Hatfield showroom launch evening

May 14, 2019

Chrono Hunter attends Aston Martin Hatfield new showroom launch evening.

March 27, 2019

Chrono Hunter attends the Porsche Hatfield Launch of the 992 Carrera

March 24, 2019

Chrono Hunter attends Baselworld 2019

February 18, 2019

Chrono Hunter watch sales surpassed £300,000

January 9, 2019

Registered Retailers Increased by 125% and over £100,000 worth of business through Chrono Hunter in the first three months of going live.

November 22, 2018

Chrono Hunter Attend Salon QP, kindly invited by James Gurney Executive Director of Salon QP

November 6, 2018

Chrono Hunter attend WatchPro Awards, kindly invited by Nicholas Hickey Director of Luxe Watches

October 29, 2018

ChronoHunter.com goes live to the public

October 24, 2018

Chrono Hunter partners with Shortlist Magazine to give away a Rolex Submariner

August 16, 2018

Pre registration opens and 500 people sign up