Introduction to the Rolex Daytona 116500LN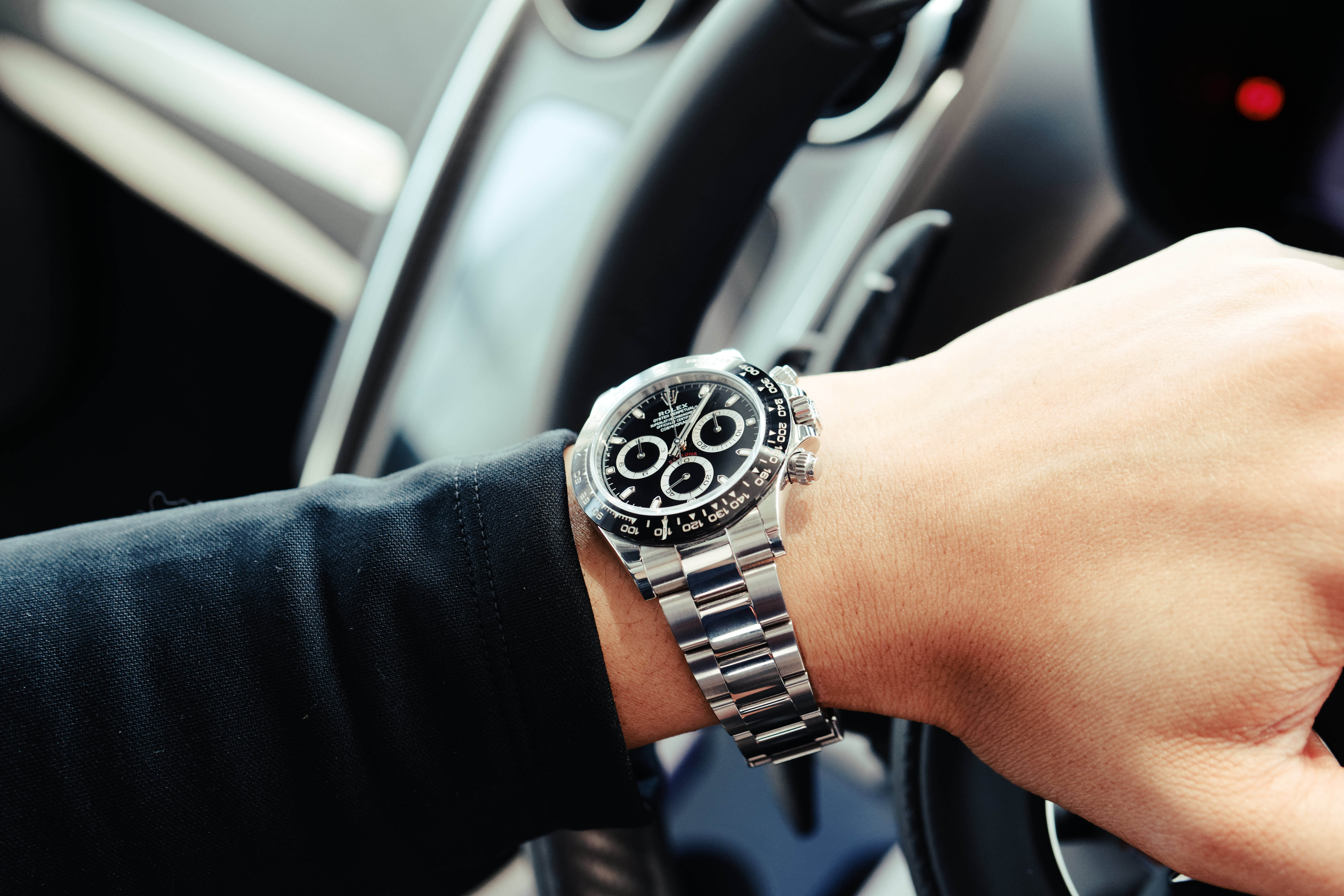 Anyone who is an admirer of Rolex watches will know that the Daytona is considered one of the most iconic designs in the world of collectable timepieces. But interestingly, it wasn't so desirable when it first came out. Let's have a quick look at the history of the Daytona line.
The Rolex Cosmograph Daytona first appeared with reference 6239 in 1963. It had a white face with dark subdials. Screw-down pushers were added in 1965. In 1988 the 16520 came out with the first major change to the watch - the automatic movement. The 116520 came along in 2000 with Rolex's first totally in-house movement.
In 2016, the reference 116500LN replaced the previous model and sported a ceramic bezel. The monochromatic style hardly changed, but the ceramic bezel is much tougher, and barely shows a scratch whereas the steel bezel was prone to showing even minor scratches.
Why is the Rolex Daytona 116500LN so popular?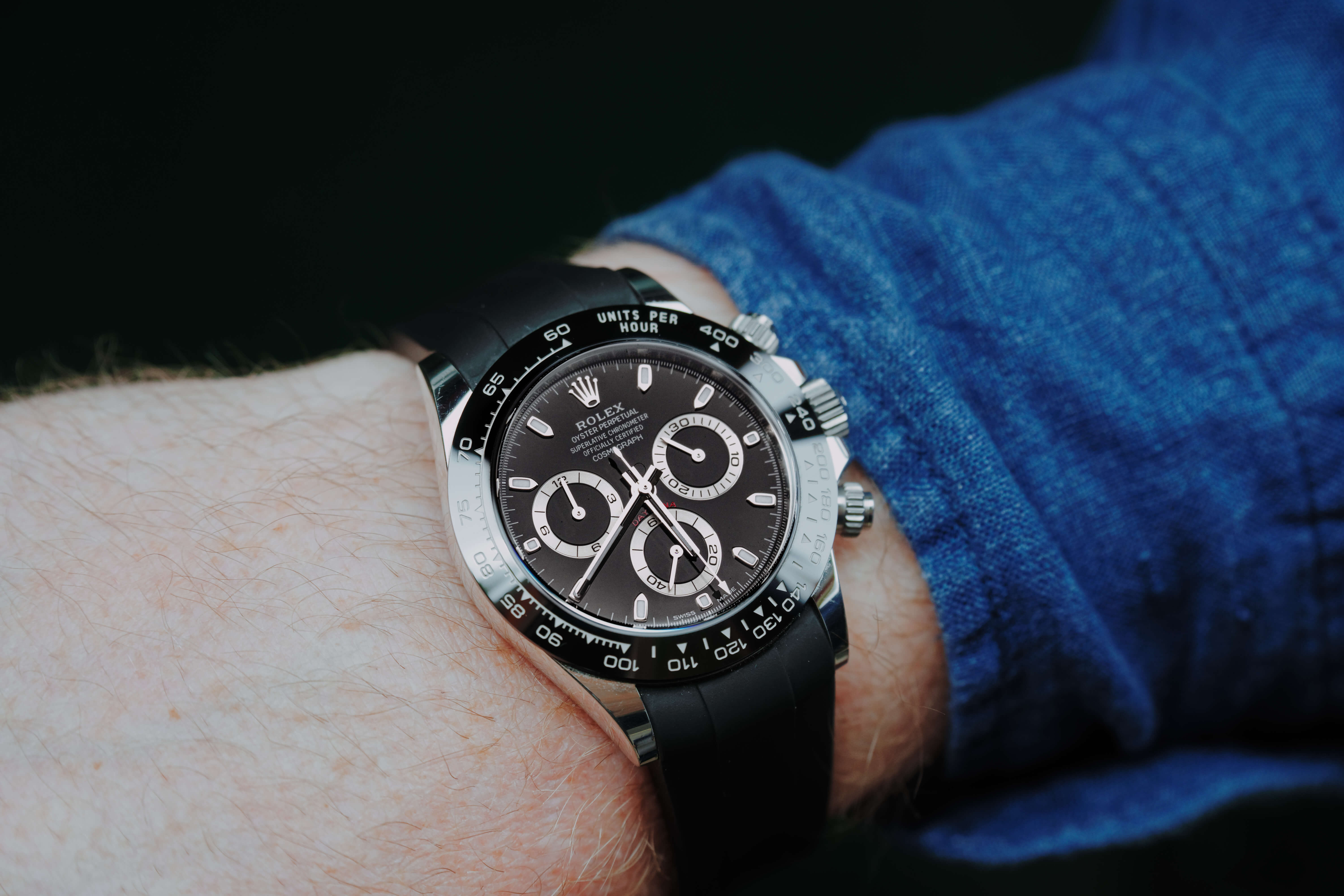 It's hard to believe now, but the first Rolex Daytonas weren't very popular at first. This is exactly the reason why, now that they are highly regarded and coveted by collectors, they are so incredibly difficult to obtain. Waiting lists can be years long.
The main reason the Daytona wasn't so popular initially is that it wasn't self-winding. At the time, Zenith had created an automatic movement for their chronographs and Rolex jumped on their coat-tails and made an agreement to use their movement.
However, in 2000 Rolex released the 116520 which featured Rolex's very own chronograph calibre 4130 which brought their steel sports watches into the modern era of in-house automatic movements.
The Daytona 116500LN has a very steady and impressive escalating value over the last 5 to 10 years. It has never lost value, only ever gained. This is probably one reason that there is such a strong pre-owned market for it, while getting it for retail is virtually impossible. This, combined with the iconic design and recognizability factor make it extremely desirable to collectors.
Rolex Daytona 116500LN specifications table
Rolex Daytona 116520 Specifications

Case diameter

40mm

Main materials

Stainless Steel

Bracelet

Oyster bracelet with safety clasp Easylink Extension System

Functions

12-hr chrono, running seconds and Chrono minutes

Dial

Black or white/luminous hours

Movement & crystal

4130, sapphire

Bezel

Fixed black Cerachrom, Tachymeter Scale.

Water Resistance

100m (330ft)
More in-depth details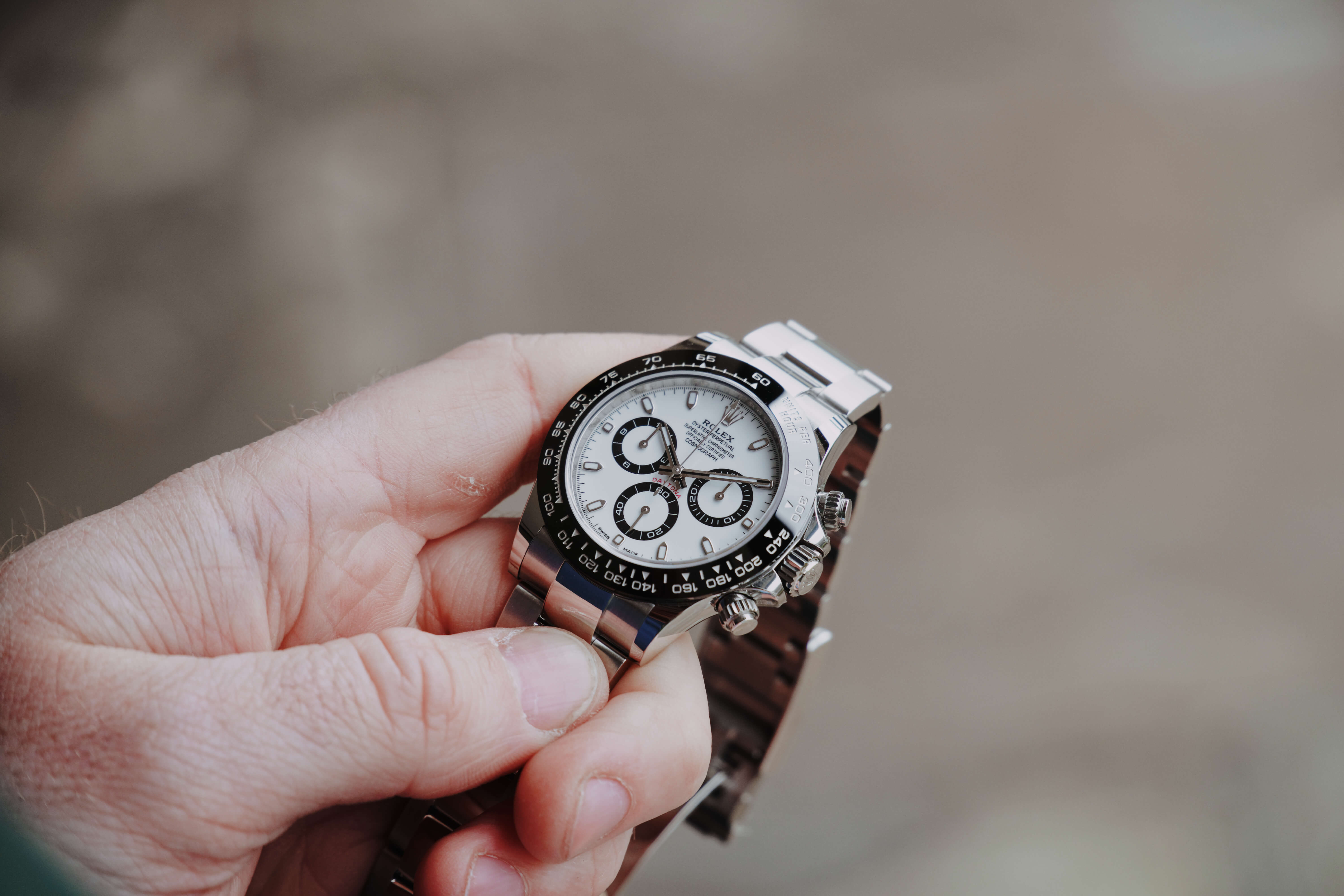 Daytona watches that are powered by Rolex's own in-house calibre 4130 movement have a running seconds indicator at the 6 O'clock point, a 12-hour counter at the 9 O'clock position and a 30-minute register at the 3 O'clock point. With a 40mm stainless steel Oyster case and Triplock screw-down crown, it is waterproof to a depth of 100 metres (330ft). The screw-down caseback and chronograph pushers prevent accidental use underwater.
The 116500LN has a ceramic bezel which is far more durable and scratch resistant than steel. It also means the bezel can be a matching colour to the rest of the watch. The clasp on the 116500LN is larger and a bit more raised than the 116520 but the bracelets are identical, with brushed outer-links and polished centre-links.
The ceramic bezel is not only corrosion resistant, but the colour will not fade with exposure to daylight. It has a tachymetric scale which is clearly marked and can be used to measure average speeds up to 400 kilometres or miles per hour. The Easylink extension on the bracelet makes it adjustable up to 5mm, making it fit perfectly and therefore comfortable to wear.
What year did the Rolex Daytona 116500LN come into production?
The 116500LN was first introduced in 2016. After the 116520 was released in 2000, featuring Rolex's first in-house chronograph calibre 4130, the 116500LN was the first automatic sports watch with a ceramic bezel.
When will the Rolex Daytona 116500LN be discontinued?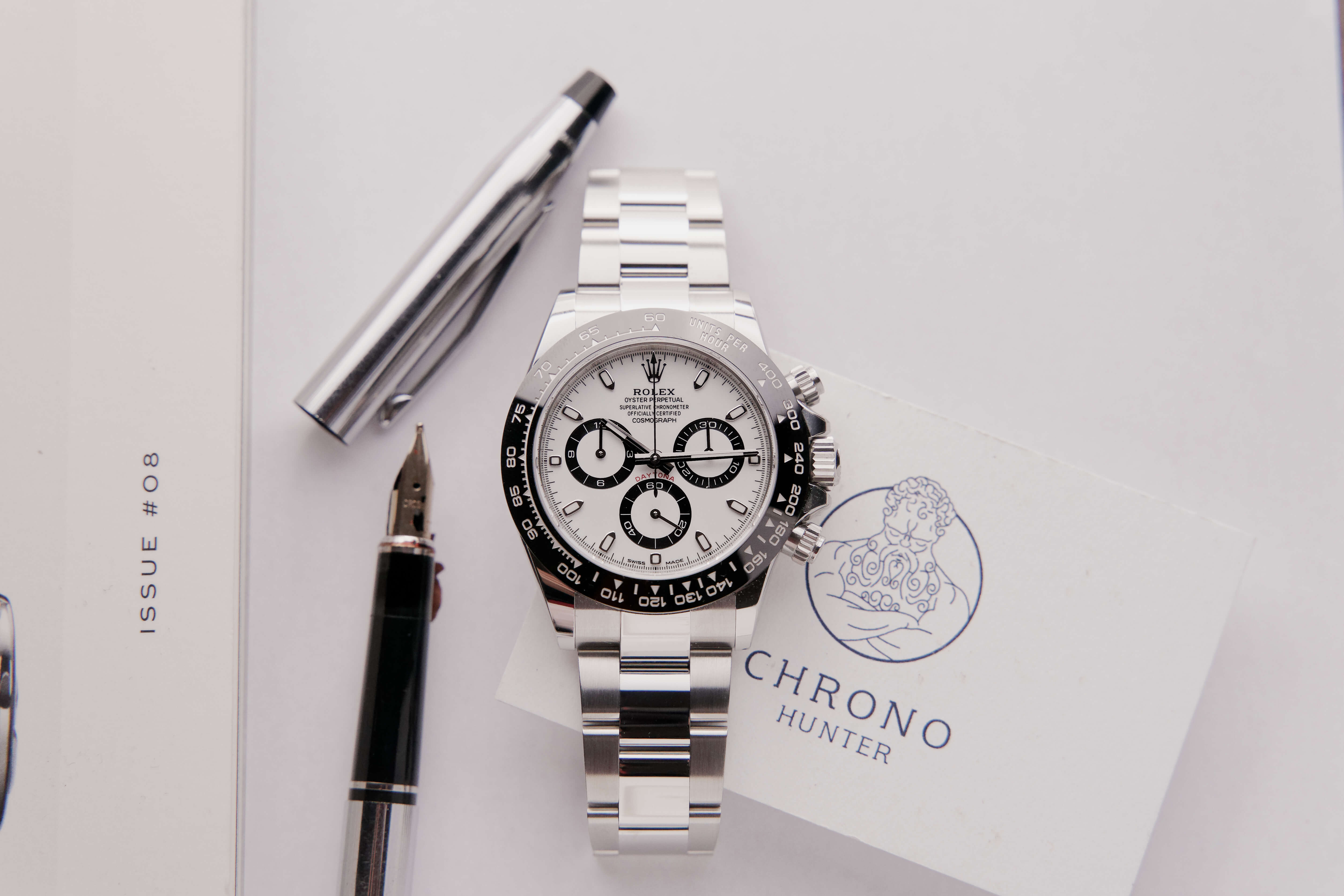 Rolex tend to hold their cards close to their chest, so to speak. There will always be a lot of rumours and speculation about references being discontinued, but it's best to take these with a large pinch of salt until solid and reliable information is released. Rumours and speculation often result in false price-rises and confusion, so it's best to wait until there's an announcement from Rolex.
Which is better: the white or black dial?
The colour preference of the dial depends on personal preference. The white is clearer to read and is more noticeable on the wrist while the black is often thought to be more masculine, slightly less noticeable and understated. The subdials on the black dial have stainless steel edges that match the case and bracelet, pulling the style together in a subtle way. For some, black can perhaps go with everything better and transitions seasons slightly more readily than the white dial. With white being thought of more as a summer colour, it might make the black more desirable. It's best to try both on and see which you like better.
Is a Rolex Daytona 116500LN a good investment?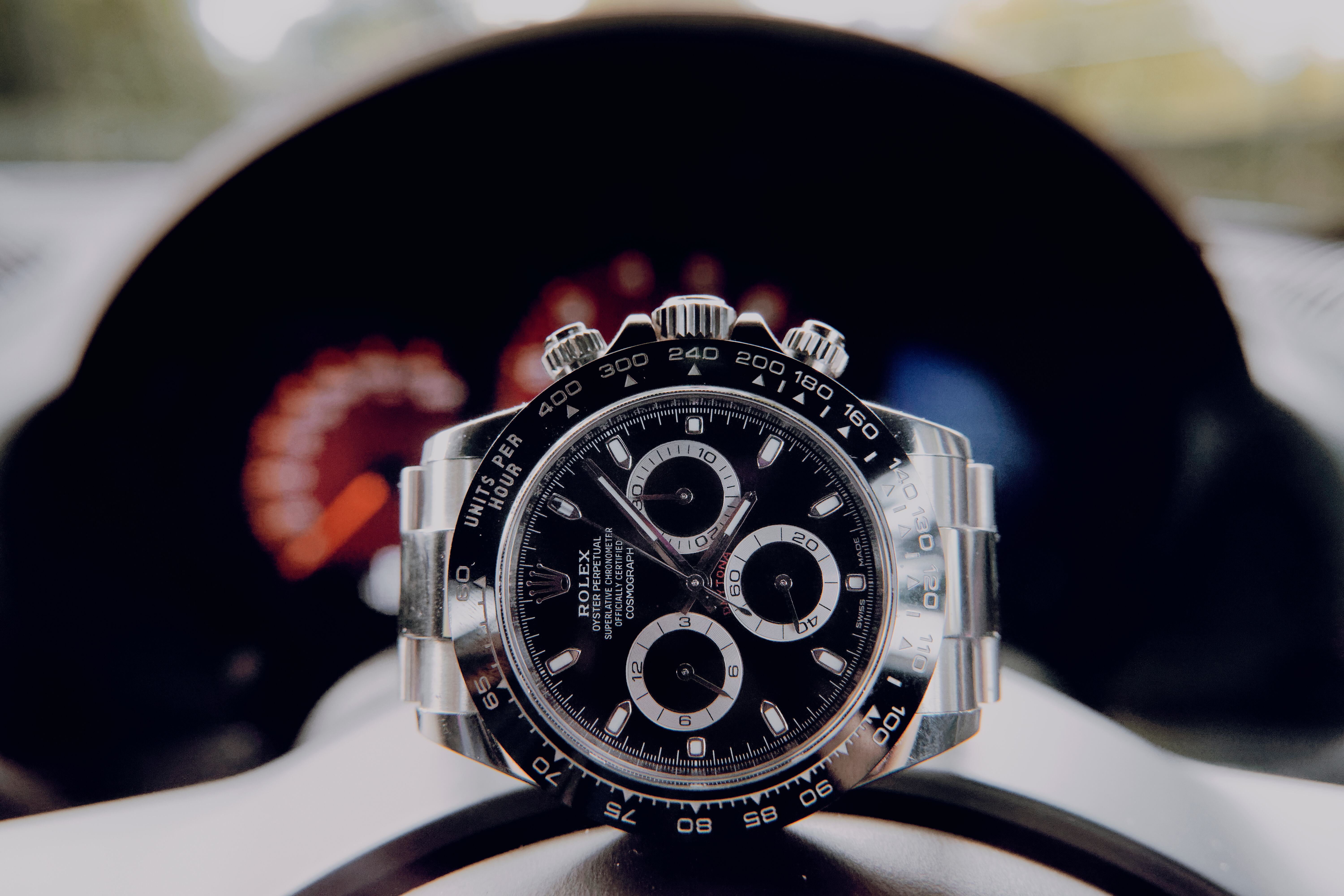 Many of the steel sports watches are generally considered to be a great investment, but the 116500LN is one of the better investments over all, judging by its performance to date.
Ironically, it was because the Daytona wasn't very popular initially that Rolex made less of them, making them harder to get and more desirable than ever today.
The rarer Daytona watches have some unusual characteristics, such as the dials that have discoloured with age, not by design but as a flaw, making them even more desirable to find and own.
Where is the best place to buy a Rolex Daytona 116500LN?
As stated previously, finding a Rolex Daytona 116500LN can be difficult. If you are thinking of buying one, your best bet is to contact Chrono Hunter for some guidance. Our experts can help you source the timepiece of your choice - authenticated and in tip-top condition.
Conclusion
The fact that the first Daytona references are such celebrities in the watch world has an effect on today's desire to own a more modern reference. Even though it may not be the coveted vintage model that most serious collectors would love to own, it's still a Daytona and is intrinsically linked to the iconic original.
Buy Or Sell A Luxury Watch The Smart Way With Chrono Hunter
If you are considering your new purchase or perhaps the sale of a beloved timepiece, Chrono Hunter is the smart way to buy or sell a luxury watch.
Compare Offers from the worlds most reputable luxury watch retailers.
Save Time.
Save Money.
Personalised Service.
Hassle-Free.
Trending
Former Procter & Gamble Executive Takes Over As New CEO Of Audemars Piguet
Rolex 1908: Is This The New Face Of Dress Watches For Gen-Z Spenders?
Question Time: How Do I Undo Or Replace My Rolex Strap?
Lab-Grown Diamonds And The Impact On Luxury Watches
New Launch: Hublot Big Bang Unico Nespresso Origin 42mm Made With Recycled Coffee Capsules
Pink Out Your Watch Collection With Our Top Salmon Dials