A complete review of the Rolex Submariner Hulk 116610LV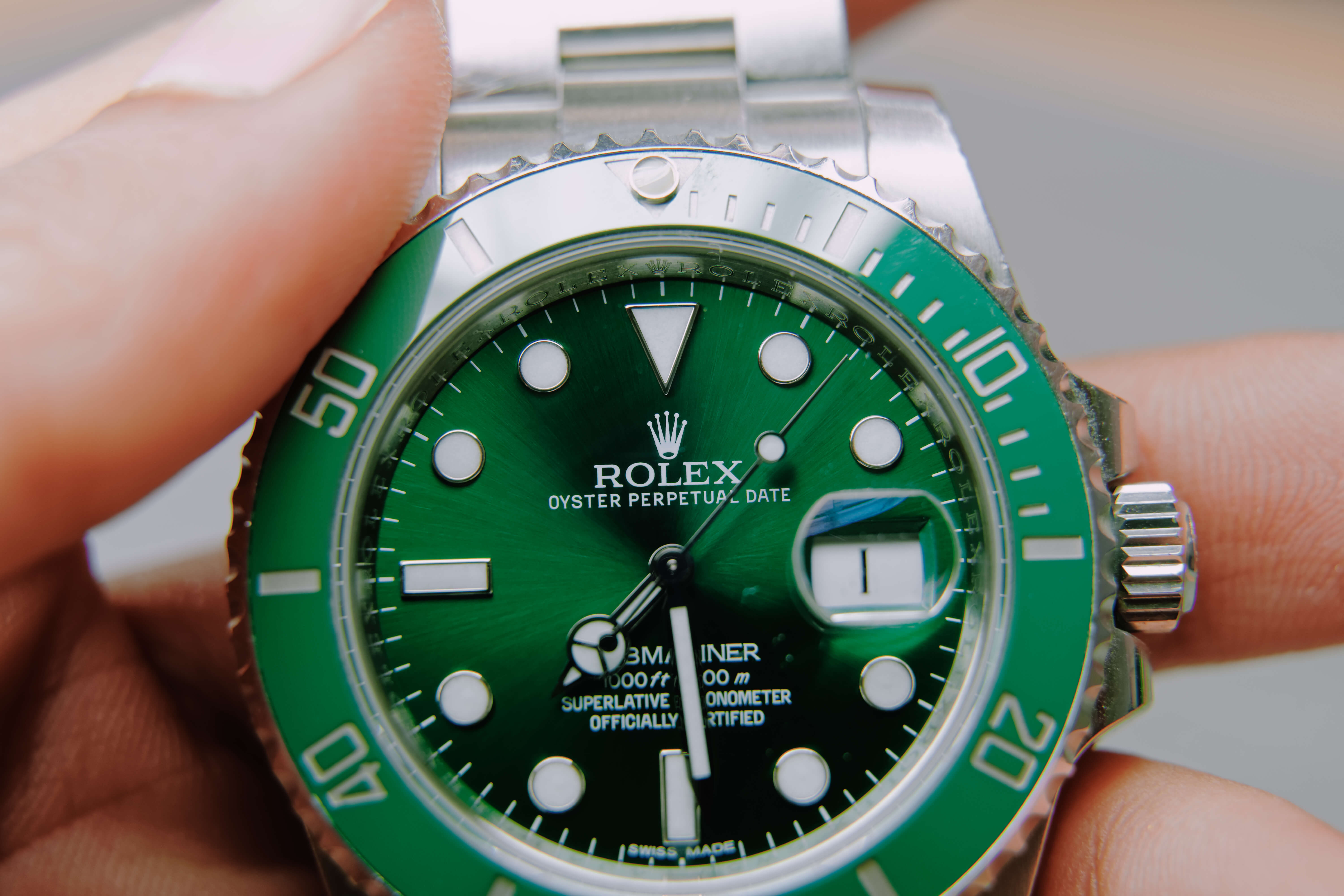 Contents
A brief history of the Rolex Submariner Hulk
Why is the Rolex Submariner Hulk 116610LV so popular?
Does the Rolex Submariner Hulk retain its value?
The Rolex Submariner Hulk (reference 11610LV) was introduced to the world in 2010, and it immediately endeared itself to luxury watch fans around the globe. While each Rolex release is an event worth getting excited about, there was something particularly special about the launch of the Submariner Hulk. Its combination of wearability, functionality and aesthetic appeal immediately marked it out as an instant classic.
While the Submariner has over fifty years of Rolex history behind it, the 116610LV model brought a new modern twist to the series. Put simply, enthusiasts love it, collectors love it and even those who aren't particularly taken by Rolex watches can see the appeal.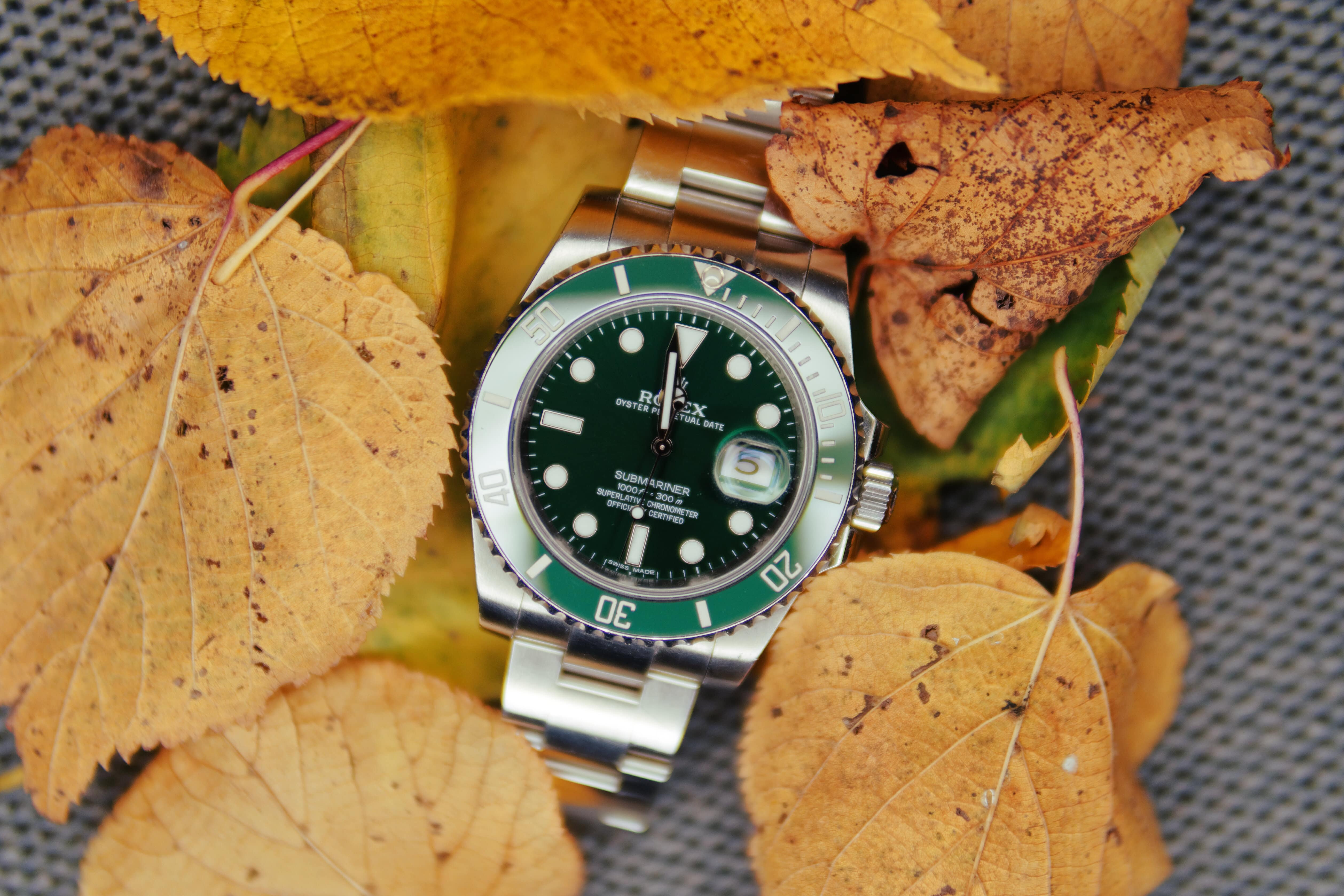 A brief history of the Rolex Submariner Hulk
While the Rolex Submariner Hulk is a unique and interesting timepiece, it has its roots way back in the 1950s. Experienced diver and Rolex member René-Paul Jeanneret had an idea to develop a watch which could work underwater while still retaining all the aesthetic hallmarks of a sophisticated timepiece suitable for everyday wear. By 1953, the Rolex Submariner was born.
While water-resistant watches were nothing new at this stage, the idea behind the development of the Submariner was to create a watch which would function as a true divers' watch – in other words, a timepiece which was capable of withstanding deep-sea plunges. To achieve this goal, the watch borrowed engineering cues from existing Panerai diver's watches. At the time, Panerai was a subsidiary of Rolex, and Rolex founder Hans Wilsdorf was enthusiastic about the idea of developing on existing Panerai technology.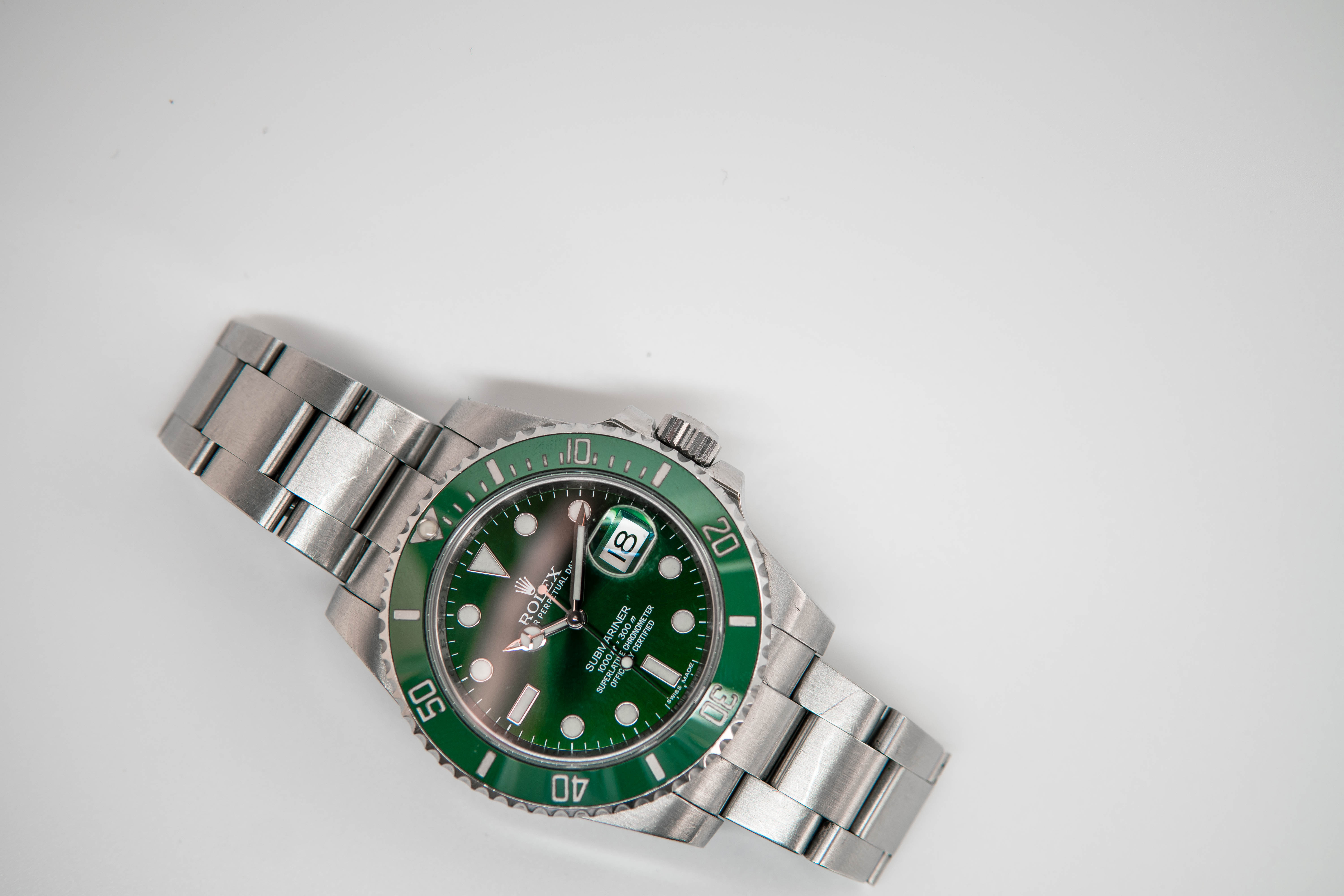 Consultation
To ensure the new Rolex diving watch was of the best possible quality, the brand consulted with the world-famous diver Jacques-Yves Cousteau. Extensive testing would follow, including the attachment of the prototype Rolex to a deep-diving submarine which would then plunge 3,100 feet below the surface of the ocean.
When the vessel returned from its deep-sea expedition, Hans Wilsdorf was thrilled to discover that the watch was indeed completely functional and still intact. From here, deeper dives would follow, with the watch continuing to duly withstand the pressures of the sea.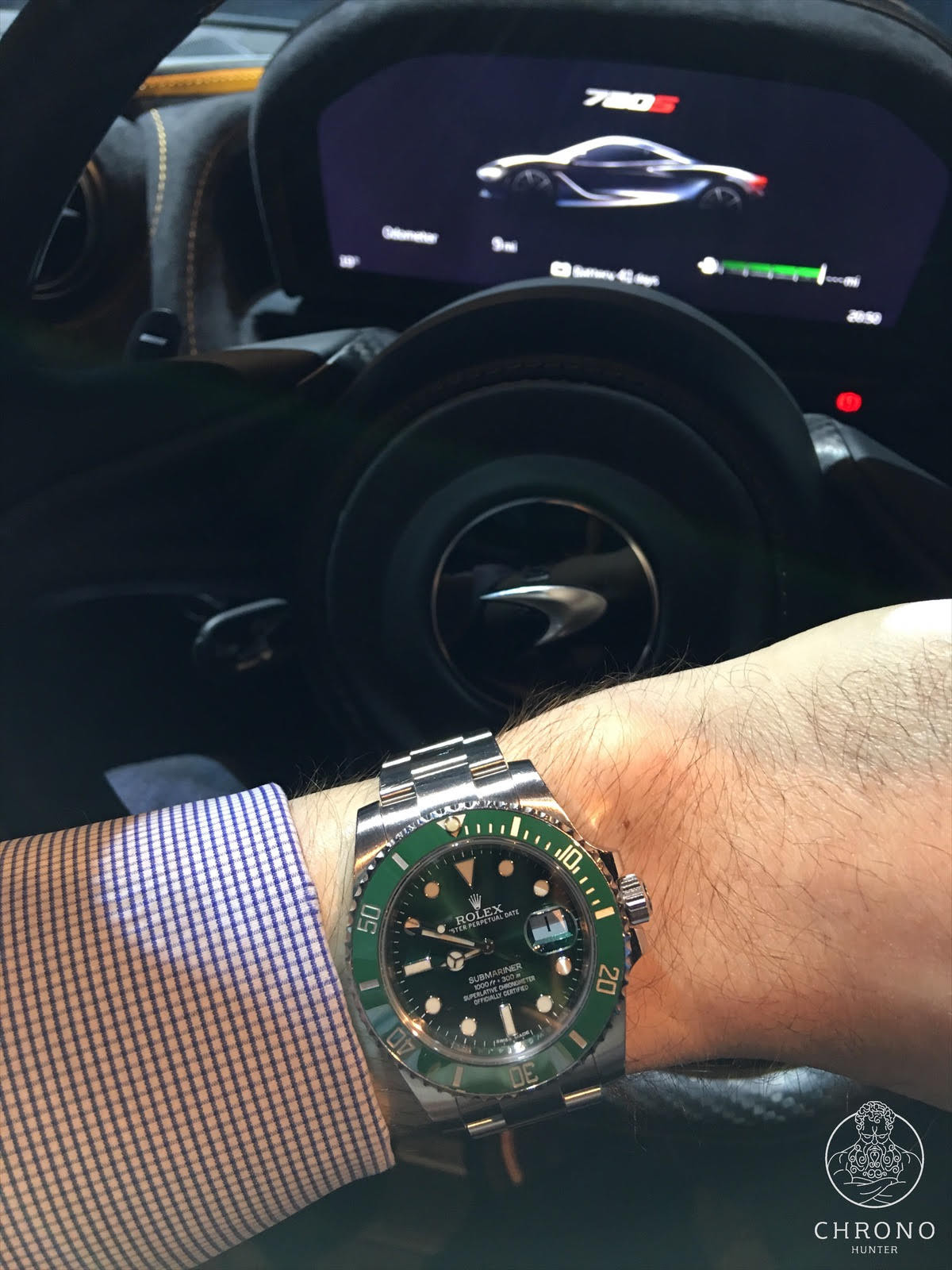 Public launch
By 1954, it was possible to buy a Rolex Submariner. The brand presented an all-new model at the Basel Fair (now known as BaselWorld). A sign simply read "Submariner: the diver's friend", and next to this sign sat an attractive wristwatch complete with luminous hands, a matte black dial and a rotating bezel. The watch made use of an automatic movement and a screw-down crown via Twinlock engineering, ensuring water resistance of up to 100 metres.
By the end of the year, Rolex had unveiled no less than three different Submariner models. The Submariner 6200 sat at the top of the range, boasting a self-winding calibre and water-resistance of up to 200 metres. The entire Submariner range was a huge hit, which helped Rolex to further their existing reputation as first-class watchmakers.
Over the years, the brand would continue to incorporate new features, experiment with new materials, upgrade movements, make design tweaks and generally evolve with the times. By 2010, the 116610LV was unveiled. This model featured a green Cerachrom bezel, an all-new bracelet and some hefty case lugs. This combination of new features swiftly saw the watch dubbed as the Rolex Submariner Hulk.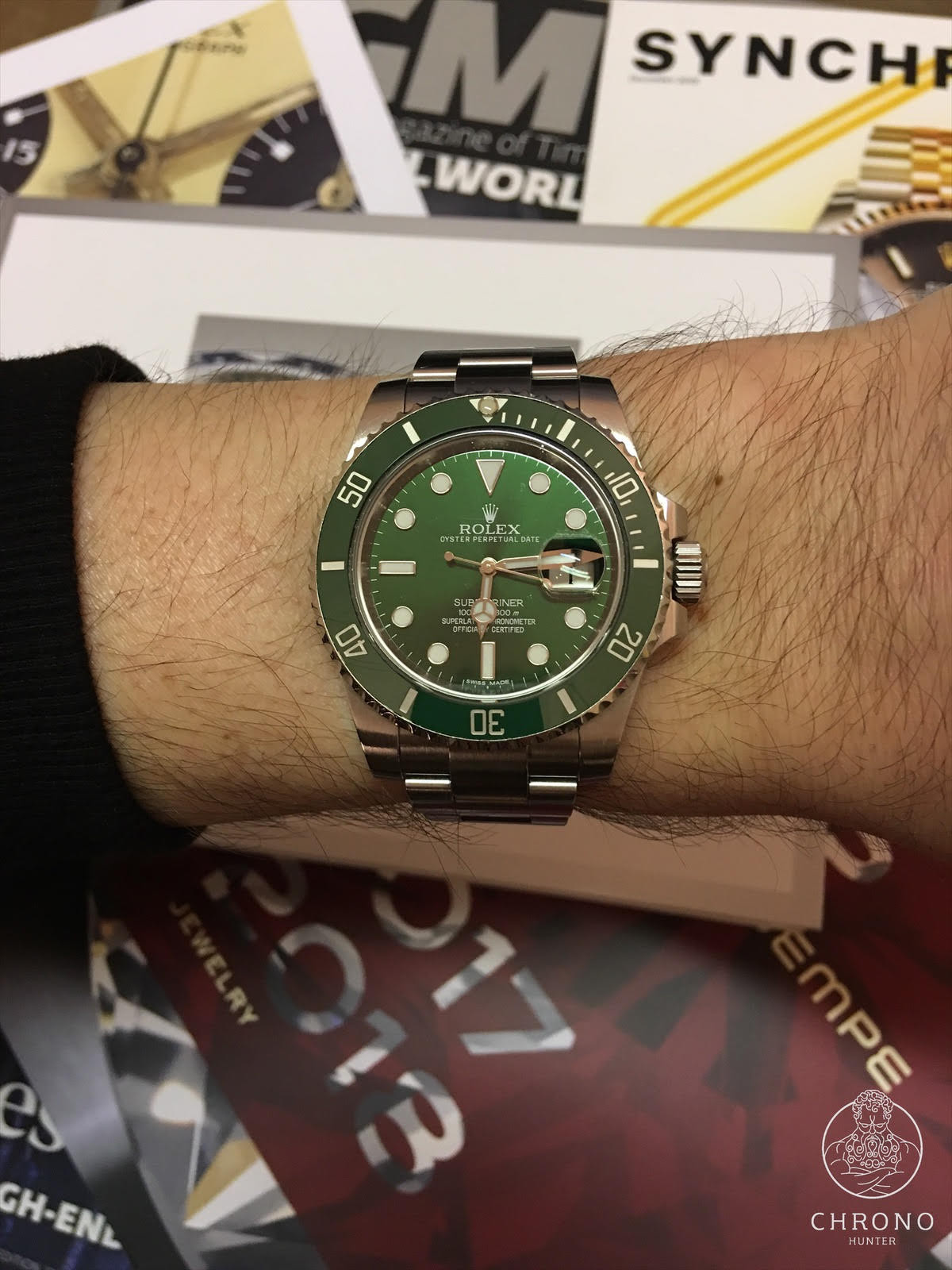 Why is the Rolex Submariner Hulk 116610LV so popular?
There's something about a green-faced Rolex watch which makes people feel instantly excited. It's not something people encounter every day, and the Cerachrom finish is incredibly pleasing on the eye – particularly in the way that it can change from bright to dark green depending on the current lighting condition. In addition to this rather unique feature, the Submariner Hulk is also a shining example of form and function in a timepiece, in that it is incredibly versatile in addition to being fashionable.
It should come as no surprise that enthusiasts and collectors alike go crazy for this legendary watch. From an aesthetic perspective, it's near-perfect. The luminescent hour markers are adorned with a green trim and constructed from 18ct gold to help retain their lustre – although there's much more to the 116610LV than its colour scheme.
For example, let's consider the watch case. It's manufactured from incredibly durable 904L stainless steel. For the record, that's the same grade of material used in the aerospace industry, which means Hulk owners can expect robustness from their watch.
The Oyster bracelet flaunts similar levels of craftsmanship and durability. It snaps together via a Glidelock clasp, which can be easily adjusted without the need for special tools. It's an incredibly comfortable watch to wear, to the point where you might even forget that you're wearing it.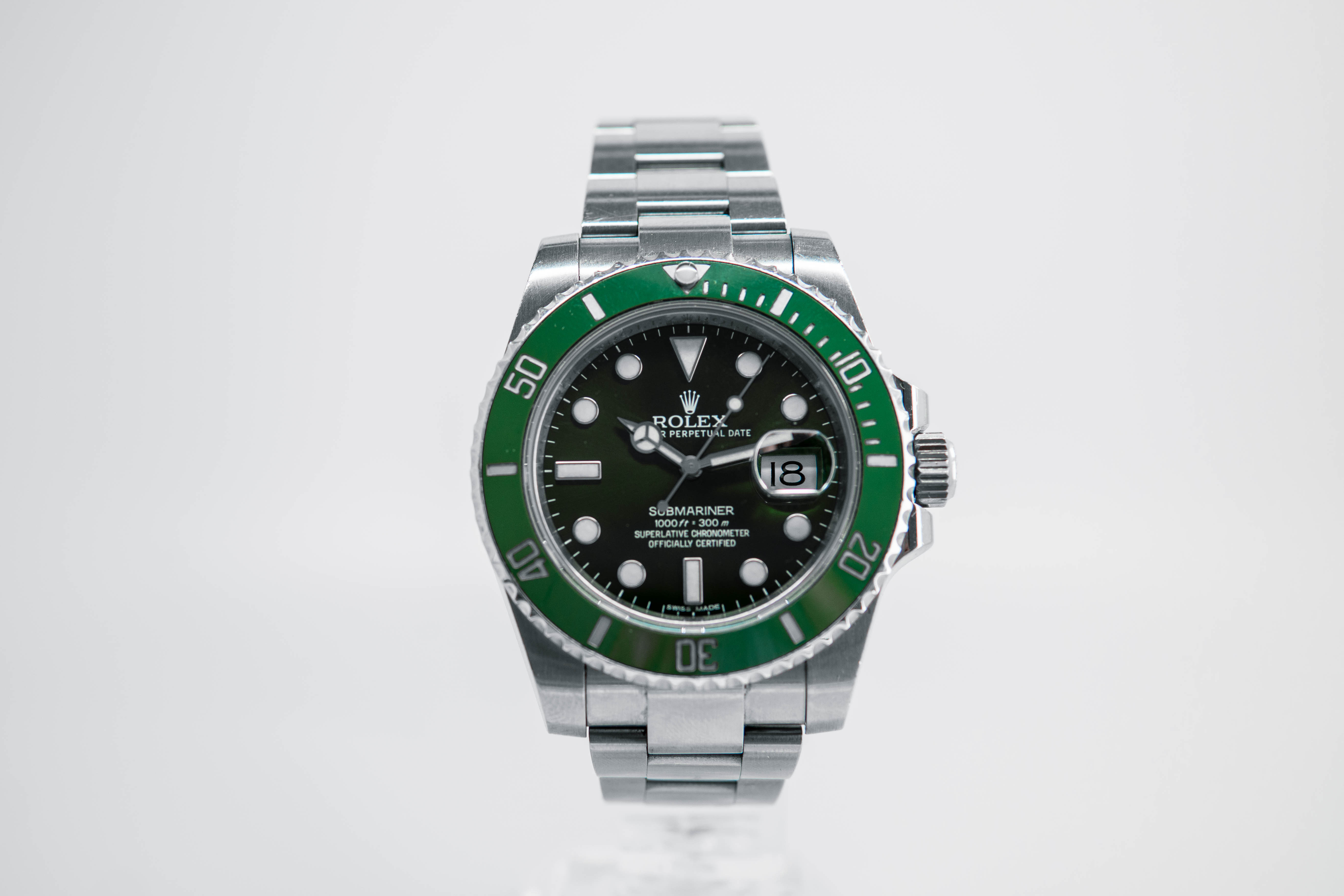 Power specifications
The Rolex Submariner Hulk is powered by Rolex's famous 3135 calibre, which is a self-winding movement with a 48-hour power reserve. This calibre was first introduced in 1988 and is used in many of Rolex's famous watches, to the point where it can be considered a base movement. Four decades later, it's still a shining example of horological engineering – after all, why try on improve on a winning concept?
The 3135 is a certified chronometer complete with 31 jewels, and the rotor which powers the movement is bi-directional. It is adjusted for five positions and temperature, and truly highlights how important Rolex is as a company. Not many watchmakers have developed a calibre of these levels of reliability and durability – it's a true workhorse.
While the next generation of movements are beginning to take over in new Rolex models, the 3135 remains an incredibly powerful example of what the brand has achieved. It features a Parachrom hairspring which is designed to provide incredible resistance to shocks and variations in temperature. It also neatly displays seconds, hours, minutes and the date at 3 o'clock. If you see a Rolex watch with a date function, there's a huge possibility that it is powered by the 3135 calibre.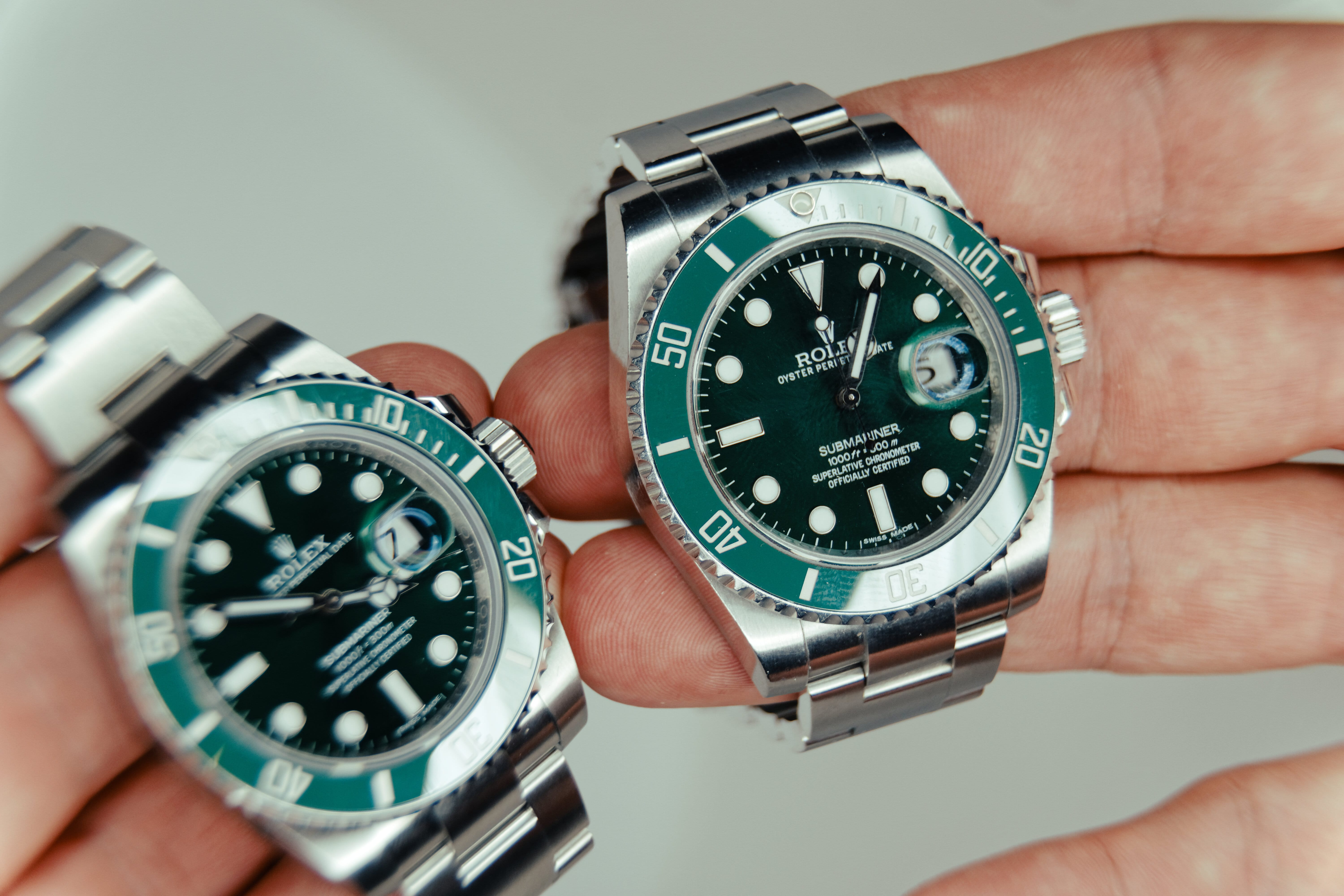 Calibre materials
It's a common misconception that Rolex movement parts are manufactured from platinum or gold. This would be impractical. Instead, different parts are made from different materials, with Rolex choosing the most suitable for each job. Some models incorporate specific materials on account of their characteristics (for example, low friction or anti-magnetism). Some of the materials used inside the 3135 calibre movement include:
Stainless steel
Glucydur (copper and beryllium)
Teflon
Microstella screws (manufactured from gold)
Synthetic ruby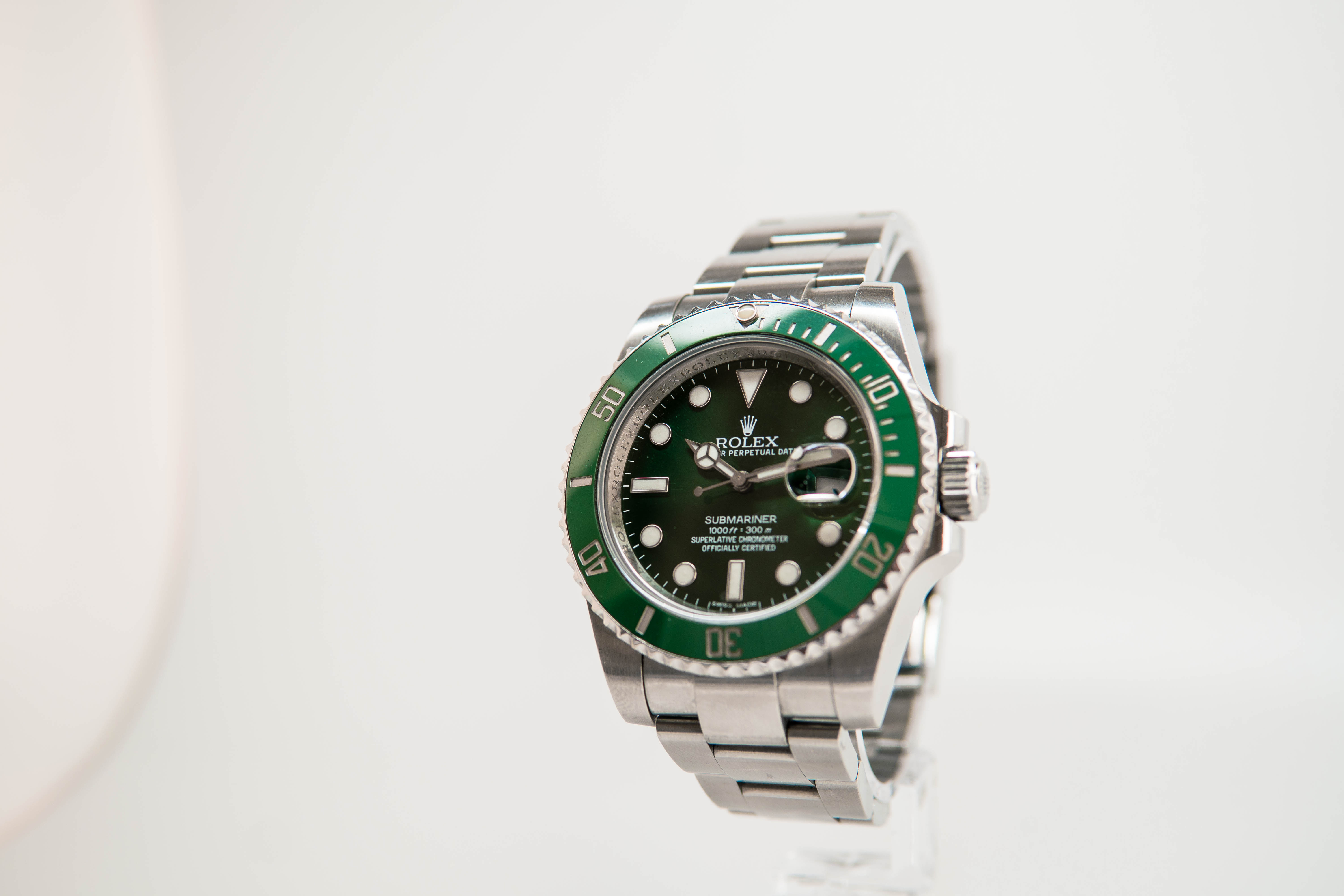 Does the Rolex Submariner Hulk retain its value?
Because the Rolex Submariner Hulk (reference 116610LV) is so rare, it not only holds its value on the resale market – it actually appreciates in value. The Rolex Submariner Hulk initially retailed at just over £7,000 in 2010. Nowadays, it's possible to sell a Rolex Submariner Hulk which has been unworn or barely worn for over £12,000, provided it is in perfect condition. This means that the Rolex Submariner Hulk is a great investment as well as being a great all-round diving watch.
Has the discontinuation of the Rolex Submariner Hulk 116610LV affected prices?
Yes prices have jumped since the discontinuation of this model. at the time of writing this article they're available in the market for around the £14,000 mark. If you have one of these watches and purchased it quite a few years ago you may be one of the lucky people who purchased the watch sub £6,000. On the other end of the spectrum, if you passed up the opportunity to buy one at retail or below you may be green with envy of those who didn't pass it up.
Rolex Submariner Hulk specifications:
Model case specs:
Oyster case: Manufactured from 904L steel. Monoblock middle case with winding crown and screw-down case back.

Diameter: 40mm.

Bezel: 60-minute graduated, unidirectional, rotatable, scratch-resistant Cerachrom insert in ceramic. Graduations and numerals coated in platinum.

Winding crown: Triplock triple waterproof screw-down system.

Crystal: Scratch-resistant sapphire, with a cyclops lens over the date.

Water-resistance: Waterproof up to 1,000 feet / 300 metres.
Bracelet Specs:
Shape: Oyster, with flat three-piece links.

Material: 904L stainless steel.

Clasp: Osyterlock folding safety clasp featuring Rolex Glidelock extension.
Dial specs:
Dial colour: Green

Details: Legible Chromalight display featuring blue-green luminescence.
Certification: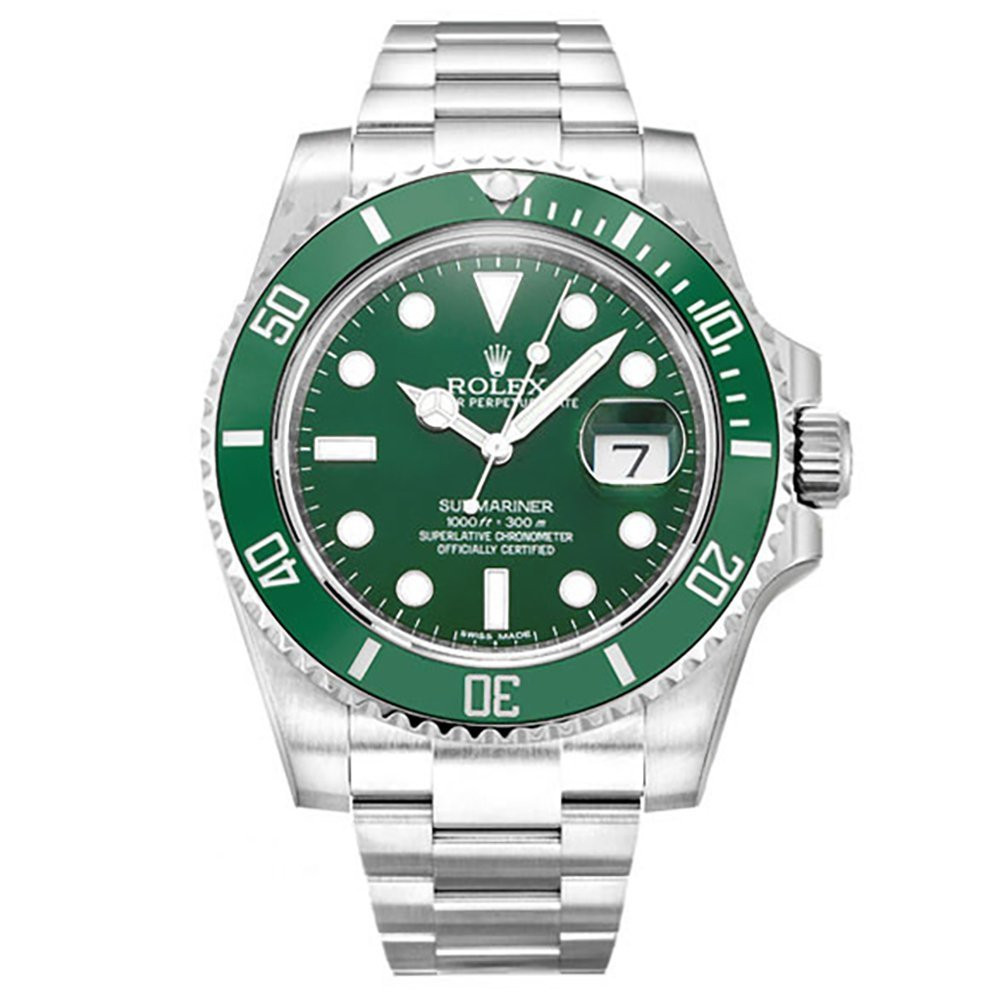 Conclusion
The Rolex Submariner Hulk is a rare find – both in terms of aesthetic brilliance and collectability. It's a practical, durable and flexible watch which can be easily paired with formal attire or casual wear, and with its unusual green dial, it makes for a great conversation starter and status symbol.
Buy Or Sell A Luxury Watch The Smart Way With Chrono Hunter
If you are considering your new purchase or perhaps the sale of a beloved timepiece, Chrono Hunter is the smart way to buy or sell a luxury watch.
Compare Offers from the worlds most reputable luxury watch retailers.
Save Time.
Save Money.
Personalised Service.
Hassle-Free.
Trending
Former Procter & Gamble Executive Takes Over As New CEO Of Audemars Piguet
Rolex 1908: Is This The New Face Of Dress Watches For Gen-Z Spenders?
Question Time: How Do I Undo Or Replace My Rolex Strap?
Lab-Grown Diamonds And The Impact On Luxury Watches
New Launch: Hublot Big Bang Unico Nespresso Origin 42mm Made With Recycled Coffee Capsules
Pink Out Your Watch Collection With Our Top Salmon Dials