Rolex Daytona Waitlist 2023: Why is There a Minimum 5 Year Wait?
Want to discover why the Rolex Daytona remains such hot property in 2023? Does it require the so-called 'five year wait?' Or are there dark horological forces outside the watch realm contributing to this? Let's delve deeper.
Is Demand for a Rolex Daytona Surpassing Supply?
Yes, The demand for a Rolex Daytona well exceeds the supply, simply based on basic economics.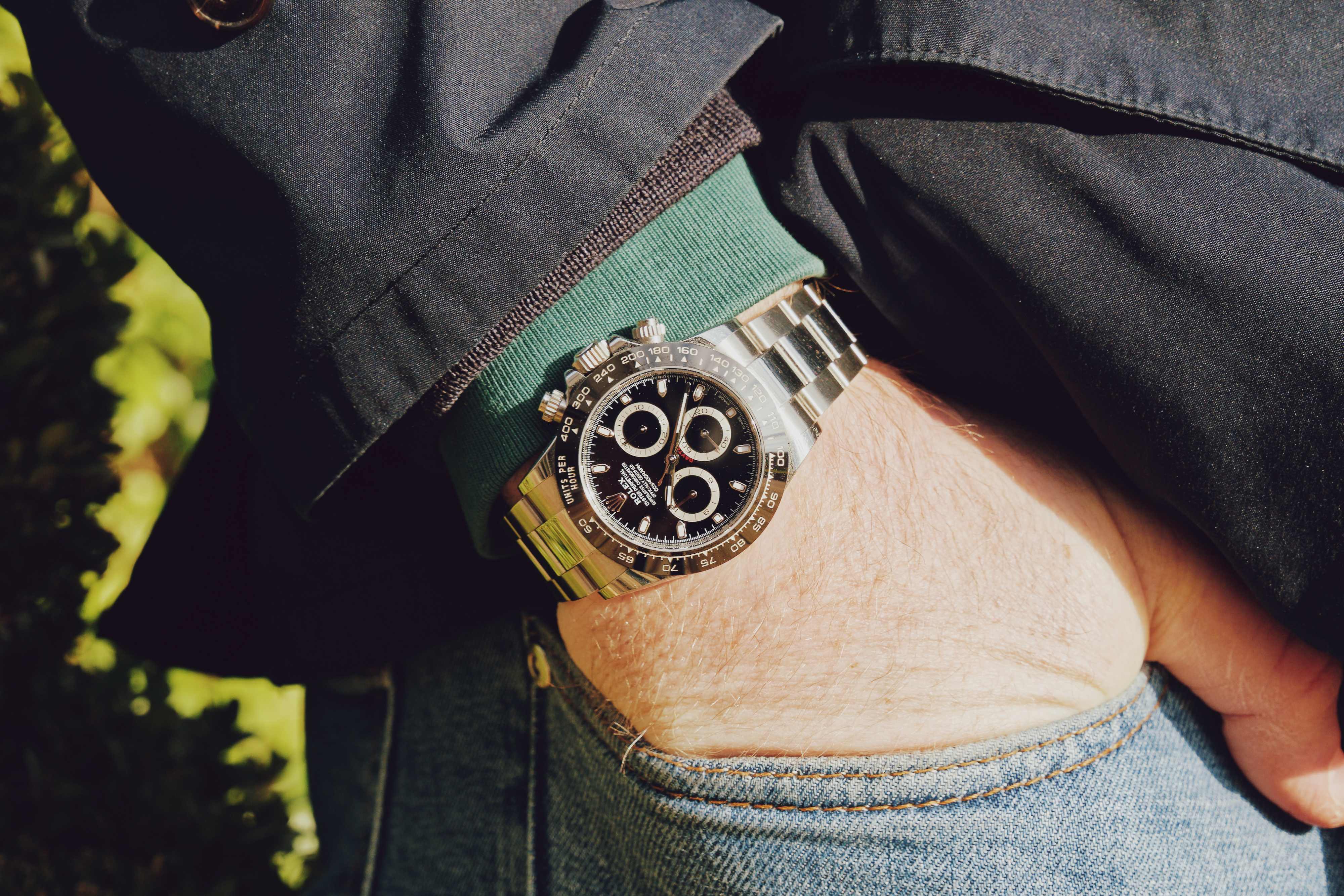 There will be an increase in value or price which is why we see selling a pre-owned Rolex Daytona advertised at prices way above the RRP, contributing to the long waiting list…But we'll cover more on the waiting list later.
The Daytona Cosmograph M116500LN-0001 is retailed at £12,500 by Rolex and Goldsmiths. A swift search into the secondary market would reveal that the price is onwards from £30,000. The trend is the same for The Daytona Cosmograph M116509-0071. Goldsmiths references a price point of £35,100 while the secondary market states prices from £40,000.
For a watch that's consistently lusted after, can there really be any shock regarding the waiting time? Critics have claimed that the waiting time is instigated by clever marketing mastery from Rolex.
They claim that even though 1 million Rolex units are made annually, they artificially limit the production of various models in order to lower supply and thus rocket the demand.
The Truth About The Rolex Daytona
Can you handle the truth?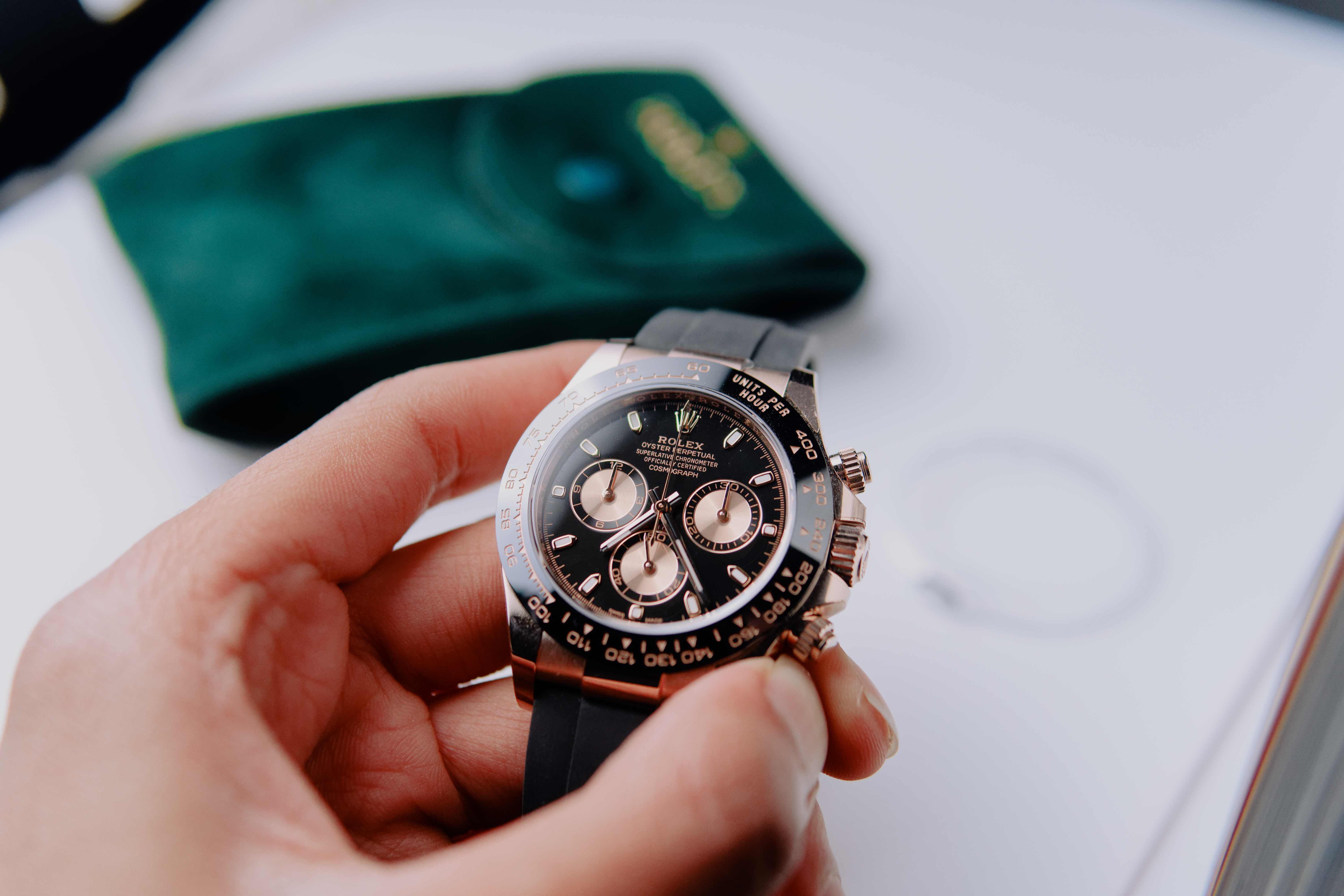 While it's a good yarn to spin, the cold facts stem from the founder of Rolex – Hans Wilsdorf. He created the 'Hans Wilsdorf Foundation', a private trust wherein he left all his Rolex shares and added the proviso that some of the company's income would go to benefiting charities or alternatively reinvested into Rolex to maintain their high-quality works.
Created in 1944, the trust took over proceedings in 1960 after Hans Wilsdorfs death. Elements of the Trust requires that no matter the amount of profit made by Rolex, the funds would return to either support charities or support the brand. More poignantly, another rule relates to production.
It found that Rolex can only increase watch production by a small percent each year to protect its brand and reputation, deliberately not seeking to saturate the market and taint a pure vision of fine timepieces.
With Rolex watch production being hemmed in for its entire existence, the Rolex Daytona will constantly dance the fine line of scarcity. It's a sad truth but one that is perpetuated by honest means.
The man beneath the crown had a vision. Perhaps the antithesis of Ozymandias or certain political candidates, his view was of a brighter future, one invested in the next generation maintaining iconic feats of horological greatness.
The Rolex Daytona Waitlist Explained
For any of you readers that have tried your luck walking into a Rolex boutique and asking to buy a Rolex Daytona, you'll be aware you've got as much chance of predicting the next British Prime Minister than actually buying one.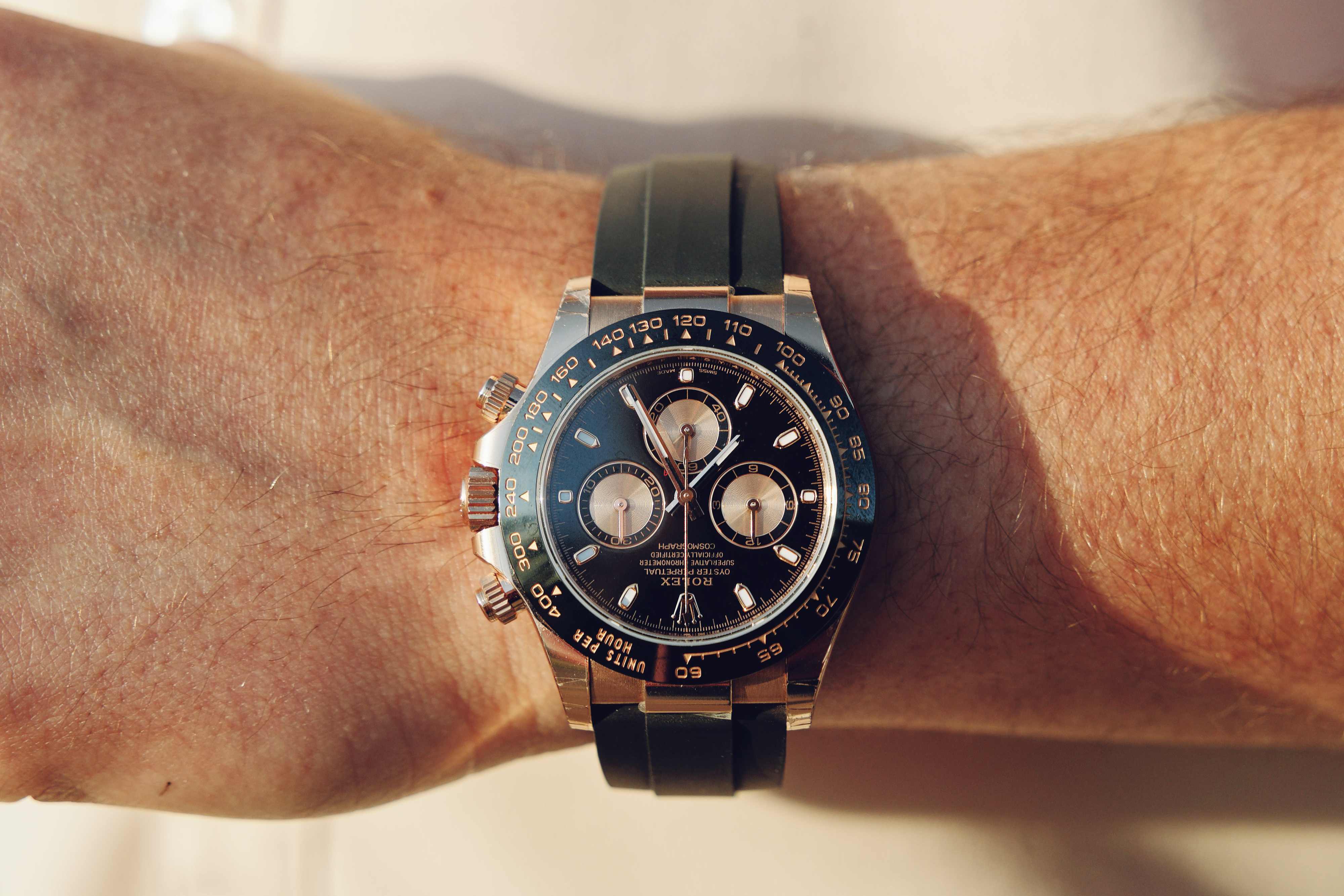 Instead, you'll be politely advised that there is a closed waitlist, or more recently coined as a "wishlist" due to the extreme levels of demand. Therefore we can only assume the waitlist is as long as the Yellow Brick Road.
How Long is the Rolex Daytona Waitlist?
To buy a Rolex Daytona, the waitlist is often suggested to be 5 or 10 years long. The harsh reality is that unless you have a large spending history with your Authorised Rolex dealer you're unlikely to ever be offered a Rolex Daytona.
Does the Rolex Daytona Waitlist Exist?
Yes and no. If you have never been keen to buy a Rolex watch before and hope that a Rolex Daytona will be your first purchase, it's extremely unlikely that you will be added to any list. You might have better luck trying to guess the winning numbers on the lottery!
If you have a bit of spending history, by which we mean you have already purchased other Rolex watches, perhaps a ladies' watch or a less desirable Rolex model, then you might luck out and be added to a list.
How long that list will be is anyone's guess. We've heard of scenarios from 1 year to waiting 10+ years and have still not received a call.
A Bit of History About the Rolex Daytona
Stemming from its racing past the tachymetric scale, three counters and pushers allows the driver to measure elapsed time to the second. For those not hitting the track, it's great to know that you have guaranteed precision.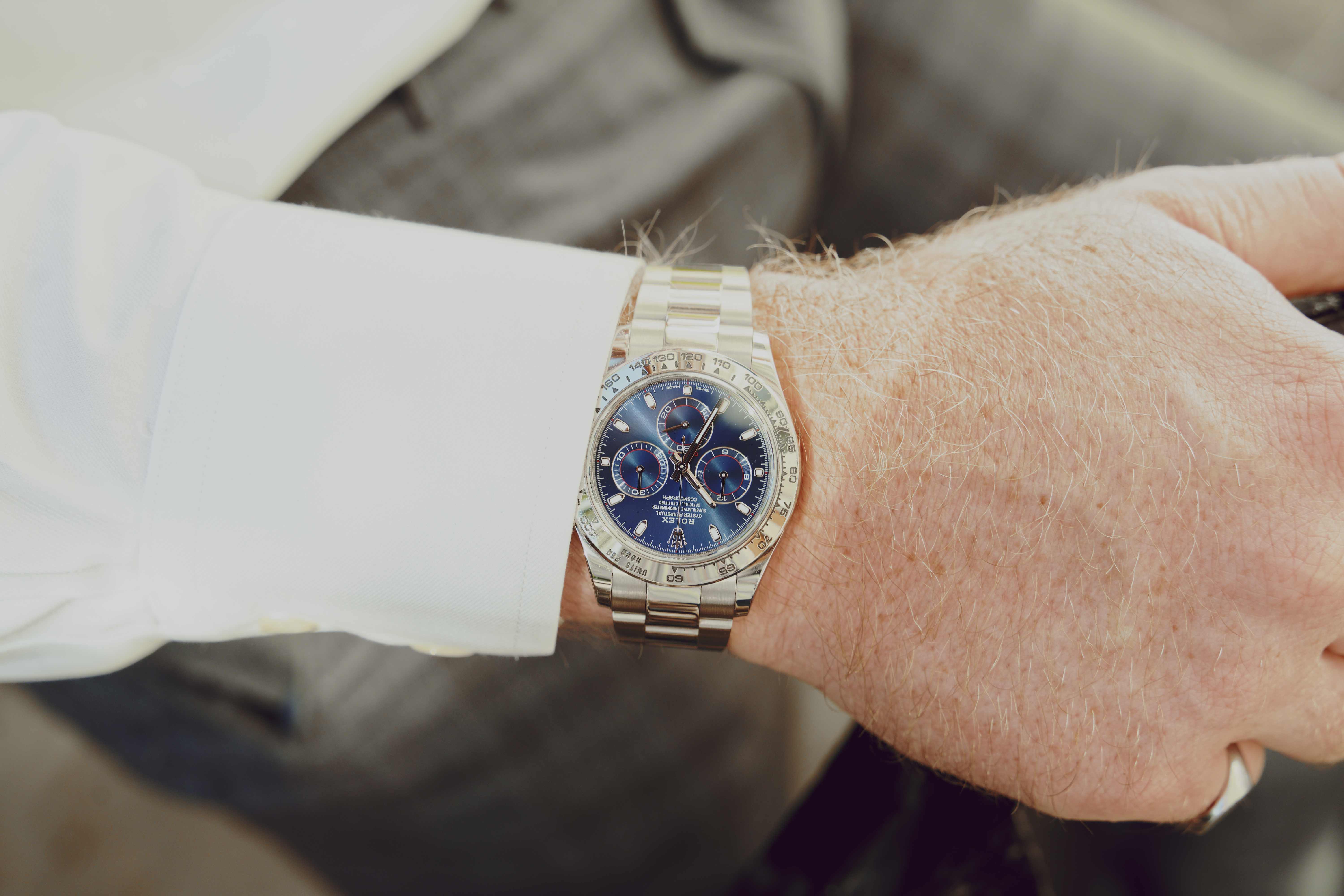 While the Rolex Daytona first struggled, specifically regarding its movements (as it was competing with the highly successful Rolex Submariner), in 1988, the watch vastly improved. Rolex worked on the Zenith automatic calibre named 'El Primero' and made the Rolex Daytona one of the best automatic chronographs of its era.
In truth though, it's not just the Rolex Daytona that's so elusive. Buy a Rolex like the "Batman" ref 126710BLNR and expect a wait of at least 7 years. Seems like the Joker has got to them first, right?
A combination of a phenomenal watch engineered to precision with PR ties bound the Daytona into a strangle hold. Quality must be met and standards must be matched, even at the expense of losing out on tremendous profits and having the waitlist for the Rolex Daytona in 2023 forever expanding.
Post Covid Enthusiasm
Covid-19 however brought upon a new breed of challenge.
The kind where consumers were locked away, unable to peruse and garner an interest in the timepiece world, especially when looking to buy a Rolex.
We experienced social distancing and lockdowns, a chronic blow to in-store retailing and saw Swiss exports nosediving by 22% in 2020.
As a reference point, in 2019 Swiss Watch Exports were 21,718 compared to in 2020, a figure of 17,000 resulting in a drop of 4,718. While the figures are substandard on their own, they are exacerbated as Switzerland controls more than a 50% share of the global watch industry in terms of value.
This a very troubling but indicative fact, highlighting the dire situation of the luxury watch marketplace during Covid. The situation currently is fortunately brighter. Relating back to Switzerland as a guide, 2021 saw a phenomenal year for the Swiss watch market, achieving CHF 22.3 billion (£19.37 billion), surpassing the previous record of CHF 22.25 billion (£19.33 billion).
With an increase of 31% from 2020's dismal results, Covid has been a catalyst for this exponential increase in demand for those looking to buy a Rolex or buy a watch in general.
The housebound consumers with more money to burn due to lockdown limiting spending options combined with B2C online watch buying ventures has given consumers a more realistic chance at owning their own luxury watch, providing incentive to buy a watch.
The Rolex Daytona waitlist 2023 is still going as strong as its power reserve. Setting a standard for luxury watches, this timepiece is pursued with insatiable enthusiasm causing even greater demand than before.
In a simple equation - More cash rich folks multiplied by a higher demand for the finer things equals… A long 5 year waitlist to buy a Rolex.
Conclusion
So, the Rolex Daytona waitlist 2023 is likely to be at least 5 years if you're able to buy a Rolex Daytona. We've seen Covid pass through, World Cups end and start, markets rise and fall almost simultaneously and all within the time it takes to get your hands on a Rolex Daytona. It rests within good reason.
Appreciation and tremendous respect must be paid to Rolex for adherence to charitable and quality control endeavours. The Rolex Daytona epitomised an era of seemingly indubitable failure to immense success.
Further Reading:
How much is my Rolex Daytona worth?
Can't wait 5 years and want to buy a Rolex? Check out ChronoHunter for the most competitive prices on the market in real time. Compare offers from some of the finest and most trusted retailers and enjoy the best possible buying and selling luxury watch experience. If you want to buy a watch or sell a watch, we can discuss your specific requirements.
Buy Or Sell A Luxury Watch The Smart Way With Chrono Hunter
If you are considering your new purchase or perhaps the sale of a beloved timepiece, Chrono Hunter is the smart way to buy or sell a luxury watch.
Compare Offers from the world's most reputable luxury watch retailers.
Save Time.
Save Money.
Personalised Service.
Hassle-Free.
Trending
Daniel Craig Puts Watch Enthusiasts On High Alert Flexing A New Unseen White Dial Omega Speedmaster
9 Of The Best Meteorite Dial Watches For Spaced Out Enthusiasts
Question Time: Should You Buy The Revamped 39mm Longines Legend Diver Watch?
The Very Best Yellow Dial Watches For The Modern Horophile
The 11 Best Bronze Watches For All Patina And Vintage Lovers - Hublot, Longines, IWC
All The Essential Waitlist Times For Rolex Watches - Submariner, GMT-Master