Lab-Grown Diamonds And The Impact On Luxury Watches
Didn't Shirley Bassey belt out one time that diamonds were forever? Now we could go on till the end of time with song titles down the ages. Especially Marilyn Monroe's reference in Gentlemen Prefer Blondes that diamonds truly are a girl's best friend. But gentlemen, this is just as relevant when it comes to luxury men's watches.
Diamonds have been integral to humans ever since we noticed how beautiful they look! From James Bond to the Beatles singing 'Lucy In The Sky With Diamonds' demonstrates just how lauded this precious metal is.
Although diamonds originally date back to 3.3 billion years ago under the earth's crust, it's believed that we discovered these precious beauties over 2,500 years ago in the Indian district of Golconda. And did you know the first country to ever mine diamonds was South Africa back in 1896? Well, we are certainly a fountain of knowledge, watch peeps!
Regularly used in the luxury sector, diamonds are considered to be the toughest material in the world. They offer incomparable durability and longevity in terms of shine and lustre. Need we mention the Rolex Rainbow Daytona which sparkles away with 56 diamonds across the model? Or, how about the Rolex Yacht-Master 116695 which comes with a diamond studded dial? Honestly, there's more glitz than a routine on Strictly Come Dancing.
Of course, it's not just Rolex which loves these stunning shiny things! Tudor paved the roads with diamonds during their Watches and Wonders 2023 releases in the form of new Tudor Royal models which featured diamonds set directly into the indices..
Now we see that they are taking a new path. The dawn of lab-grown versions are very promising for the future of watchmaking both in terms of prices and sustainability. Join us as we give you the low down on lab-grown diamonds and their impact on luxury watches.
What Are Lab-Grown Diamonds?
They are exactly what they say on the tin.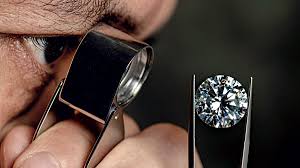 Lab-grown jewels - Source - Business Today
They are in essence artificially produced in a lab setting. While this instantly garners thoughts of 'poor quality' and 'cheap garbage', that couldn't be further from the truth, time peeps. They are identical in terms of chemical composition but visually still produce the same stunning shine as their 'real' counterparts.
By creating them in a lab, there is the highest level of attention and quality that has gone into them, ensuring the differences are not miles apart between genuine and lab-grown versions.
Without getting too much into the highly scientific nitty gritty of CVD (chemical vapour deposition) and HPHT (high pressure high temperature) methods, lab-grown diamonds are still subject to the same level of scrutiny as natural versions. Determined by their carat, colour, cut and clarity, lab-grown and natural stones are judged on their quality alone, not on their source of creation. Lab-grown versions will become a term you will start to hear more and more when it comes to watchmaking circles.
This isn't something you should fear either. Take for example faux leather as opposed to leather. While a close inspection may yield differences in terms of quality and texture, we bet that you wouldn't be able to tell the difference at an initial glance. The comparison between lab-grown natural diamonds is still a lot closer!
Environmental Impacts Of Lab-Grown Diamonds
The only solid separation from the two comes in the form of their creation. Natural stones are formed by crystals being compressed underground for millions of years.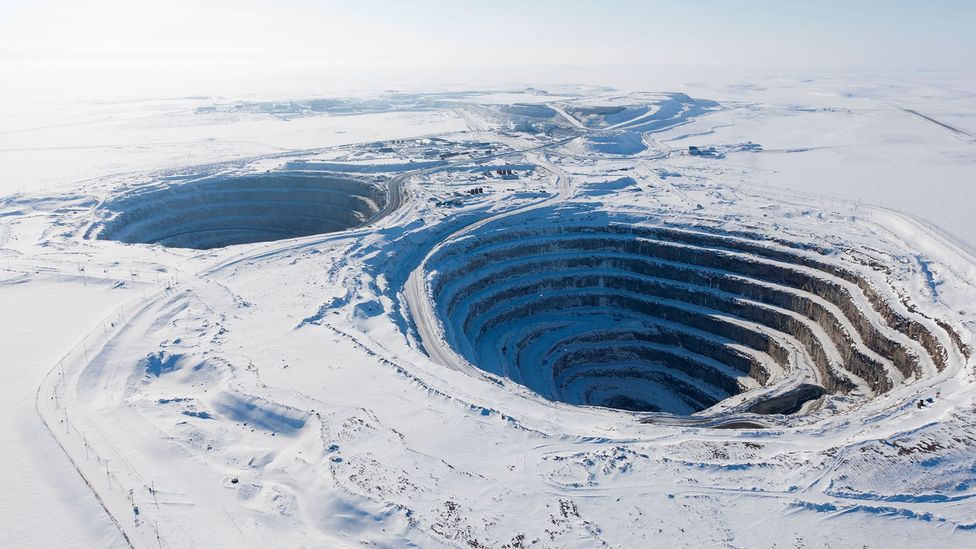 Natural Diamond Mine - Source - BBC
This isn't like digging a hole in the beach though, Timelords. The jewels are sourced solely through deep-earth mines which obviously has disastrous effects on the environment as the earth is torn up by industrial machines.
In some very shocking cases, the precious stones are sourced in Africa wherein labour standards are horrifically low and health and safety isn't a concern. Of course, we can't dismiss the idea that lab-grown diamonds negate all negative effects on the environment. Factories that power these labs are run by fossil fuels which in turn harm the environment. It may very well be a case of choosing the lesser of two evils!
However, more and more Gen-Z spenders are cottoning on to this trend, becoming increasingly socially conscious and aware. Consequently, they are bringing that thought process into the products they buy. It, therefore, does make sense that lab-grown diamonds are being normalised in many industries, especially in the industries for luxury watches.
Lab-Grown Diamonds And Luxury Watches
As previously mentioned, Gen-Z are pioneering the way for consumerism, the marketplace and the current conditions of the explosion of the secondary market.
This trend means some luxury watches and other brands are having to adapt to become more socially aware and market their products towards that way of thinking. Take Hublot and their launch of the Big Bang Unico made from coffee grounds and Nespresso pods!
Massive brands like Coca Cola have also adapted their bottles to be 100% recyclable and BOSCH has made 400 of its company locations climate neutral. Suffice to say, luxury watches have been following suit.
Breitling And Lab-Grown Diamonds
At the end of 2022, sizable luxury watches brand, Breitling launched the 'Super Chronomat Origins'.
​​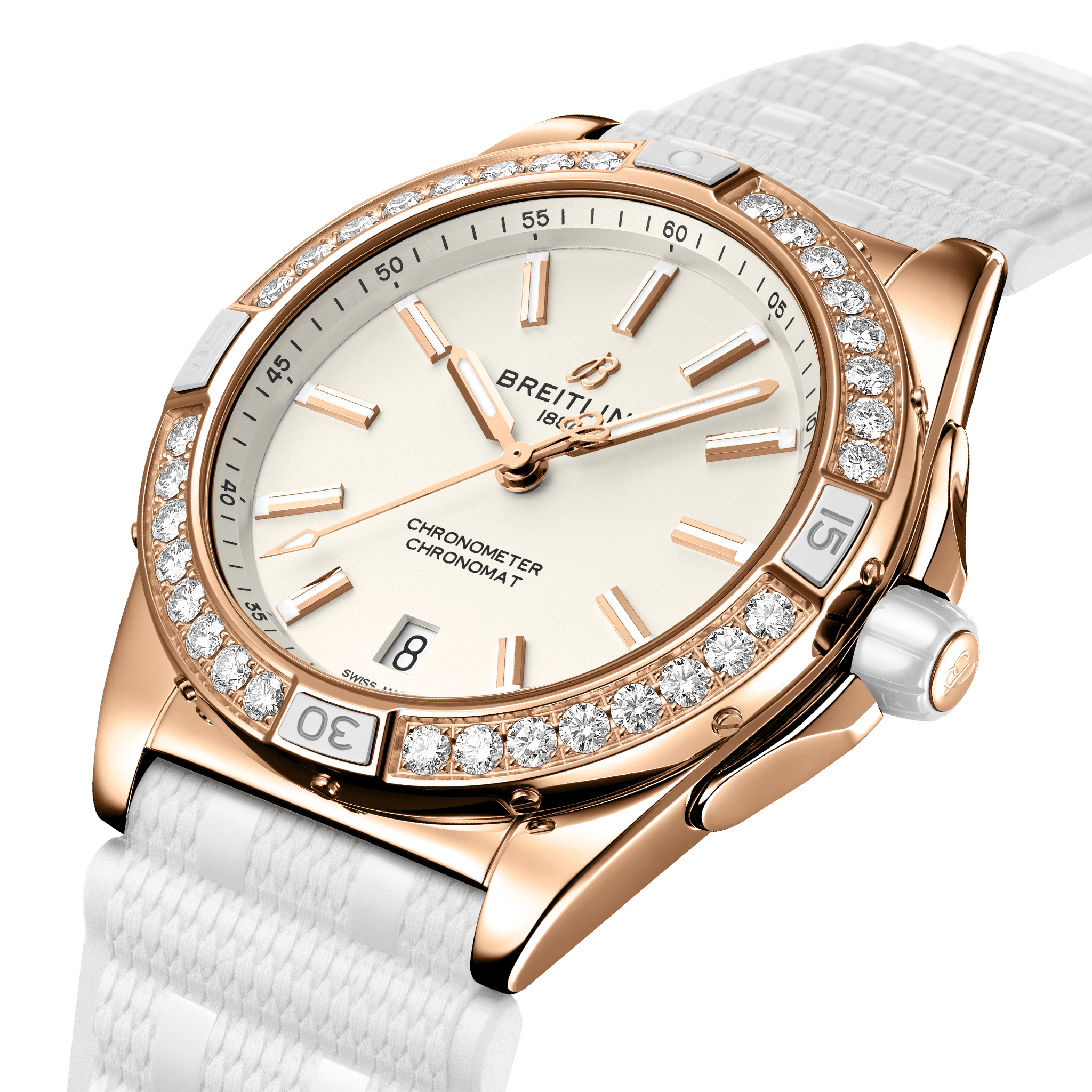 Super Chronomat - Source - Breitling
As a play on highly influential luxury watches, The Chronomat collection which dates back to the 1940s, the Super Chronomat Origins is both a stunning timepiece and essentially a manifesto on Breitling's commitments to tackling climate change and the environment.
In fact, they have pushed the horological boat out so far that they are guaranteeing by 2025 all their products will adhere to the terms of the 'origins'. The Breitling Super Chronomat Origins measures 38mm and is crafted out of 'small scale traceable gold'.
The bezel of these luxury watches is replaced by lab-grown precious metals which beautifully shine and fit in with the precious metal aesthetic. The cream dial allows the gold hands and indices to clearly stand out and is complimented by a pure white rubber strap. You can buy a Breitling Super Chronomat Automatic 38 Origins upon request only.
Breitling has a focus on ethically sourcing gold through mining from artisanal mines. Furthermore, they are seeking to enhance their traceability. This is through allowing the consumer to trace the NFT of the luxury watches to see the entire supply chain of materials within the timepiece. This is all done by an independent verifier so there are no backdoor shenanigans.
Breitling has stated that by 2024, they will have transitioned to solely using lab-grown diamonds only. Hurrah! By knowing their exact origins as they are made just in the lab, there is absolutely no risk of the jewels being sourced from environmental harm or conflict. Need we mention that for every carat produced, Breitling is contributing to a social impact fund which assists diamond-producing communities?
TAG Heuer And Lab-Grown Diamonds
TAG Heuer's selling point is less focused on sustainability and more on the wow factor!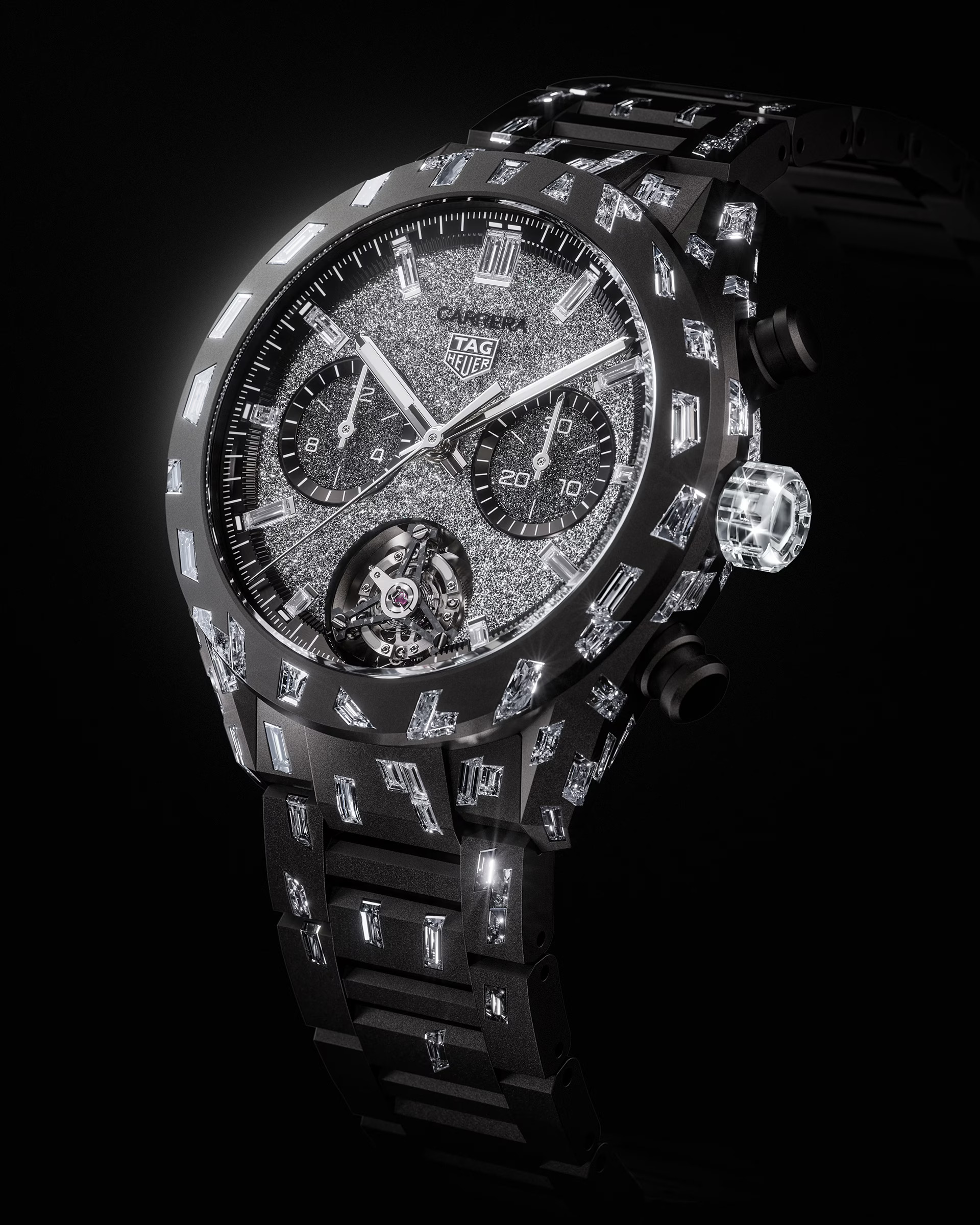 Plasma Diamant D'Avant Garde - Source: TAG Heuer
With more glitz than a Hollywood red carpet, TAG Heuer was championing lab grown precious metals in 2022 during Watches and Wonders even before they came a thing thanks to the launch of the Carrera Plasma. This uses the jewels formed through a chemical vapour deposition process. If you're in the mood to be a bit fancy, however, TAG Heuer has named it 'Diamant d'Avant-Garde'. Oh la la indeed.
The end result of such a process is jewels which are entirely unique to each other. This means the 44mm Carrera Plasma shines a stunning timekeeping symphony of lustre! The lab-grown precious metals are situated on the dial itself wherein the jewels are grown on the plate and end up weighing around 4 carats.
The two sub counters located at 3 and 9 o'clock use two separate black plates, leading to a stunning shine across the board. How could we forget the lab-grown baguette cut diamonds situated at the hour markers or the fact the crown is made entirely of a single diamond?
TAG Heuer has come flying out of the gate at this year's Watches and Wonders 2023. Sizing up at 44mm, the luxury watches house more than 120 lab-grown diamonds and a whopping 15.5 carats. Crafted from black aluminium, the dial alone is totalled at 5 carats! COSC certified, it's an incredible timepiece which looks visually stunning from any angle you gaze at it.
Its partner, The Carrera Plasma Diamant D'Avant Garde 36mm which was also released during Watches and Wonders 2023 is another stunning example of lab-grown precious metals. Pushing the boundaries even further, the 36mm edition takes the concept of lab-grown jewels and turns them pink! Noticeable on the crown and badge on the dial, the luxury watches house pink lab-grown precious metals, showing the inventiveness of the luxury timepiece brand.
You can buy a TAG Heuer Plasma Diamant D'Avant Garde Chronograph Tourbillon 36mm at around £81,000 at retail when the 36mm is released at the end of 2023 and you can buy the 44mm edition at around £450,000 at the time of writing when it is released September 2023.
Final Thoughts On Lab-Grown Diamonds And Luxury Watches
Lab-grown diamonds became commercially available in the 1980s. So why has it taken so much time? And why aren't luxury timepiece brands instantly turning to them instead of earth-grown ones?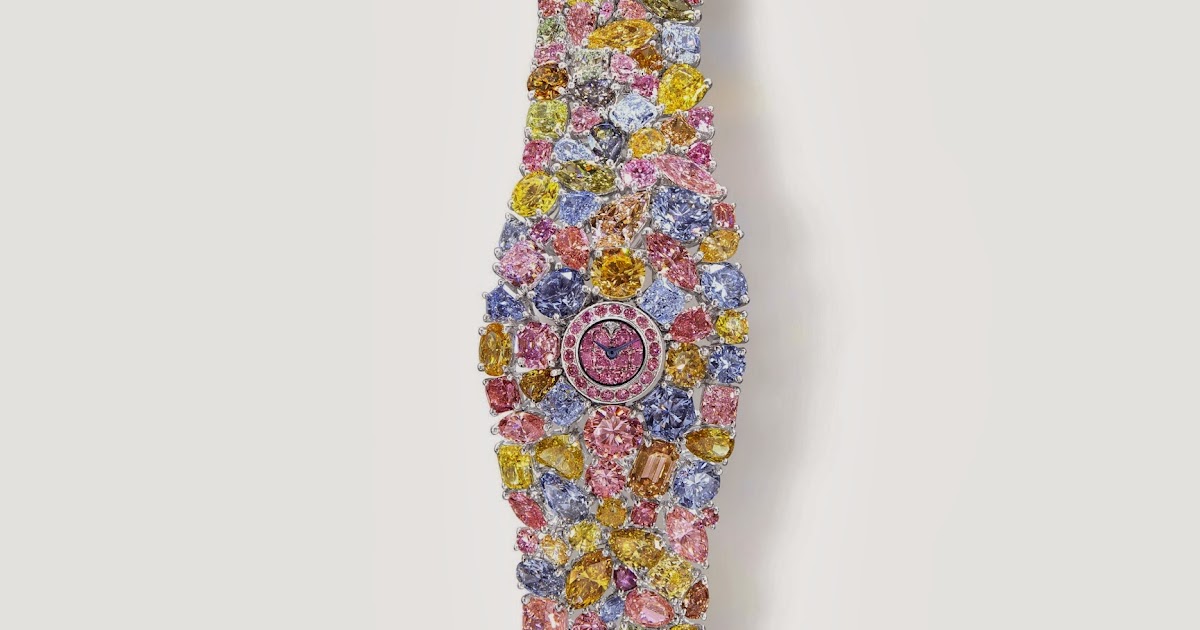 Graff Diamonds Hallucination - Source - Jewellery News Network
Lab-grown diamonds are upsetting the natural order of the original precious metal. It was estimated by a diamond industry report that due to the increased accessibility of the lab-grown precious metals, natural diamonds suffered a drop in wholesale prices equating to around 14% in 2021. Combine this with the already declining rates of diamond production of around 111 million carats in 2020 from the highs of 152 million in 2017.
The question is posed, could lab-grown jewels revitalise a falling industry? They may not be the most energy efficient but are a heck of a lot more environmentally friendly in comparison with their naturally grown counterparts. Gen-Z consumers are bolstering this push for environmental preservation. Yet, will the diamond industry and the luxury timepiece sector finally move with the times?
We now know that lab-grown precious metals still accommodate the same level of quality and assessment as their naturally grown predecessors. The argument of lab-grown jewels being somehow inferior is therefore made defunct. People do enjoy the notion that their natural precious metals have been created after millions of years of compression which is a feat that lab-grown diamonds sadly cannot achieve.
If more and more luxury timepiece brands drop their horological misconceptions, not only may we see a shift but a timekeeping evolution on our hands. Truth be told, lab-grown diamond luxury watches are already reaching the bejewelled standard of the luxury watches like the Graff Diamonds Hallucination, which is valued at a cool £50 million…and that's just from TAG-Heuer! What an exciting time to be into luxury watches!
Conclusion
So, what have we learnt? Lab-grown diamonds are a very real and genuine alternative to the natural diamond industry. Through them keeping their natural shine and allure for the same amount of time as natural jewels, the only thing that keeps people nervous about them is that they are not 'genuine'.
Just like a collector wants original parts for vintage luxury watches or a petrol head wants those old parts to reinvigorate that old Mustang, people enjoy knowing that they have the real deal when it comes to precious metals. It offers a sense of security as they have something which has been around the block.
These are hurdles which luxury timepiece brands like Breitling and TAG Heuer are slowly moving over, releasing stunning models that draw the same amount of eyes as those looking to buy an Audemars Piguet Code 11.59 Selfwinding which has its dial set with brilliant cut precious metals.
Meanwhile, The TAG Heuer Carrera Plasma Diamant D'Avant Garde 44mm contains even more jewels than Vacheron Constantin's Kallista which has a mind-boggling 118 diamonds! You can buy a Vacheron Constantin for around £8.8 million. Don't say we don't bring the glam to you, dear horophiles.
Lab-grown diamonds are certainly on the rise and we believe we could witness a precious metal watchmaking shift on our hands. As Rhianna said, you keep shining bright like a diamond…until next time.
Can't wait to buy a TAG Heuer? With lab-grown diamonds becoming increasingly popular, we wouldn't blame you if you felt spoilt for choice! If so, why not discuss your specific requirements with Chrono Hunter here. Check out our phenomenal reviews on Trustpilot to find out why we really are your essential source to buy a watch or sell a watch. Receive multiple offers from our exclusive array of handpicked retailers and save money the smart way.
Further Reading:
Matchtime: Audemars Piguet vs Breitling. Which is the Best Watch Brand?
5 Of The Best TAG Heuer Watches To Buy Right Now
TAG Heuer's New Launch Details 2023 - Carrera Chronograph 42mm, Aquaracer Professional 200 Bi-Metal & Gold
Buy Or Sell A Luxury Watch The Smart Way With Chrono Hunter
If you are considering your new purchase or perhaps the sale of a beloved timepiece, Chrono Hunter is the smart way to buy or sell a luxury watch.
Compare Offers from the world's most reputable luxury watch retailers.
Save Time.
Save Money.
Personalised Service.
Hassle-Free.
Trending
Former Procter & Gamble Executive Takes Over As New CEO Of Audemars Piguet
Rolex 1908: Is This The New Face Of Dress Watches For Gen-Z Spenders?
Question Time: How Do I Undo Or Replace My Rolex Strap?
New Launch: Hublot Big Bang Unico Nespresso Origin 42mm Made With Recycled Coffee Capsules
Pink Out Your Watch Collection With Our Top Salmon Dials
Question Time: Should You Buy The New Breitling Premier B01 Premier 42mm Anniversary Watches?