Rolex 1908: Is This The New Face Of Dress Watches For Gen-Z Spenders?
Watches and Wonders 2023 was a stunning event which took the horological world by storm. Rolex, of course, stood out! Even before the glittering event in Geneva, they dropped their own teaser leaving horophiles with a glimpse of things to come. From their enigmatic collection of Rolex Daytona's to utilising the new RLX titanium for the latest Yacht-Master 42, Watches and Wonders 2023 showcased the best of Rolex in terms of both sports models and dive timepieces.
We saw a few watches cut from Rolex's eclectic collection. The famed 'John Mayer' Rolex Daytona will be forever cemented as a cult model which no one with reasonable salary can afford and the Cellini dutifully set sail into the sunset, ending the final model of Rolex's out and out dress watches. Or did it?
The Rolex Perpetual 1908 should be considered as the Cellini's replacement and without going into too much depth, it more than competently fills its timekeeping boots! Read on as we examine whether or not the Rolex Perpetual 1908 could be the new face of dress watches for this new wave of Gen-Z spenders
The Impact of The Gen-Z Market
Gen-Z are looking to buy watches which have more meaning than the average timepiece. They are becoming increasingly interested in watchmaking and luxury timepieces as they represent a status symbol. Furthermore, they have become great fashion accessories instead of being used for simply reading the time. As a socially conscious generation, the increasing necessity for longevity, luxury refinery and arm candy symbols have caused not just a ripple but a horological surge in the luxury watch marketplace.
Rolex 1908 vs Rolex Cellini
While the Rolex Perpetual 1908, released during Watches and Wonders 2023 is a completely new breed to the brand's portfolio, the model does in fact have a history through its name.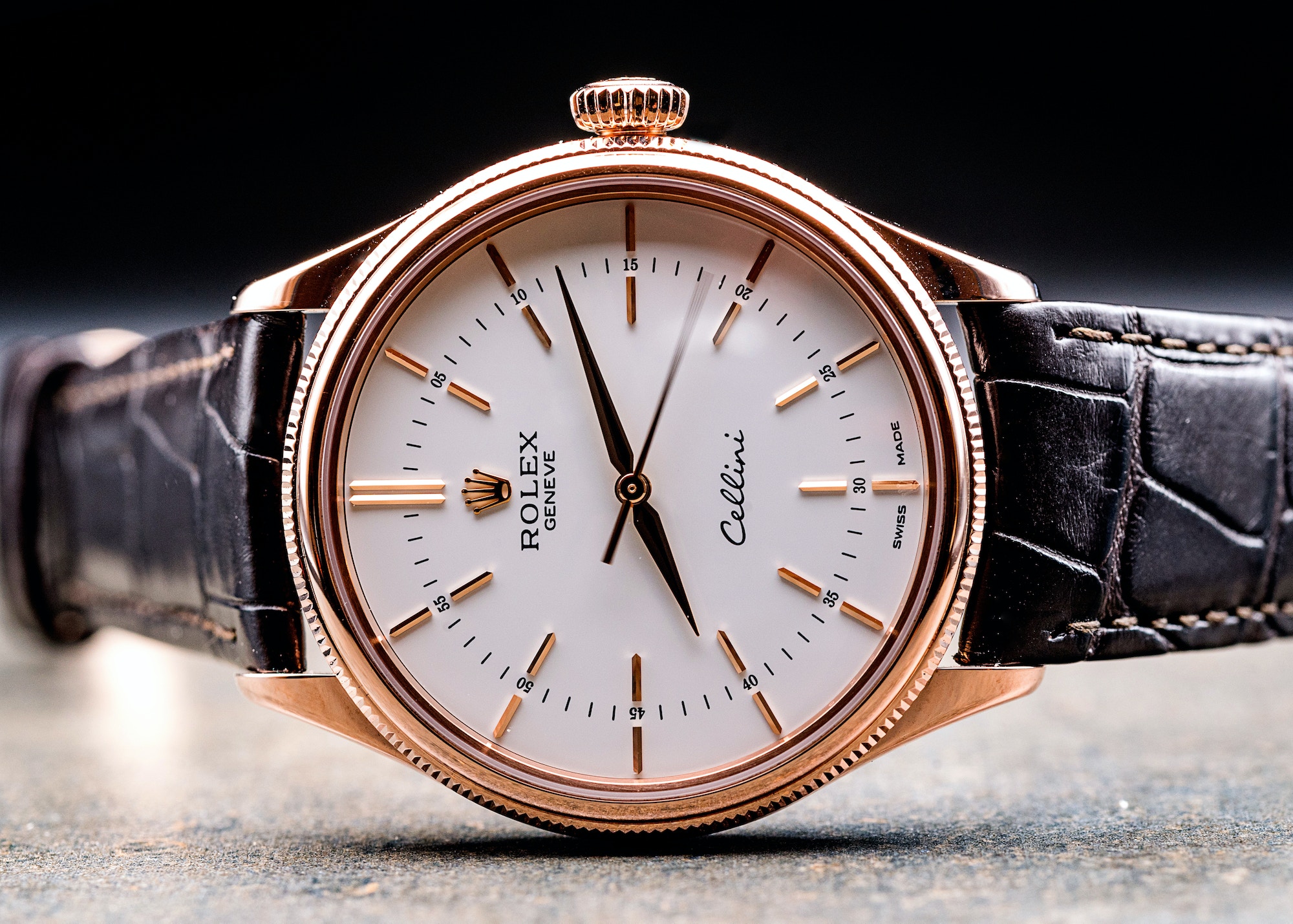 Rolex Cellini - Source - Watch Collecting
For those watch nerds among us, you will know that Rolex referenced '1908' as an ode to the date the Rolex name is officially trademarked. The brand has directly related the inception of this model to its very own name. This is a huge feat as it puts a lot of pressure on the Rolex Perpetual 1908 to live up to the incredible status of the brand itself, as well as replace the highly respected Cellini model.
The Cellini wasn't really a talked about model in their lineup per se. It represented the dress watch dynamic the brand was gearing towards but it never really made any waves for its dial design or dynamic construction. It was simply a classy dress timepiece. Nothing more, nothing less, though it did cut the horological mustard with some enthusiasts.
The Rolex Perpetual 1908, therefore, offers a new spin on the Cellini. Released during possibly the biggest timepiece event of the year, Watches and Wonders 2023, the Rolex Perpetual 1908 is a direct replacement for the Cellini. It appears to be that the brand wants to push the dress timepiece style forwards and make it become a centrepiece of the brand. Only time will tell if they execute this correctly.
The brand is extremely well known for its iconic diving watches like the Rolex Submariner and sports watches like the Rolex Daytona so the dress timepiece must have a certain level of je ne sais quoi in order to compete. Let us give you the short answer…it most certainly does!
Construction of the Rolex 1908
Measuring 39mm, it is the ideal fit on the wrist. After all, this is a golden dress timepiece so you don't want to steer into Panerai Luminor territory! And you are spoilt for choice when it comes to the design aesthetic of this specific timepiece.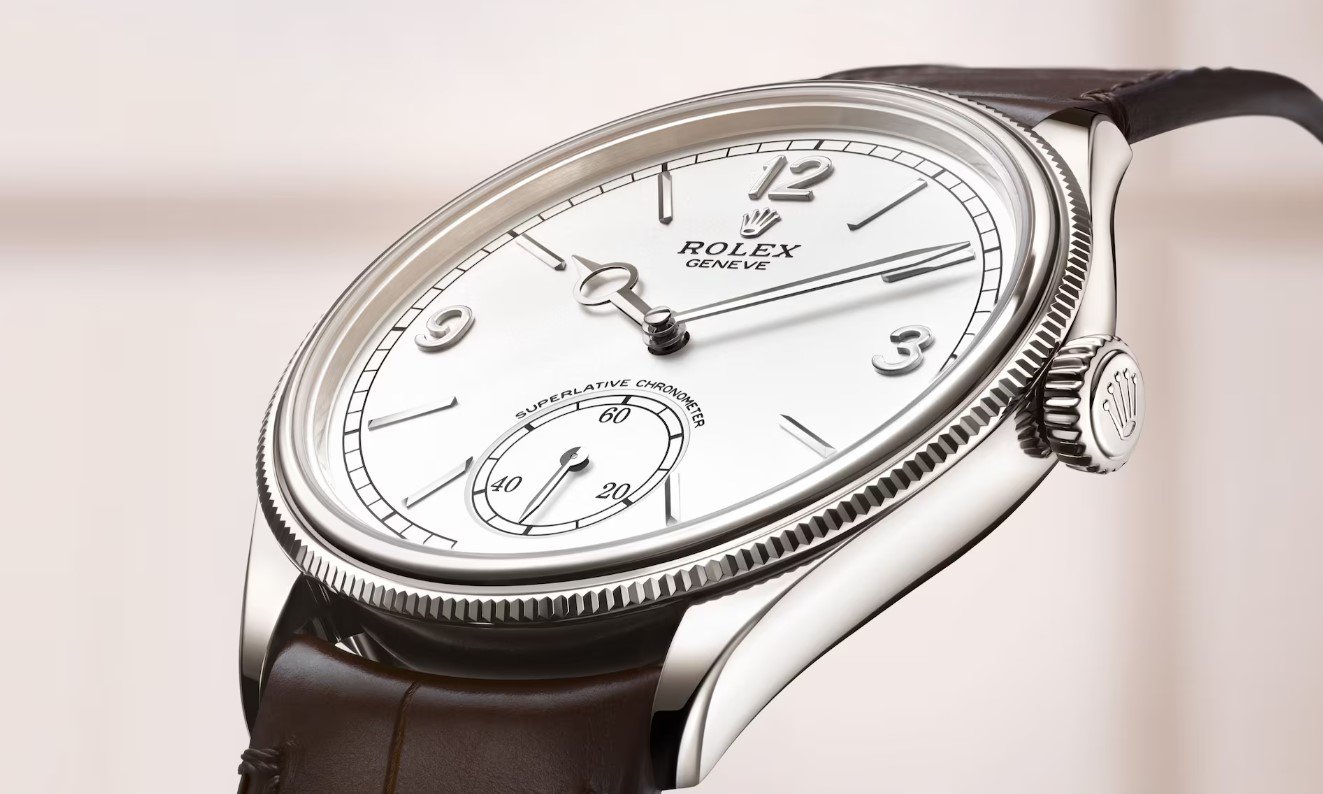 Rolex Perpetual 1908 - Source - Wrist Enthusiast
Feeling like yellow gold watches haven't passed their horological sell by date yet? Stay with us, watch fiends. Following on from Watches and Wonders 2023, you can buy a Rolex Perpetual 1908 in 18K yellow gold or maybe venture to the lesser used white gold to fulfil your precious metal needs. As you can imagine, the lugs are kept short and sweet, measuring 45.2mm allowing the circular case to be seamless in its construction.
The gold case itself is finished with great aplomb. The centre of the gold case and lugs are given a polished finish which allows the poignant fluted bezel to be even more enhanced. The fluted bezel takes the serrated bezel edge style of the Rolex Submariner and exchanges it for a more stylish dial and case design, resulting in a sublime ridged pattern along the top of the gold timepiece.
The top of this gold timepiece has a sapphire crystal which is crafted to allow maximum legibility, as well as having a sapphire crystal on the caseback to give the gold timepiece an avant-garde feel and a direct view into the movement. The dials of 1908 differ tremendously from the Rolex Cellini. The Cellini stood itself in great stead, utilising rayon flammé de la gloire patterns on the dial which allows the dial to be instantly attractive, ensuring the rose gold indices stand out. The Rolex Perpetual 1908 however, like Chrono Hunter, does things a little differently.
The dials of the gold Rolex Perpetual 1908 are available in either white or black and do not feature any eccentric patterns nor wacky colour schemes or puzzles unlike the dials of the new Oyster Perpetual Day-Date 36, similarly released during Watches and Wonders 2023.
Emanating refinement and just a soupcon of elegance, the dials are given a stunning satin finish, while we love the railroad tracks around each dial that enjoys first rate visibility. The gold Rolex 1908 watches are timeless, enduring and designed to be efficient. This is a model that should be worn with your finery so suits for the formal moments or cashmere jumpers for the more dress down events.
Now, would you put a funky pattern on a stunning black sports car? All the gold models utilise a small seconds display which adds a little more depth to the dial which is a nice feature. Applied Arabic numerals at 12, 3 and 9 o'clock and standard batons for the rest are extremely legible and match the unorthodox hands wherein the hour hand has a circle crafted into it.
Technical Features of The Rolex 1908
Not only does it look sleek but the black and gold never fails on the luxury front. It runs like an unstoppable machine!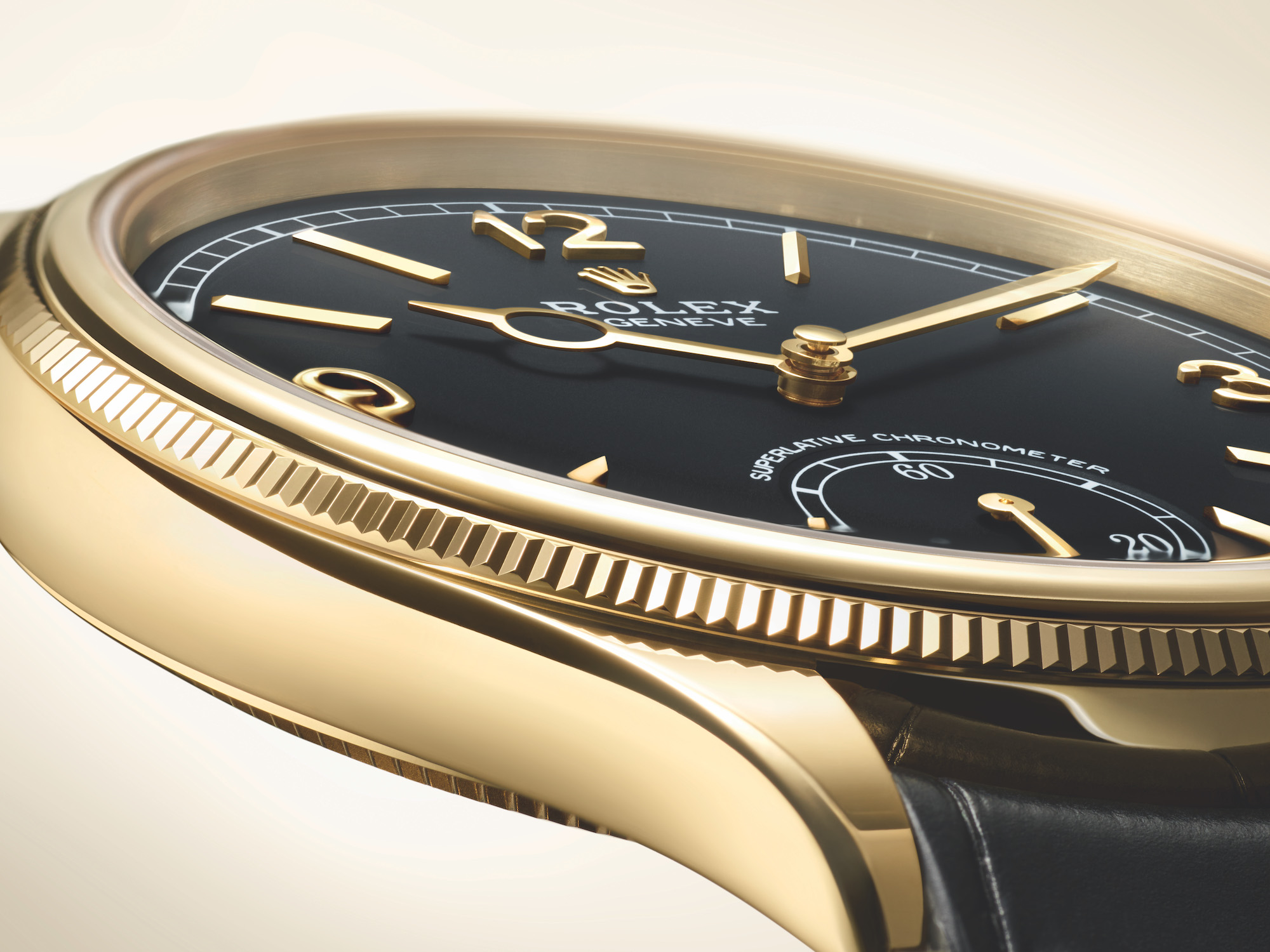 Perpetual 1908 - Source - Professional Watches
Utilising the calibre 7140, the movement follows the traditional construction of the brand's movements. Crafted using the standard features of a central rotor, barrel and wheel, 1908 knows when to blend the latest technical innovations with classic configurations.
The 18K perpetual rotor is present atop a ball bearing while the automatic movement uses the brands own Chronergy escapement which is crafted out of anti-magnetic nickel-phosphorus as well as the Syloxi hairspring. This is made from highly anti-magnetic silicon. Need we mention the balance wheel which features a variable inertia to ensure pristine accuracy at all times?
Of course, the brand would be foolish to not protect all of this phenomenal technology with a traversing bridge that allows the balance bridge to freely move while protecting it against the rough and ready nature of the world. The timepiece uses Paraflex shock absorbers which absorb any jolts and ensures the steady movement of the timepiece. But time is not on our side so let's keep moving.
The timepiece is a fast beater, pumping out 28,800VpH of horological dynamite and giving a long lasting 66 hour power reserve. Enough to take on the Eurostar for a long weekend in Paris. Meanwhile, the exhibition back allows us to see all of this in action and the level of detail Rolex have gone to behind closed casings. A quick look would identify sublime Côtes de Genève decorations which give a stunning shine to the gold elements, as well as slight chamfering on the bridges to enhance the timepiece dial and case design.
Final Thoughts On The Rolex 1908
The Perpetual 1908 blends the best of both worlds in terms of classic craftsmanship and modern movements.
Rolex 1908 - Source - Equation du temps
A smooth transition from the Cellini, The Perpetual 1908 offers stunning models in either white or yellow gold while keeping the dials across the board clean and refined, ensuring complete legibility as well as a classy dose of classy! It's sleek on the wrist and can easily slip under cuffs if the situation requires it. We don't think you need to though!
The 7140 calibre successfully brings modern elements to the timepiece. By incorporating a Chronergy escapement and Syloxi hairspring, the timepiece not only looks pretty but packs a pretty powerful punch too! Need we mention its Superlative Chronometer and that it is COSC certified?
Featuring a brown alligator leather strap, you could easily pull this timepiece off with a dazzling tuxedo for corporate events or shaking hands with your new father in law on your wedding day. It's a real bobby dazzler of a timepiece. Either way, despite the fact it only offers 50 metres of water resistance, we recommend you keep this timepiece out of the paddling pool or azure-coloured lagoon!
The timepiece is a new breed of Rolex with no prior heritage. This means that it's a brand spanking new and highly desirable due to Rolex not having any other edition of it previously being released. Furthermore, its highly lauded movement as well as the updated Cellini dial and case design allows the timepiece to be classy and have bags of longevity. It was certainly a talking point during Watches and Wonders 2023!
You can buy a Rolex Perpetual 1908 at retail for £18,500 at the time of writing.
Other Alternatives To The Rolex 1908
As it's only fair, we believe we should run through a few alternatives to the Rolex Perpetual 1908 for the new face of dress timepieces for Gen-Z spenders.
A. Lange & Söhne Datograph Up/Down
The A. Lange & Söhne Datograph Up/Down is more than capable of being the ultimate dress timepiece for many new Gen-Z enthusiasts coming to the timekeeping table.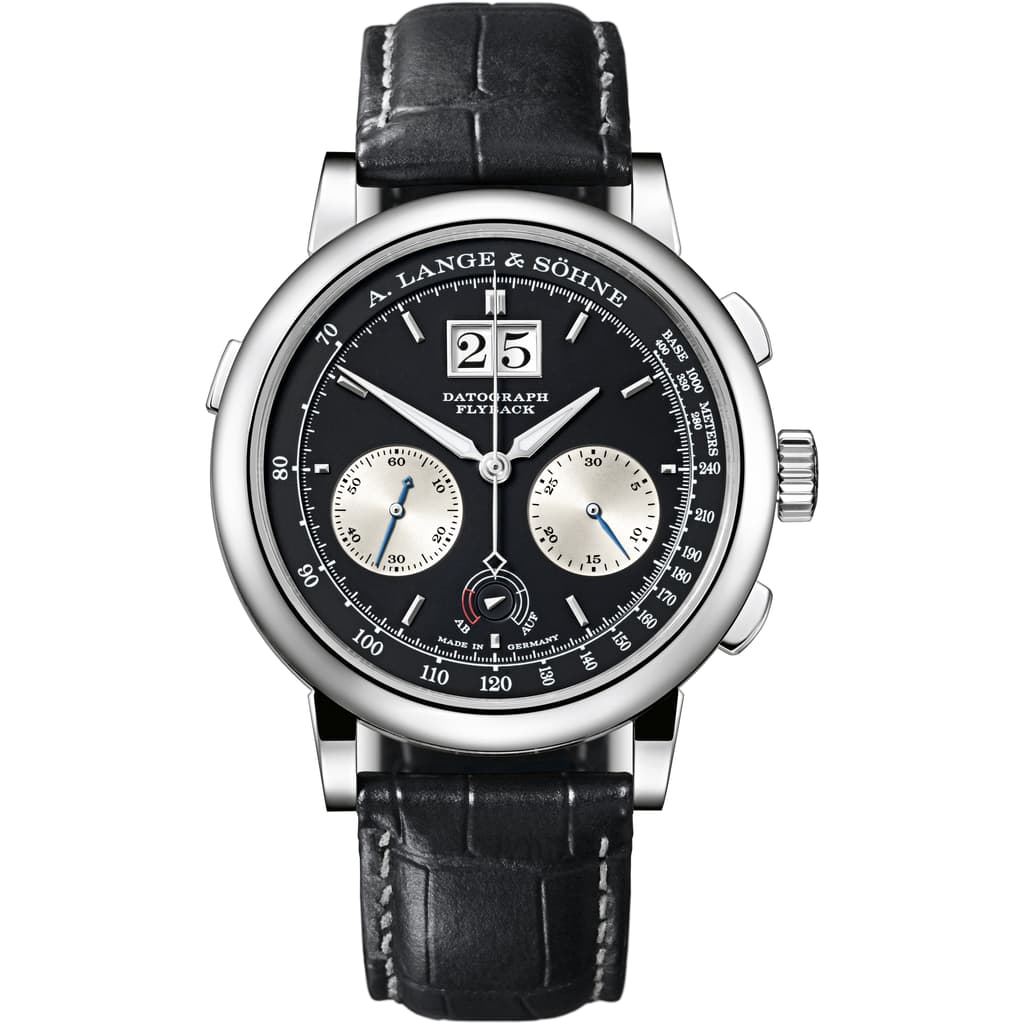 Lange & Söhn Datograph Up/Down - Source - A. Lange & Söhne
Measuring 41mm, it's quite big for a dress watch but do not let this dissuade you. It's jam packed with exceptional features like a flyback mechanism with a relevant jumping minute counter which has been patented by A. Lange & Söhne. Made from platinum, the Datograph is hypoallergenic and has a reasonable weight, allowing the timepiece to rest comfortably on the wrist. Featuring a black dial, it blends a large date at 12 o'clock, a 30 minute counter at 3 o'clock and a power reserve indicator at 6 o'clock, resulting in a timepiece that's bursting with details!
Complemented by an exhibition back, you can see into the calibre L951.6 with its steady pulse of 18,000VpH. Combine this with the hardy 60 hour power reserve and you have a timepiece which is ready to look flawless with a suit or your latest cashmere jumper.
You can buy a A. Lange & Söhne Datograph Up/Down at retail upon request for a price.
Cartier Santos-Dumont
Dating back to 1904, the Cartier Santos is a stunning piece of horological engineering which has more than stood the test of time. And quite rightly so. Let us explain.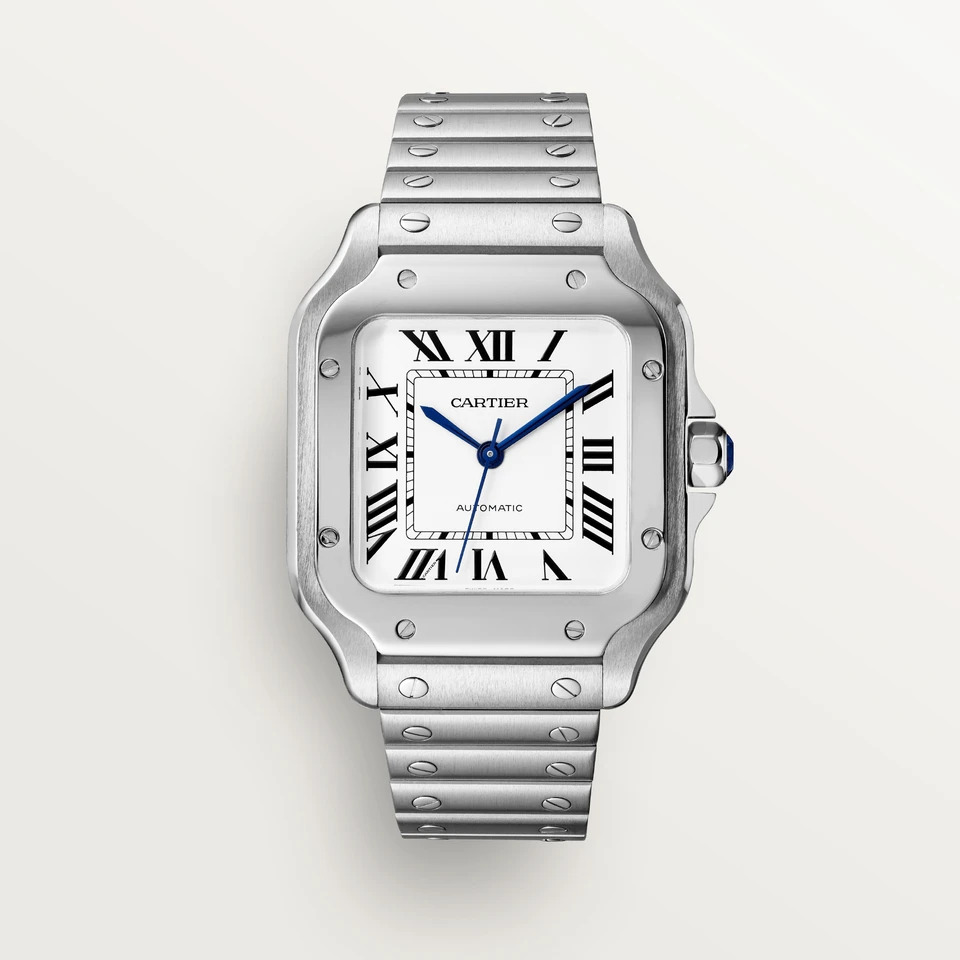 Cartier Santos - Source - Cartier
Originally designed as a solution for pilots to check the time by glancing at their wrist, The Cartier Santos-Dumont has exploded in popularity due to its timeless dial and case design and has since resulted in being Cartier's most profitable collection. Named after the pilot Santos Dumont in 1904, the timepiece became the first model on the wrist and was invented by Louis Cartier.
The dial and case design is minimalistic, removing any complications and thus allowing the timepiece to be refined and sophisticated. The casing features visible screws around the edge of the case, giving an avant garde build. The steel casing blends various finishes, providing a stunning shine on the squared case.
We are huge fans of the Santos thanks to the unique construction of the timepiece which matches the integrated bracelet perfectly. Worn by phenomenal actors Christian Bale, Jake Gyllenhaal and Tom Cruise, the timepiece can be donned with a dressed down denim jacket or dressed up with a suave navy suit.
You can buy a Cartier Santos at retail for £6,400 - at the time of writing.
Vacheron Constantin Historiques 222
Vacheron Constantin Historiques 222 have been associated with the zenith of Vacheron Constantin dress watches. Even Brad Pitt was spotted wearing one in LA taking this timepiece to epic levels of desirability.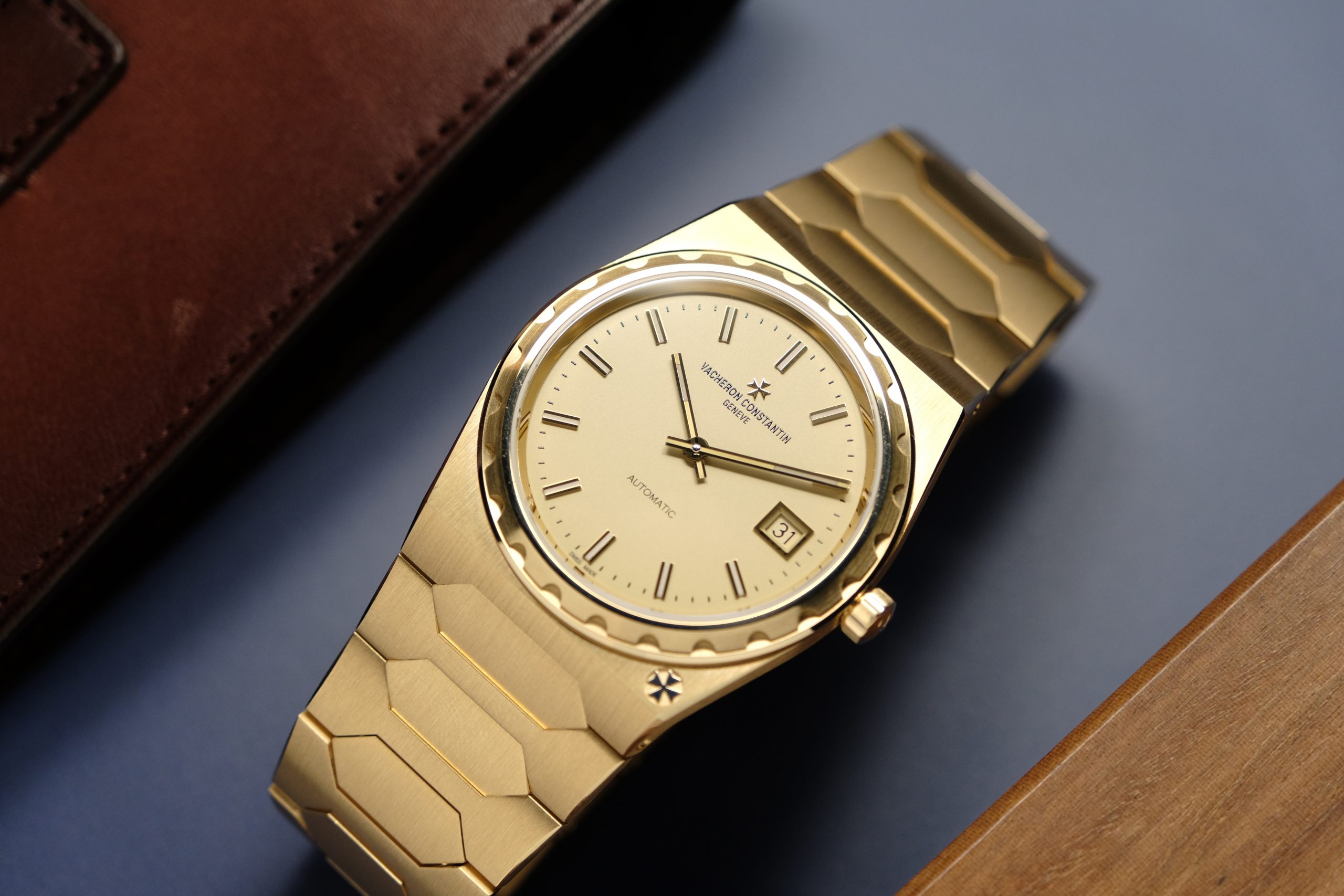 Vacheron Constantin 222 - Source - Perpetual Passion
With a nod to the 1970's hero timepieces, the Audemars Piguet Royal Oak and The Patek Philippe Nautilus as designed by Gerald Genta, the Vacheron Constantin 222 was crafted by the phenomenal designer Jörg Hysek.
It is crafted with a monobloc flat based tonneau. In addition, the bezel is given a slightly fluted aesthetic, offering a unique design to the timepiece and giving a construction reminiscent of a cog. Made from 18K yellow gold, the precious metal design serves to boast the classy nature of the timepiece.
The Vacheron Constantin Historiques 222 integrated bracelet allows for seamless wear on the wrist and its similarity is crafted out of 18K gold, allowing the entire timepiece to beam with colour and wealth. It's thin, trendy and will certainly catch the eye immediately whether in the boardroom or on a private yacht!
Powered by the calibre 2455/2, the timepiece runs at a rapid 28,800VpH and is given a stamp of approval through the Hallmark Geneva Certification. The luminescent hands and dials allow the watch to be gazed upon in all conditions.
Ultimately, the VC Historiques 222 screams luxury refinery. Why not pair it with something to keep with the stylish retro vibe? As such, get this bad boy on with a black polo shirt when out on the town to boast its gold accents or wear it with a white suit to keep the look clean!
You can buy a Vacheron Constantin 222 for retail at £66,500 - at the time of writing.
Conclusion
The penultimate question must be answered… Is the Rolex Perpetual 1908 the new face of dress watches for Gen-Z spenders? Easy answer, timelords. It most certainly is! While it was released during Watches and Wonders 2023 and is still very expensive at £18,500, it offers a level of refinement, luxury and class which hasn't really been tapped into by Rolex…until now.
Besides, we saw Swiss tennis legend Roger Federer rocking the Perpetual 1908 in white gold at the recent 2023 Met Gala. He may be one of Rolexes high profile brand ambassadors, but it goes to show the pulling power of this new fancy schmancy dress watch in what Rolex like to call "intense black"
The model has every potential to vastly increase in value due to its precious metal construction, whilst it houses the latest technology like the Syloxi hairspring and Chronergy escapement, ensuring the longevity of the watch. Overall, the watch is stunning in its minimalist design and in comparison with other exceptional watches like the Historiques 222 or A. Lange & Söhne Datograph Up/Down.
However, The Rolex Perpetual 1908 offers a new breed of dress watch for your timekeeping delight. With only a short run so far since its release during Watches and Wonders 2023, it's already generated a very eager new audience!
Want to snap up a Rolex in time for your next big event? Want to buy a Rolex the smart way? Get things moving quickly by having a chat with Chrono Hunter here. If you wish to buy a watch, have a glimpse at our fabulous Trustpilot reviews to see why we are the number one source for selling and buying a watch. Enjoy multiple offers from our array of trusted luxury retailers and benefit from the best possible price on your next purchase or sale.
Further Reading:
Question Time: What Can I Buy Instead Of a Rolex Datejust?
Unavailable: Rolex Explorer II Ref. 16570 And What Makes It A Beloved Watch
Buy Or Sell A Luxury Watch The Smart Way With Chrono Hunter
If you are considering your new purchase or perhaps the sale of a beloved timepiece, Chrono Hunter is the smart way to buy or sell a luxury watch.
Compare Offers from the world's most reputable luxury watch retailers.
Save Time.
Save Money.
Personalised Service.
Hassle-Free.
Trending
Former Procter & Gamble Executive Takes Over As New CEO Of Audemars Piguet
Question Time: How Do I Undo Or Replace My Rolex Strap?
Lab-Grown Diamonds And The Impact On Luxury Watches
New Launch: Hublot Big Bang Unico Nespresso Origin 42mm Made With Recycled Coffee Capsules
Pink Out Your Watch Collection With Our Top Salmon Dials
Question Time: Should You Buy The New Breitling Premier B01 Premier 42mm Anniversary Watches?