9 Grail Watches You Should Start Collecting Today
Howdy, watch lovers. While we may not be dodging boulders or running away from Nazi's to find a Holy Grail like Indiana Jones, we are looking for the greatest grail watches to feast your eyes upon… and hopefully not have your face melt away.
Luckily for you, dear reader. A grail watch is not just one specific brand or model. In fact, the term grail watch refers more to your personal preferences and goals in the watch world. It's a watch which few have gotten their hands on and thought 'this is my best friend for life'.
Without any further postulation on the influence of grail watches on watch collectors, let us dig deep and arise with a solid list of the ultimate grail watches for your collection. Like the Black Knight in Monty Python and The Holy Grail, you may need an extra arm and leg to buy a grail watch…Onwards and upwards time peeps!
Do Grail Watches Exist?
In the horological world, the term watch grail is usually defined as a rare or high value timepiece that is highly sought after by collectors and enthusiasts alike. Other definitions follow the idea that it's a watch a person has lusted after for years but has been unable to attain it as of yet. The kind of arm candy for your wrist and your future generations only.
What happens when you purchase your grail watch but see a 'better' grail watch? Does the grail watch you own no longer account as a grail? These are important questions to consider when you believe you have found the ultimate grail watch. It must be a watch that you see as the watch you will take with you to the grave and beyond. But don't get spooked out yet.
Take for example Paul Newman's Rolex Daytona. Bought by his wife Joanne Woodward with the inscription 'Drive carefully. Me' on the back, this watch would become a staple of his outfit, featuring in numerous magazines and films. It would sell in 2017 for around £14m. Considering this was a watch that wasn't particularly revered in his day, it shows that grail watches do exist. Without becoming too lovey dovey, it's the same idea as finding the love of your life as 'when you know, you know'.
Some find their grail watches in timepieces that have potential achievements. For example, buying the Vacheron Constantin 57260 because it's the most complicated watch ever produced, or the Rolex Milgauss because it pioneered anti-magnetic watches. It's your horological poison gentlemen.
Who knows? Maybe the human race loves chasing after things and will never be content with the catch. All Chrono Hunter knows is that there are watches out there which instantly grab your attention and spur you on to scramble to get your hands on it.
Rolex Oyster Perpetual 41mm - Tiffany Dial
Recognise this watch?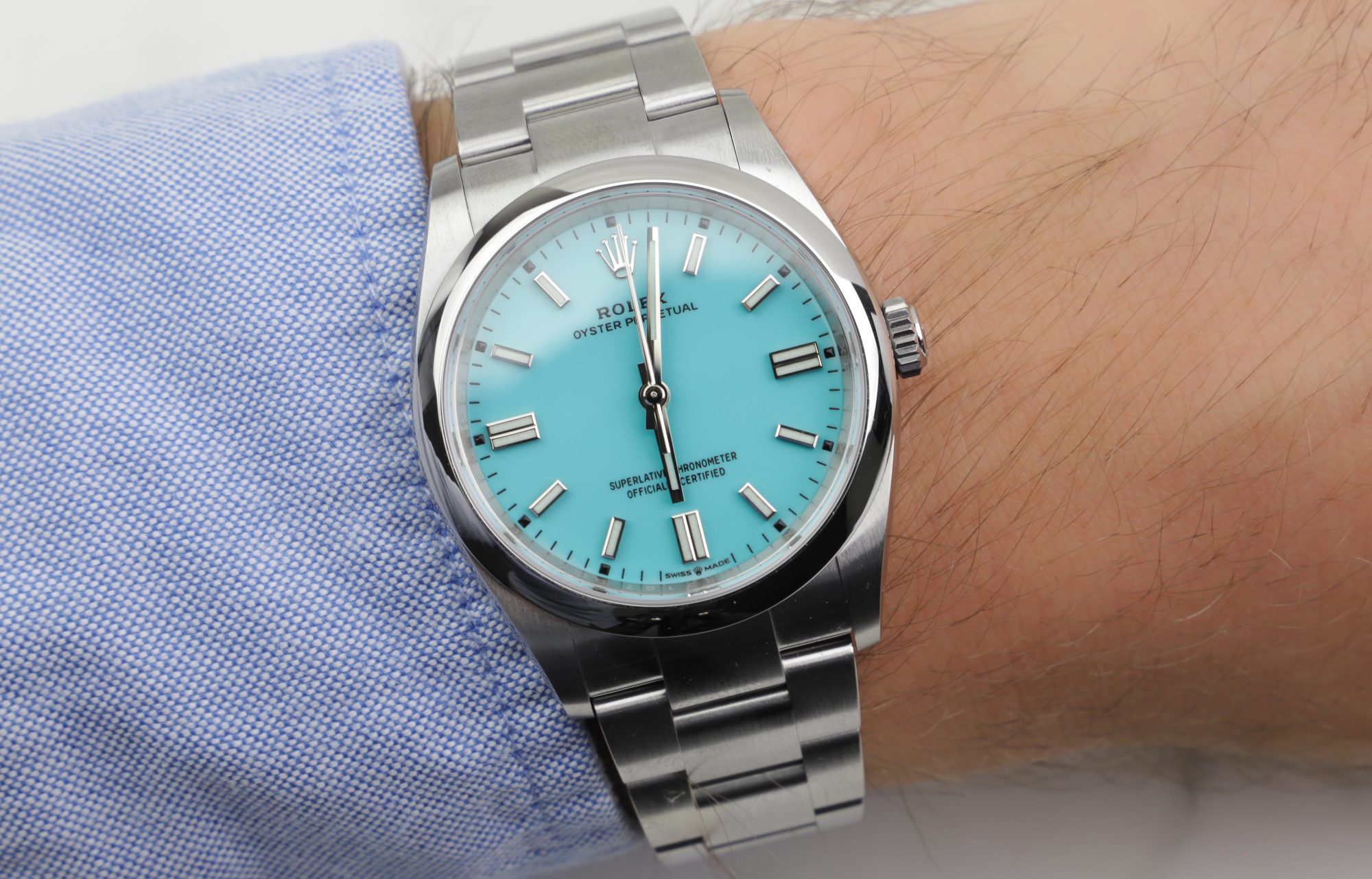 Rolex Oyster Perpetual 41mm - Source - Millenary
Worn by highly acclaimed rapper Kendrick Lamar to pick up his 15th Grammy for 'best rap album', he brought back the dead in a matching light turquoise jacket. Discontinued in 2022, The Rolex Oyster Perpetual 41mm in Tiffany Blue is highly sought after, especially due to the coveted 'Tiffany' colour on the dial.
Tiffany is revered as one of the finest grail watches because it's the colour inspired by the New York Jewellers. And the colour is due to the combination of green and blue that blends to make the iconic turquoise shade watch lovers go crazy over. The partnership between Rolex and Tiffany started in the 1950s and continued until the late 1990s. Over the course of the 40 year collaboration, the models not only featured the timeless colour, but a Tiffany & Co stamp on the dial.
The dial is very distinct, even more so as the hour markers are fashioned from gold to prevent them from tarnishing. The movement is the in-house calibre 3230 which has the superlative accuracy standard as its predecessor but has slight improvements in the form of a better power reserve at 70 hours and anti magnetic ratings.
Would it even be a Rolex if it didn't have the classic Oyster bracelet? This stainless steel bracelet links the Rolex Oyster Perpetual 41mm Tiffany. Known for its durability and superior comfort, it provides a sporty look which allows the watch to be worn at formal black tie events with colleagues to knocking back a few beers with friends.
Rolex has since continued to release Tiffany inspired dials after this collab ended and they have been extremely successful as the colour is unbelievably hard to find on any other watch. It's owned by social elites such as John Mayer and of course, Kendrick Lamar. Fun fact, Kendrick Lamar partnered with Tiffany to create a custom crown of 50 thorns with 8,000 diamonds. Money to burn, eh Kendrick?
It's incredible to think that even an entry level Rolex such as the Oyster Perpetual can see a significant price increase due to the dial colour. It goes to show that value doesn't always require a watch which is innovative or pushes the industry forward. Sometimes perfect design is all that's needed.
Since its discontinuation in 2022, you can no longer buy a Rolex Oyster Perpetual with a 'Tiffany' blue dial 41mm at retail at the time of writing. On the secondary market, you can buy a Rolex Oyster Perpetual 'Tiffany' for upwards of £20,000 - at the time of writing.
Patek Philippe Nautilus 5711/1A-001
Take my kidney for the Nautilus 5711/1A? Yes, please!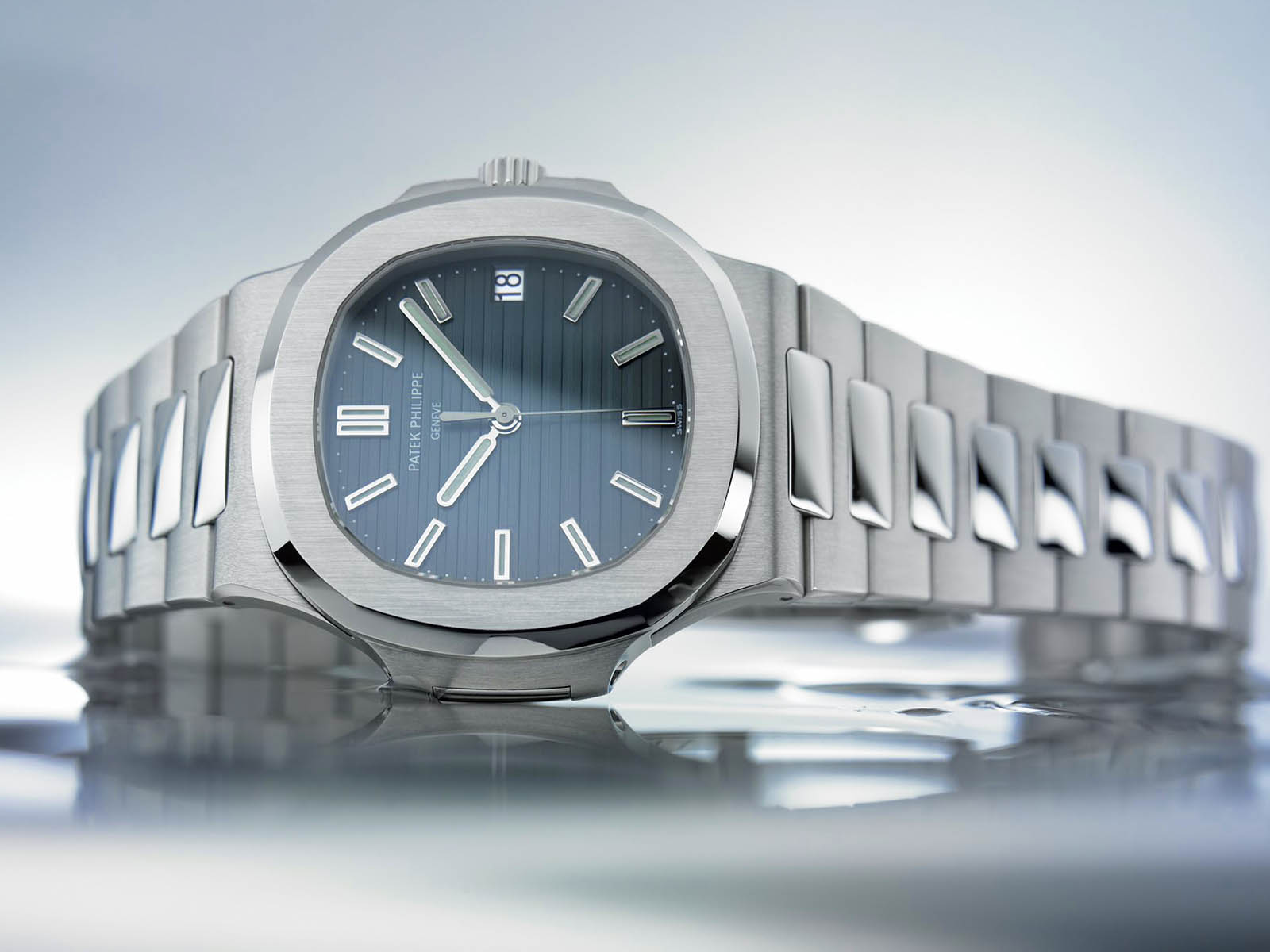 Patek Philippe Nautilus 5711/1A - Source - Horobox
Dating back to 1839, Patek Philippe has made watches from Albert Einstein to Cardi B. Patek Philippe's highly innovative movements have allowed them to grow and become part of the legendary 'Holy Trinity' trilogy. Holy smokes Batman.
In particular, the Nautilus collection, first produced in 1976, represented the pinnacle of Patek Philippe's creative powers. While attempting to combat the flurry of Quartz watches, Gerald Genta, master designer and Patek Philippe set to work on creating the Ref. 3700, namely the original Nautilus design with signature porthole appearance. Nowadays, the Patek Philippe Nautilus has moved from strength to strength, creating phenomenal models such as the now discontinued 5711 1A-001. Launched in 2006, this model became the helm of Patek Philippe's battleship and one of the best commercial models from the brand.
What exactly makes the 5711 1A one of the most popular grail watches? Starting with its classic design, it is unmistakable from the smallest of glimpses. The model excels in minimalist design and innovation, removing the need for precious stones and embellishments as found in other models like the Grandmaster Chime Haute Joaillerie or Nautilus' own 7118/1450R-001 with 2553 flawless cut diamonds.
By prioritising form over function, the softly rounded octagonal bezel allows the porthole shaped case to come to life. On the dusk blue dial, the design is very clean as the distinctive horizontal grooves do not detract from the refinement of the white gold and luminescent hour markers and hour and minute hands. By having a simple date aperture at 3 o'clock, this is a watch that doesn't need to have loads of complications to justify its existence. While Patek Philippe has the capability to produce complicated works like the Grandmaster Chime which has twenty complications, they also know when to reign it in and create sublime works of intricacy. After all, quality doesn't equate to quantity.
The 5711/1A runs with the same gear you'd expect from a brand as exceptional as Patek Philippe. The 5711 houses the Calibre 26-330 S C with patented features such as the Gyromax balance wheel and the Spiromax balance spring uses Silinar which is silicone technology that allows precise maintenance of oscillations.
Yes, Timelords. Patek Philippe only uses the crème de la creme for their models. The Nautilus has a power reserve of 45 hours and the central rotor is made of 21K gold. To have the central rotor made of 21K gold is testament to the craftsmanship and high level of finishing that characterises Patek Philippe. Owned by Brad Pitt and Victoria Beckham, the watch can be used to sweep the red carpet or to check you won't miss your flight to the Bahamas. You can pull the 5711/1A off with most outfits due to its classic design and it not being garish and pretentious.
Chrono Hunter believes that a navy dress shirt with hemmed sleeves is perfect to accentuate the gorgeous dial and keep you looking classy. Did we mention that the integrated bracelet is absolutely de rigour at the moment?
This is an extremely valuable watch, as the price is influenced by its superb build quality and its scarcity. With only a handful produced while it was running, its discontinuation has meant that it's a free for all for getting your hands on the 5711/1A.
While you cannot buy a Patek Philippe 5711/1A at retail, you can buy a Patek Philippe 5711/1A for upwards of £120,000 on the secondary market at the time of writing.
Richard Mille RM 65-01
If the brand can make it into a Drake song, you know there are going to be some watches for your grail mantlepiece.
Richard Mille RM 65-01 - Source - Hypebeast
Richard Mille are the only youngster on the watch scene. Founded in 1999, they have risen as fast as their Ferrari inspired model, the Richard Mille RM UP-01 Ferrari. From bold aesthetics to liaising with the social elites like Jay Z and Pharell Williams, Richard Mille watches are sold out before they are even manufactured. The level of demand is off the charts and carries the same level of anticipation as the next Tyson Fury fight.
Richard Mille may have only had a short run so far on the horological track but it's certainly been memorable so far. This is especially the case for the Richard Mille RM 65-01. Representing the pinnacle of Richard Mille's engineering, this automatic split seconds chronograph is the most complex timepiece produced by Richard Mille.
Specifically, the Calibre RMAC4 calibre is a skeletonised automatic winding movement with a strong set of complications, including a rapid winding and variable-geometry rotor alongside a split seconds chronograph with a 30 minute counter at 3 o'clock. It has a strong power reserve of around 60 hours meaning it's more than competent at working around your hectic lifestyle.
For those who are uncertain as to what a rapid winding and variable Geometry rotor is, it allows the barrel to be quickly rearmed if the watch stops. By simply pressing a pusher at 8 o'clock, the barrel can be fully reset if you need to rearm the watch after not wearing it for a long time. The variable geometry aspect essentially modifies the rotors inertia to speed up the winding process during actions like walking or slow it down when playing sport. This allows the movements winding mechanism to be optimised and custom to the owners lifestyle. You really are buying a watch for life with this one!
Even down to the intricacies, Richard Mille makes everything to a phenomenal standard. The baseplate and bridges are made of grade 5 titanium which is highly corrosion resistant and exceptionally rigid. The case is made out of Carbon TPT which is almost indestructible due to its physical properties. It's also extraordinarily light as well as being shock absorbent which is key for those looking to buy a Richard Mille to wear in everyday life.
As is very typical of Richard Mille watches, the dial is openworked, allowing you to see all the intricacies of the movement. This is the same for the caseback too which has a sapphire crystal with anti glare treatment. As this watch is so unique in its appearance, it's only right that you wear something equally daring to keep with the theme. Take for example NBA player Paolo Banchero who wore a Richard Mille with a purple suit adorned with rhinestones.
You don't have to be that adventurous if you don't want to though, Timelords. Strip it back with a classy black suit and bow tie when you pick up your award for best in the business. This watch is extremely valuable due to its uniqueness of design and its success as an unbelievably complicated watch. Its appeal to the celebrities is also a bonus for its appeal.
You cannot buy a Richard Mille at retail but you can buy a Richard Mille RM 65-01 on the secondary market for upwards of £150,000 - at the time of writing.
A. Lange & Söhne Datograph Up/Down
The A. Lange & Söhn Datograph Up/Down is extremely iconic for its design and functions.
The Datograph collection is famed for its large date and two sub dials which come are symmetrical to each other. It screams of style and refinement, something which is very hard to come by in the horological world.
Its large date with Arabic numerals at 12 o'clock take centre stage and the flyback mechanism as well as a jumping minute counter which A. Lange & Söhn have patented. This version of the 405.035 comes in platinum which is a very rare material to use due to its hypoallergenic properties and its comfortable density allowing the watch to sit well on the wrist.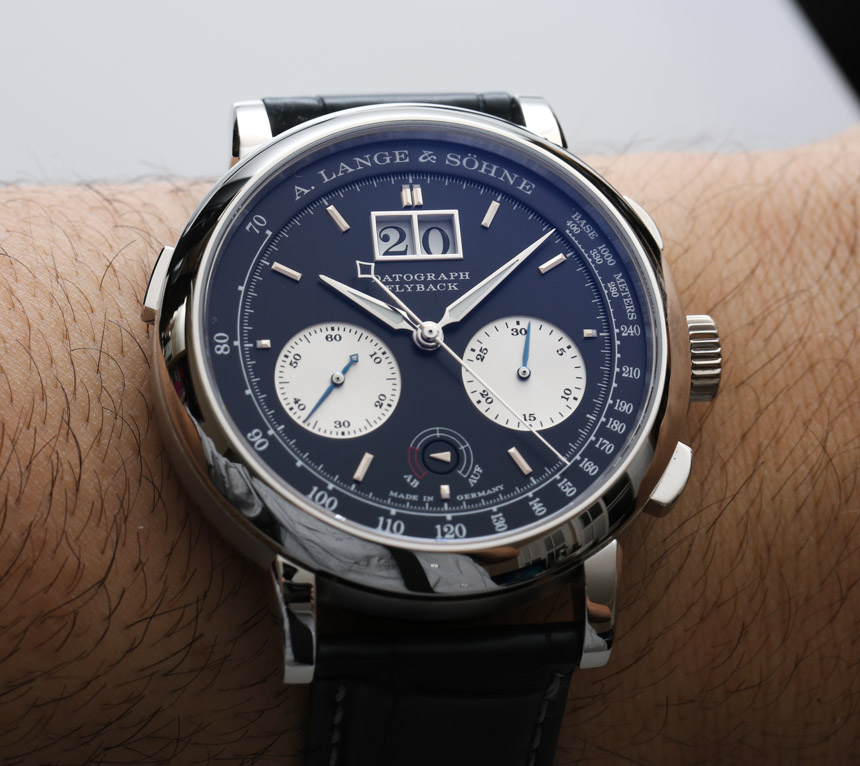 Lange & Söhn Datograph - Source - Ablogtowatch
What's better than pairing gold with black? Platinum! The black dial is crafted out of silver and it features the large date at 12 as well as a 30-minute counter at 3 o'clock, plus a really awesome power reserve indicator at 6 o'clock which looks like the rev counter in your flashy sports car.
Fearing you'll only be able to see the sizable date function? Not to fear, the watch has a sapphire crystal on both sides of the case to enable you perfect vision of the dial and the intricacies of the exhibition back. Did we mention the crystal is also coated with anti-reflective coating to ensure that the pesky sun doesn't blind you on your travels?
The platinum case measure comes to 41mm which is about average for size. Furthermore, the watch is given a very elegant polished finish on the bezel and the case which stands out superbly above the pushers on the right hand side of the case. On the left hand side, there is a date adjustment feature on the left hand side at 10 o'clock.
The crown on the right hand side is pretty big and is serrated to allow easy winding. A. Lange & Söhn take care of the intricacies as they have signed their name on the head of the crown and pushers which of course, feature some nice aesthetic effects through the brushed and polished segments.
The watch is powered by the calibre L951.6 and it pulses at a reasonable 18,000VpH. You can see the movement in operation through the exhibition case back. It's a nice feature for those looking to buy A. Lange & Söhne Datograph Up/Down with an avant garde aesthetic.
The Datograph is held together by a black alligator strap with a Lange Pin buckle and it matches the black dial perfectly. It's extremely comfortable and goes with the platinum casing superbly. It would therefore be fitting with a nice suit or with to peek out from under your new denim jacket.
The watch is incredibly valuable as the watch blends a phenomenal power reserve of 60 hours with stunning movements. Combine this with the flawless dial design which is deceptively understated and you have a cutting-edge watch!
You can buy a A. Lange & Söhne Datograph Up/Down at retail when you request a price.
Jaeger-LeCoultre Reverso Hybris Mechanica Calibre 185 Quadriptyque
The title of this model may just be a new tongue twister for your timekeeping dictionary.
Jaeger-LeCoultre Reverso Hybris Mechanica - Source - Oracle Time
Jaeger-LeCoultre originated in 1931 and enjoyed their big break by answering a request from India to build a watch that could survive playing polo without taking any damage. As such, Jaeger-LeCoultre's biggest selling model was 'The Reverso'. It could be slid in and out of a cradle, reversed, and then slid back in to protect the dial's face. I bet it saved a lot of people money and time when they decided to buy a Jaeger-LeCoultre!
There have been subsequent updates where the model was increased to 3 faces which was introduced in 2006 and named the Triptyque. Now, we see the world's first four faced timepieces due to their being a double faced case and cradle. We may be in a cost of living crisis but you are getting 4 for the price of 1! Working off their very innovative dual face model with their Recto and Verso sides, the Jaeger-LeCoultre Reverso Hybris Mechanica Calibre 185 Quadriptyque houses quite a number of complications. Specifically, this model has 12 patents, and 11 complications including synodic, draconic and anomalistic lunar cycles, four display faces, flying tourbillon and minute repeater chimes.
We did say we are your go-to source for all matters on luxury watches. It took six years to create this model and is the most complicated Jaeger-LeCoultre ever created. Specifically, it took 800 separate components to build and six months to assemble on their own. I know what you are thinking…what happens if it loses power reserve and has to be recalibrated?
Fear not, loyal time peeps. Jaeger-LeCoultre has created a box that automatically syncs the watch and sets the calendar and astronomical displays for the user. Great timing you might say, but a really nice feature is the chiming functions that it so proudly boasts. Jaeger-LeCoultre is only one of a number of brands like Omega and Breguet that utilise this complication. Releasing sound using three combinations of low and high notes, it is capable of chiming the hours, minutes and quarter hours.
As it's imperative to truly understand the depth of this magnificent piece, the dials are as follows; the first face shows the hour, minute, tourbillon, instantaneous perpetual calendar, grade date, day, month, leap year and night and day indicator. The seconds dial utilises a jumping digital hour display, minutes, and minute repeater. The third dual incorporates the moon phases as well as the draconic lunar cycle, or the height of the moon to us astrological newbies, and the anomalistic lunar cycle month and year.
The fourth dial shows moon phases in the southern hemisphere as opposed to the third dial which shows them in the northern hemisphere. Are you keeping up? Truth be told, this beauty is so avant garde and rare (only 10 pieces were) made that we wouldn't even risk wearing this out on the balcony. If you're the rebellious type and want to, why not pair this with a light blue cashmere jumper to contrast with the dark blue leather strap and steel casing.
You cannot buy a Jaeger-LeCoultre Reverso Hybris Mechanica Calibre 185 Quadriptyque at retail at the time of writing.
Audemars Piguet Royal Oak Openworked Grande Complication
Audemars Piguet links three categories of horological complications and creates one stunner of a timepiece, perfect for those looking to buy an Audemars Piguet. Crafted out of titanium and ceramic, this Audemars Piguet features the phenomenal AP calibre 2885 which has a split seconds chronograph, perpetual calendar and minute repeater. Built out of 648 components, each one is hand finished and sandblasted in order to give the openworked dial that extra sprinkling of timekeeping magic.
The gold rotor is finished with anthracite which matches the titanium case. The level of detail is truly astonishing, even down to the finest details like the repeaters' hammers being mirror finished and bevelled so they look extra delicate.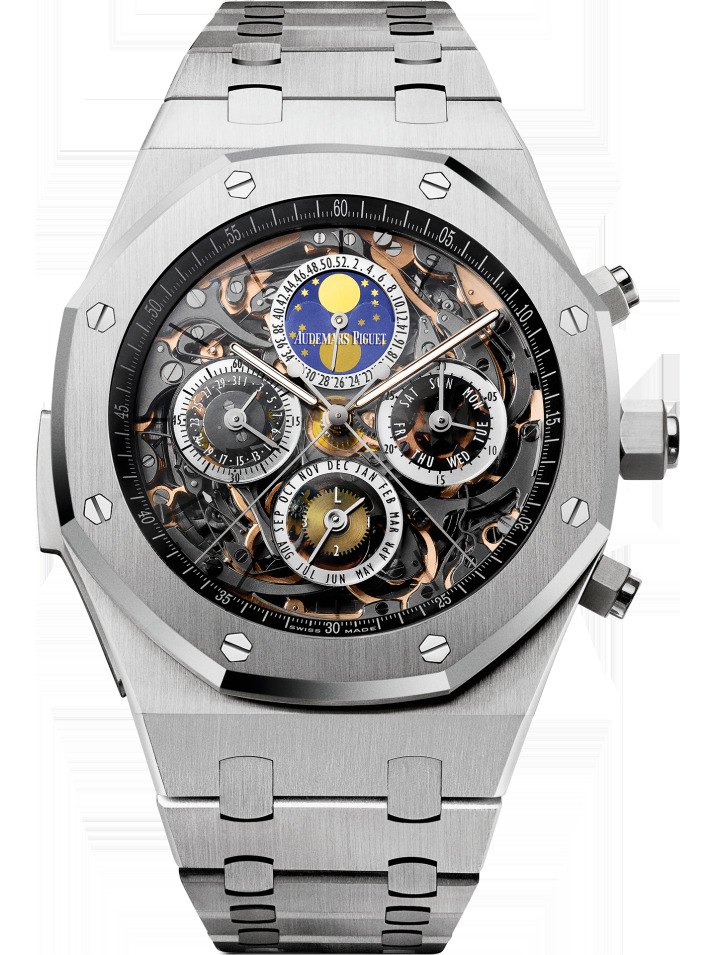 Audemars Piguet Royal Oak Openworked Grande Complication - Source - Audemars Piguet
Measuring 44mm, the titanium case is given a ceramic bezel, crown and pushers which stand out beautifully against the open worked dial. Each component is bead blasted with bevels and the matte surface below allows them to be pronounced. While this would usually be much of an issue, the 'open heart' style of the dial allows Audemars Piguet to flex their ingenuity.
The Moonphase is created with Physical Vapour Deposited (PVD) metal onto sapphire. Built onto a black rubber strap with a titanium buckle, this grand complication is certainly wearable due to its sleekness. Admittedly, it's rather bulky at 44mm but what else do you expect for all those complications? Audemars Piguet has truly mastered the art of beautiful watches which is a testament to their exquisite craftsmanship. By blending extremely complicated intricacies with a healthy amount of ruggedness via the titanium and ceramic case, pair this with a black Harrington and ribbed cuffs to enhance the striking visuals. This watch is extremely valuable as only 3 models have been released and the level of design and workmanship is unparalleled making it a highly coveted timepiece.
As you can imagine, you cannot buy an Audemars Piguet Royal Oak Open Worked Grande Complication at retail. It retails on the secondary market in excess of £500,000 - at the time of writing.
Patek Philippe 5270P Perpetual Calendar Chronograph
That's right, Time Lords, there are other options outside of the Nautilus in Patek Philippe's portfolio. The reference 5270 was launched in 2011 as the brainchild of many generations of Patek Philippe Perpetual Calendar Chronographs such as the very popular 5970. The 5270P has kept its same case design of 41mm and the beautiful tiered lug with concave bezel.
The two pushers on the right side of the case are brushed on the sides and polished at the top, allowing control of the chronograph function. On closer inspection, it also gleans the recessed pushers that run along the sides of the case and they adjust the perpetual calendar indications when activated. The platinum circular case is beautifully built and offers a different design completely to the famed Nautilus collection. Truth be told, Timelords. I think the Nautilus has found its new competitor with this fetching choice!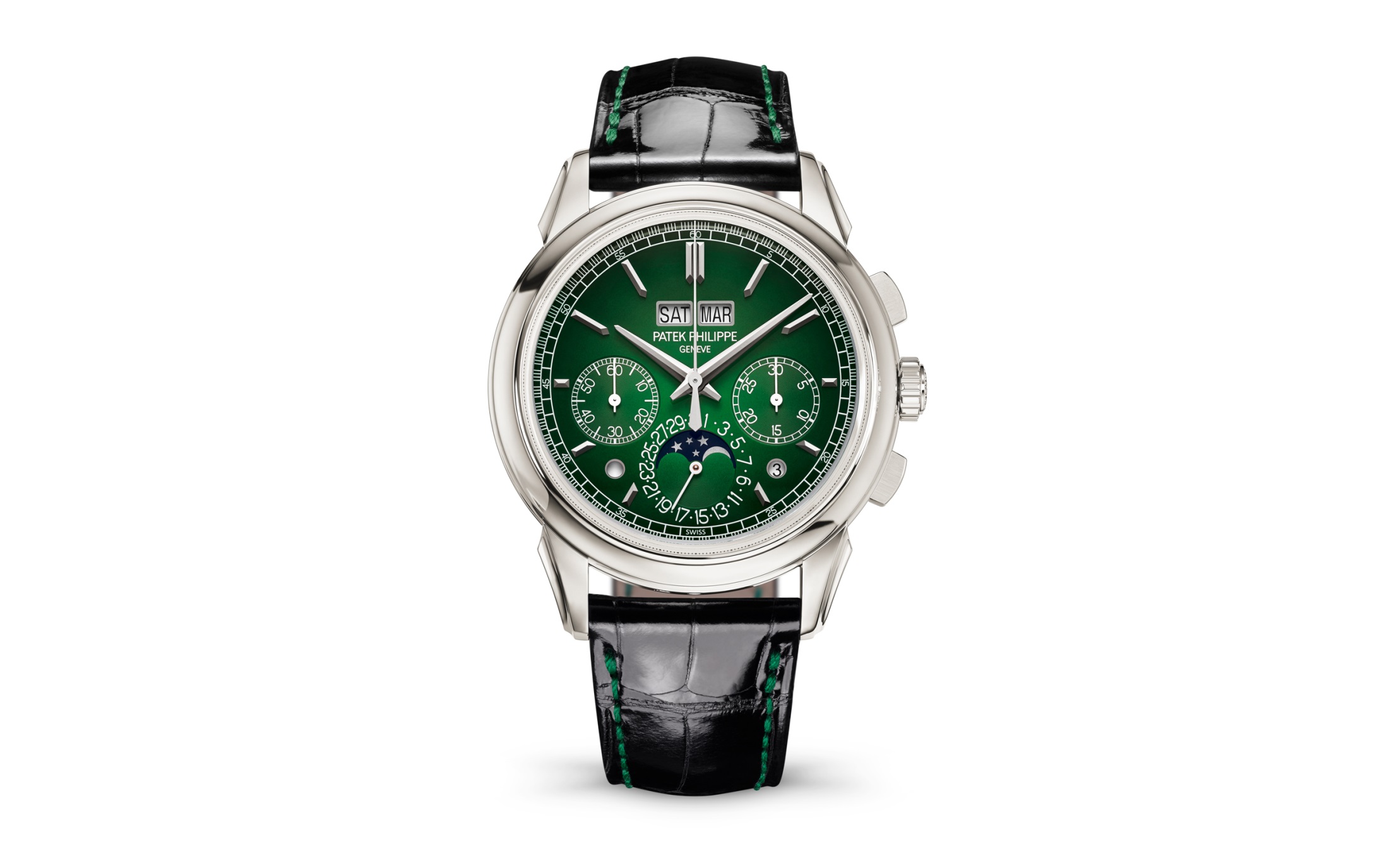 Patek Philippe 5270P - Source - Patek Philippe
The green dial is a major shift for Patek Philippe who typically dealt with white or black on the 5270 variants. Mind you, we didn't see any PP numbers show up when luxury watch spotting at The Oscars. Yet, Patek Philippe knows that the times are changing and are accommodating a more vibrant and diverse generation of users. The green dial shifts in colour too, moving from an emerald green to a mysterious black on its periphery.
The 5270P has cut away the tachymetric scale, resulting in a dial which is more accessible to the user. While it may lose a slight sporty edge, it is now catering far more towards those looking to buy a Patek Philippe dress watch to suit all manner of occasions. With one scale removed from the dial, there is more space for Patek to indulge in little features. For example, the date aperture isn't so pressed up against the scales so it looks like it's actually supposed to be on the dial. This is in contrast to earlier models like the 5270/1R which looked a little cramped. But we don't want to cramp anyone's style here…we want to embrace it with full vigour.
The movement remains the same as previous 5270 models which housed the calibre CH 29-535 PS Q. This is the first ever in-house movement for a perpetual calendar chronograph complication which was fully created in house. Housing 6 patents, the movement is exceptionally efficient and takes every step to reduce its chances of damage over time.
The perpetual calendar module features a moon phase indicator that moves away from the lunar cycle by one day every 122 years. The sapphire case back allows a view into the chronographs mechanisms. The bridges have been given Geneva waves and contrast visibly against the column wheel cap that is black and polished, as well as the springs and clutches.
Placed on top of a black alligator leather band, the platinum and the rugged strap go together like a dream. This could be worn with a beige cashmere jumper on your own clothes Friday in the office or a light denim jacket while meeting friends at the latest restaurant opening. The Patek Philippe 5720P is extremely valuable as it represents Patek Philippe's turn to embrace a more modern audience. Nonetheless, It still retains its old school style thanks to its circular case and tiered lug design.
You can buy a Patek Philippe 5270P at retail for £176,180 - at the time of writing.
Vacheron Constantin Traditionnelle Tourbillon Chronograph
"Holy Trinity" member Vacheron Constantin has done it again with this impressive number that has knocked our horological socks off.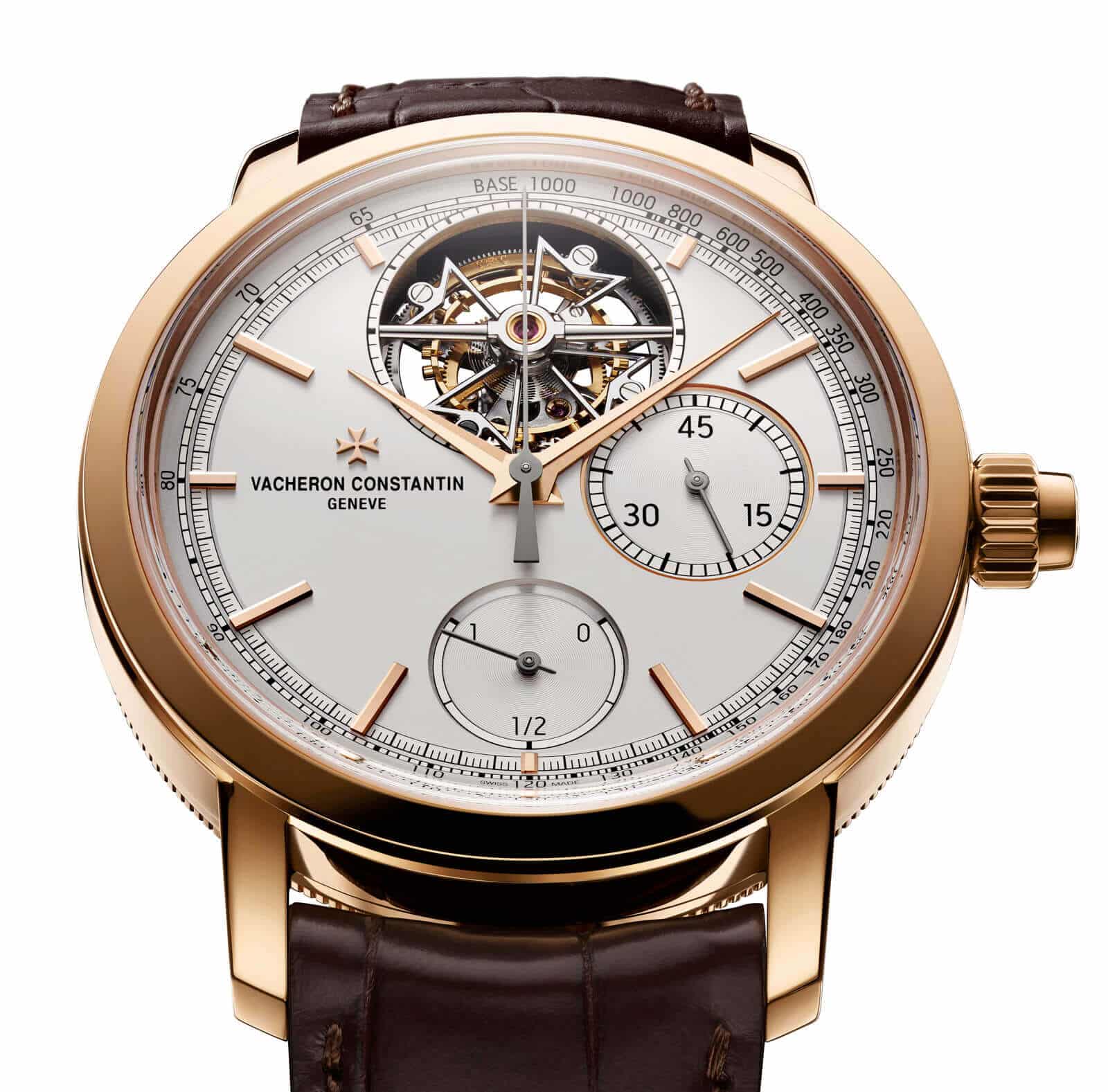 Vacheron Constantin Traditionnelle Tourbillon Chronograph - Source - Vacheron Constantin
At 42.5mm, The Vacheron Constantin Traditionnelle Tourbillon Chronograph is pink gold and features a fluted caseback decoration. This means that the side profile is very interesting to look at as it adds another dimension to the circular design. The case features a few levels of depth as per the fluted caseback mirror finishing giving it a phenomenal refinement that ensures Vacheron Constantin has a first rate reputation in Haute Horlogerie. This is enhanced with poignant lines given by the lugs due to their strong appearance in regard to the overall model.
The Traditionnelle Tourbillon Chronograph has a raised sapphire crystal which stands out from the construction of the case. This cleverly plays on the levels given by the rest of the case and makes the dial stand out more as the crystal literally rises to greet you.
You can buy a Vacheron Constantin like this with the knowledge you are investing in something that's beautiful from front to back. It's like that designer Gucci coat you've had your eye on…you just know it's going to fit without even trying it on! The caseback has a sapphire crystal like the Vacheron Constantin Panda that exposes the details of the calibre 3200. This is something that Vacheron does with taste as the front of the case also features a skeletonised tourbillon at 12 o'clock that has a thin Maltese cross built across the gap.
Since Vacheron Constantin has employed the use of a tourbillon carriage instead of a pinion in the fourth wheel, it allows a gap to form in the upper plate, giving the user a superb insight into the complication. The dial is imbued with typical Vacheron Constantin workmanship as they know exactly where to place the complications in order to make the dial as clean as possible. The model is hand wound meaning it's important that a power reserve is visible on the dial. The last thing you'd want is this beauty dying on you! Placed at 6 o'clock, the printed dial is black along with the chronograph function which is a 45 minute measurement at 3 o'clock.
The left side of the dial has 'Vacheron Constantin Geneve' and showcases the brand's signature Maltese cross logo in gold. Nothing like reminding yourself you've got one of the best brands in the world on your wrist! The 3-D gold indexes stand out beautifully against the crisp white dial. The time is clear so enthusiasts can see through the tapered dauphine hands which are polished and sand blasted to make them extra visible.
As for your wardrobe, play it safe by wearing a white shirt for work and go all out at the weekend and wear something a little more daring. For example a pink shirt with a grey suit jacket and trousers can work wonders when you want to compliment your outfit with a pink gold watch. Just like the Vacheron Constantin 222, you have to be daring and confident to work this baby to its full potential.
This watch is extremely valuable due to its unusual pink gold case colour, the avant garde appearance of the dial exposed tourbillon and the classic Maltese cross design. Vacheron Constantin watches hold their value due to the phenomenal legacy the brand has but this model takes it a step further by being a highly complex tourbillon balanced mono-pusher chronograph with a flawless design. This bad boy will not lose value!
You can request a price when you wish to buy a Vacheron Constantin Traditionnelle Tourbillon Chronograph at retail at the time of writing.
H.Moser & Cie Pioneer Cylindrical Tourbillon Skeleton
The Pioneer collection is designed for those seeking the spirit of adventure but has an aversion to being thrown in with the generic sports watch look.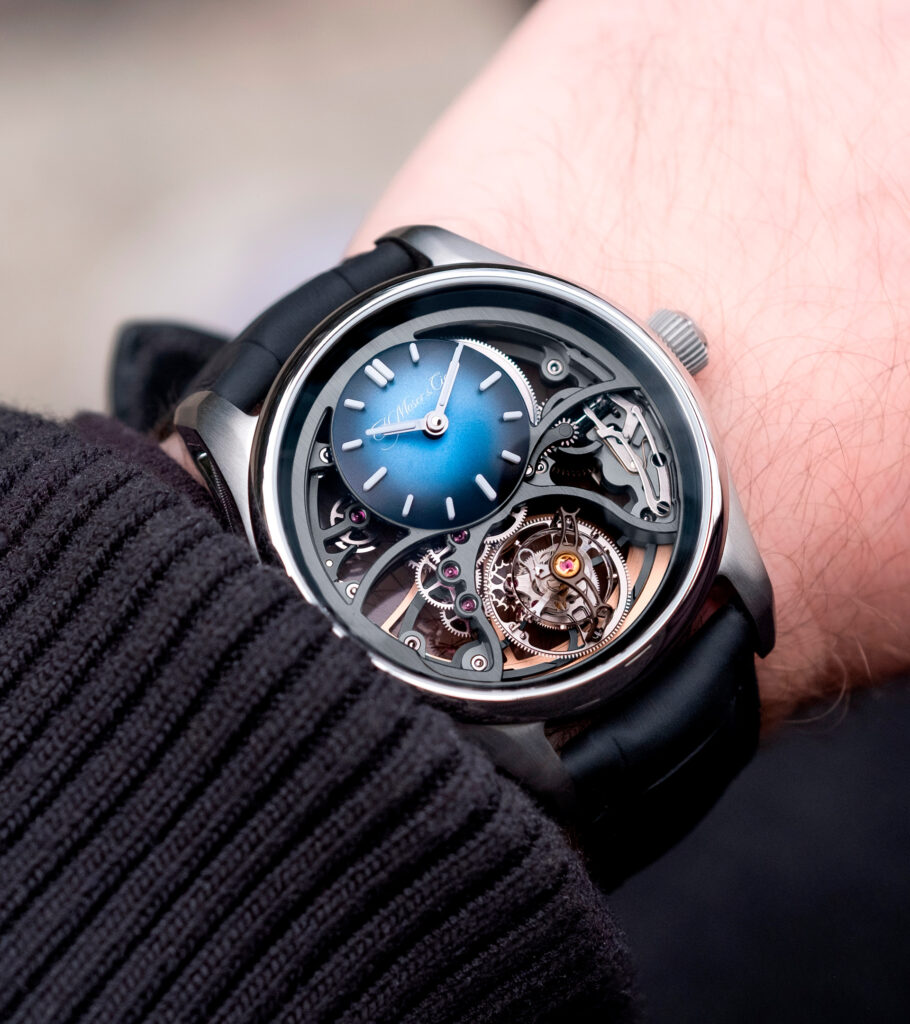 H.Moser & Cie Pioneer Cylindrical Tourbillon Skeleton - Source - H.Moser & Cie
The Pioneer Cylindrical Tourbillon Skeleton revisits a collaboration piece between the G. Moser & Cie with MB&F, resulting in a one-minute flying tourbillon being produced with a transparent sapphire dial that showed the time at a 40 degree angle at 6 o'clock which links to MB&F's LM Flying Tourbillon.
This is a sportswatch with a touch of class. It is sporty through its screw down crown, 120m water resistance, tough steel case and luminescence. Ideal as a dress watch when paired with a colourful smart shirt or with casual apparel, the watch is polished and brushed purveying a layered effect and not the appearance of a block of steel.
While the dial is extremely skeletonised, there's a sub dial at 12 o'clock which shows the hours and minutes. While this may be irritating to some of you devoted time peeps, its design is flawless and fits in with the radically avant garde aesthetic. The sub dial is a domed disk which is given a sunburst finish in a blue fumè style. Combine this with the markedly present indices and hands which are coated with Globolight and you have one of the finest grail watches for your collection.
Internally, the calibre HMC 811 is skeletonized, beats at 21,600VpH and has a 74 hour power reserve. The movement is secured with bridges on both sides of the case that are finished with an anthracite PVD finish. These are sleek and contrast with the oscillating weight in gold. The one minute flying tourbillon is situated at 6 o'clock and features a cylindrical hairspring and balance bridge.
For clarity, cylindrical hairsprings are made in incredibly low amounts so are exclusive only to a few timepieces. Suffice to say, if you buy an H.Moser & Cie Cylindrical Tourbillon Skeleton, you are receiving top notch craftsmanship. Admittedly, the prospect of wearing a grail watch in public would terrify the bravest of individuals but it can certainly weather your day to day activities. It's a balanced piece and sculptured to be a wrist worthy work of art but it can take the punches with its 120m water resistance and solid steel case. Connected by a black alligator leather strap, it can be worn while taking in a spot of culture, traversing up a hill or strolling through the vineyards of Bordeaux. It really does look the part in all scenarios.
A grail watch like this is extremely valuable due to its incredible design and strong level of craftsmanship, particularly noted in the cylindrical hairspring and one-minute flying tourbillon at 6 o'clock. You can buy a H.Moser & Cie Pioneer Cylindrical Tourbillon Skeleton for around £71,000 RRP at the time of writing.
Conclusion
There we have it, Timelords. We have reached our conclusion of the ultimate grail watches for your collection. The list imbues the best of watchmaking, taking inspiration from the best grail watch of 2023 from the Rolex Oyster Perpetual 41mm Tiffany Dial to the classic Patek Philippe Nautilus 5711/1A.
The ultimate grail watches come down to personal preference. If you want to delve into the realms of complications, watches like The Audemars Piguet 11:59 collection or the Richard Mille Flying Tourbillon Rock'n'Roll should suit your needs.
If you are looking for something that is modern and built to suit a new hungry generation of watch fans, the Patek Philippe 5270P would be one of our picks. That's the beauty of grail watches. Everythings your choice and your choice alone. Happy hunting!
Looking to find a piece that ticks all your horological boxes? Looking to buy a Patek Philippe for its classy design? Chrono Hunter is the only online platform you should consider to buy your dream watch. Contact us today and let us help you obtain your desired timepiece. We have partnered with the best in the business when it comes to our UK luxury watch retailers. Whether it's finding the most competitive price or wanting to buy a watch or sell a watch, we are your number one source. Receive multiple offers in hours and save money the smart way!
Discover, hunt, buy, sell
Further Reading:
Newswatch: Audemars Piguet Drops 30 References Including The New Three Handed Code 11:59 Steel Collection
Celebwatch: The Best Watches We Spotted At The Grammys
Buy Or Sell A Luxury Watch The Smart Way With Chrono Hunter
If you are considering your new purchase or perhaps the sale of a beloved timepiece, Chrono Hunter is the smart way to buy or sell a luxury watch.
Compare Offers from the world's most reputable luxury watch retailers.
Save Time.
Save Money.
Personalised Service.
Hassle-Free.
Trending
Former Procter & Gamble Executive Takes Over As New CEO Of Audemars Piguet
Rolex 1908: Is This The New Face Of Dress Watches For Gen-Z Spenders?
Question Time: How Do I Undo Or Replace My Rolex Strap?
Lab-Grown Diamonds And The Impact On Luxury Watches
New Launch: Hublot Big Bang Unico Nespresso Origin 42mm Made With Recycled Coffee Capsules
Pink Out Your Watch Collection With Our Top Salmon Dials