Are Longines Watches A Good Investment?
If you own a Longines or want to buy a Longines, you are certainly in the right place! We can understand your initial concerns about delving into such a brand. Are Longines watches good investments? Do Longines hold their value? Is Longines worth buying?
If these are the burning questions that are on the tips of your timekeeping tongues, let Chrono Hunter alleviate your horological concerns. This time, we will be examining these questions in greater depth to find out whether or not Longines watches are a good investment.
Created in 1832 by Auguste Agassiz, Longines have established a plethora of elegant, dressy and first rate collections like the Hydroconquest and Flagship while modernising them with fresh materials and new colour schemes. And you know how we like to keep things fresh and brand new when it comes to luxury watches!
It only makes sense that a wealth of social elites will be casting their beady eyes across such a collection. Worn by actor Cuba Gooding Jr, Regé-Jean Page and French President Emmanuel Macron, the brand is associated with the greats of the past, including Humphery Bogart and Audrey Hepburn who sported the Evidenza and DolceVita respectively.
Is there any wrist that Longines hasn't graced? Before we expose too much of this luxury brand, let's get straight into the juicy details. Are you ready to find out if Longines watches are worth the investment?
Time to find out…
Brief History Of Longines Watches
Longines have a phenomenal history, ever since their inception in 1832.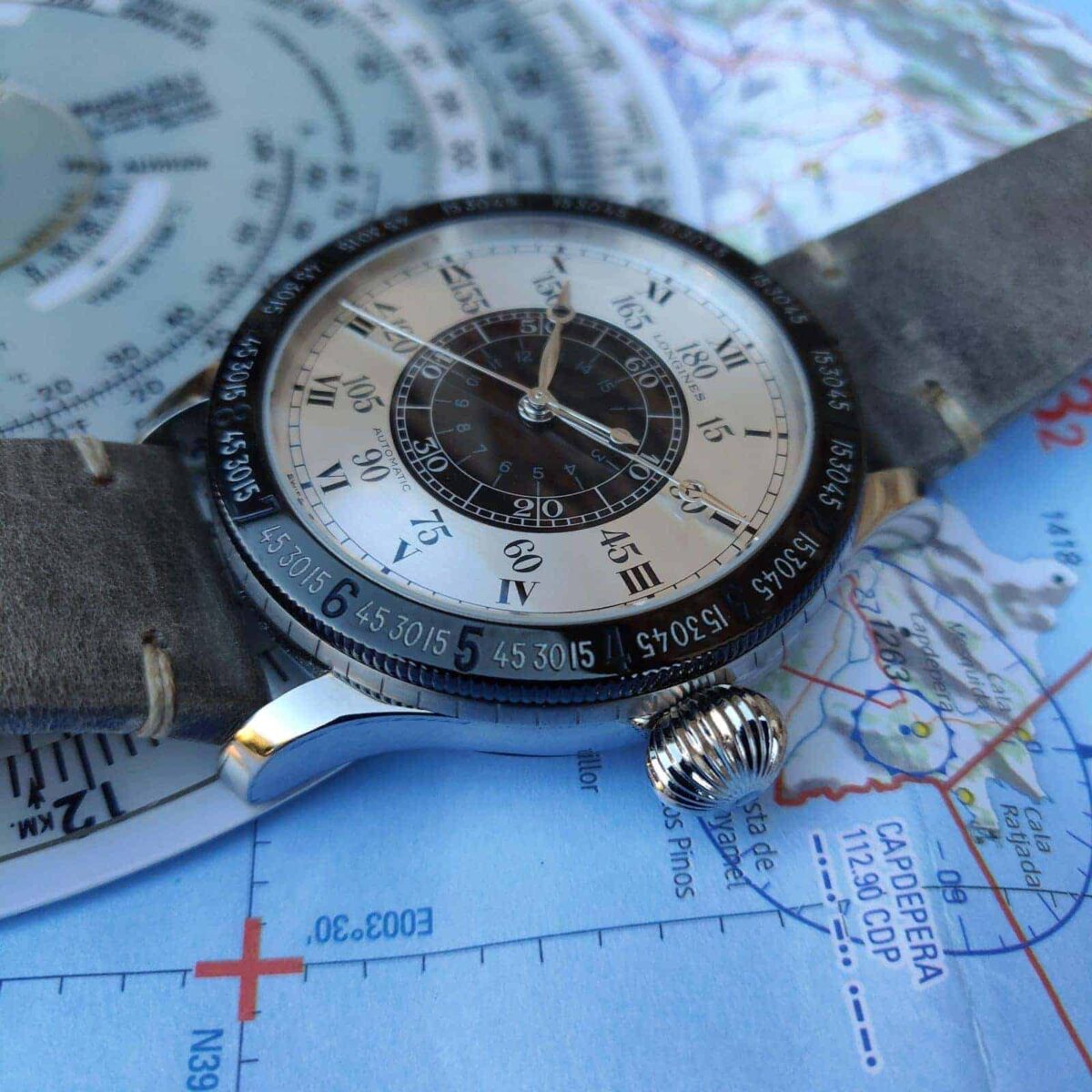 Lindbergh Hour Angle - Source - SaFonaGastroCrono
Founded by Auguste Agassiz in Saint-Imer, Switzerland, he sought the help of brothers-in-law Henri Raiguel and Florian Morel to get the business started. Originally named Raiguel Jeune & Cie, the name changed upon the brothers-in-law retiring in 1846.
In 1852, Agassiz turned to his nephew Enest Francillon to assist with the company. Francillon was an economist who knew how to effectively run the business. Integral to releasing the first factory and creating the name itself, Francillon took over the business in 1877 when Agassiz passed.
The first factory was launched in 1867, based in Saint-Imer. Named Es Longines, due to the factory's location in a sea of trees and meadows, the factory location would be a strong influence to the company name "Longines".
Employing engineer Jacques David, he would later go on to become the brand's Technical Director. He went to the USA and returned with great knowledge of industrialisation and implemented these concepts, revolutionising the timepiece production process.
In 1878, the Swiss brand produced the chronograph movement, the 20H. This creation was integral to the brand's development. It allowed them to venture into the world of competitive sports such as horse racing by 1886.
As a number one supplier to sports officials in New York, they were becoming a global phenomenon and thus made the decision to trademark the name in 1880 and the hourglass logo in 1889. This is still used today and can be seen on all manner of the brand's luxury watches.
FACT: They remain the oldest registered trademark for a luxury watch brand that's registered with the World Intellectual Property Organization.
So, they are big in the sporting arena, but are they also famed for anything else? Well, take a look at their role in navigation and the early stages of flight. For example, in 1919 they were granted the role as official supplier of timepieces for the International Aeronautical Federation in 1927.
Strongly associated with US Navy officer Philiip Van Horn Weems, the collaboration resulted in the Weems Second-Setting. This allowed the user the capability of linking the seconds hands with a GMT signal. Linked with famed pilots such as Charles Lindbergh, the man who made the non-stop solo flight over the North Atlantic, he worked with Longiens to create the immensely useful Lindbergh Hour Angle in 1931.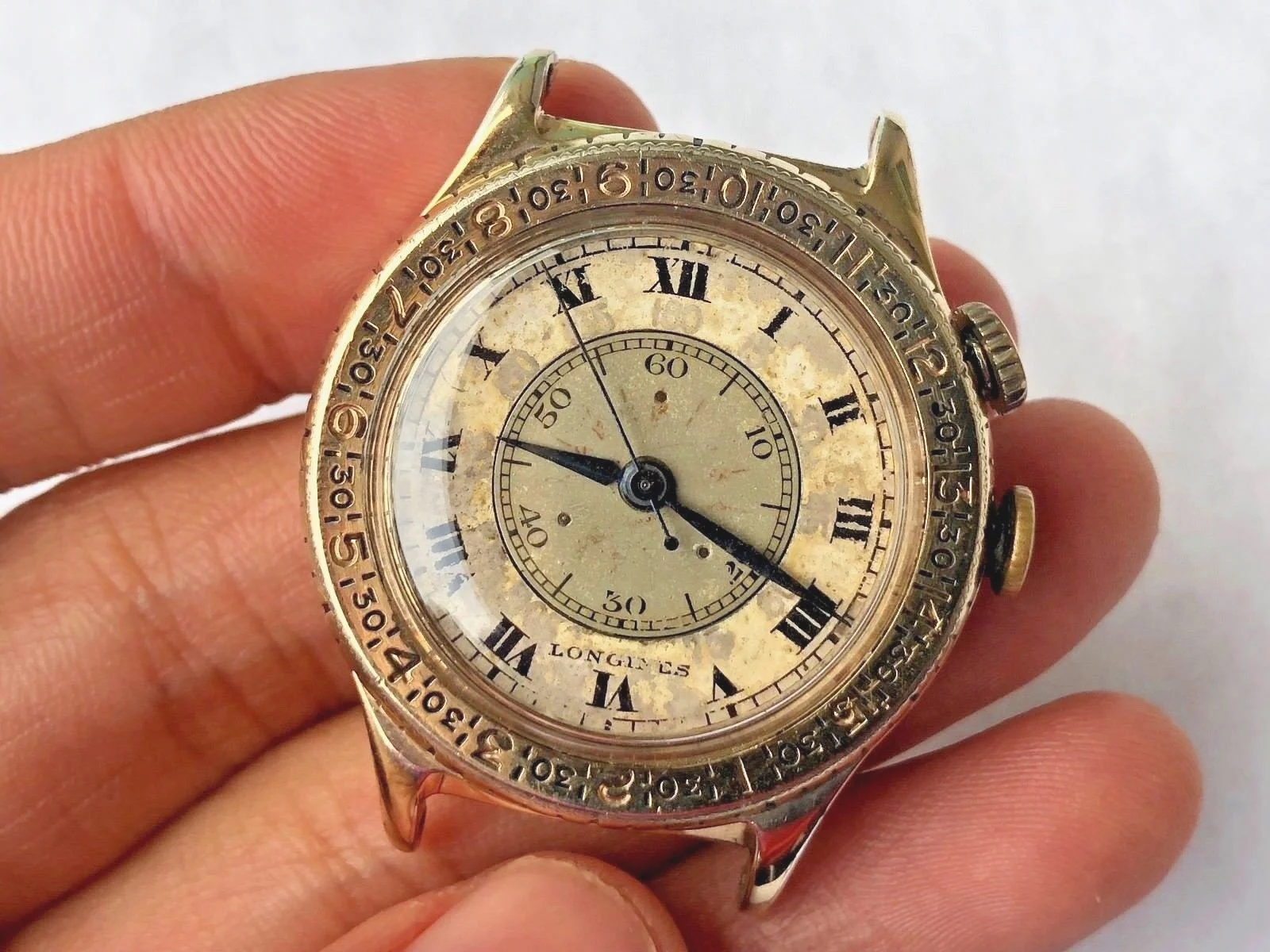 Lindbergh Hour Angle, Source - Omega Forums
Utilising the navigation style of the Weems piece, the Lindbergh Hour Angle was created with a unique bezel that has a variety of measuring scales, as well as a sextant and nautical almanack to precisely calculate geographical location and longitude. Move over Navitimer. This was one of the best pilot's watches of the day…bar none
They have an incredible portfolio of timekeeping achievements. Releasing the world's first timepiece capable of having a thickness of less than 2mm, The Feuille d'Or, this luxury brand boasts sports and dress style from every lug, bezel and bracelet link.
In 1983, they joined SSIH to form SMH and eventually the final product of The Swatch Group in 1988. To this very day, they continue to operate out of Saint-Imer and boast the technical excellence that has exemplified their outstanding heritage.
Longines Master Collection
The Master Collection was released in 2005 to the great enjoyment of the watchmaking community and the everyday driver fanatic.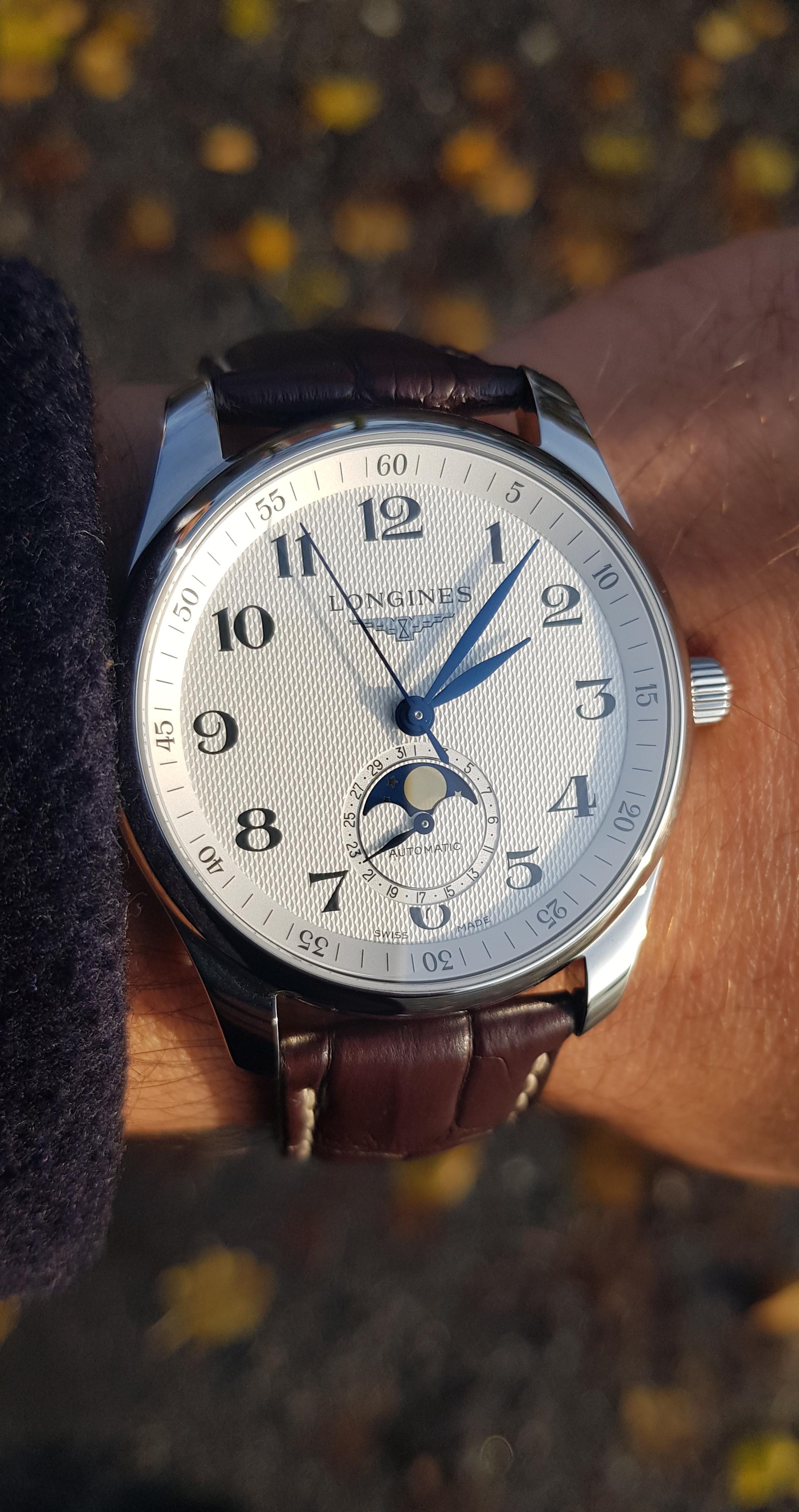 Master Collection Moon-Phase - Source - Reddit
The collection is typified by a few notable features. Associated with self-winding mechanical movements, the cases tend to be rounded as an ode to the dressy styles of the past.
The dials house blued leaf hands with hour markers which feature either classical Roman numerals or exceptionally beautiful Arabic hour markers. The background of the dials tend to feature a variety of textured motifs, boasting the complications, hands and hour markers.
The Master Collection is linked with the best complications in the business to rival A. Lange & Söhne. Featuring date apertures, moon phases, chronographs and even complete calendars, there are some editions that feature more than one complication, enhancing the complexity of the watches.
In 2019, The Master Collection showcased for the first time a phenomenal Annual Calendar complication. The Master Collection is the centrepiece of their horological stable. Plus, it makes perfect sense that in 2022, this was the collection that was utilised to celebrate the 190th anniversary of the brand through The Master Collection 190th Anniversary Edition.
The Master Collection 190th Anniversary edition measures 40mm and features beautiful Arabic numerals against the crisp grey dial. Given the classical blued steel hands and engraved indices, this is a fantastic piece which features old school elements like a rounded case and minimalism with no complications or excess details. You can buy a Longines Master Collection 190th Anniversary at retail for £2,250 at the time of writing.
If complexity is what you are looking for, you may find that The Master Collection L2.673.4.92.6 is the piece for you. Crafted with a 40mm steel case, it is given a blue sunray dial with applied baton indexes and silvered polished hands. The complications range from a moon-phase to numerous chronograph functions and epitomise the level of depth the Master Collection is capable of reaching.
You can buy a Longines Master Collection at retail for £3,150 at the time of writing.
Longines Hydroconquest
The Hydroconquest has been a huge part of the brand's collection since its first release in 2007.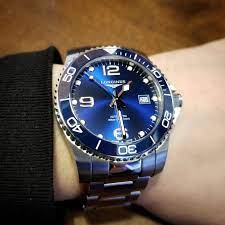 HydroConquest - Source - Reddit
They have been associated with a variety of sporting events like equestrian events and the official timekeepers for numerous sporting competitions, including the Royal Ascot, The Commonwealth Games and The FIS Alpine World Cup. How about the HH the Amir Sword, The Emirates Longines Show Jumping League and The Federation Equestre Internationale too!
The Hydroconquest collection was the collection created for divers, especially since it has 300 metres of water resistance. This collection is one facet of the four parts of the Sport Collection. The collection has undergone a range of updates, including a coloured ceramic unidirectional rotating bezel, like the Rolex Submariner, in 2018, and a variety of new dial colours in keeping with the highly innovative bezel style.
Bolstered with a scratch-resistant sapphire crystal with anti-reflective coating on either side, the case back is screwed down, allowing this timepiece to reach depths of 300 metres. Sure, it's no Deep Sea Challenge or Ploprof 1200M but this bad boy is certainly ISO certified as a top dive watch! The caseback is also adorned with a winged hourglass logo, linking in with the original emblem.
The dial faces are typically adorned with both dots and Arabic numerals, all of which are dosed with Super-Luminova, complete with silvered polished hands. The watches are now powered with the in-house movement L688 which has a power reserve of 54 hours and powers the chronograph functions for the chronograph variations.
Blending polishing and brushing on the stainless steel casing, the watches are given a double safety folding clasp and integrated diving extension, boasting the security of the piece, as well as offering immense durability. All power to you we say..
The latest editions have continued the pursuit of colour. In 2020, The latest Hydroconquest was given a beautiful green tone which boasted a military allure, including a ceramic insert in the bezel which is similarly given a green colour scheme. Not to worry, you have a range of styles to choose from within the Hydroconquest collection.
New for 2023, the latest Hydroconquest GMT L3.790.4.56.9 negates the Arabic numerals, instead going with batons and indices. Given a GMT function, this is a piece that can be used as not only a dive piece, but a travelling item too for those last minute weekend breaks or important business trips. You can buy a Longines Hydroconquest GMT at retail for £2,550 at the time of writing.
On the other hand, if you want a classic dial style with an added complication, The Hydroconquest L3.782.3.98.9 may be a suitable number. Given a sunray blue dial with both Arabic and dot numerals, there's an added date aperture at 3 o'clock, giving the watch a more dressier appeal. The pink hands and bezel add a nice contrast to the diving blue of the piece.
You can buy a Longines Hydroconquest L3.782.3.98.9at retail for £1,850 at the time of writing.
Longines Flagship
The Longines Flagship is a major aspect of this particular luxury brand.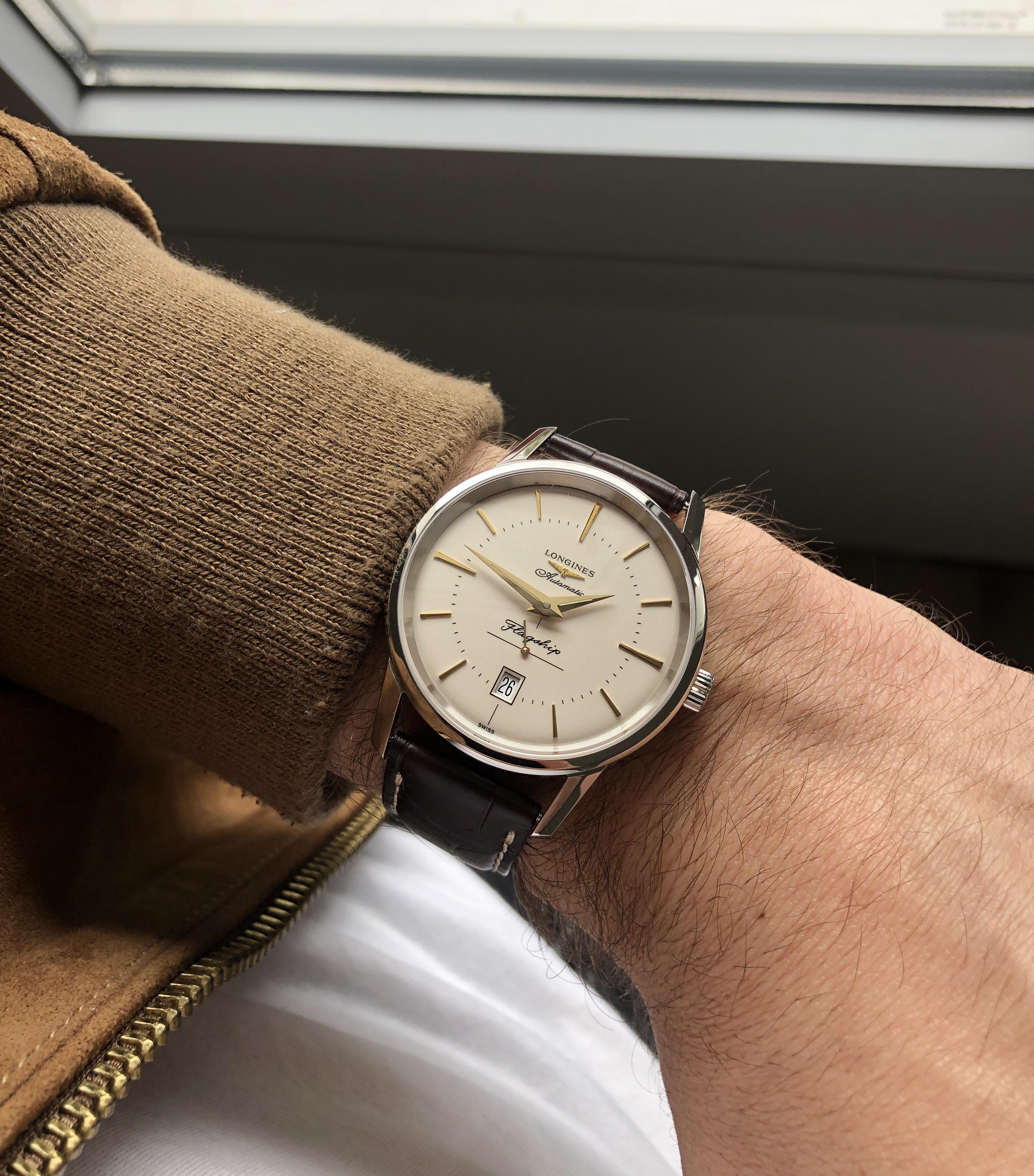 Flagship Heritage - Source - Reddit
Released in 1957 (as per the legendary Speedmaster), The Flagship collection was released as an alternative feature to the very sporty brand. Epitomising elegance, sophistication and class, the collection was key in cementing them as a multi-faceted brand and a high level luxury member.
The Flagship received a commemorative edition 60 years later under the new name, Flagship Heritage. The collection is associated with a variety of celebrities, including actress Kate Winslet who is currently their main ambassador.
The watch dials are the main feature of the collection. Boasting elegance with their gilt hour markers and Dauphine style hands, they stand out clearly against the sunray dials. While the original Flagship enjoys pencil hands and arrow or dot indices, the Flagship Heritage has slender Dauphine hands not to mention a date aperture situated at 6 o'clock.
The collection has a vintage appeal which cannot be overstated enough. And a darn sight more affordable than a Daytona or Royal Oak. Following strong associations with the original 1957 timepieces, the watches feature Longines text on the dial, as well as gilded hour markers and measure a very accessible 38.50mm sizing…perfect for a dressier novelty on the wrist.
The alligator leather straps are available in a variety of colours including black and blue, suiting the minimalist colour schemes of the watches perfectly. If you want a luxury Flagship Heritage piece, we recommend the L4.795.4.78.2. Given a cream dial with stunning golden hands and indices, the 38.50mm is a luxurious ode to the original.
Given a black alligator leather strap, you can buy a Longines Flagship Heritage at retail for £1,650 at the time of writing. If you want an original Flagship design that's brimming with lineal heritage, we particularly like the L4.984.4.57.6. This new addition to the Flagship collection is given a stainless steel case with a transparent case back and sapphire crystal.
Given a black lacquered dial which undergoes a polished aesthetic, the hands are similarly polished with a silver sheen. Featuring an array of 13 Top Wsselton VS-SI diamonds for each hour marker and 2 diamonds located at 12 o'clock, it's here that style and refinement combine together as nicely as port and cheese!
You can buy a Longines Flagship at retail for £1,900 at the time of writing.
Do Longines Watches Hold Their Value?
So, do Longines watches hold their value?
They tend to fare rather well when it comes to resale value. The laws of supply and demand dictate that the rarer a watch, the more value it's likely to garner. So, how does Longines fare in terms of the rest of the horological marketplace? Let's take a look.
So, utilising other brands' figures the general consensus is that this is around average in terms of loss upon resale. Take for example luxury brand Breitling which loses around 30-50%. We would be fooling ourselves if we tried to compare them to the horological heavyweights of Rolex and Audemars Piguet which will not only maintain their value, but increase past the original retail figures too across many of their pieces.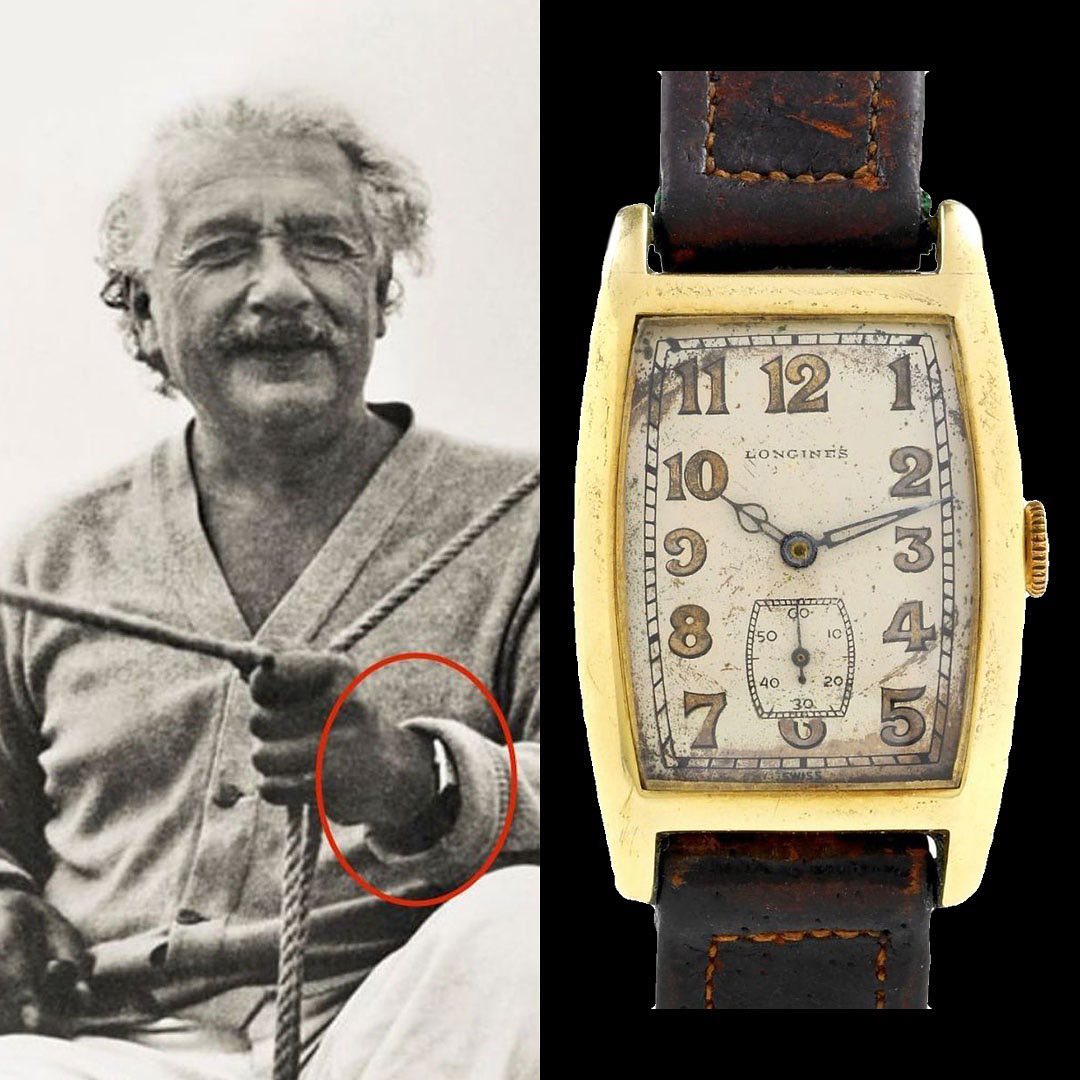 Einstein wearing the Curvex - Source - Facebook
For more exclusive editions, you can recoup a very respectable figure upon resale. However, for standard watches, expect to see a drop of at least 30-50% from the original retail figure. Of course, this wouldn't be a fair assessment if we didn't compare this statistic with the rest of the horological industry.
They are exceptional in the production, precision, materials and prestige of their timepieces. They release around 1.4 million watches per year, all of which are held to exceptionally high standards of luxury and craftsmanship, as well as the incredibly long heritage of the brand.
As we said, the rarer and vintage pieces are the ones to keep a lookout for. This is due to their immense level of scarcity, since they have probably been discontinued for a while. These are the ones you should look out for if you want a solid investment piece!
Take for example the Chronograph 13ZN "Pulsanti AD Ombrello". Famed for its unusual chronograph pushers, the watch is sized at 37.5mm and is given an incredible aesthetic and flyback function. The dial is made by well renowned manufacturer Stern Freres and represents the ancestor to the modern wristwatch chronograph we have today. Released circa 1940s, it sold at a Christie's auction in 2022 for around £160,000.
We did mention their watches were worn by a host of social elites, right? How about by a gentleman named Albert Einstein! Given to him by Rabbi Edgar Magnin in 1931, it was a 14K gold wristwatch named "Curvex'' with a luxury Art Deco inspired case and dial design. Given to him as a symbol of appreciation by the Jewish community, it sold at an Antiquorum auction in 2008 for around £470,000.
There are a lot of similarities when it comes to their luxury watches. The common themes of Arabic numerals in the Master Collection, the strong 300 metre water resistance of the Hydroconquest and the minimalism of the Flagship dial are all pertinent to the longevity and longstanding reputation of the brand.
Best Longines Watches To Invest In
The very best luxury watches are the rarer or vintage editions for investment. That, Timelords, is a certified fact! Or the weird and wonderful watches that come out of production a little bit off key or a defect like a Rolex Daytona with chocolate dial.
Because collectors really do love a bit of defectiveness in their watches. From error dials on the Rolex GMT-Master II 16710 to Rolex Submariner 'Spider' Dials, any anomalies are a hot horological property.
5681 Flyback - Source - Christie's
For example, The Spirit Flyback with its steel case and iconic 5 star emblem coupled with strong Spirit heritage is a beautiful timepiece for all horophiles. You can buy a Longines Spirit Flyback at retail for £4,100, but it sells on the secondary market for around £3,600 at the time of writing.
If you happen to be in possession of such a piece that boasts an extensive history and has value that's as rare as a mummy from The Pyramids, you are absolutely in the right territory for having a perfect piece as an investment.
One such beauty that caught our eyes as an investment, was the Longines Mono-Pusher Chronograph wristwatch. Together with a smooth white enamel dial, it boasts two sub dials that reference constant seconds and a 30 minute function. The caseback is similarly crafted out of stainless steel and the ingenious crown is built with a chronograph mono-pusher. This vintage watch from circa 1915 sold at a Sotheby's auction in 2015 for £16,200.
If you are looking for another mighty fine vintage piece for investment with enough unorthodox style to let you parade as one of the Village People, we recommend the Reference 5681. Crafted out of stainless steel , this is a rare piece due to its single button flyback chronograph wristwatch status.
Produced in the 1950s when The Korean War was in full swing and Queen Elizabeth II came to the throne, the "Stop-Second" flyback chronograph watch was originally destined for military personnel. Showcasing an incredible tachymeter scale on the glossy black background, its legibility and rarity makes this a great pick. It sold at a Christie's auction for around £41,000 in 2013.
You may find that vintage watches don't ring your bell and you want an investment in a rare piece. Well, we have the perfect piece. The "Lindbergh Hour Angle Watch" is one such model that oozes rarity. Released in 2005 and capped at 80 watches, it is given a white enamel dial.
Featuring highly stylish Roman numerals and an inner silvered rotating disc that can be calibrated to 60 seconds and 15 degrees, this is a great example of the original Lindbergh Hour Angle timepiece. It sold at a Christie's auction in 2011 for around £5,200.
The outcome is easy to see time peeps. While standard watches may not fare exceptionally well as an investment like the rare or vintage models, you can be confident in the notion that you will be buying into a very strong heritage from a high quality luxury brand.
Frequently Asked Questions
Is It Worth It To Buy Longines Watches?
Yes…their watches are most certainly worth it!
They blend a strong history with a solid performance of high quality pieces. As they are Swiss made, they are held to a high standard due to the rules stipulated upon horological business within the country. For example, at least 60% of the manufacturing costs must be made within Switzerland, ensuring a high level of materials.
Some models are COSC certified such as The Record Collection 40mm, ensuring precision and first rate accuracy. Using ceramic bezels and high quality steel, they offer excellent durability and longevity for generations to come.
Does Longines Appreciate In Value?
Depending on the scarcity and rarity of the model, your model may increase in value and be a solid investment.
On the whole, the models at retail tend to lose around 30%. While this may appear rather drastic, in comparison with other brands like Breitling who lose around 30-50% and Omega which loses around 40-50%, this is a reasonable figure when taking into account the entire luxury industry.
The rarer or vintage models perform very well as an investment due to their associations with the rich history of the brand. Or, they are limited edition variations which have since been discontinued, further enhancing their scarcity while piquing interest among collectors and enthusiasts.
Do Longines Watches Depreciate?
Yes, the watches tend to lose around 30% of their value. For rarer or vintage models, this figure is drastically reduced. Most of the major luxury players in the horological industry such as Blancpain and Hublot follow an approximation of 30% drop at resale so don't be disheartened!
Which Longines Watch Holds Value?
There are a number of watches which hold value and can prove to be solid investments. They tend to be associated with the vintage and rare side of their portfolio due to the laws of supply and demand.
Take for example The Longines L4.795.4.78.2. As part of the historic heritage classic collection, vintage designs are excellent investments, as noted by the circular bezel, classic baton indices and tapered hands. While you can buy a Longines L4.795.4.78.2 at retail for £1,650, it sells on the secondary market for around £1,700 at the time of writing.
Is Longines A High End Watch?
Absolutely. They are a high end timepiece because they have been providing excellence since their inception in 1832, allowing them to be potentially great investments.
They have a vast portfolio which many could consider as their next investment including the aviation inspired Spirit collection, the influential Hydroconquest diver lineup and the dress and complication world through the Master collection.
While they are significantly more affordable than other brands like Vacheron Constantin, Patek Phillipe and Cartier, they are still built to a high quality and the brand has been just as influential. Take for example the Lindbergh Hour Angle which was an immense timepiece to bolster the aviation industry.
What Celebrity Wears Longines?
There are many celebrities that have chosen to wear the brand's watches.
From legendary actors including Audrey Hepburn and Humphrey Bogart to Kate Winslet, Lin Chi-ling, Andre Agassi and Harry Connick Jr, they all take great pleasure in adorning the timepieces.
The watches stem from The Longines Evidenza with Humphery Bogart and Harry Connick Jr to the PrimaLuna sported by Chi Ling Lin. Need we mention the fantastic DolceVita as worn by Audrey Hepburn and brand ambassador Kate Winslet?
Where Does Longines Rank In Watches?
They rank around 24th position in the top 50 luxury watch brands. This is an incredible figure given the vast sum of luxury brands that are out there. With an annual turnover of around CHF 1.2 billion (around £1 billion) in 2022, CEO Matthias Breschan has stated that he wishes to surpass CHF 2 billion (around £1.7 billion) in turnover by 2025.
Longines currently resides as the 5th most recognisable luxury brand in Switzerland, not to mention its status as the 24th most recognisable Swiss brand in the world!
Where Can You Purchase A Longines Watch?
There are a number of routes you can take to buy a Longines.
You could try and buy a Longines at an auction. Following a series of live bids, you will have to stake your claim by ensuring your bid is the highest in order to win. However, this could easily result in you paying vastly more than you originally expected for your beloved timepiece if prices keep on rising.
You may therefore deem it appropriate to go the route of an online platform to buy a Longines. You could choose to go with Ebay. Of course, there are a few instances where you might buy a Longines and the seller backs out, meaning you've wasted a lot of your precious time.
Skip the rest and go with the best! Chrono Hunter is one of the leading online platforms to buy a watch or sell a watch due to our peerless service, multiple offers and extensive list of the best luxury retailers around. With the ability to receive live deals in less than 24 hours with our app, how can you ever feel alone with us?
We have an exceptionally simple process. Simply submit your inquiry for a timepiece you want to buy or sell and let our large network of luxury retailers come to you. Receive multiple offers and they will contact you through our Chrono Hunter platform. Accept which offer is right for you and conclude the purchase or sale directly with one of our network of verified retailers.
We aim to make the buying and selling customer journey the simplest, safest and most secure around. Our Trustpilot reviews are testament to our peerless service, quick turnaround and the best possible prices.
Conclusion
This is it, Timelords.
The question at the top of your screens is posed. Are Longines watches a good investment? Our take is a resounding yes! Longines has risen like cream to the top of the luxury pot, releasing highly innovative pieces and influencing the entire horological industry.
While maintaining some classic features from their heritage, such as the 5 star emblems and the chronograph functions of the Spirit collection, the diving superstardom of the 300 metre Hydroconquest and the innate dressiness of The Master Collection, they have themselves a tidy horological fix which all of us cannot get enough of.
Associated with the price ranges of TAG Heuer and Breitling and the same value figures upon resale, their watches are built to look refined and ooze elegance on the wrist, no matter the original intention of the collection. Be it sea or air, look elegant with a hint of timelessness thanks to Longines on your wrist!
Linked with strong social clientele like old school legends Albert Einstein and Humphrey Bogart not to mention contemporary figures like Kate Winslet, Jennifer Lawrence and Jung Woo-Sung, the brand has forged itself a market for an impressive array of timepieces of which there is no doubt. Are they worth the investment? Absolutely.
Will they be around for a long time? We think so!


Can't wait to buy a Longines? Want to be the most horological in-tune man in the boardroom or in the skies? Get informed and talk to Chrono Hunter here. With such a vast array of established luxury retailers, you can check out our Trustpilot reviews to see why we are your essential source when you want to buy a watch or sell a watch. By utilising our dedicated app, available on all platforms, why not receive offers in less than 24 hours and save money the smart way.
Further Reading:
Chrono Hunter's Must-Have Panda Dial Chronographs
The Most Stylish GMT Watches For Men
Buy Or Sell A Luxury Watch The Smart Way With Chrono Hunter
If you are considering your new purchase or perhaps the sale of a beloved timepiece, Chrono Hunter is the smart way to buy or sell a luxury watch.
Compare Offers from the worlds most reputable luxury watch retailers.
Save Time.
Save Money.
Personalised Service.
Hassle-Free.
Trending
Question Time: How Do I Sell My Breitling Quickly?
Question Time: Should You Buy The New TAG Heuer Carrera Chronosprint X Porsche?
Chrono Hunter's Best Pink Dial Watches For Your Collection
Examining The Iconic History Of The Omega Speedmaster - Chrono Hunter
Richard Mille Launches New RM 30-01 Automatic Watch Featuring Declutchable Rotor
Question Time: Do TAG Heuer Watches Hold Value?