The 29 Best Dive Watches For Serious Enthusiasts - Omega, Rolex, Tudor
For those looking to cut their teeth in the dive watch world, it's no longer a case of buying a dive watch with the intent purpose of ending up in the sea. As watch brands, such as Omega and Longines, the modern user is looking for an all round watch which is as much at home rattling out spreadsheets as it is swimming alongside killer whales in the North Pacific.
While dive computer watches are suitable for the hardcore divers among us, the common man doesn't need to rest on his laurels and resign himself to clunky wristwear. Dive watches are changing for the better and are becoming increasingly involved in the modern wearers wardrobe.
All the big dive watch names are trimming the horological fat to suit the everyday consumer. Take for example the Tudor Pelagos 39 which has scythed away its 45mm casing for a more respectable 39mm. Or take for example the classic Rolex Submariner which measures at 41mm. With these changes, dive watches are becoming a common occurrence in the office, on the street and in the pool. Nice not having to change up the wardrobe 24/7, right gents?
Well, dive watch fiends, look no further. Covering all major luxury brands including Rolex, Tudor and Omega, this list of the 29 best dive watches for men under £20,000 will get you from beer stein to coastline in no time.
How Do You Define A Dive Watch?
A dive watch could easily be argued to be one of the most popular collections of all time. If Peter Jackson brought out another franchise, he may just pick the dive watch to rule them all.
Yet, if we examine the typical characteristics of dive watches in more precious detail,, we get the following: A stainless steel case, typically adorned with a matching stainless steel bracelet which can be integrated or removable. Bags of luminosity due to readability at deeper depths and a rotating bezel to allow for measuring oxygen and other necessary dive calculations.
It's important that these things are instantly readable because they are typically used to measure how long you have been submerged for and when you may need to take a compression break. Dive watches typically feature a helium valve, located at 10 o'clock, negating the pressure difference when you emerge from your dive. This means your beloved timepiece releases the pressure so the dive watch doesn't become damaged. If the pressure is not removed, it's been recorded that the crystal physically jumps out of the dive watch.
Truth be told, the common dive watch user will not need the helium valve function. It is specifically designed for saturation dives which we are sure the majority of you do not need if you buy a watch of this nature. Take for example the Rolex Deepsea Challenge which drops to 11,000 metres. For clarity, Timelords, the deepest dive ever recorded by a human was 1,090 metres. Major difference, right?
Helium valves are very useful for the actual diver. Pressure can easily build up and damage the piece and, in some instances, even pop the crystal out. Of course, most people won't dive further than the deep end in the swimming pool, so the helium valve is negated in order to keep things looking mighty refined.
Similarly, would the common user need a unidirectional bezel to measure their breathing apparatus at the desk? This is what makes dive watches so popular. They are usually heavily over engineered for us normal folk but it's nice to know it can survive the worst. We don't buy a new sports car to reach 200 mph, we buy it for the knowledge that it could reach that. So what are the best dive watches for men? It's time to find out.
The Importance Of ISO 6425
Dive watches must adhere to strict ISO 6425 standards if they want to retain their title as a dive watch.
Standing for the International Organization for Standardization, the ISO also relates to property and other commercial activities. Last updated in 2018, the ISO 6245 requires that a dive watch must be at least 100 metres water resistant and have the functions of recording time with a rotating bezel, digital display or other timing complication that is precise to at least one minute over a 60-minute period.
Of course, if you are looking to buy a watch with diving capabilities, it must reach a required level of visibility, from at least 25 cm in total darkness. It must also show that it is completely working while in total darkness. The dive watches must be resistant to a magnetic field of at least 4,800 A/m and it must remain accurate to plus or minus 30 seconds per day.
There is a shock resistance test which relates to ISO 1413 or the 'shock test clause'. Essentially, it tests whether a dive watch would survive a fall from one metre onto a hardwood floor. Ever slipped and feared looking down at your dive watch? Thank goodness for this clause, right? It must withstand the salt test of being rust free after its immersion in a 30g salt per litre solution for 24 hours. This is useful as the average diver will take in 24 hours of saltwater exposure per week. The strap/bracelet on dive watches are tested by having 45 pounds applied to each spring bar to try and pull the strap from the case.
The ISO 6425 states a minimum of 100 metres is met or for dive watch nerds, 10 ATM. Dive watches at 100 metres are fine for swimming, snorkelling and other water sports aside from scuba diving.
The tests look for water resistance at overpressure. This means that if your dive watch has 200m water resistance, it will be tested to 250m water resistance as per their policy of 25% more depth pressure than the original depth.
Anything under 100 metres isn't recommended for diving. 50 metres is fine for swimming but 30 metres shouldn't be submerged under water. Dive watches tend to rest around 300 metres which is fine for saturation and scuba diving.
Best Men's Dive Watch Under £3,000
1. Longines Legend Diver 42mm
The Longines Legend Diver 42mm follows on from its predecessors.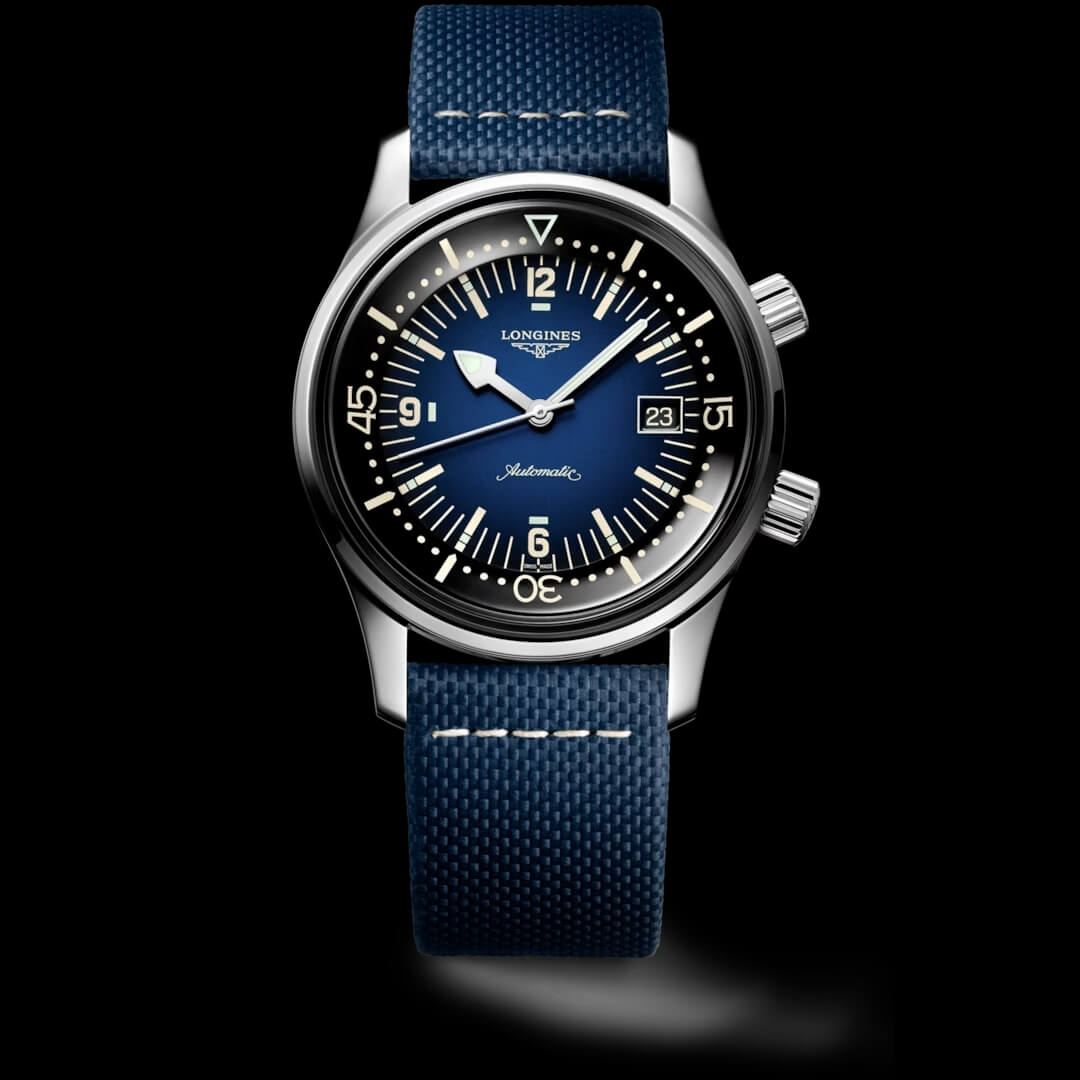 Source - Brand's Site
Originally released in the 1960s, The Legend Diver is characterised by clean lines and a stylish diving medallion which can be witnessed on the caseback, boasting the rich diving history and heritage of the timepieces.
At 42mm, this edition utilises stainless steel casing with a high contrast navy blue leather strap. The rounded case looks like a dress timepiece, but do not be fooled! The internal turning diving flange, the screw-in crown and screw-down caseback all relate to the dive worthy nature of the piece.
The dial is a rich navy blue with a gradient aesthetic going from black on the periphery to blue in the middle. The hour markers feature Arabic numerals and indexes that are painted with Swiss Super-Luminova. The hands are silver polished, promoting a strong contrast against the dial.
Powered by the L888 calibre, the model features functions like hours, minutes, seconds and a date function which can be found at 3 o'clock. As a self-winding mechanical movement, it is capable of reaching 72 hours of power reserve and offering a hardy 25,200 frequency.
We recommend you wear this with a brown leather jacket or a simple grey tee if you want to take things easy. You can buy a Longines Legend Diver 42mm for £2,350 at the time of writing.
2. TAG Heuer Aquaracer Professional 200 Solargraph
Tipping the purchase scales at under £3,000, we have a surprising entrance from TAG Heuer that uses titanium as its primary material.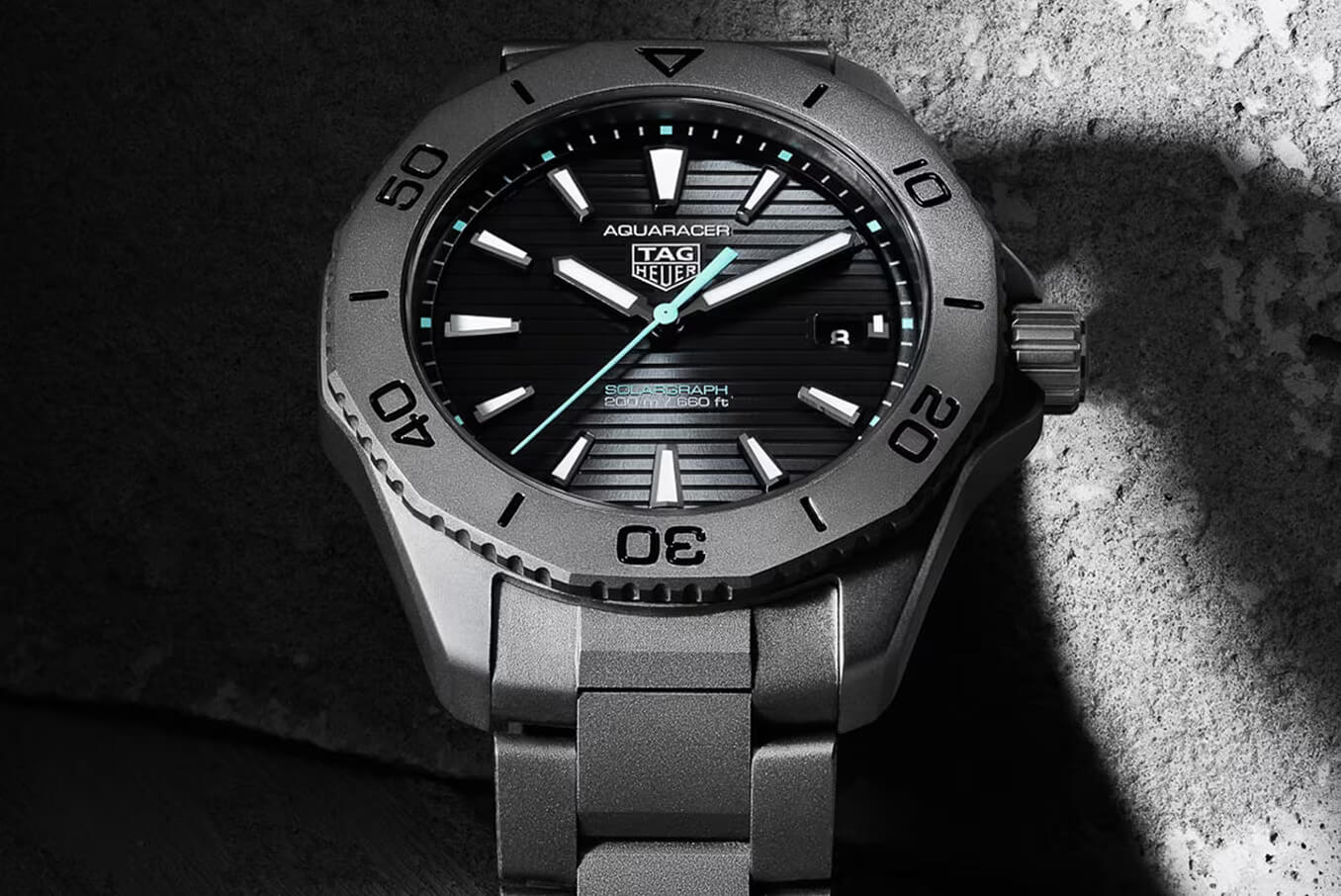 Source: TAG Heuer
At 40mm case size, this dive watch is a perfect size for plunging thanks to its 200 metres (660ft) water resistance. You can no doubt make a splash with this arm candy in and out of the pool as the case is crafted out of grade 2 titanium.
We like this dive watch for its sandblasted effect, allowing you to feel like a rugged man, ready for the Seven Seas. This material and effect continues onto the bracelet which is a three row strap, allowing optimal security and reliability at all times.
Given a bezel similarly made out of titanium, it is given the classic countdown diving scale with a triangle at the top to record elapsed time. The dial face is extremely legible due to the sunray brushed black dial, exposing the horizontal embossments stretching across it.
The indices and hands are white and sharp, aside from the second hand which is turquoise, adding a tinge of colour to the piece. Plus they are dosed with a healthy amount of Super-Luminova. A frosty aspect is introduced in the form of a seconds hands and the "Solargraph" text on the dial.
The real fun comes in when surveying the TH50-00 calibre. As a quartz timepiece, the TAG Heuer movement has been manipulated to be powered by light. Be it natural or artificial light, as long as it's directed onto the dive watch, the timepiece can be given a healthy amount of power to continue running. Probably best to charge up before you go into any dank caves…
This very exciting piece of technology means it can be worn in a variety of situations, including when you're suited and booted for a big meeting or kicking back with some friends behind the barbecue.
You can buy a TAG Heuer Aquaracer Professional 200 Solargraph at retail for £2,700 at the time of writing.
3. Swatch x Blancpain Scuba Fifty Fathoms
Developing on from the first ever dive watch that reached its 70th anniversary this year, The Blancpain Fifty Fathoms, the collaboration between creative Swatch and horological godfathers Blancpain, represents a new dawn for the classic collection.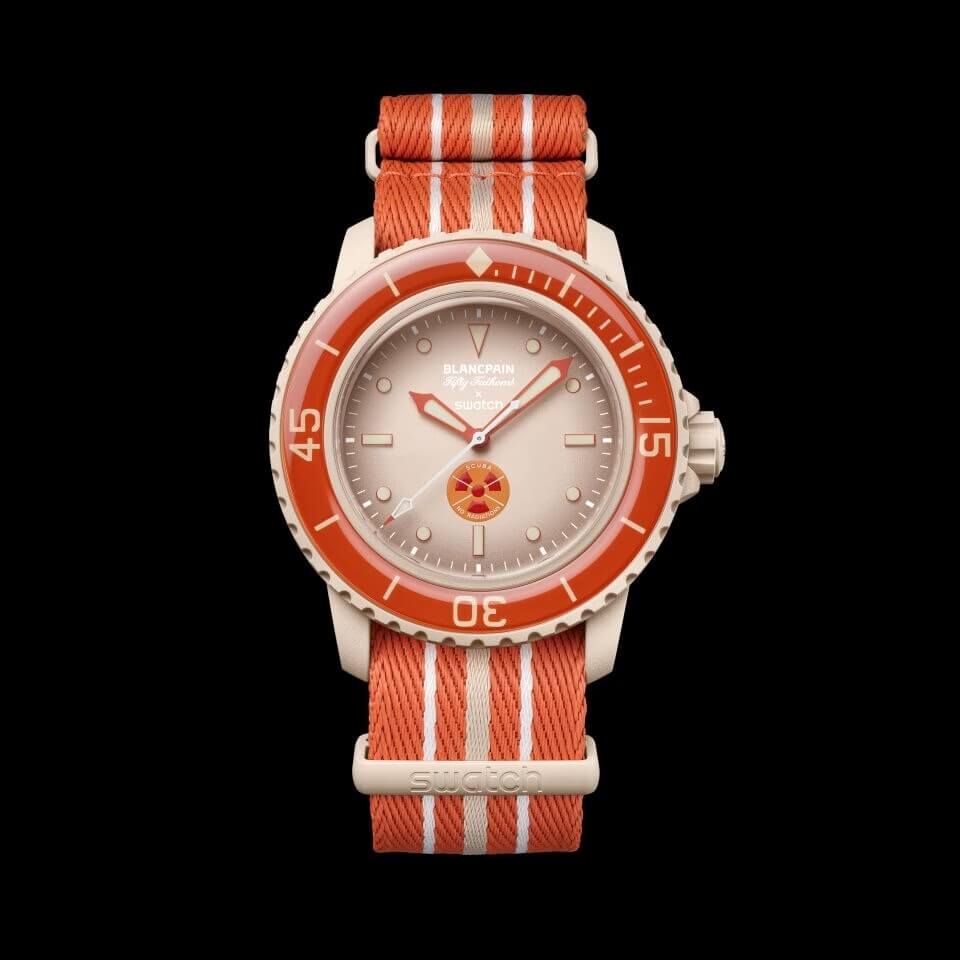 Arctic Ocean - Source - Swatch
They are not new to the collaboration game. Working with Omega, they released the awesome Moonswatch which plays on the great lunar heritage of the Speedmaster, and gives it a new lease of life in the form of various "Missions". The Mission to The Sun comes in a stunning yellow sheen and the Mission to The Moon Moonshine Gold develops from the original models, adding a moonshine gold seconds hand to the piece.
This has since expanded, resulting in many releases like the Mission to Moonshine Gold Strawberry Moon with a strawberry covered Moonshine Gold hand and even a Mission to Moonshine Gold Neptune Blue, a blue piece with a Moonshine gold chronograph seconds hand.
In the latest link up between Blancpain and Swatch, the brand spanking new dive watches were released with the usual sea (pardon the pun) of ambiguity in the form of yellow Peli cases that were sent to each Swatch store and cryptic advertisements in major newspapers like the New York Times.
Taking inspiration from five oceans like the Arctic, Antarctic, Pacific, Indian and Atlantic, the colours all vary in different hues. All the pieces are fitted with a bioceramic material in the casing, feature "nudibranchs" that are found in each of the seas and found on the casebacks, are given NATO straps which are made out of recycled fishing nets and a strong colour scheme.
From the fiery red of the Arctic Ocean Bioceramic Scuba Fifty Fathoms to the deep blue sheen of The Atlantic Ocean edition, we really are spoiled for choice when it comes to deciding which dive piece to go with!
Featuring a classic Blancpain dial with highly legible Arabic numerals at 12, 3, 6 and 9 o'clock, the rest are tooth hour markers, all of which are coated with lume. Featuring a circular case with a rotatable dive bezel, the casebacks relate to each of the "nudibranchs" with a printed image and all of them are powered by the immense SISTEM51 movement.
The SISTEM51 movement is Swatch's own movement. Launched in 2013, this is the first ever mechanical movement that is entirely automated. Given an astonishing 90 hour power reserve and a fantastic anti-magnetic ability due to its Nivachron hairspring, this was made jointly with horological titans, Audemars Piguet.
Water resistant to 91 metres, or exactly Fifty Fathoms as an ode to the collection, this is a beautiful piece for the dive minded gentleman. Keep this on show by getting those sleeves up. You wouldn't want to hide the colours, right?
Prices of Blancpain X Swatch Fifty Fathoms Scuba come in at £340 across all the models at the time of writing.
Best Men's Dive Watch Under £4,000
4. Longines Ultra-Chron L2.836.4.52.9
Inspired by the original Longines Ultra-Chron that dates back to 1968 at the time of university student uprisings around Europe, we don't have anything to protest about around this latest release. Based on its punchy predecessor, it is bolstered with an extraordinary movement.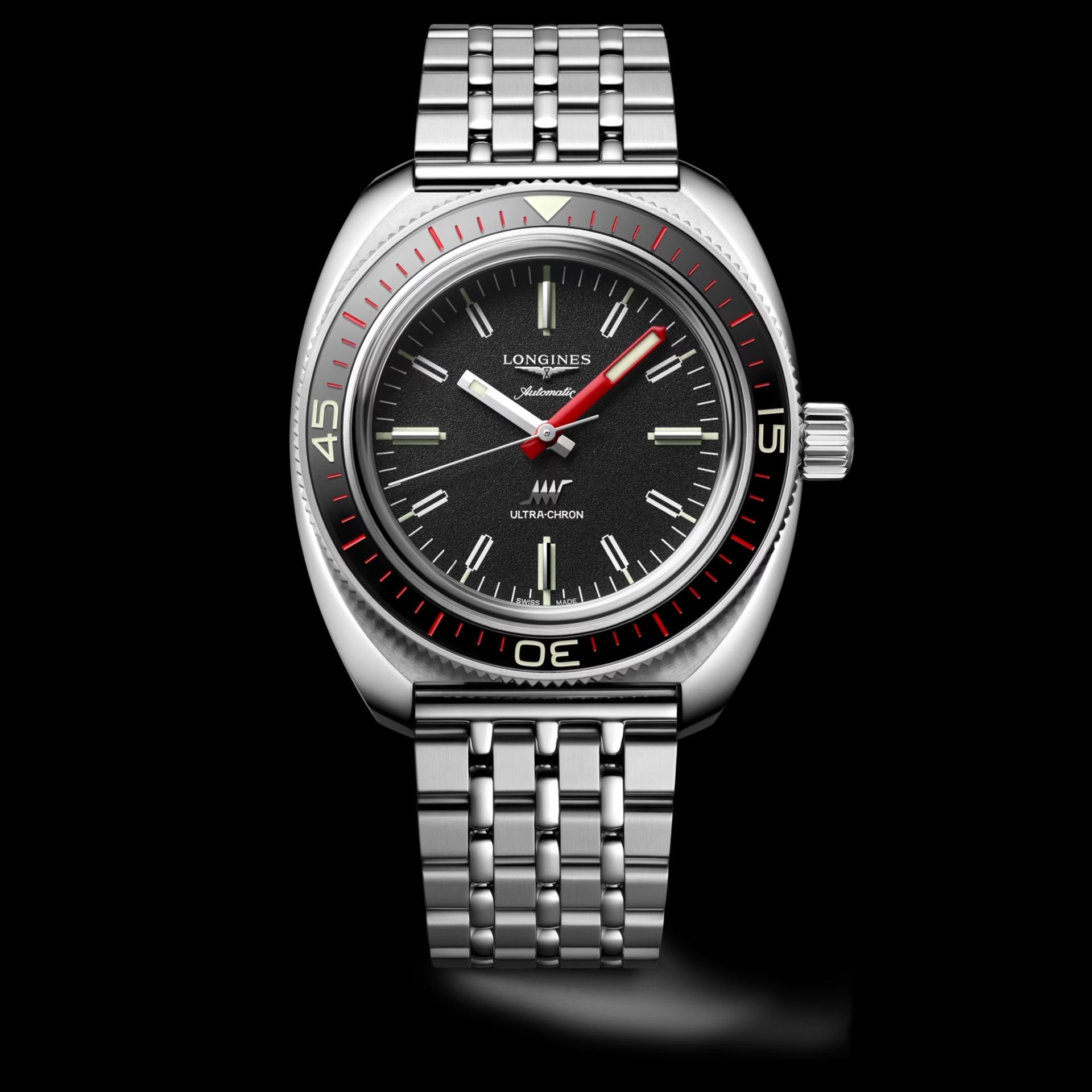 Source: Longines
As far as dive watches go, this Longines follows the standard design codes. The case is crafted out of stainless steel and given a circular yet tonneau shaped stainless steel case in a wide design. Its similarly stainless steel circular bezel and dial face clearly stand out from the tank style lugs and case edges.
The crown is very prominent on the case yet does not include any crown guards. While this may seem strange for dive watches, it's actually a very honourable mention to the original watches which similarly didn't have any guards.
The bezel features red markers, except from 15, 30 and 45 Arabic numerals in green, as well as the triangular marker located at 12 o'clock. The stainless steel caseback is solid as a safety measurement to attain its impressive 300 metres of water resistance. This is further attained through its big 43mm stainless steel case and its screw in crown.
The dial is matte black and features silvered hands and applied indices which stand out superbly, especially since they are dosed with Swiss Super-Luminova. The movement is where the good stuff happens, Timelords!
The L836 calibre is an automatic movement that runs at an astonishing 36,000VpH. Combined with the monocrystalline silicon balance spring, the piece can reach up to 52 hours power reserve. We think this one is more of a big hitter than Anthony Joshua!
It's a bulky dive watch that probably won't hide under shirt cuffs so we recommend going casual with this timepiece with a tee or an oversized jumper.
You can buy a Longines Ultra-Chron at retail for £3,400 at the time of writing.
5. Bell & Ross BR 03-92 Diver
Well this is unusual, a square dive watch?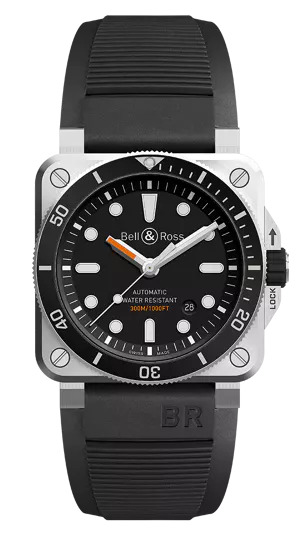 Bell & Ross BR 03-92 Diver - Source - Bell & Ross
As the first square dive watch from Bell and Ross, they have sought to create a dive watch that is capable of exploring unknown environments while guaranteeing its reliability. Furthermore, they have created dive watches which are more than capable of meeting and surpassing the ISO 6425. They are making dive watches that are at least 100 metres water resistant and home to a 60 minute calibrated unidirectional rotating bezel.
Specifically for the BR 03-92 Diver, this unique dive watch is deemed to be the first ever square shaped diving watch on the market. But is it a popular dive watch?
With a water resistance of 300 metres, it comfortably meets the ISO guidelines. Its 43mm reinforced stainless steel case is fitted with a screw downed protected case and a unidirectional bezel alongside a soft iron movement cage to support its resistance against magnetic fields. It's not enough that they have their own unique stainless steel case shape. They had to go all the way and make it a fantastic dive watch too!
Its mechanical automatic movement controls the hour, minute and seconds functions, alongside the small date aperture at 4 o'clock. The black dial is gently brushed with orange accents for increased legibility, as well as the hour and minute hands being coated in SuperLuminova for easy readability.
The strap is made up of black rubber as well as a highly resistant black synthetic fabric. While this dive watch might be out of left field for some experienced collectors, these two combined make a very durable strap that is capable of dealing with every occasion. It has a very urban look as opposed to a bracelet, giving the dive watch bags of character.
You can buy a Bell & Ross BR 03-92 Diver at retail for £3,500 at the time of writing.
6. Longines Hydroconquest
Since 1932, Longines has been characterised by elegance and supreme design, perfect for anyone looking to buy a Longines dive watch.
The HydroConquest collection is seen as a uni-sex dive watch, allowing both genders to enjoy the works of technical innovation and refinement. The rounded case is made out of black ceramic. Employed by brands such as Audemars Piguet with their Royal Oak Perpetual Calendar, black ceramic cases are lauded as scratch resistant and even unaffected by UV rays which can fade materials like stainless steel and gold.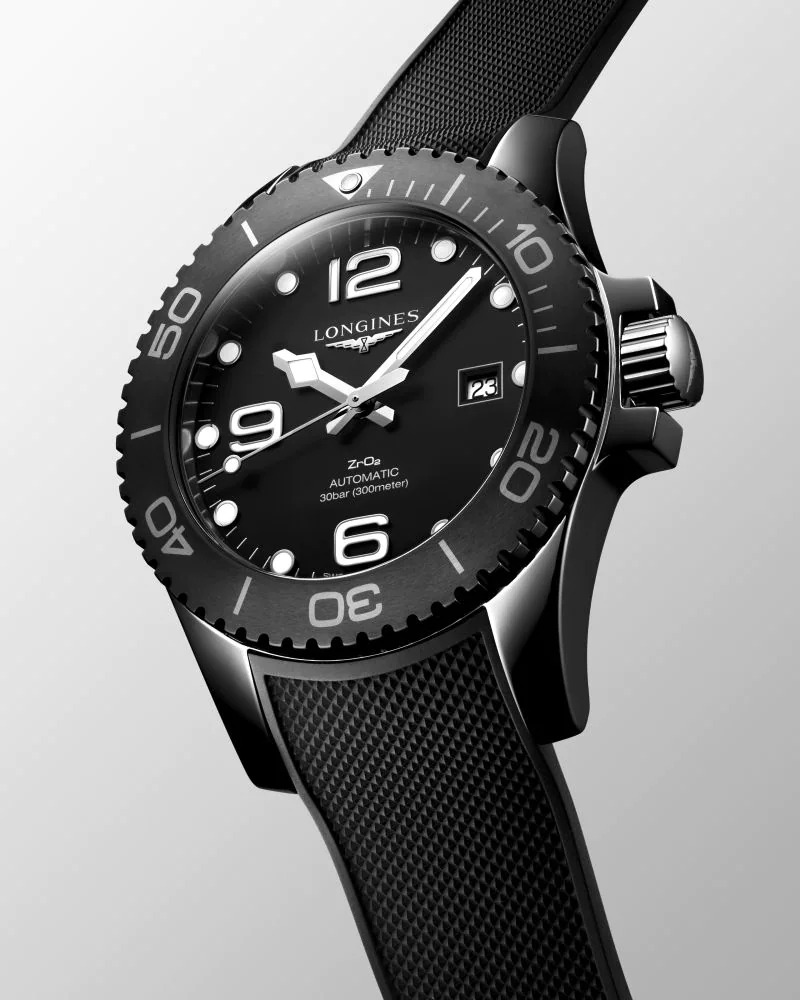 Longines Hydroconquest - Source - Longines
The glass is scratch resistant sapphire crystal providing several layers of anti-reflective coating on both sides. This means you can expect maximum legibility under all circumstances, under the water or while sipping that Pina Cola beachside. The case allows water resistance up to 300 metres, this dive watch features a screw in crown and unidirectional rotating bezel.
The screw in crown means it's impossible for water to get in after adjustments are made and the rotating bezel allows the wearer to measure time such as when to next have a decompression phase.
Measuring 43mm, the dial, case and bezel are all matt black ceramic. This allows the applied Arabic numerals and indexes alongside the silvered polished hands to be as readable as a JK Rowling novel. Visibility wise this dive watch checks out when it comes to Super-LumiNova. The automatic L888 calibre showcases hours, minutes, seconds and a date function at 3 o'clock to bolster the quality of the movement. It also beats at a steady 25,200VpH and has a very strong power reserve of 72 hours.
If you wish to buy a Longines Hydroconquest, the retail price is £3,800 at the time of writing.
7. Tudor Pelagos 39
It's got the dive watch community ablaze recently. We are talking of course about The Tudor Pelagos 39. With a steadfast reputation being on the wrist of the French Navy to its subsequent award as the 'Best Divers Watch' at GPHG, a new horological dawn of divers watch has emerged.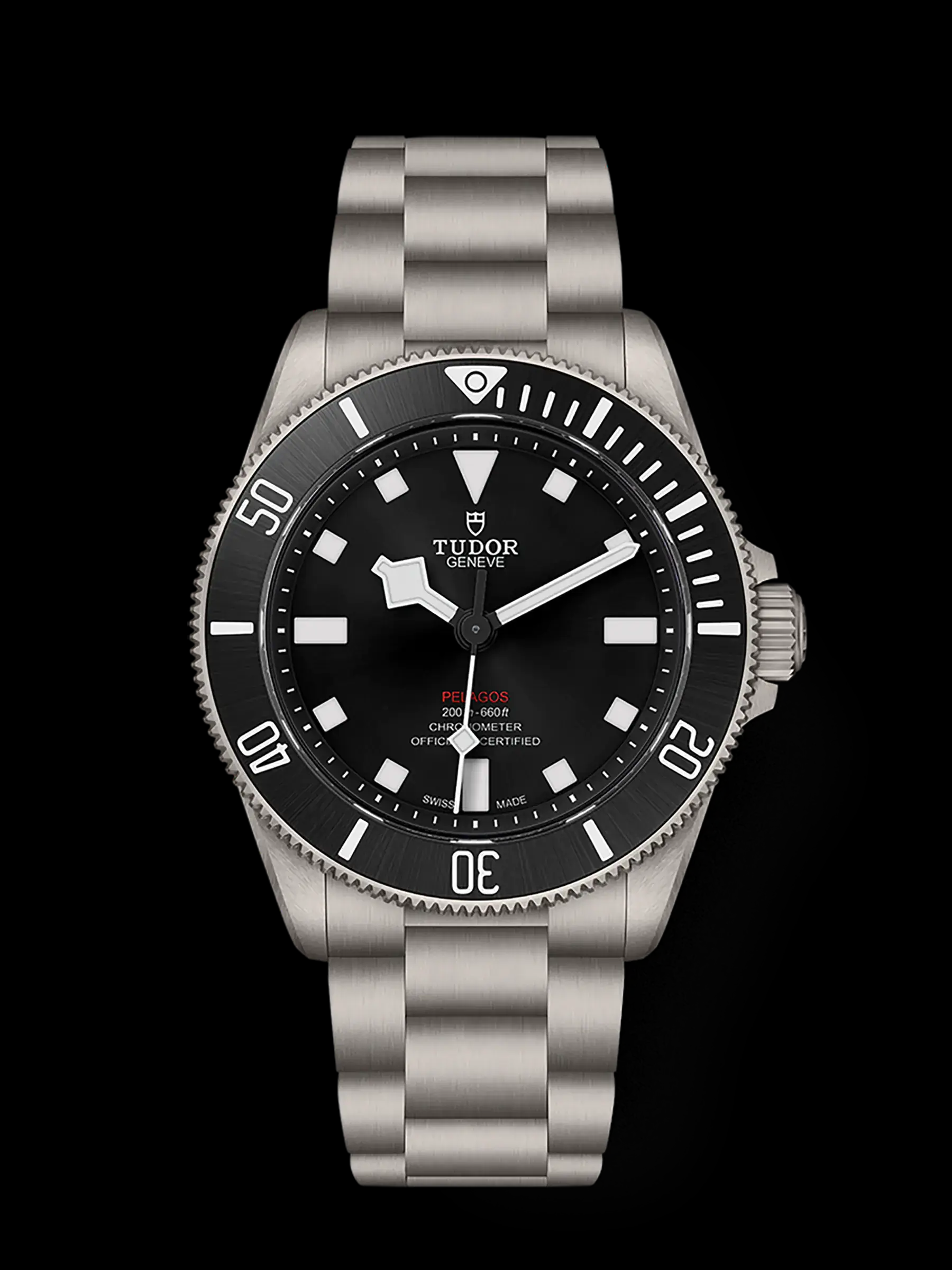 Tudor Pelagos 39 - Source - Tudor
At 39mm case size, The Tudor Pelagos 39 has trimmed the fat of its 42mm case predecessors and houses the phenomenal MT5400 movement meaning you can buy a Tudor Pelagos which is more stripped back than Eric Clapton on an acoustic. COSC certified, the dive watch works between -2 and +4 second variation every day which is a step above the -4 +6 requirements that COSC requires.
With a meaty 70 hour power reserve, this dive watch benefits from a stainless steel caseback with a unidirectional bezel and a 60 minute scale that is slightly graduated. The movement is protected by an anti-magnetism silicon hairspring and traversal bridge to keep it stable and reduce the chances of shock and magnetism.
The bezel is crafted out of grade 2 titanium like the case and has a black ceramic insert. The sunray effect presented by the bezel gives off a fantastic finish when it touches the light, allowing the dive watch to be worn in all situations, not just for diving. The bezel is dosed with Super-LumiNova to make the 60 minute scale highly visible.
The sunray effect is also present on the dial and since the date has been removed, the face looks more seamless and refined. The sandblasted effect on the flange projects the dial forwards, increasing its legibility which is key if you are looking to buy a Tudor for the unknown of the sea.
At 39mm, it sheds what it does not need and presents a new form of dive watch. One that is streamlined and that looks fantastic on the wrist. Made out of grade 2 titanium, the case is satin-brushed alongside the bracelet which is fitted with a T-fit system for quick micro adjustments for diving suits or after a hefty meal.
You can buy a Tudor Pelagos 39 for £3,850 at retail at the time of writing.
8. Tudor Black Bay 54
The Tudor Black Bay 54 was originally released in 2012 and brought upon a strong tribute to Tudor's father brand Rolex's Submariner.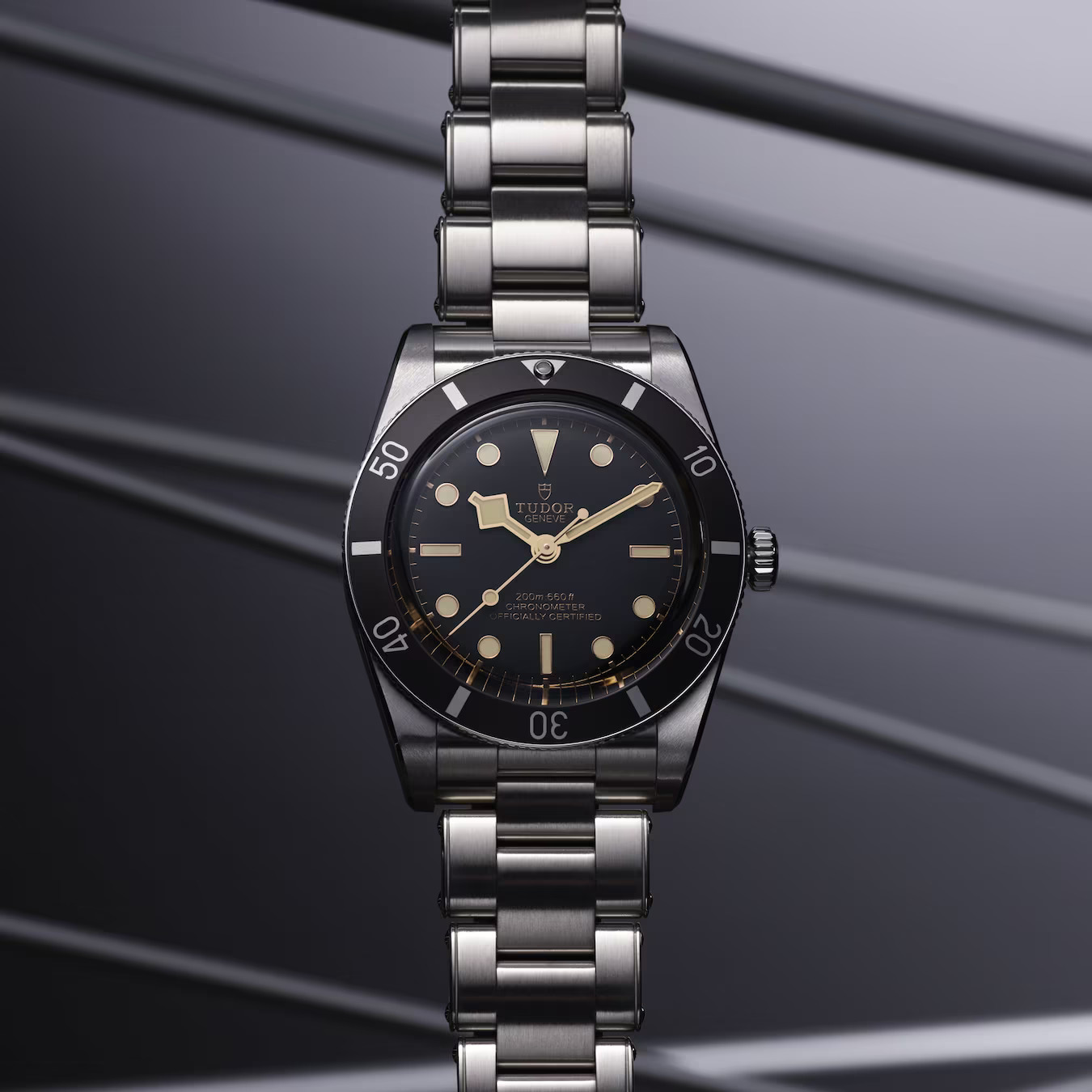 Tudor Black Bay 54 - Source - Tudor
Nowadays, the Black Bay 54 has since been updated and released at Watches and Wonders 2023. In and amongst a few Tudor updates like a few updates to the Royal Collection and an update to the 'Pepsi' GMT, The Black Bay 54 stands out well.
It is crafted from the same stainless steel case, but is more slight, measuring at 37mm stainless steel case sizing in comparison to its predecessors which measured at 39mm. The dive watch cleverly blends modernism with retroism through the old school crown design and the snowflake hands through to the updated silver markings on the bezel and the high flying COSC certified MT5400. This movement is certified as high quality due to the COSC certification, adheres to the longevity and durability of the piece.
The bezel keeps things very simple with the black ceramic insert, allowing the silver markers on the bezel to very clearly stand out and also allowing the focus to rest on the golden hands and indices.
The dive watch is ultimately catered to the modern consumer by being smaller, giving the dive watch more purpose as the perfect everyday driver.
You can buy a Tudor Black Bay 54 for £3,030 at retail at the time of writing.
9. Breitling Superocean Automatic 42
Breitling has been supplying the diving community since the 1960s when scuba diving became popular. This means you could buy a Breitling now with its phenomenal heritage and with modern alterations for diving. Fantastic! Though we don't expect it to hold its value when compared to its Swiss counterparts like Rolex or AP. Not so fantastic.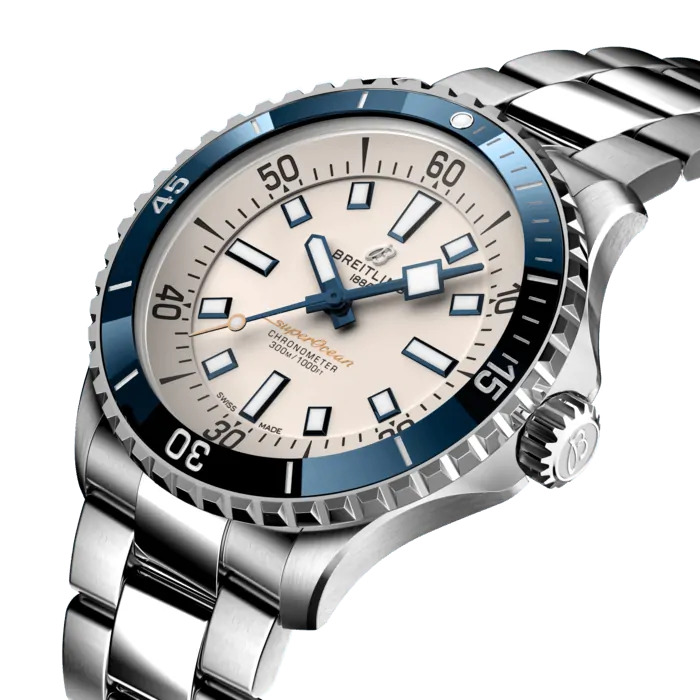 Breitling Superocean Automatic - Source - Breitling
As you can appreciate, timing is incredibly important to divers and as such, Breitling sought to cut down every feature that wasn't necessary to give them instant readability and even save lives underwater. This was named the 'Slow Motion' and gave the basis for the Superocean.
The Breitling Superocean follows the design code of the Slow Motion with its clean lines on the stainless steel case, thick luminescent indexes, squared off hands and a high contrast dial ring but also adds more modern dive watch functions like a ceramic-inlay bezel and brightly coloured dials.
This timepiece benefits from broad hands and indexes layered with Super-LumiNova which allows for easy readability while underwater. Boasting 300m of water resistance, due to the durability of the high water resistance stainless steel case, this timepiece is much more than suitable for the scuba diving community. It is also shock, sand and saltwater resistant. It really is the perfect hardcore diving watch! The Breitling Superocean comes with two strap options in a rubber strap or a metal bracelet.
Combine this with the folding clasp that allows for micro adjustments to prevent rashes or abrasions, the dive watch can be worn in every situation possible. From the steely concentration of the office, the stainless steel bracelet does fine but for kicking back on a sunlounger, the rubber gives a more relaxed feel. It really does combine its rich dive watch heritage with a modern glaze of cool.
The scratch proof inlay bezel will never show signs of wearing or fading, while the serrated bezel is unidirectional, meaning important calculations can be worked out, even while wearing gloves. At 28,800VpH, or 4Hz, the in-house Breitling 17 movement is self-winding and offers a power reserve of 38 hours. Protected by a cambered sapphire crystal which is glare proof on both sides, the movement and the dial is at no risk of harm.
You can buy a Breitling Superocean Automatic 42 at retail for £3,950 at the time of writing.
10. Tudor Black Bay 58 Bronze
Alongside the highly regarded Black-Bay Bronze, Tudor offers a bronze version of the popular Black Bay Fifty-Eight model. Vintage Tudor Black Bay Fifty-Eight models are highly coveted making this timepiece one for your collection.
Tudor Black Bay 58 Bronze - Source - Ablogtowatch
Now, we think bronze isn't just a cool colour to use on a dive watch like this. It is actually a link to the bronze on old ships and deep-sea diving equipment. It's an alloy with properties that arent the same as classic stainless steel meaning you can buy a Tudor which has more character compared to other stainless steel models. The Black Bay Fifty-Eight Bronze model has a dial which is inspired by Tudor divers watches as produced in the 1950s.
Doing away with stainless steel cases, the bronze aesthetic is an excellent choice for the modern user due to the stylish aesthetics of bronze garners.
The very well known angular hands which are now regarded as the 'snowflake' hands appear on the dial and the crown is missing its guard. While this may appear strange, it's an ode to the first generation of Tudor dive watches.
Housing the same movement as the Tudor Pelagos 38, the COSC certified MT5400 is self winding with a bi-directional rotor system and is similarly protected by an anti-magnetism silicon hairspring and traversal bridge, allowing the dive watches movement to keep operating at peak performance. The perfect alternative to the Rolex Submariner, it is waterproof up to 200m and is a smart addition to any wrist.
The bezel combines a beautiful brown-bronze with a 60-minute graduated scale, allowing the bezel to competently read times for you to have a compression phase.
The domed sapphire crystal protects the dial from any abrasions you may encounter while navigating the sandy shores or even your bedroom floor. The dial has a gradient matt brown-bronze with applied hour markers and Arabic numerals at 3, 6 and 9 o'clock. Incredibly, as this dive watch is satin-brushed bronze, it means over time, the colour will take on its own patina.
An incredible innovation, the dive watch isn't one case colour forever! The bracelet is made entirely out of bronze, marking the first time that Tudor has done this. Meanwhile, its satin-brushed links hark to the bracelets of the 50s and 60s. Furthemore, the T-FIT clasp is satin-brushed and allows for quick alterations to the length of the bracelet. Handy if you want to wrap your dive watch around your wetsuit to do a spot of water-skiing!
You can buy a Tudor Black Bay Fifty-Eight watch at retail for £3,980 at the time of writing.
11. TAG Heuer Aquaracer Professional 300 UK Edition
The Aquaracer collection is a point of interest for all dive watch lovers.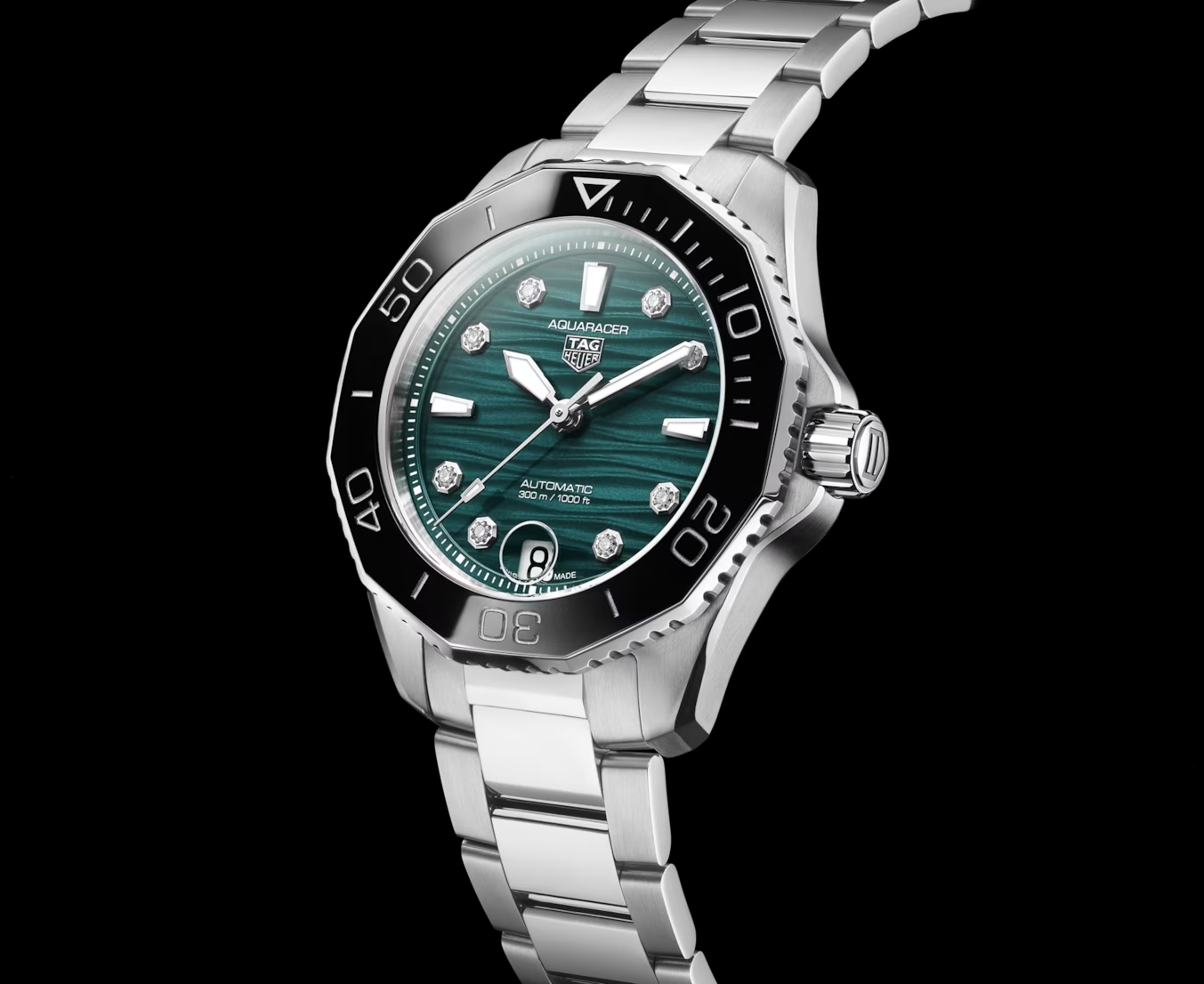 Source: TAG Heuer
Introduced in 2004, the design codes related to TAG Heuer dive watches from the early 1980's. Of course, the real fans know that The Aquaracer collection was actually born out of continuing on the heritage from the 2000 series!
At 36mm, this dive watch is extraordinarily small for a timepiece that is capable of reaching 300 metres of water resistance. That's ideal too, as the modern gentleman likes his timepiece to double as an everyday watch, not just a timepiece for one specific purpose like as a diver.
Crafted with a stainless steel case , this dive watch is superbly brushed, pertaining to the rugged allure of the timepiece. Given a solid stainless steel caseback with an emblem of a diving helmet, you know you're in safe hands when it comes to the durability and water proofness of the stainless steel case.
The dial face is a beautiful turquoise sheen that could easily be taken out of a azure-coloured lagoon in Bali. The dial utilises a stunning wave like pattern which enhances the visibility of the timepiece, and looks absolutely sublime on the wrist! A close look at the dial would reveal the wondrous hour markers which are made up of jagged teeth shaped indices and 1.4mm brilliant cut VS diamonds! No this ain't a Rolex "Bart Simpson" per see but we still admire its edgy layout
The strap is similarly made of stainless steel and given a folding clasp, ensuring that the piece is tightly secured to your wrist. The micro-adjustment system is very handy for those ever so quick changes.
Powered by the Calibre 5, this dive watch has a fairly strong 38 hour power reserve, but a really astonishing 28,800VpH movement, powering the hours, minutes, seconds and date aperture which resides at 6 o'clock. Not too bad for a movement within the slinky TAG Heuer Aquaracer.
Look stylish with a turquoise shirt to match the dial. If you're feeling casual, may we suggest something like a green tee and black jeans to turn up the flexometer scale.
You can buy a TAG Heuer Aquaracer Professional 300 UK Edition for £3,150 at the time of writing.
12. IWC Aquatimer Chronograph IW376804
Originally released in 1967, The IWC Aquatimer was and has since been given a very modern re-interpretation. A bit like what Banksy is to the contemporary art scene.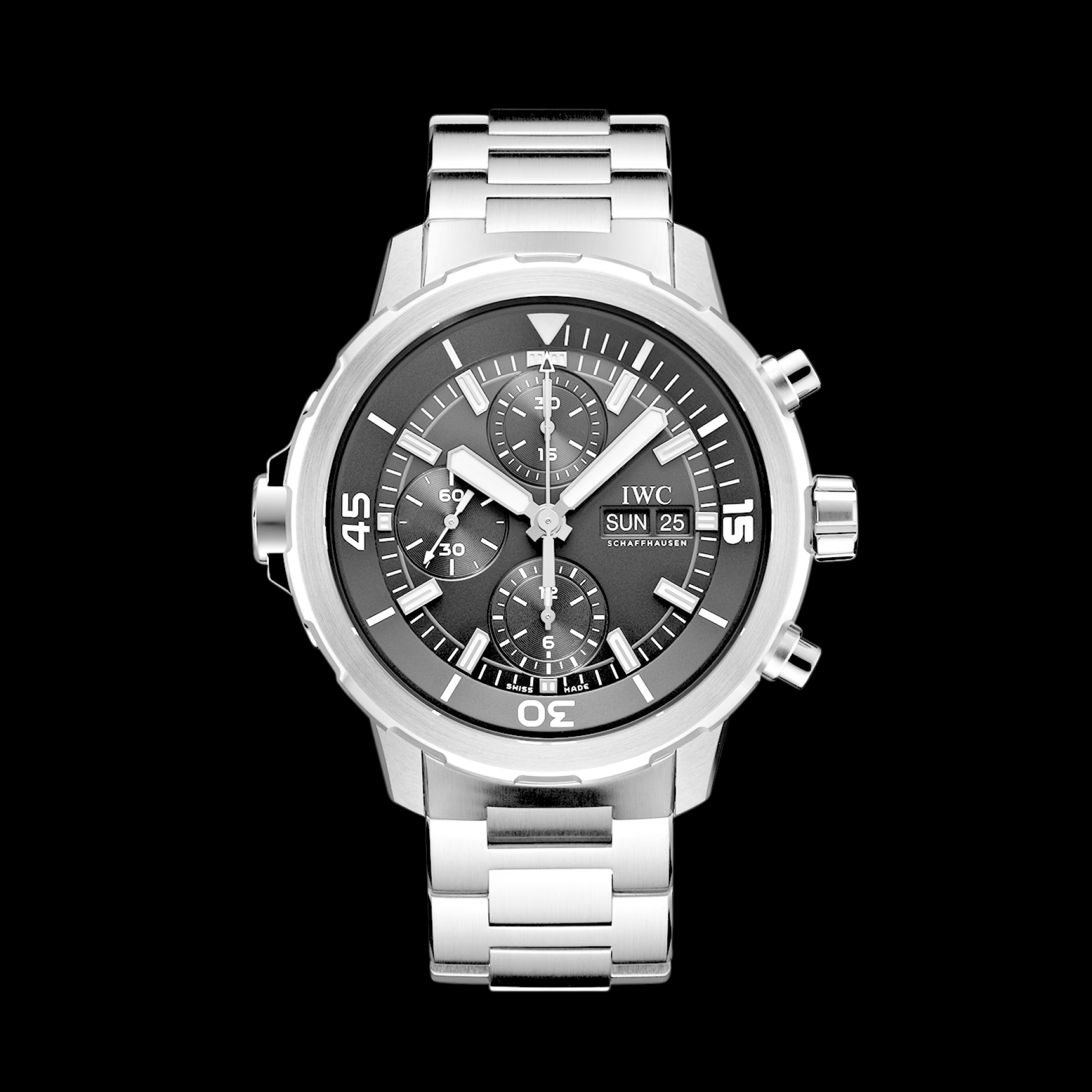 Source: IWC
Crafted with a stainless steel case, this delicious dive watch is 44mm of pure strength and durability. Given a solid stainless steel caseback, the dive watch promotes water resistance over the avant-garde touch of a sapphire back.
As such, the water resistance level hits a solid 300 metres water resistance, as complimented with the screw in crown and Safedive system within the bezel.
The safedive system within the external and internal rotating bezel does not allow for the divers time measurement to be impacted by accidental changes. Who knew a bezel could not only be a stunning tool for measuring elapsed times, but also a great source of water resistance!
You probably didn't spot the protective cover at 9 o'clock which slides over the sliding clutch system. This is due to its seamless construction into the stainless steel timepiece. The dial is matte black and the tilted flange houses the diving countdown scale. Featuring three sub dials at 12, 6 and 9 o'clock, it doesn't conform to the classic chronograph dial style.
Featuring a date aperture at 3 o'clock, this dive watch is filled to the brim with really handy features! The pushers at 2 and 4 o'clock suit it perfectly with their prominent construction aside the similarly bulky crown.
Powered by the 79320 movement, the Aquatimer is powered by the self-winding movement which has 44 hours of power reserve and a frequency of 28,800VpH. Finished with a Côtes de Genève aesthetic which we unfortunately cannot see, it's nice to see that IWC are doing the most, even if it's behind the scenes with the movement!
Its stainless steel construction would suit a black tie affair, or kicking back beach side, Mojito in hand due to its great water resistance rating.
You can buy an IWC Aquatimer Chronograph at retail for £7,300 at the time of writing.
Best Men's Dive Watch Under £8,000
13. Tudor Black Bay Chrono S&G
The Black Bay celebrates 60 years of diving watches by releasing the beautiful Tudor Black Bay Chrono S&G.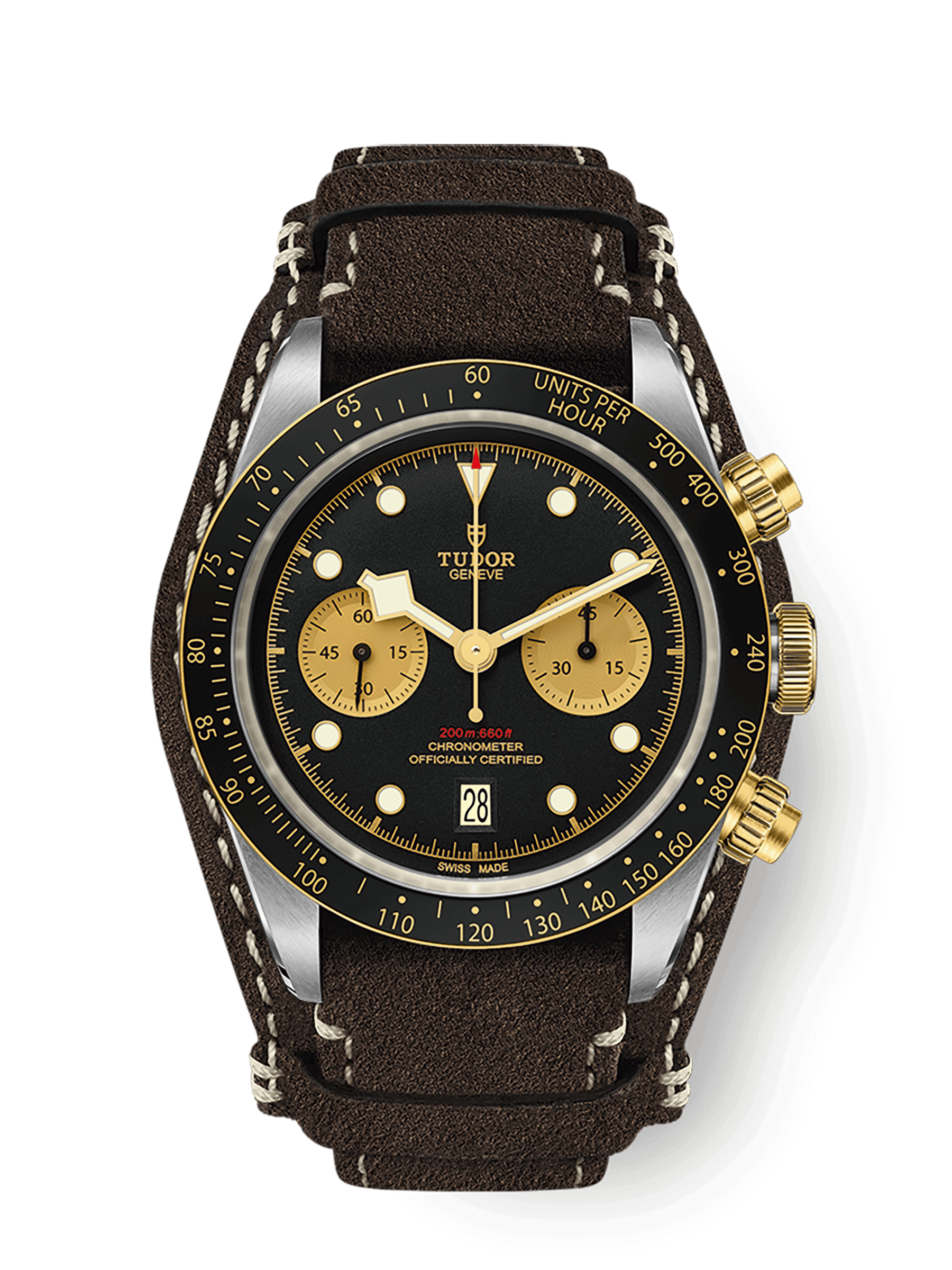 Source - Brand's Site
Following the classic design structure of gently shaped case lines and the domed dial and crystal, the model further follows the snowflake hands that were typically seen on timepieces sent to the French Navy during the 70s.
The case style is very unorthodox, promoting a wide style with a leather edging that links in with the brown leather strap. The steel case features a polished and satin finish, promoting the sporty and dressy nature of the edition.
Given a fixed yellow gold bezel with a black anodised aluminium disc, it features a tachymetric scale with similarly yellow gold markings. The dial is matt black and domed, allowing for max legibility, especially since the dial has chunky, white dot hour markers that are dosed with lume.
Capable of reaching 200 metres of water resistance, the timepiece offers MT5813 calibre that runs at a power reserve of 70 hours and accompanied with a bi-directional rotor system and COSC certification.
At 41mm, we recommend you wear this piece with a brown knitted jumper or a black suede jacket for those smarter events such as after work drinks. You can buy a Tudor Black Bay Chrono S&G at retail for £5,320 at the time of writing.
14. Breitling Chronomat B01 42 Six Nations Scotland
Sports and models are a combination akin only to Lionel Messi and football.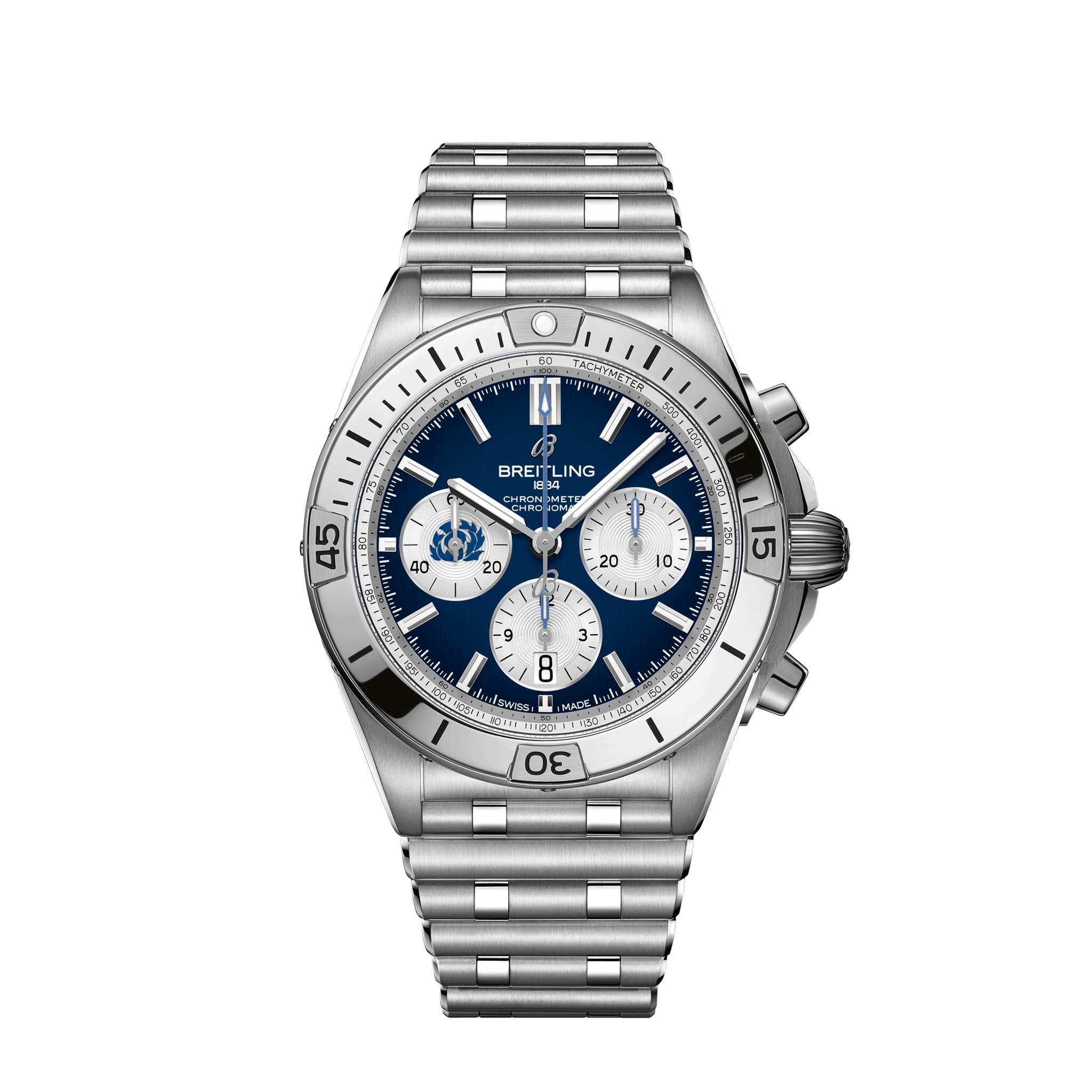 Source - Brand's Site
Breitling is the official timing partner and luxury timepiece provider to the Six Nations Rugby, one of the largest sporting championships worldwide, featuring teams like England, Ireland, Wales, Scotland, France and Italy.
This Chronomat B01 42 Six Nations Scotland represents the tough world of rugby and the model perfectly reflects this. Capped at 150 pieces, there are models released for each country, boasting the nation's flags and colours and the casebacks showcasing the name of the teams "Six Nations" and "One of 150".
Crafted out of stainless steel and sized at 42mm, the timepiece is fitted with a unidirectional bezel with a ratcheted design to ensure easy grip. The model is given a rich blue dial and duo coloured white and blue hands as an ode to the Scottish team.
Made up of three chronograph sub-dials, a date display and Scotland's logo, the dial boasts legibility and style. Of course, Breitling does keep some of their heritage in the timepiece with the Chronomat features like rider tabs on the 15 minute markers, a bulbous crown with a serrated edge for easy grip and a stylish rouleaux bracelet.
Powered by the Breitling 01 movement, the edition offers a 70 hour power reserve, 200 metre water resistance and chronograph functions that measure 1/4th second chronograph, 30-minute and 12 hour totaliser. Running at 28,800VpH, this piece is more than active enough for you horophiles!
We suggest you keep this to the sporty occasions such as wearing a black sporty jacket when in the grandstand. You can buy a Breitling Chronomat B01 42mm Six Nations Scotland at retail for £7,550 at the time of writing.
15. Grand Seiko SBGJ275
The Grand Seiko SBGJ275 is crafted out of stainless steel and sizes at 44.2mm.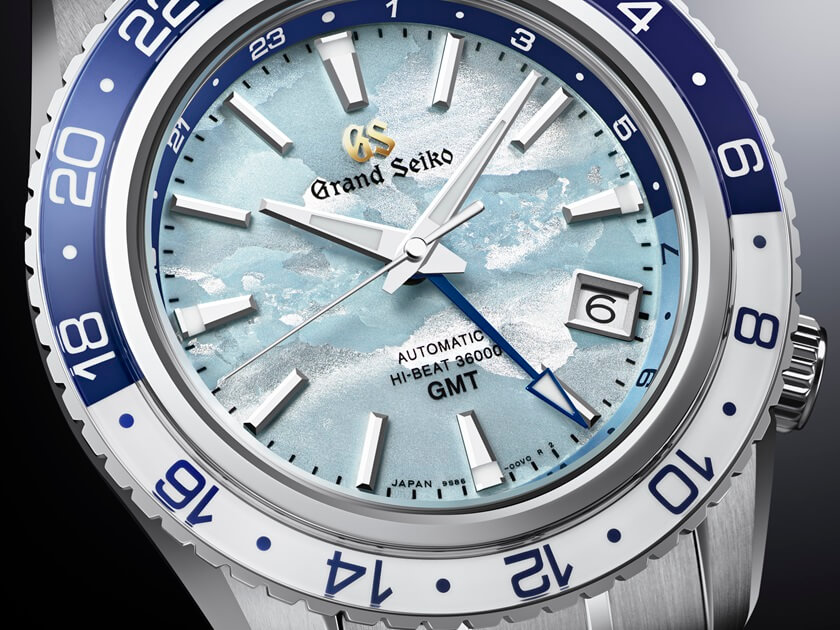 Source - Brand's Site
As a brand new timepiece, the model is released as a limited edition piece of 2000 models to celebrate 25 years of the stunning Calibre 9S mechanical movement. It features a brushed sheen as an ode to the sporty nature of the piece.
As part of the sporty collection, it is ready for everyday action and it includes a delightful dial in a beautiful sky blue colour. So, just how good is the dial?
The dial features an organic pattern that pertains to a layered sea of clouds, visible around Mount Iwate as dawn breaks. For clarity, the pale blue colour scheme gives the impression of a sky background, while the white blotches resemble clouds.
The rotating bezel is given a white and blue colour scheme which is perfect for the dial shade. Allowing for three time zones to be read at once, the 24 hour bezel is perfect for model. The dial is exceptionally legible as the baton hour markers are coated with LumiBrite, promoting a high degree of visibility.
It is powered by the 9S86. As an automatic with manual winding functionality, it has a power reserve of 55 hours and an average frequency of +5 to -3 seconds per day. The sapphire caseback showcases the oscillating weight with a beautiful sky blue sheen that's achieved through anodic oxidation process.
Given the brand's lion emblem, the oscillating weight relates, like the dial, to a sea of clouds. Oh yes, need we say that this is the first Grand Seiko mechanical model with a water resistance of 200 metres with an exhibition caseback?
We recommend you adorn a powder blue suit to keep with the dials colour scheme. You can buy a Grand Seiko SBGJ275 at retail for £7,250 at the time of writing.
16. Panerai Luminor Marina 44mm PAM01313
Created in 1860, Panerai have become hallmarks for the phrase "Bigger is Better". If you want evidence of this, the average case size is 42mm plus! Originally a brand created to cater for the Italian Navy, their dive watches do promote first class legibility and accuracy.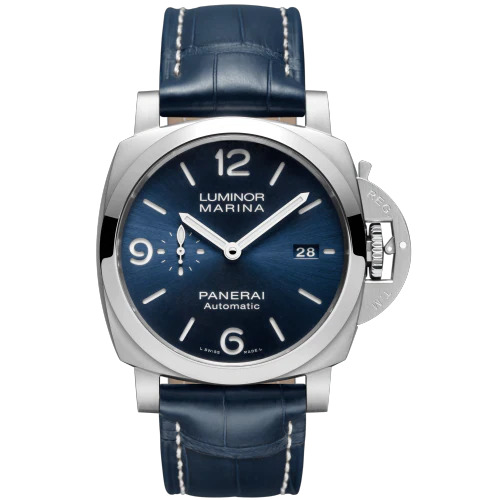 Source: Panerai
The Luminor Marina is a dive model by Panerai which expands from the Luminor collection. Where this collection differs is the small seconds that's usually situated at 9 o'clock, offering an extra technical dimension to these editions.
This particular edition follows the same design codes with the added provision of a date aperture at 3 o'clock. Crafted with a 44mm stainless steel brushed case, it adheres perfectly to the sporty dynamic of typical dive timepieces. The bezel however is polished, allowing the user to have a glint of luxury before getting into the dark depths of a durable dive piece. Now say that after a few whisky sours when impressing that client!
The bezel negates the need for a countdown scale to measure elapsed time and a helium valve. Not to worry, as this piece can easily take you under seas. Given an ocean blue dial, the attractive sunburst finish allows light to pass across and enhance the silvery indices and hands of the dive model.
The Luminor collection is named after their abundant luminescence which continues in this dive timepiece. The Arabic numeral, baton indices and hands are coated in luminescence to allow maximum legibility. And you know we love a clear dial.
Featuring the classic crown guard at 3 o'clock, this Panerai is powered by the tough Calibre P.9010 movement. The movement offers a fantastic 3 day power reserve which is complemented with a rapid pulsation of 28,800VpH. Protected by Incabloc anti-shock measures, the movement is more than capable of joining you on your travels.
Pair this blue bonanza with an equally tidy navy suit for those smart occasions. If you don't feel the urge to get dressed up, a simple blue polo shirt will accentuate the blue leather strap harmoniously.
You can buy a Panerai Luminor Marina 44mm at retail for £7,600 at the time of writing.
17. Omega 60th Anniversary James Bond Edition
Released in 2022, this slick dive watch gives a distinct nod to the history of one of the greatest spies of all time.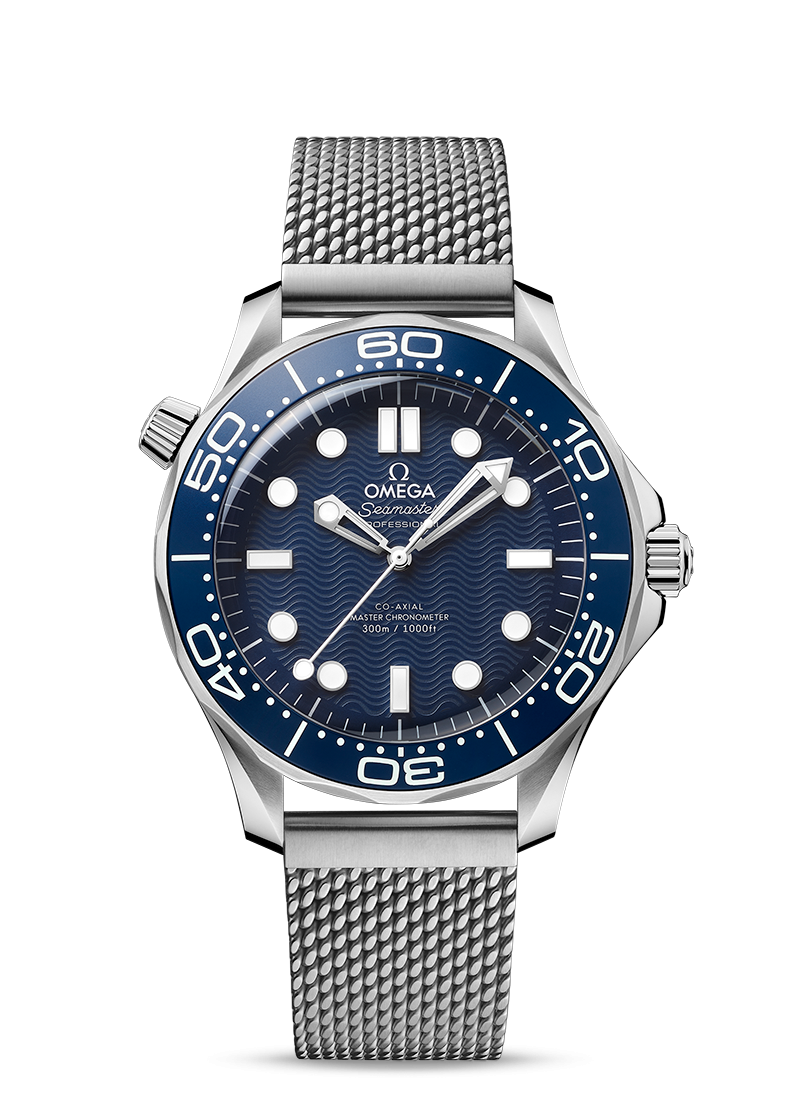 Omega Seamaster Bond - Source - Omega
Celebrating 60 years of James Bond, this 42mm Seamaster Diver is in stainless steel case and fitted with a blue oxalic anodized aluminium dial with laser engraved waves. This may seem really specific but it in fact relates to the Seamaster Diver 300m as worn by James Bond in 1995's Goldeneye.
For those of you who are 'EagleEyed', a little pun for you there, a commemorative 60 replaced the diving scales traditional inverted triangle. Believe me, there are a hell of a lot more Bond references incoming. Do you want those shaken or stirred?
Turning to the stainless steel caseback, there is a still image of the iconic intro to most James Bond films, with Bond casually popping a shot at the camera in a black silhouette. This is occurring below a sapphire crystal which is edited with micro-structured metallisation. There is a moire effect which brings the gun barrel background to life through the spinning of the lollipop seconds hand.
The dive watch carries an air of Bond elegance, as the stainless steel bracelet is brushed which adds texture to the inevitable steely look. The bracelet is also built in a mesh style which keen Bond fans will notice is similar to Bond's titanium dive watch in No Time To Die. You should buy an Omega if you want to blend your favourite film with iconic watchmaking and first class accuracy.
For those more focused on dive watches rather than James Bond trivia, we'll give you something to write home about with a licence to thrill. The dive watch houses a Co-Axial escapement for precision and a silicon balance spring for excellent anti-magnetism.
Furthermore, the dive watch has a helium escape valve due to its 300 metres water resistance. Sounds like someone has been doing their ISO 6425 homework! The helium valves allow for bubbles to escape, and not result in the crystal popping off when you emerge from your dive. It's true!
The bezel features a classic countdown scale, allowing the bezel to offer clear legibility in terms of reading times for compression phases. The scale is similarly luminescent.
The markers and indices are luminous allowing a clear view in all circumstances. The calibre Omega 8806 is a self winding movement and is so effective that it is a Certified Master Chronometer as approved by METAS. Resistant to magnetic fields of 15,000 gauss, the movement has its rotors rhodium plated and its bridges finished with a Geneva wave aesthetic.
You can buy an Omega 60th Anniversary Bond for £7,700 at retail at the time of writing.
18. Rolex Submariner
When it comes to dive watches, The Rolex Submariner is arguably the granddaddy of them all.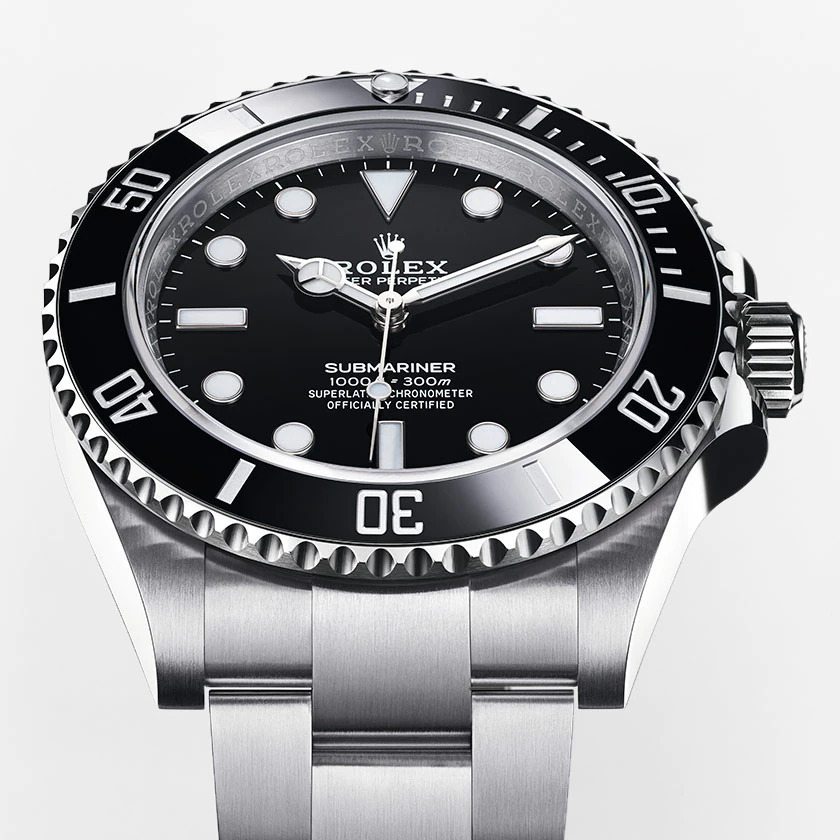 Rolex Submariner - Source - Rolex
Since its release in 1953, it's certainly been one of the most influential dive watches of all time, laying the brickwork for all luxury sports watches to develop. Measuring 41mm, it reaches a solid depth of 300m water resistance which means it is suitable for scuba and saturation diving as per the ISO 6425 guidelines.
Super stylish and is built for any occasion, it is made from Oyster Steel. Rolex patented this form of stainless steel to be highly resistant to corrosion and extremely resistant to scratches. Oystersteel comes from the 904L stainless steel family which is an alloy used in high-technology, aerospace and chemical industries which focus on anti corrosion properties. Out in the waves or kicking back with some buddies, buy a Rolex Submariner to look great doing either.
The bezel on these iconic dive watches is unidirectional and rotatable which is key as an underwater tool and has 60 minute graduations. This means the diver can accurately monitor diving time and decompression phases without the risk of misjudging any stops. Thank god for this bezel if you're a keen diver.
Furthermore, the bezel is crafted from ceramic which is both highly durable and scratch proof. We do love a resilient dive watch that has stood the test of time like the Submariner.
The zero marker is luminous to ensure legibility in all environments and the bezel edge is serrated to ensure a secure grip when turning. The indices are simple yet effective against the black dial, enhanced further by a luminescent chromalight display which greatly improves visibility in all environments, reducing the chances of confusion when underwater or hungover from the work. The 3230 movement is built in-house by Rolex. Launched in 2020, this self winding movement brings in a Chronergy escapement as a means to combine high energy efficiency with reliability. The calibre really is top notch and is at the forefront of movements in dive watches.
You can buy a Rolex Submariner at retail for £7,700 at the time of writing.
19. Omega Seamaster Diver 300m "Summer Blue"
The Omega Seamaster Diver 300m "Summer Blue" blends the rip-roaring heat of summer, a new colourway and one of the latest dive watches in 2023 that's as timeless as a George Michael single. But here's a careless whisper you might find of note.
Did you know the Ploprof is back with a vengeance for 2023? As part of the grand selection of "summer blue" timepieces from Omega, The Seamaster Ploprof brings its 1200 metres of water resistance with a refreshing layer of blue sheens that start light in the centre and graduated to darker shades on its periphery.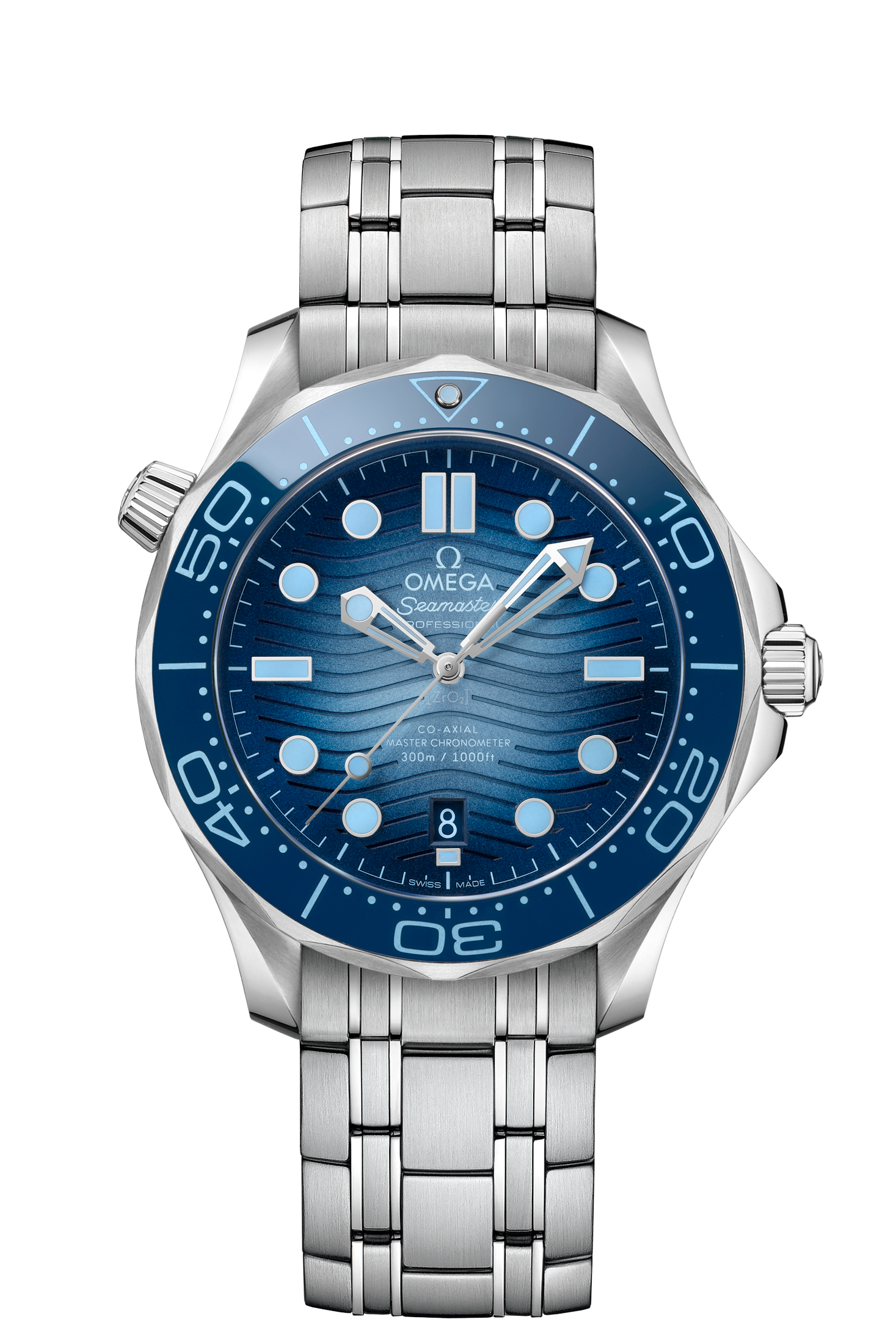 Source: Omega
Measuring 42mm, this dive watch is crafted out of stainless steel, pertaining to the materials used by classic dive watches. Don't be misguided in thinking it's trapped in the past however! Given a blue rubber strap, it cleverly exchanges a classic stainless steel bracelet for something that's equally durable and more tasteful.
Given a blue ceramic bezel, it takes a leaf out of Grand Seiko's book by using Grand Feu, or blue enamel for the dive scale that wraps itself around the enticing dial. The indices and hands on the bezel are rhodium plated which looks sublime against the blue dial face.
The dial is similarly given a Summer Blue sheen is what Omega are calling it and is crafted out of ceramic. This results in a unique style in contrast with other dive watches on the market. It's PVD treated and is complimented with a gradient finish, turning from a darker hue on its periphery to a lighter shade in the middle. The classic laser engraved waves are still there and might we add they look fantastic!
The indices and hands are not only exceptionally legible but fit in with the blue colour scheme. This is due to the Super-Luminova being specifically designed with a unique blue tinge. Very clever, Omega…
Craving more? If that's not enough, these dive watches feature the Calibre Omega 8800 which has some serious firepower behind it. With more pull than the Moonswatch, it is a self winding movement, with a Certified Master Chronometer that's approved by METAS. Capable of dealing with up to 15,000 Gauss, the silicon balance spring secured movement is capably dealing with your computer and phone.
Running at a steady 3.5Hz with a weekend-proof 55 hour power reserve, this timepiece is hot off the horological press for 2023 and ready for a dip in your private pool or lounging on the golden sands! It can also be worn with a baby blue cashmere jumper or sharp silver suit if you wanted to formalise the outfit.
You can buy an Omega Seamaster Diver 300m 42mm Summer Blue at retail for £5,800 at the time of writing.
20. Tudor Pelagos FXD Chrono Alinghi Red Bull Edition
Tudor and Alinghi have been riding the waves together since 2022, when Tudor made the leap into Alinghi's world of Yacht Racing. This is a far cry from Rolex who have been powering the Regatta influence for around 70 years. Sponsoring and timekeepers for a series of events like The Rolex Fastnet Race, Rolex and SailGP and Rolex TP52 World Championship, the brand is a strong partner of the sport!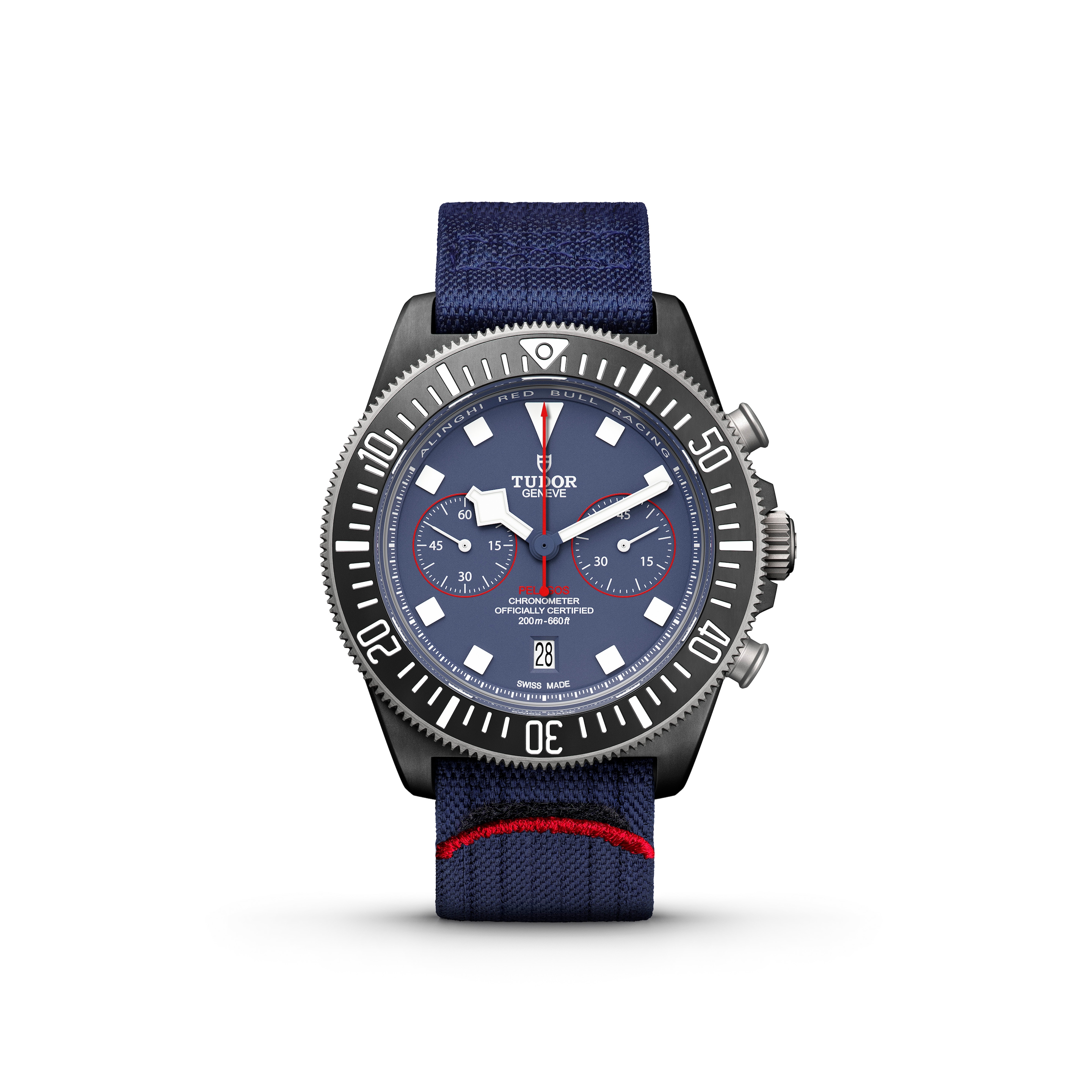 Source - Tudor
As you can appreciate, Tudor likes driving forwards the boundaries of high quality dive watch making and brand partnerships. Just look at their Red Bull Formula 1 collab for evidence of this! In that respect, we fully expected the Tudor timepiece to have strong odes to Alinghi. Strong is most definitely an understatement!
The Tudor Pelagos FXD Chrono Alinghi Red Bull Edition is crafted out of a carbon composite case, finished with a black matte aesthetic and accompanied with rugged strap bars. The Alinghi ship similarly uses a carbon fibre hull and mast.
Not enough links for you? The bi-directional bezel is crafted out of titanium and is finished in a similarly matte black carbon composite insert. This is further complemented with X1 Swiss SuperLuminova on the markers and bezel, adhering to the legibility of the piece. Need we say that the ship has titanium hydrofoil and hull fittings too? It's enough to get my skipper's hat on.
The case is 43mm and enjoys 200 metres of water resistance. Given a matte blue dial with red features on the chronograph counters and second hand, this dive watch is top notch for those looking to buy a Tudor with enhanced legibility and direct links to the Alinghi team.
Need a bit of zip in your timepiece? The movement is nothing to laugh about either. Powered by the Calibre MT5813, for under 5 grand, this is an excellent dive watch. Providing 70 hours of power reserve it is COSC certified, ensuring you only get the best movement performance but outstanding accuracy and longevity
The fabric strap is perfect for the tumultuous nautical world as it is waterproof and suits the rugged timepiece better than a standard strap. We recommend you stick this on when you're parading on the deserts of Dubai or kicking back at that swim up bar while flexing your new diver.
You can buy a Tudor Pelagos FXD Chrono at retail for £4,250 at the time of writing.
Best Men's Dive Watch Under £9,000
21. Panerai Submersible QuarantaQuattro PAM01229
The Panerai Submersible QuarantaQuattro is a perfect dive watch for those looking to buy a Panerai to satisfy the inner professional diver.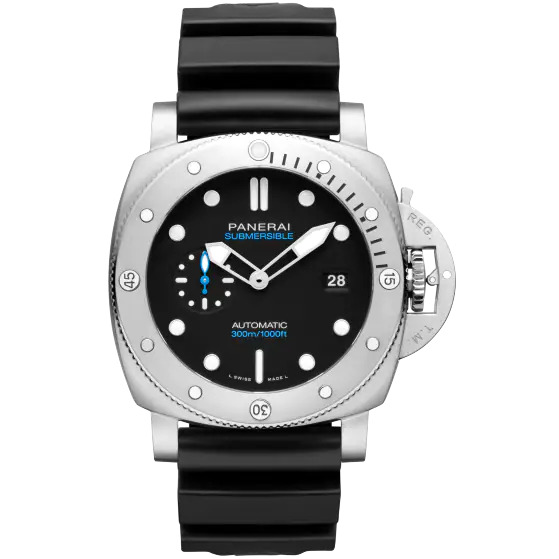 Panerai Submersible QuarantaQuattro - Source - Panerai
Built to withstand even the toughest of plunges, this has to be one of the most underrated dive watches under £9,000. Water resistant to 300m, the 44mm brushed stainless steel case, is handcrafted in Switzerland and powered by the automatic calibre P.900 which is an immensely high quality movement.
The stainless steel case combines the suitable sizing of dive watches without being obscenely large and unwearable in other social situations. The movement allows for a 3 day power reserve and an impressive 28,800 VpH. Fitted with an Incabloc anti-shock device to secure the movement, the 171 component movement is more than capable of dealing with the trials and tribulations of everyday life.
The unidirectional rotating bezel gives the user exceptional timekeeping for activities in the sea such as measuring the amount of oxygen left. It's unorthodox in its dot styling, but still exceptionally legible due to a handy feature. As is a staple of the ISO 6425 guidelines, these dive watches are coated with SuperLuminova, particularly on the hands and markers, allowing for maximum legibility while cruising the waves.
The strap is a durable caoutchouc rubber strap in black which matches up well to the black dial and silver stainless steel case and bezel. The white indices and hands do stand out exceptionally well against the black dial, alongside the date aperture located at 3 o'clock.
While some may not prefer the oversized stainless steel case, we think these are great dive watches due to their unique aesthetics. If worn with the classic black strap, this particular dive watch can be worn for most occasions, with your hands in the waves, shaking hands with your boss or flaunting the newest business proposal in the office. Alternatively, choose the dark grey strap to add some contrast while projecting the unique square dial out further.
You can buy a Panerai Submersible QuarantaQuattro at retail for £8,300 at the time of writing.
22. Grand Seiko SBGH255
Grand Seiko is known for beautiful dial styles and elegance. They've really emerged as contenders for best dive watches with the mammoth reference SBGH255 this time round!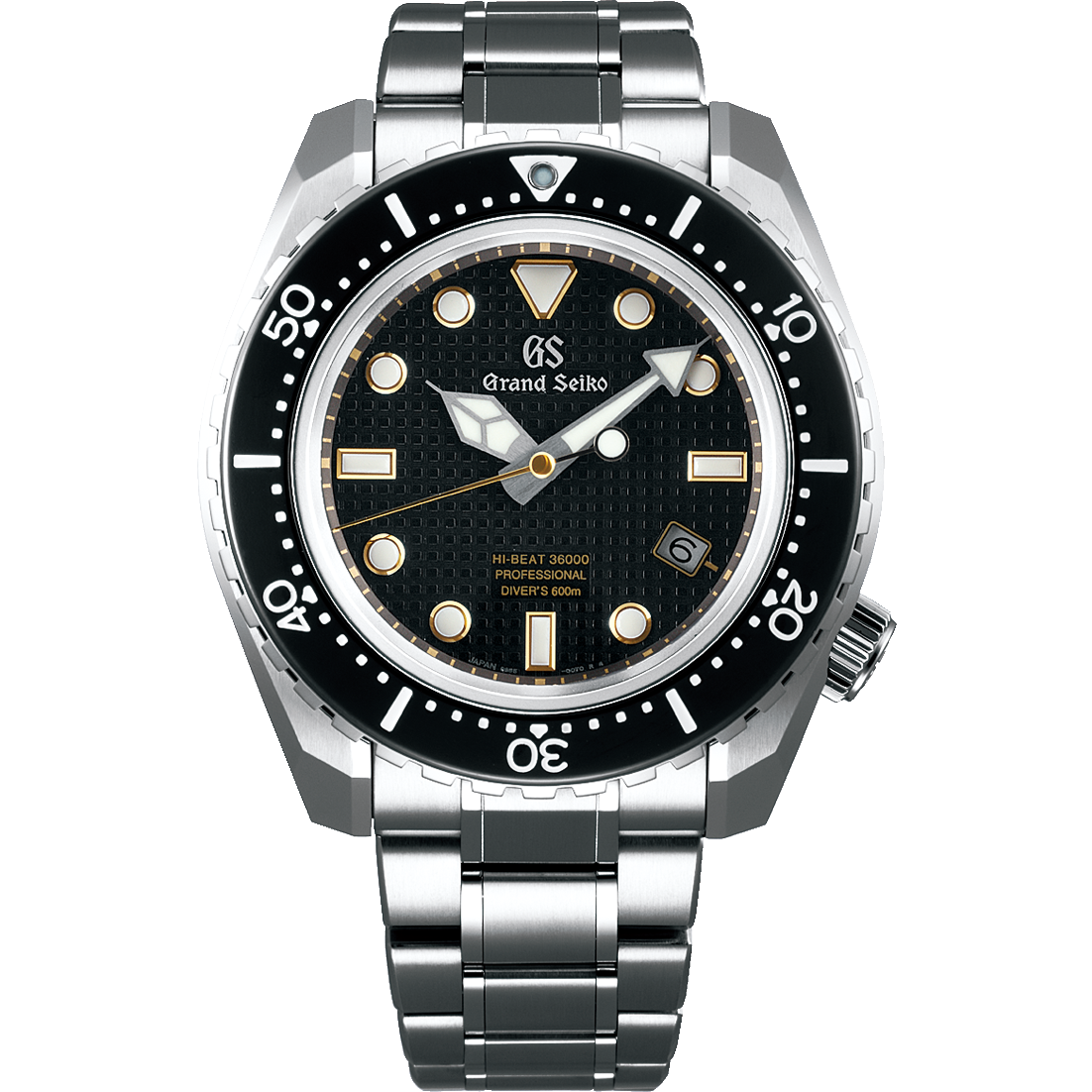 Source - Grand Seiko
Not quite the Deep Sea Challenge measuring 50mm but still you might need Hulk Hogan type wrists for this one. At 46.9mm, this dive watch is very big, especially in comparison with their own watches. However, Grand Seiko made the well-informed decision to use titanium as the core material.
Titanium is inherently lighter than stainless steel which is perfect for the average user who may wear this everyday. Though we don't advise it as it is a tad bulky. The caseback is screwed in, the crown is screwed in and the black bezel is uni-directional with white markers against it.
Given a generous daubing of Super-Luminova, the bezel is exceptionally legible, even when foraging in the brine and seaweed. Oh yes, this dive watch is more than suited for the best dive watches category, as stated in ISO 6425!
The dial is made of pure iron which allows the movement to be further protected from magnetism. Its black face allows the white dots and batons to clearly stand out, especially since they are edged with gold. Don't miss the date aperture at 4 o'clock. Coated with Lumibrite, the face lights up like the strip on Las Vegas.
Capable of reaching an epic 600 metres of water resistance, the dive watches movement, namely the Calibre 9S85 runs at around -5/+3 seconds per day and offers an excellent power reserve of 55 hours. 600 metres of water resistance for a piece that looks as tasty as this, is for us a real winner. Deep dive away time peeps, but make sure you keep your head above water around the 600 metre mark.
We suggest wearing this steely piece with a suave black suit or three piece number for those days where you're vying for recognition.
You can buy a Grand Seiko SBGH255 at retail for around £8,300 at the time of writing.
23. Blancpain Fifty Fathoms Bathyscaphe 5100 1140 O52A
The Fifty Fathoms collection is a classic in the horological universe. First released in 1953 like the Rolex Submariner, the collection prided itself on supporting the French Navy and US Navy later on down the line. Immediately, we know we are in the presence of horological greatness. You might say Blancpain set the horological barometer when it comes to dive watches.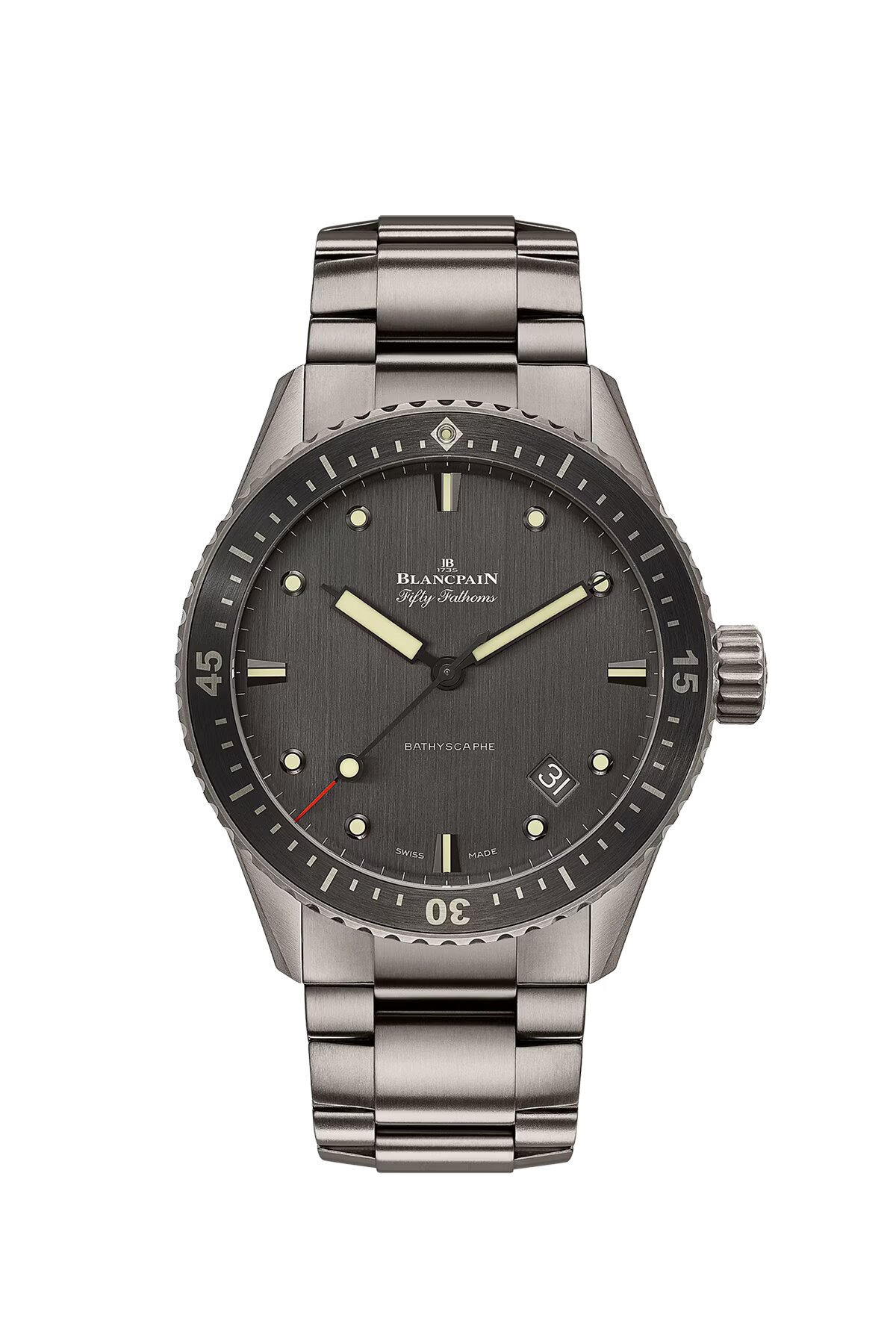 Source: Blancpain
This Blancpain model deviates away from the slightly bulbous 42mm case of previous watches, instead choosing to settle down with a more respectable and on trend 38mm. Crafted out of steel, the timepiece is only 10.8mm thick and delivers a not to be sniffed at 300 metres of water resistance.
The bezel is unidirectional and satin-brushed, plus it's complemented with a ceramic insert and Liquidmetal hour markers. This ensures complete legibility from the grey markers against the blue bezel. The dial is similarly a rich ocean blue colour with a sun ray finish. This means that light can cascade superbly throughout the piece, changing accents from a navy to a delightful summer blue shade.
The strap is aptly named the sail-canvas strap. How's that for an ode to the seas! Crafted out of fabric and connected with a very refined pin buckle, this dive watch is as sharp as a pin and looks very nice on the wrist, especially with its trimmed down case diameter.
Powered by the calibre 1150, the movement has a truly astonishing power reserve of 100 hours and a fairly steady beat of 3Hz. We'll take the modest beat for the near 4 day power reserve. The movement itself is extraordinarily slim at 3.25mm which is incredible for dive watches. We reckon that you could pull this off with a navy or pin strip suit. It's all about being confident, Timelords.
You can buy a Blancpain Fifty Fathoms Bathyscaphe at retail for £8,900 at the time of writing.
24. Omega Seamaster Planet Ocean 600M
The Seamaster Planet Ocean has been ticking along since its inception in 2005.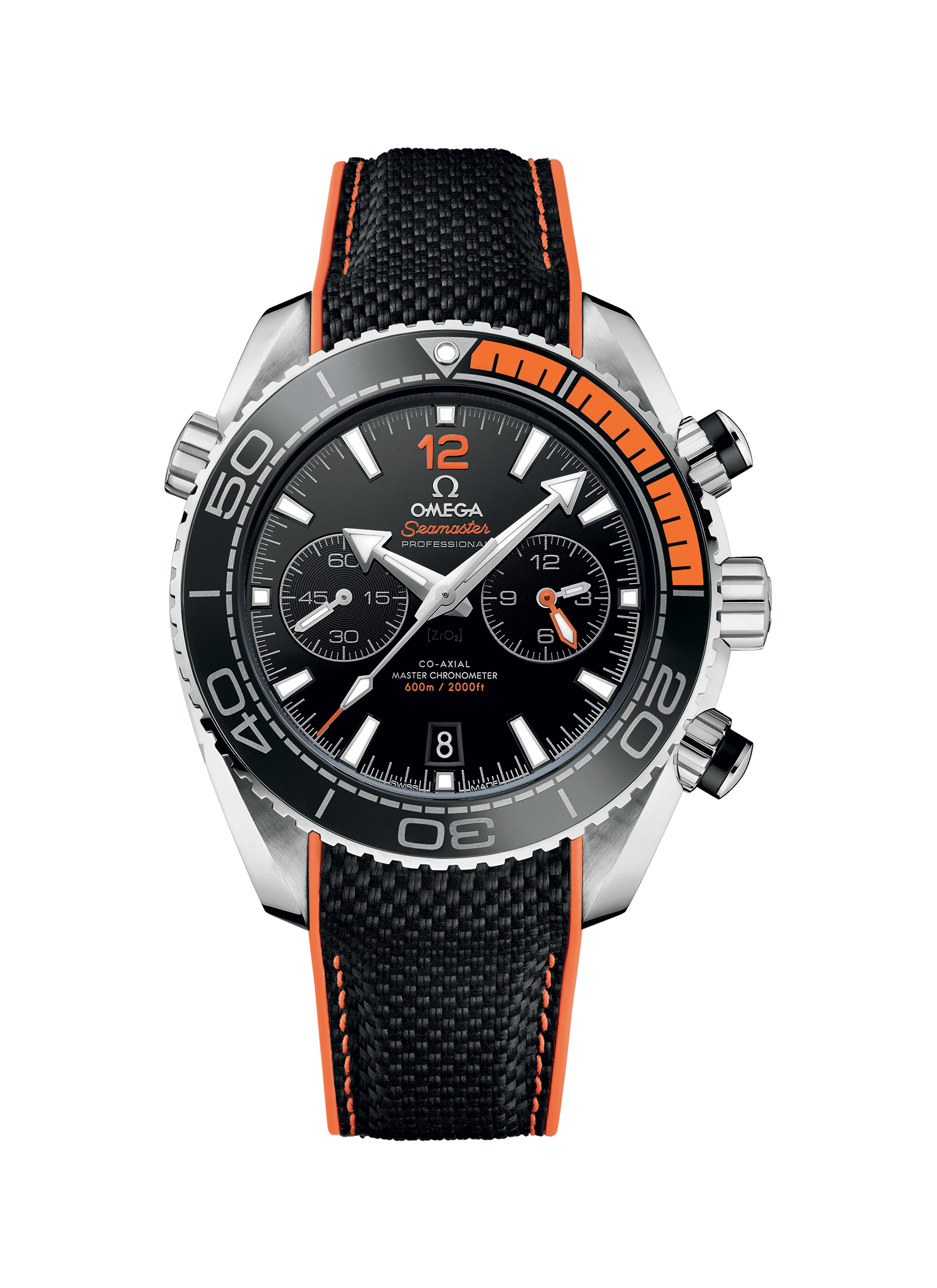 Source: Omega
Taking inspiration from the classic Seamaster models of 1957, the collection released the first dive watches fitted with the legendary Co-Axial escapement. We must remember though, Omega has been deep sea diving well before this as they regularly traversed with Jacques Mayol as they made their discoveries under seas.
Composed of stainless steel, the Seamaster Planet Ocean comes in at a weighty 45.5mm. Paired with a rubber strap, this dive watch is not only comfortable but more than capable of dealing with your deep sea dives from sailing round the Seychelles to mixing cocktails in The Maldives.
The bezel is a talking point as it features premier black ceramic, ensuring its legibility and first rate durability against knocks and scrapes. The dial is pitch black, ensuring the silvery indices and hands clearly stand out. This is enhanced with a good dose of Super-Luminova which emits a blue tinge on the indexes on the dial, but is decidedly green on the hands and bezel.
The movement is a strong point of interest for any budding watch connoisseur. Powered by the Calibre 9900, the movement is certified by METAS and runs an astonishing water resistance of 600 metres which is assisted via the helium escape valve.
The helium valve does have value for dive watches of this nature. Why? Because helium is a massive problem and damages the watch when it undergoes pressure when returning to the surface. The valve releases the pressure and the risk of harming the timepiece or for any air bubbles to enter.
The movement is Master Chronometer certified, guaranteeing the longevity and the accuracy of this timepiece. Look like a smooth criminal if you wear this with a black polo shirt or chill out with a day down by the beach. We're sure it'll cope with the water, whatever the adventure you take it on.
You can buy an Omega Seamaster Planet Ocean reference 215.32.46.51.01.001 for £8,100 at the time of writing.
25. Panerai Luminor Marina Navy Seals
We know all about the associations Panerai has with Dwayne 'The Rock' Johnson, Sylvester Stallone and even Arnold Schwarzenegger.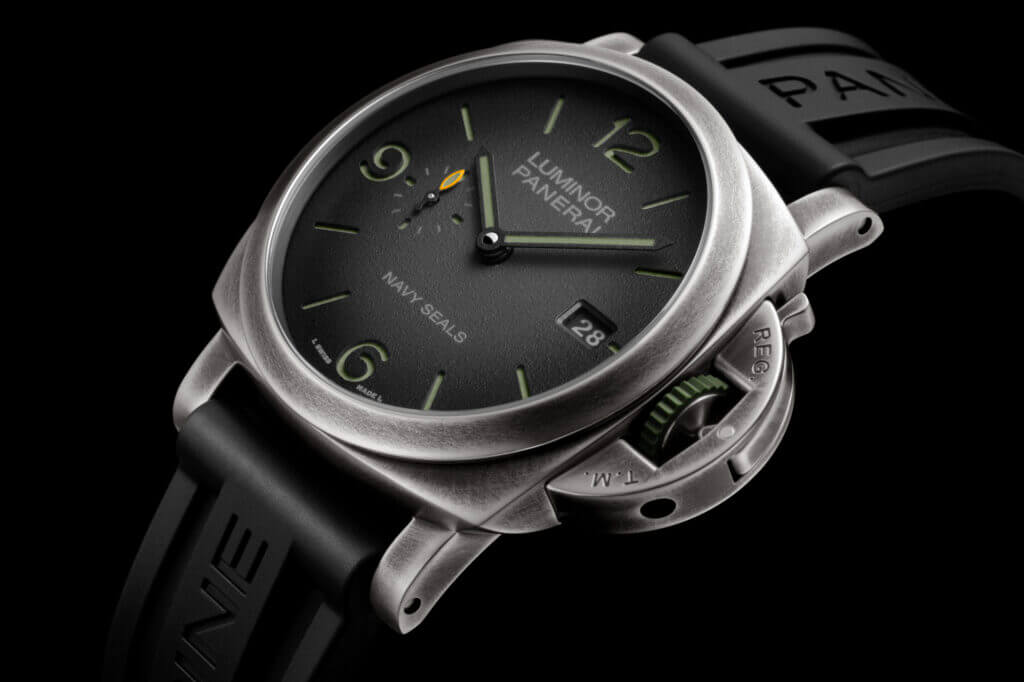 Source - Brand's Site
For a brand associated with strong men, they have a certain air of ruggedness that's found deep with the military. After all, they did invent Radiomir, the first ever luminescent substance on a timepiece and was quickly adopted by the Italian armed forces.
They have since evolved, but not without quiet nods to their history. The Luminor Marina Navy Seals come in at 44mm and are crafted out of the brand's phenomenal Brunito steel. Brunito relates to the stylish finishing on the steel casing that undergoes PVD coating and a burnishing by hand to attain a worn, vintage feel.
The grey to black gradient sandwich dial boasts a highly luminescent green material on the hour markers and hands. Featuring a stylish black date wheel based at 3 o'clock inside of an iconic crown guard, there's a running seconds function at 9 o'clock which offers a flash of yellow colour on the hand.
Powered by the P9010 calibre, the timepiece offers 3 days power reserve and a solid frequency of 28,800VpH. Offering 300 metres of water resistance, the piece is sturdy and rugged. Therefore, we wouldn't suggest you wear it with a suit due to its bulbous sizing, but a leather jacket is perfect for this versatile piece.
You can buy a Panerai Luminor Marina Navy Seals at retail for £8,500 at the time of writing.
Best Dive Watches Under £16,000
26. Omega Seamaster Ploprof 1200m
The Omega Seamaster Ploprof is noted for its ability to reach 4000 feet beneath the tumultuous waves.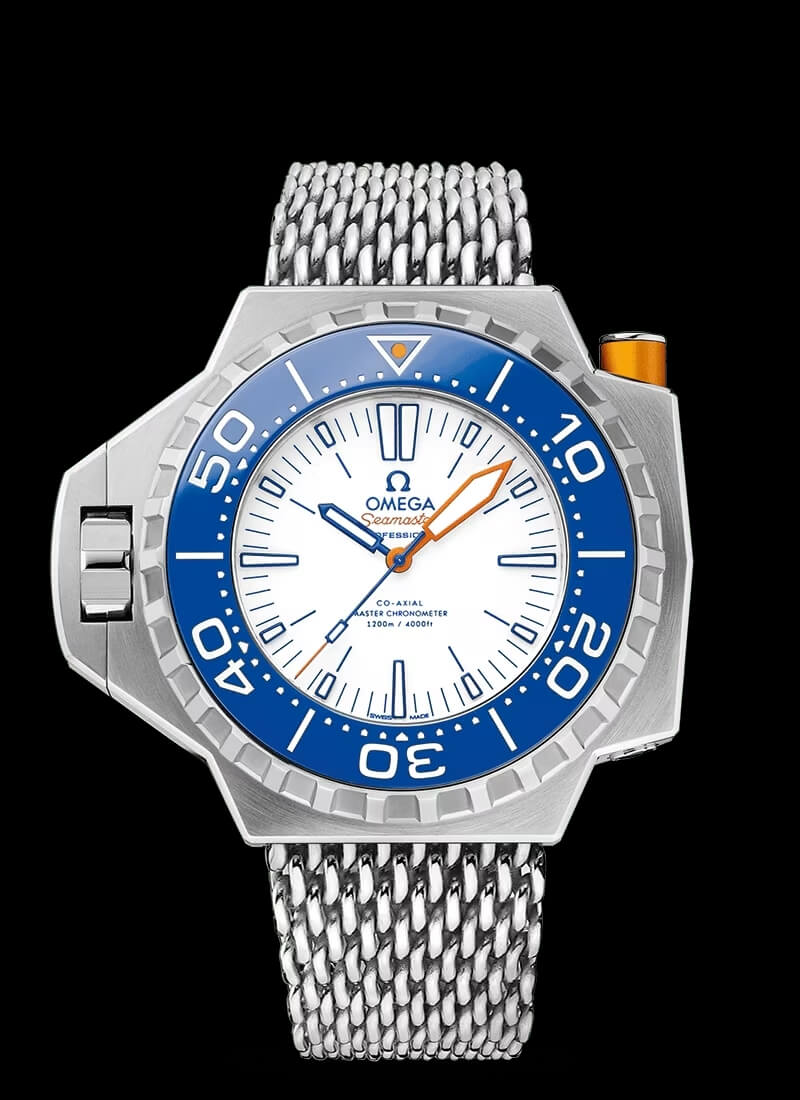 Source - Brand's Site
As one of Omega's best dive watches, The Ploprof is updated with the fantastic Master Chronometer status, boasting the precision and quality of the timepiece. At 48mm, this titanium edition is by no means an easy model to try and wear on a day to day basis. But we do like the retro inspired touches such as the monobloc case.
Grade 5 titanium is a prime material to use for an edition of this size as it's not only exceptionally durable, but very light, allowing the size of the timepiece to not be so weighty on the wrist. Featuring the classic design of the previous watches, the model features a bulbous crown guard on the left hand side.
Featuring an electric blue ceramic bezel ring with the scale, triangle and hour markers filled with Super-Luminova for visibility. The dial is white lacquered, finding its jolts of colour present on the orange aluminium and varnished blue hands.
The bracelet similarly follows the titanium construction, instead opting for grade 2 titanium instead of grade 5, adding to the durability and style of these dive watches. The model is powered by the Omega 8912. Given a Co-Axial escapement, it is a Certified Master Chronometer that's approved by METAS and capable of reaching 15,000 Gauss.
Offering 60 hours of power reserve and a solid frequency of 3.5Hz, this is a hardy piece for the water dwelling user. Capable of reaching 1200 metres of water resistance, the timepiece is not one for long shirt sleeves or tight cuffs. Instead, opt for wide sleeve jackets or t-shirts instead.
You can buy an Omega Seamaster Ploprof 1200m at retail for £10,160 at the time of writing.
27. Grand Seiko Evolution 9 SLGA015
The Evolution 9 collection is the jewel in Grand Seiko's portfolio when it comes to dive watches.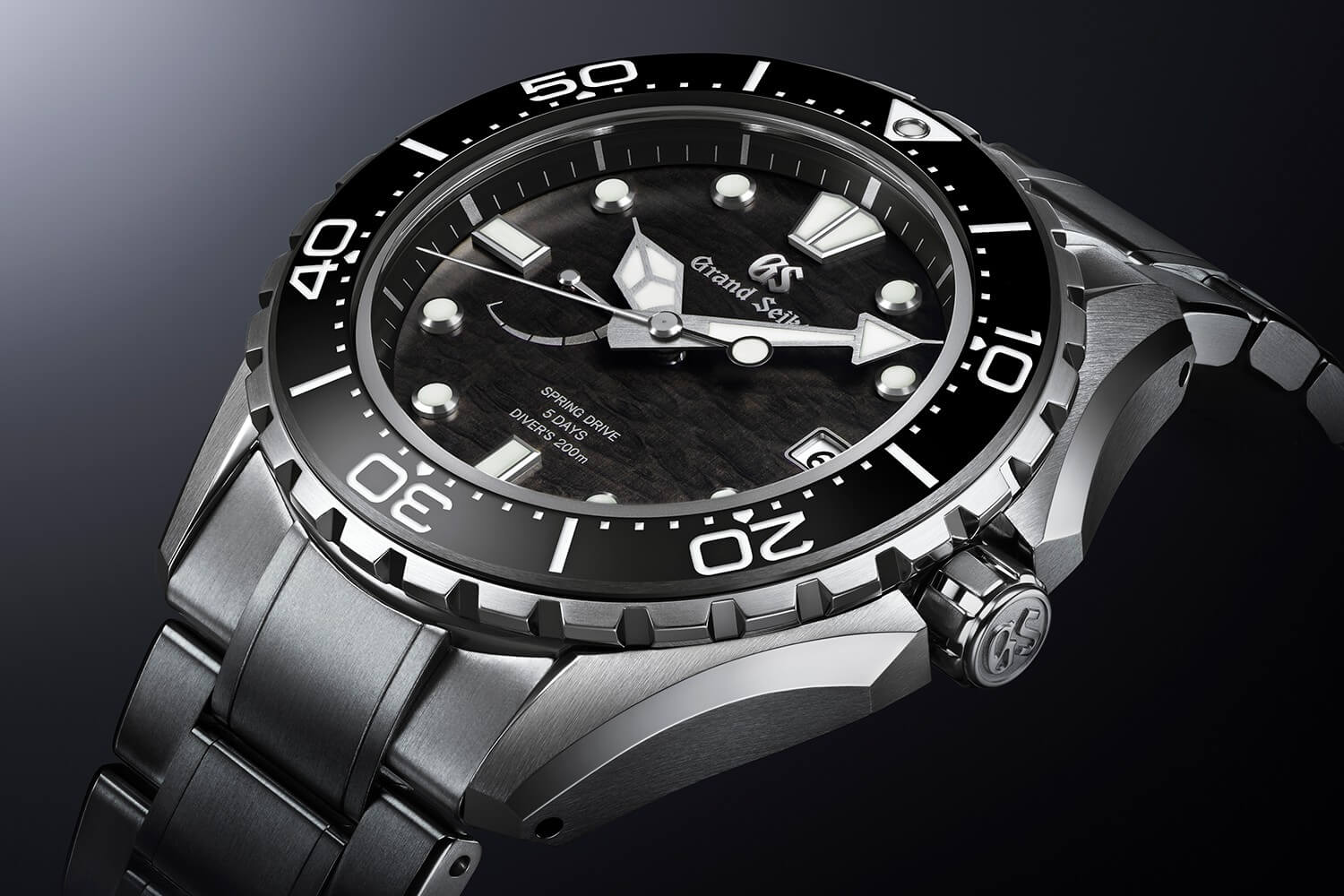 Source - Brand's Site
In 2020, the collection was released with the same charm they have retained since the brand's inception in 1960. At 43.8mm, the titanium case is a great addition due to its awesome properties such as its inherent durability and lightness over its counterparts like steel.
It feels good and can roll with the punches. Does it look good? The timepiece is given a high contrast dial, priding itself on the classic black dial aesthetic against the highly legible dot hour markers, aside from 12, 6 and 9 o'clock which are made up of batons. At 3 o'clock is a functional date aperture, adding another useful dimension to the model.
The hands and hour markers are coated with Lumibrite which allows for exceptional visibility, even when you reach the max water resistance of 200 metres! The combination of baton hour markers with dot indices means this is the top piece for quickly reading the dial, no matter where you find yourself.
The model is powered by the patented Spring Drive calibre 9RA5. The Spring Drive is entirely in its own league. Generating energy just like a mechanical piece, it is given an electronic regulator to attain a fantastic level of precision. Capable of reaching a phenomenal stat of +10 seconds per month, the movement utilises an Offset Magic Lever to make the model smaller than its Calibre 9R65 predecessor.
Worried the model will die on you when swimming with the fishes? The power reserve indicator at 9 o'clock should keep you in check. We aren't too concerned though. After all, it does offer an impressive five day power reserve!
It's pretty bulky so wear this titanium beast with your finest navy shirt with the sleeves rolled up. Too cold? Go with a green cashmere jumper so the piece can slide under the cuffs with the best simplicity.
You can buy a Grand Seiko SLGA015 at retail for around £10,400 at the time of writing.
28. Jaeger-LeCoultre Polaris Date Q906863J
Can a dive watch ever be stylish? We would be remiss if we didn't mention the sensual Jaeger-LeCoultre Polaris Date Q906863J.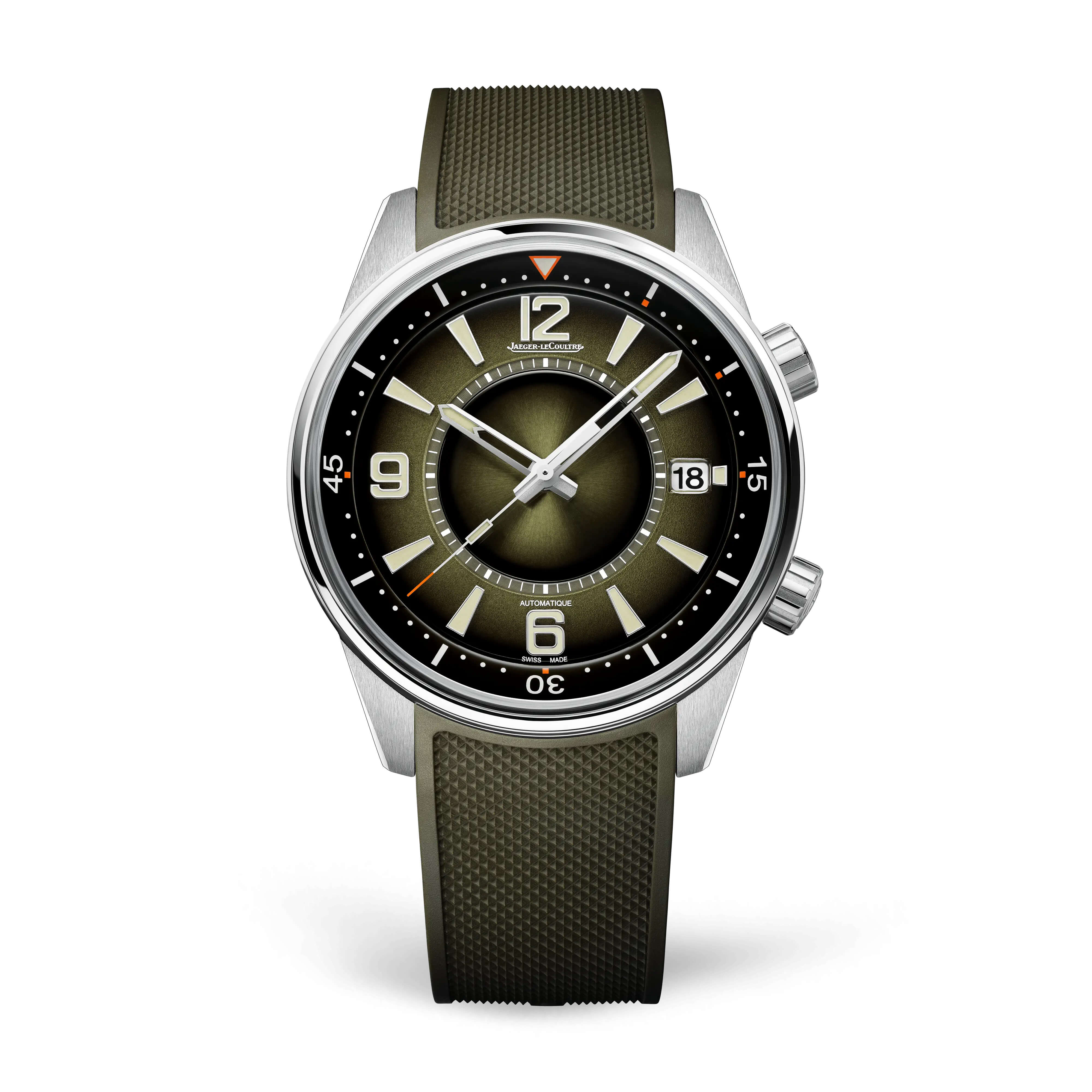 Source - Brand's Site
At 42mm, the model is crafted out of stainless steel which is the classic piece for dive watches. Featuring sharp lines and a double-polished satin finish, the timepiece is combined with a fantastic green rubber strap and a beautiful Clous de Paris motif.
Featuring a glass box style crystal and fine bezel, the combination of brushing and polishing is perfect for all manner of wearers, whether or not you are wanting a sport or dressy allure. The style celebration is big on the case, but the heat of the party is really on the dial!
The Polaris Date Dial is made up of a fantastic sunray finish decoration as well as a grained design. While the dial is stupendous on its own with just this aesthetic, JLC goes one step further with 36 layers of lacquer applied to feel out the fantastic green gradient of the dial. They then give a fantastic polish to give the dial a shine that cannot be contended with.
While this is a really tasty dial in terms of style, we note that the dial is exceptionally legible, without negating the aesthetic. Mixing opaline, grained and sunrayed surfaces, every aspect of the dial is visible. Undergoing a healthy dose of Super-Luminova on the white teeth hour markers and Arabic numerals at 12, 6 and 9 o'clock, a date aperture is also notable at 3 o'clock.
Following on from the design features of the original 1968 Memovox Polaris, this edition features a rotating inner bezel that is navigated through the crown at 2 o'clock, allowing the user to measure offsets or countdowns. Powered by the brand new Calibre 899, the watches offer a great 28,800VpH and a strong power reserve of 70 hours. We particularly enjoy the sapphire caseback that allows us to see into the open worked rotor with circular graining and Côtes de Genève finishing.
Looking good has never been so easy with a 200 metre dive watch with astounding design elements. We do recommend a green suit shirt or a black suit if you want to keep things sharp.
You can buy a Jaeger-LeCoultre Polaris Date at retail for £10,700 at the time of writing.
29. Rolex Sea-Dweller 126603
The Rolex Sea-Dweller 126603 comes in at 43mm and continues on the great reputation of the fantastic Sea-Dweller.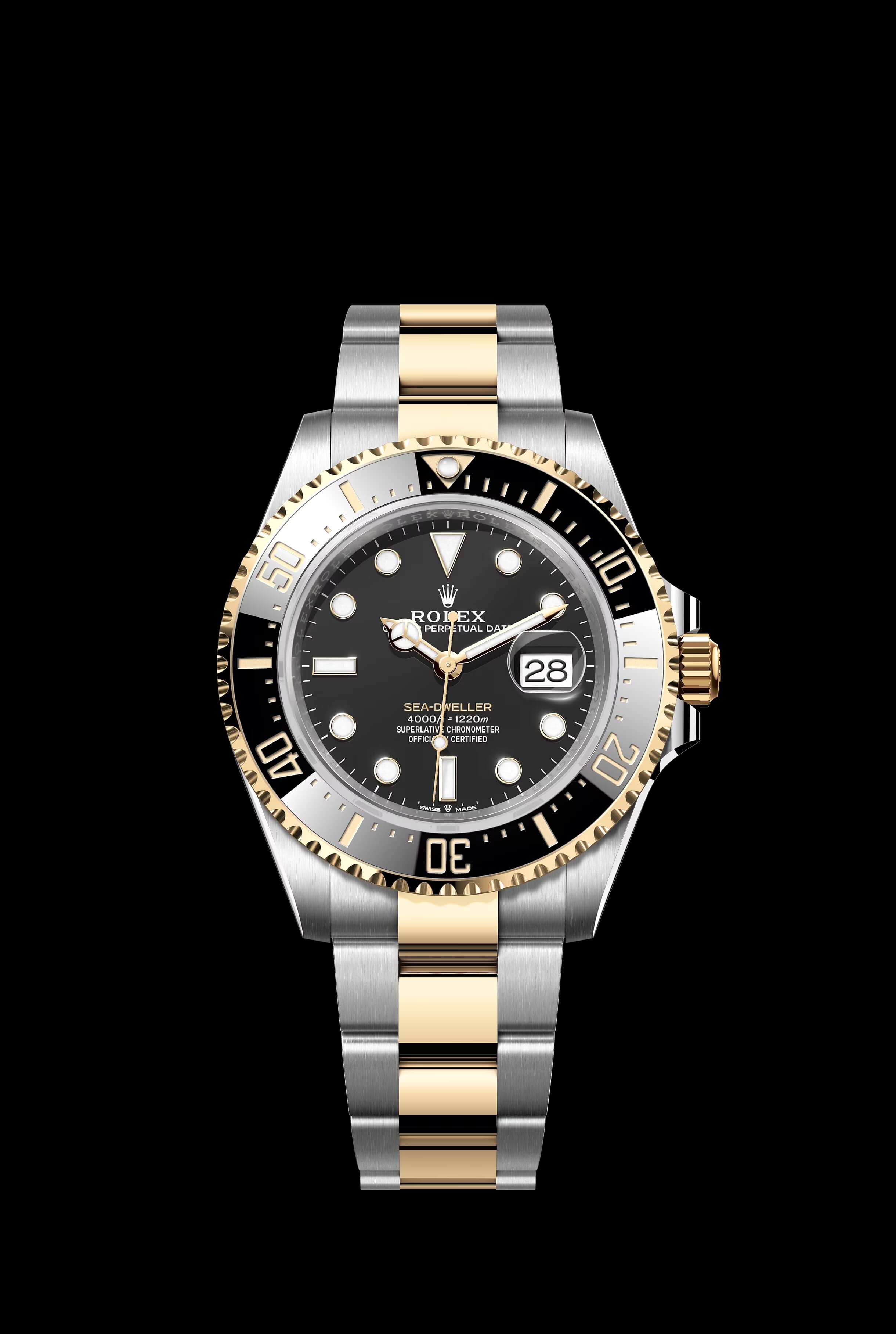 Source - Brand's Site
Rolex have delivered many historical milestones, including a piece resistant to 2000 metres in 1967, a fresh model that reached 4000 metres in 1978, its discontinuation in 2009 and now the very fresh edition in two tone steel and yellow gold from 2019.
Not all dive watches have to be steel and therefore the link up with the beautiful yellow gold precious metal offers a delightful adaptation to the steely piece. The yellow Rolesor case has been in Rolex's portfolio since the 1930's and it boasts the durability of Oystersteel with the luxury of yellow gold.
Featuring a fantastic 60-minute graduated bezel that's unidirectional, wearers can measure their dive and decompression times. Given a patented Cerachrom bezel insert, the bezel is extremely legible, not to mention very attractive with the black background and yellow gold markers that stand out clearly.
The similarly black dial face of The Sea-Dweller boasts large white hands and dot and baton indices. Edged with a yellow hue, the Chromalight display boasts legibility and visibility in all circumstances. The beautiful blue glow is patented by Rolex and offers up to eight hours of clear legibility.
Featuring a great Oyster bracelet, its design is suave and it boasts the capability to be comfortable and robust. Fitted with an Oysterlock clasp and a glidelock function, the bracelet can be adjusted with little problem whatsoever, even to be worn over your trusty diving outfit.
Powered by the Calibre 3235, it is precise to -2/+2 seconds per day. Supported with Paraflex shock absorbers and a blue Parachrom hairspring to protect against magnetism, it has a power reserve of 70 hours and a Superlative Chronometer certification, boasting the durability and accuracy of the piece.
We reckon you flex this piece with a navy suit or a crisp white suit to let the gold be showcased. You can buy a Rolex Sea-Dweller at retail for £15,150 at the time of writing.
Conclusion
There you have it, oh precious timekeepers. The list for the 29 best dive watches for men under £9,000 is complete. Dive watches have changed over the years. Moving away from the impossible such as the Rolex Deepsea with its incredible depths and 50mm girth to dive watches like the hotly talked about Tudor Pelagos 39, suitable for the everyday man.
Helium valves are on a few of the models like The Omega Seamaster Planet Ocean, but for the modern user, they won't dive far enough to warrant needing to release helium. Instead, by negating the helium valve design, the case is sleeker and modernised.
Some watches have helium escape valves, others have wacky materials. Either way, this list of the 29 best dive watches is the key list for you to take on the plane or private yacht.
It's nice to see that there are diving watches out there which are still really high quality, but at a more affordable price. From the iconic Rolex Submariner, to the stunning Tudor Black Bay 58 Bronze, the dive watch world ticks on relentlessly bringing with it phenomenal innovation and design. Dive on you crazy diamonds!
Can't wait to buy a Tudor Pelagos? Feeling the itch to buy an Omega Seamaster Planet Ocean before they are all snatched up? Have a chat with Chrono Hunter here to find out what we are all about. Alternatively, check out our phenomenal reviews on Trustpilot to discover why we really are your essential source to buy a watch or sell a watch.
Discover, hunt, buy, sell
Further Reading:
The Top 12 Most Popular Breitling Watches For Men
Omega Speedmaster Moonwatch Review
Matchtime - Breitling v Audemars Piguet
Buy Or Sell A Luxury Watch The Smart Way With Chrono Hunter
If you are considering your new purchase or perhaps the sale of a beloved timepiece, Chrono Hunter is the smart way to buy or sell a luxury watch.
Compare Offers from the worlds most reputable luxury watch retailers.
Save Time.
Save Money.
Personalised Service.
Hassle-Free.
Trending
Daniel Craig Puts Watch Enthusiasts On High Alert Flexing A New Unseen White Dial Omega Speedmaster
9 Of The Best Meteorite Dial Watches For Spaced Out Enthusiasts
Question Time: Should You Buy The Revamped 39mm Longines Legend Diver Watch?
The Very Best Yellow Dial Watches For The Modern Horophile
The 11 Best Bronze Watches For All Patina And Vintage Lovers - Hublot, Longines, IWC
All The Essential Waitlist Times For Rolex Watches - Submariner, GMT-Master