Chrono Hunter's Bold Predictions and Outlandish Forecasts Part 2: Watches and Wonders
This year has already been a whirlwind of horological delight for watch addicts. Only recently, we saw the hottest collaboration since 2022, as Omega and Swatch unveils The Golden Moonswatch while H. Moser & Cie have recently tantalised our peepers' thanks to the introduction of the H.Moser & Cie Endeavour Perpetual Calendar Tantalum.
It's only right we maintain our composure (as such) and look forward to the hotly anticipated Watches and Wonders in Geneva. Previous releases we have admired at this prestigious event include Seiko's release of the Grand Seiko Kodo Constant-force Tourbillon, worth almost £300,000 and the release of the left-handed Rolex GMT Master II.
We predict that you will thoroughly enjoy this article and buy a watch from us (insert 90s hypno wheel) Read on!
A New Colour For The Tudor Pelagos 39?
From the Tudor Pelagos 39 original release in 2012 to their updated version in 2022, we are hedging a bet that a potential blue edition will be released at Watches and Wonders. Odds on this aint but we're simply clutching at some well founded straws.
It isn't like blue is foreign to the Pelagos collection. If we cast our minds back to the turbulent time of 2021, the Pelagos FXD came with a blue bezel, dial and matching strap. May we say it looks absolutely glorious.
The Tudor Pelagos 39 is already an icon in the watch community. Lauded by many as the best dive watch in the world, it keeps Swiss giants like the Rolex Submariner and the Sea Dweller Deepsea on their toes, allowing alternative options for those looking to buy a watch with big boy diving capabilities.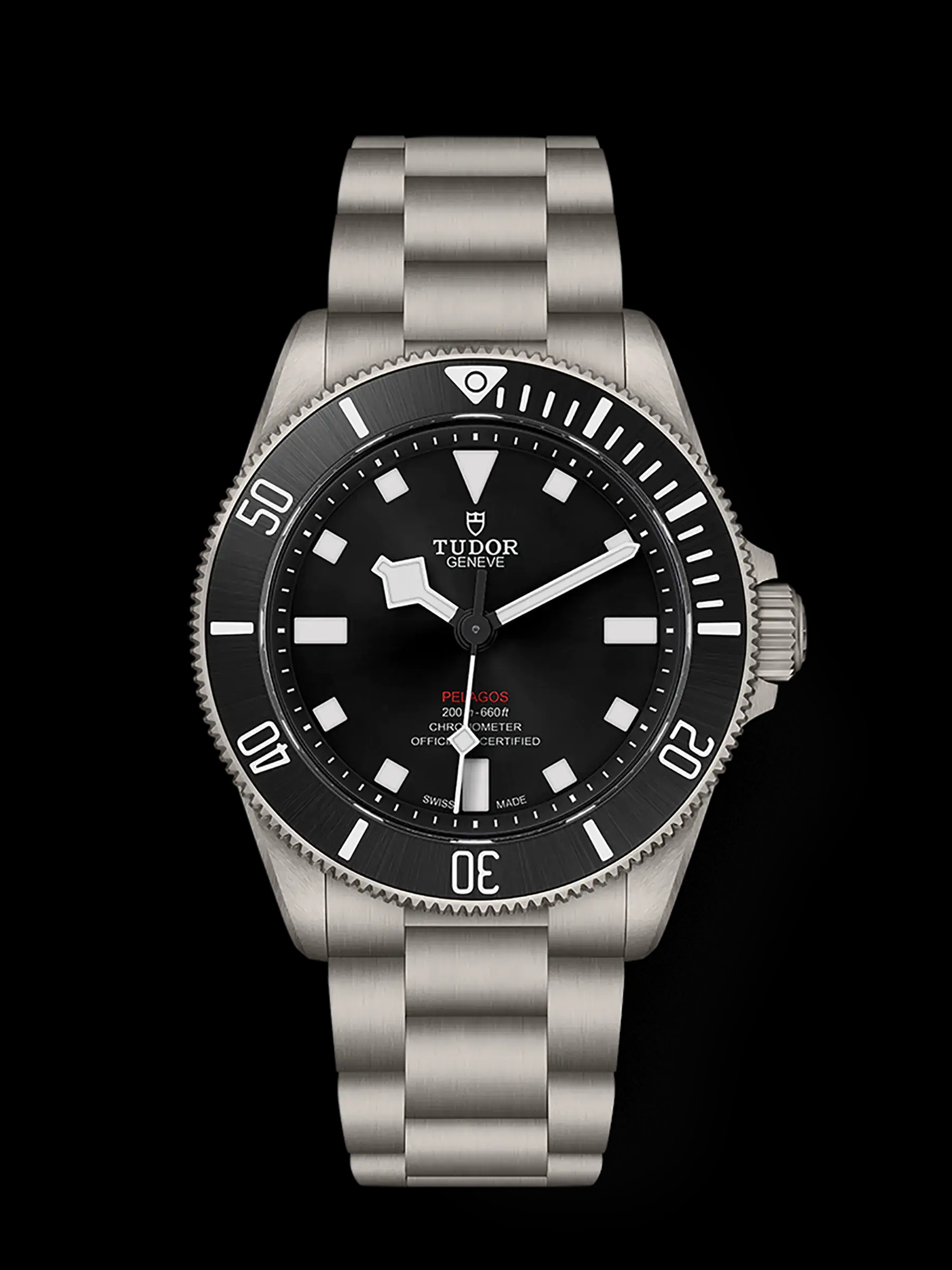 Pelagos 39 - Source - Tudor
The Tudor Pelagos 39 represents a change from the standard dive watch, due to its smaller size in comparison to its Black Bay brother at 42mm. A much more suave design despite its dive watch characteristics, it is much more fashionable and perfect as a daily driver.
The sunray effect on the bezel and dial which when combined with its sandblasted flange, gives a seamless design that projects the white hands and markers. Perfect for those looking to buy a Tudor with a little glamour.
Sorry to be the bearer of bad news but it doesn't have a helium escape valve. However, it does have a unidirectional serrated bezel as a reminder that this is still very much a diving watch. Alongside the very legible SuperLuminova indices and hands, this is certainly a watch that fills in the space between the bulky Pelagos predecessors and its Black Bay brethren.
Modern and vibrant, if this watch does materialise, it would certainly be a strong investment opportunity as the Tudor Pelagos collection is already highly regarded. For example, the Pelagos FXD won 'Best Divers Watch' at GPHG showing how the potential for the Pelagos collection to vastly increase in value may be limitless. If you buy a Tudor with the new blue dial and strap, it would mean the watch could be worn while kicking back on your yacht or firing out spreadsheets in your outfit conscious workplace.
Chrono Hunter thinks that blue could modernise the model even further, pushing the Pelagos to become the most revered dive watch in the world. Can't fault us for dreaming, right?
Rolex Submariner Undergoes A Full Transformation
We mentioned in our previous Bold Predictions and Outlandish Forecasts article that the Explorer would be dressed up in titanium.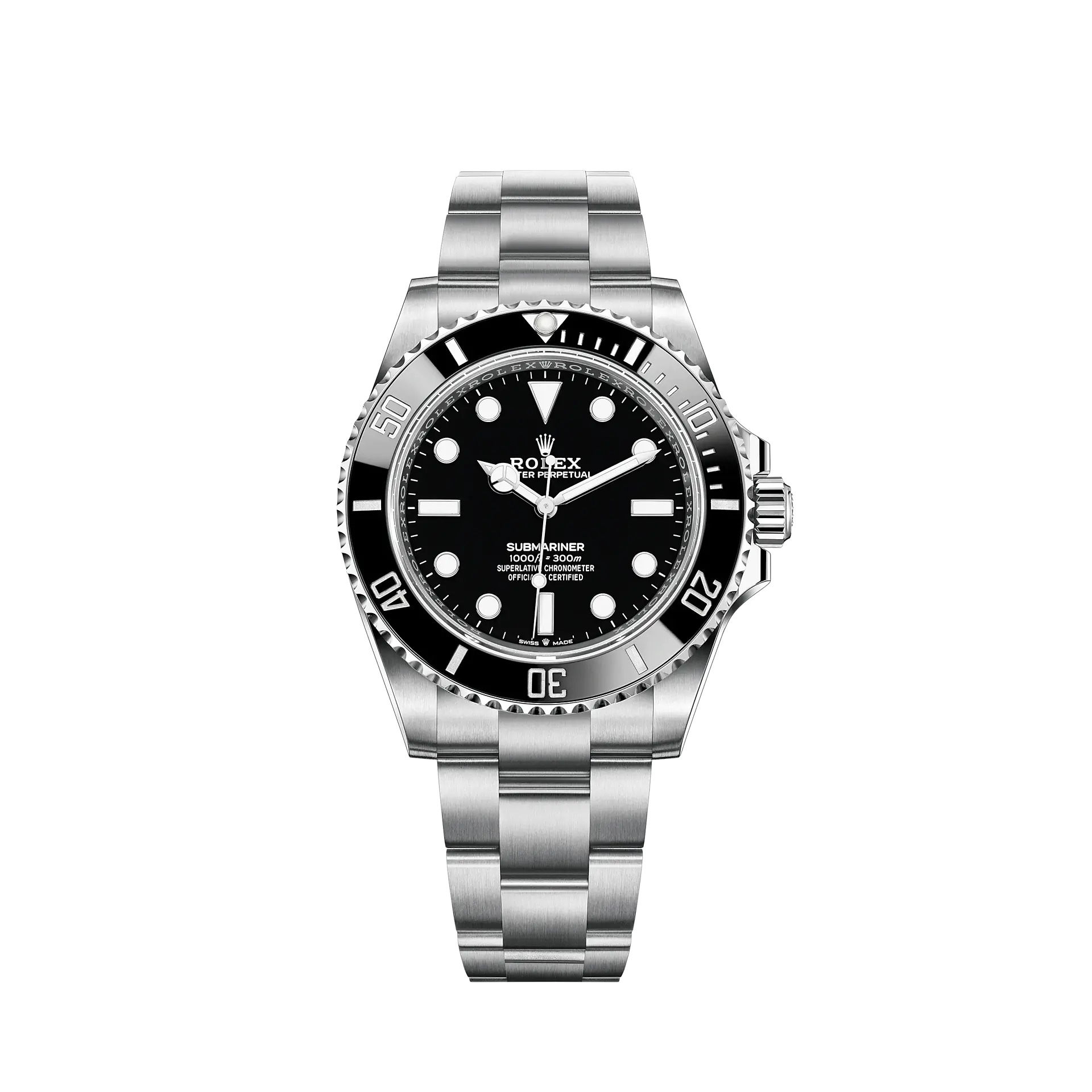 Rolex Submariner - Source - Rolex
Now, we aren't saying that this won't happen. Wouldn't it be great though if the Rolex Submariner got in on the act? The Submariner could very easily be deemed as Rolex's key sports watch since its release in 1953 and with its 70th anniversary coinciding with Watches and Wonders, we may see this phenomenal milestone celebrated with a new design.
This wouldn't be a concept that's unheard of by Rolex. For example, In 2005, Rolex released the GMT-Master II Green Dial 116718LN as a celebration of the GMT-Master's 50th anniversary. This is also a watch you should look at if you want to buy a Rolex as it's eternally cool with its unique green dial. You could easily pull this off with an outfit as equally daring such as a dark green shirt with tapered chinos.
This was the first watch to have a dial in Rolex's signature green and have the 'Super case' design which is a bulkier structure. Just like the Submariner has now on its bezel, this was also the first watch to have a Cerachrom bezel.
Rolex has progressed more towards titanium ever since their first attempt with the Deepsea Challenge 126067. This was highly successful commercially and the inherent lightness of the titanium made sense to utilise on a watch which is well known to be bulbous. The Submariner has seen alterations fairly recently, namely in 2020 wherein the case increased in size from 40mm to 41mm. Meanwhile, the calibre was upgraded to the 3230 instead of the old 3130.
These physical adjustments were only rather small, but do suggest that Rolex are willing to alter their most prized possession. Maybe Rolex will pluck up the courage to boldly go where no other titanium watch has gone before and release a blue dial and bezel? The Submariner is already valuable and highly sought after among watch circles.
But this alteration to one of the greatest Rolex's ever created could see its value boom due to being such an unprecedented move. It's definitely food for thought if you want to buy a Rolex. Worn diving into the seas in Bali or a statement piece while shaking hands with your boss over dinner, watch out for more info next month.
Gods of the watch world, grant us this wish!
The Milgauss Gets Revitalised
This really is a do or die situation for The Rolex Milgauss.
The Milgauss doesn't get the praise it very much deserves. Born from the desires of scientists to tell the time in places with strong magnetic fields, it has the capability of resisting magnetic fields up to 1000 gauss according to CERN.
As if that little statistic wasn't enough to make you want to buy a Rolex Milgauss, the second hand is crafted in the shape of an orange lightning bolt paying tribute to the original model. Oh yes, timelords, this model really is a beast and worth a second glimpse if you want to buy a Rolex.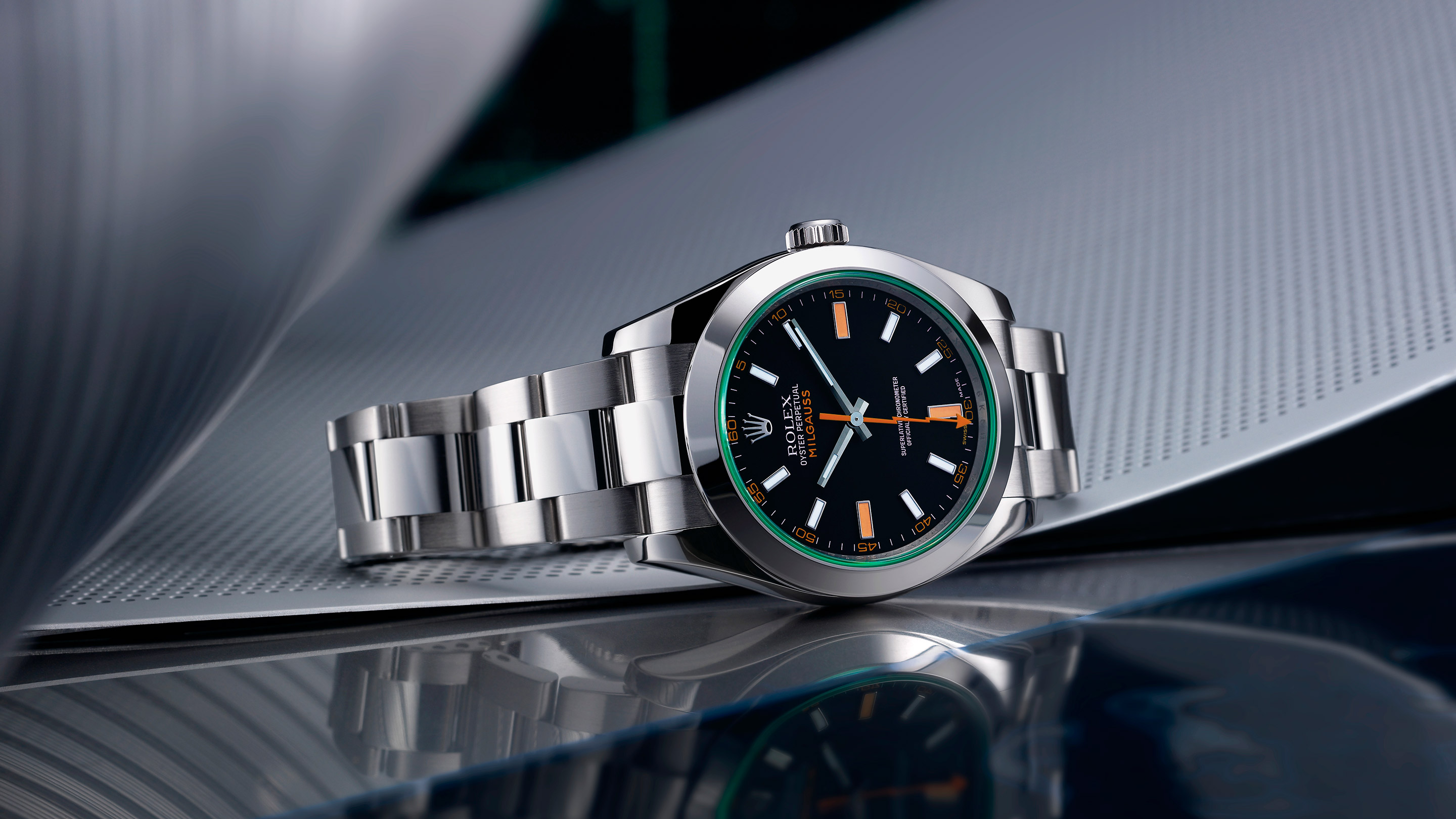 Rolex Milgauss - Source - Rolex
Rolex haven't touched this collection since 2007 and after the removal of the white dial 116400 in 2016, only a measly two models remain in the collection - a 'Z-Blue' dial and a black dial.
Frankly, it would take some Frankenstein style science to revive the Rolex Milgauss back from its lull of silence…but we can only hope. It's on this horological notion that we predict (crystal balls at the ready) that Rolex will release a new Milgauss model at Watches and Wonders 2023. If it doesn't, we fear that the Milgauss collection has rang its own death knell.
Omega has been one of the leaders of the anti-magnetism movement as their Master Chronometer Certification movements has allowed them to produce resistance to magnetism averaging 15,000 gausses on almost all of its timepieces. Yet, The Milgauss is revered as an anti-magnetic watch but is somewhat limited to a resistance of 1000 gauss. Doesn't really seem like much to boast about in the modern era. If the Milgauss was released, it could bring back some credibility to its waning reputation. Hopefully, we won't see it slide into the abyss of discontinued models.
The Rolex Air King and the Milgauss are very similar at 40mm but the Air King 126900 has been updated with crown guards and the new calibre 3230 as opposed to the Milgauss 3131. Due to their similarities, it wouldn't be foolish to imagine the Milgauss seeing an update of any upgraded calibre or design technicalities.
Chrono Hunter predicts that the unique green sapphire crystal and the orange lightning bolt seconds hand will remain. That's if we separate the tea leaves for a second! The differences however will come in the form of new crown guards and calibre like the Air King and, this is a very big maybe, possibly the re-introduction of the white dial, previously discontinued in 2016.
The Rolex Milgauss, as most Rolex's are by their very existence, are valuable. For example, you can buy a Rolex Milgauss at retail for £7,850 but on the secondary market, it sells for upwards of £10,000 at the time of writing.
This update would revitalise one of their quieter collections and re-popularise it, making it more collectable and thus more valued. If fitted with a white dial, it would suit the relaxed atmosphere of a casual Friday dress down office day, paired with a cashmere jumper so the watch is visible.
Do it for your pride, Rolex. Let's get the Milgauss back to where it belongs!
The Rolex Daytona Gets A Makeover
The Rolex Daytona is always the go to coveted timepiece for those looking to buy a Rolex. Simply put, it started off not so dandy, reaching the point where retailers were offering discounts on the watch.
After its new release at Baselworld with a ceramic bezel and the subsequent hype of Paul Newman's model selling for around £14m, the watch boomed and has become coveted ever since.
While the Rolex Daytona is extremely collectable and highly regarded amongst all watch aficionados, it hasn't been updated since its 2016 alteration of a Cerachrom bezel and black rings around the counters.
Before that, there was only a platinum version with a brown ceramic bezel in 2013 after a 13 year wait from the last update in 2000 in the form of the reference 116520. While the 2013 and 2016 updates were fairly significant, 2000 represented the introduction of the in-house automatic calibre 4130, which was a big deal at the time. But time moves on as they say.
In our previous article, we referenced The Rolex Daytona would possibly have a new dial colour, an increase in model size and the far fetched possibility of seeing a pimped up new model in celebration of its Diamond Jubilee. If it happened, would you immediately buy a Rolex Daytona? We know we certainly would.
In this case, we predict that a new colour scheme, sizing and sporty effects will come into play. We feel that the calibre 4130 is very strong as it is, with its Parachrom hairspring and column wheel, ensuring exceptional precision and phenomenal shock stability. But forecasting the next iteration of the Daytona is as tricky as guessing the Grand National winner.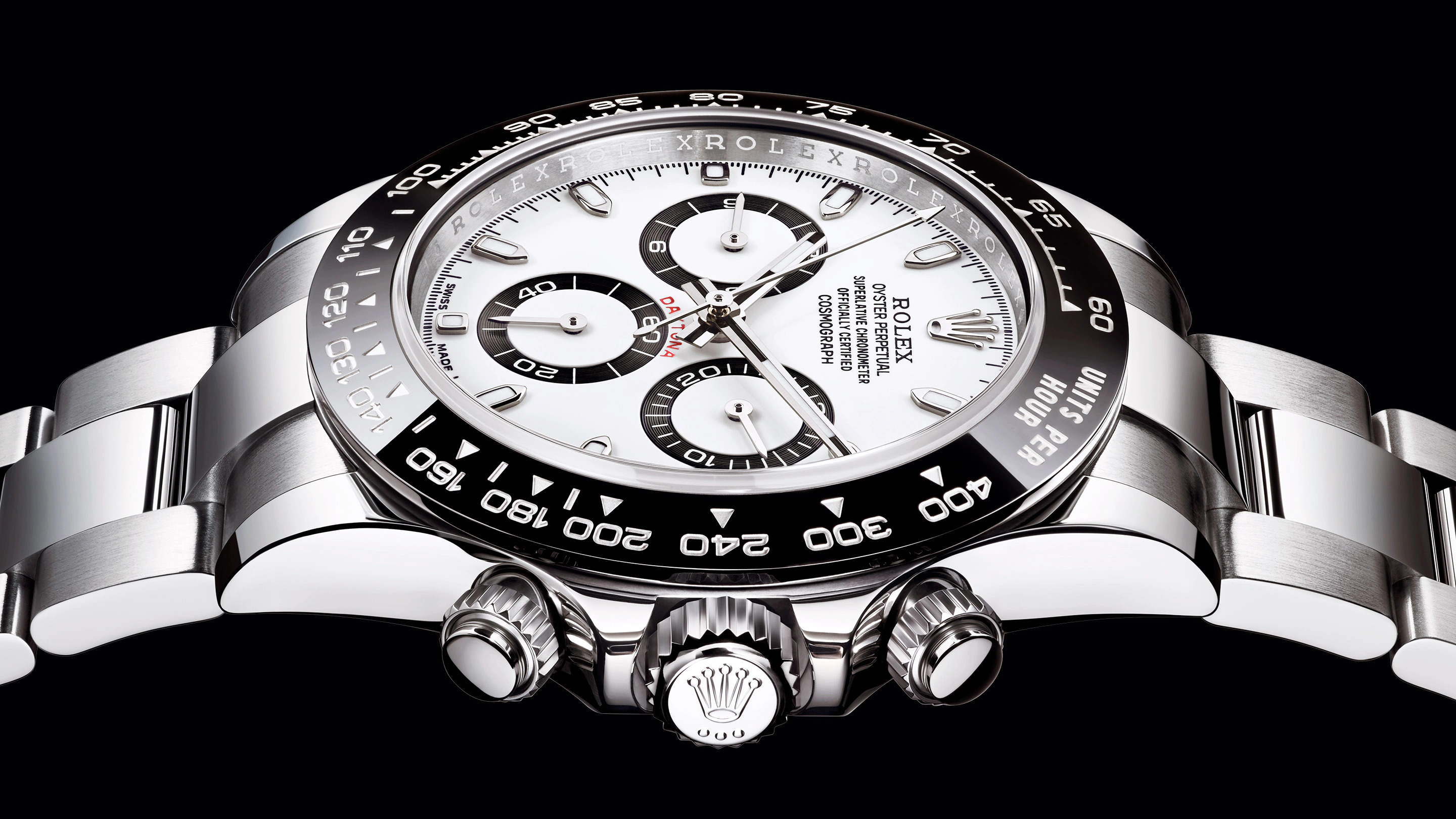 Rolex Daytona - Source - Rolex
But with forecasts, it really is horses for courses, especially in the watch world. We consider that the colour could relate back to the 116610LV. The brilliant green dial and bezel on top of the yellow gold case and the bracelet were stunning and sadly discontinued in 2021. This model was then updated as the 126610LV which had a more conservative black dial with a green bezel.
However, we think that Rolex will shake things up like one of Erik Ten Hag's lineups after Manchester United's 7-0 capitulation to arch rivals Liverpool. They may bring in a different colour scheme altogether from other models such as the GMT Master II 'Root Beer'. This delightful colour scheme has been exceptionally popular since its release in 2018. As Rolex liked to cut parties short, this was promptly replaced with a steel and yellow gold GMT II Master II variation.
Let's be honest, a Rolex Daytona will be valuable even if it came out with a 0.01mm size difference such is the horological pull. However, if the Everose gold and steel colour scheme comes to fruition, this will prompt a surge in demand due to these never before seen hues. It will also mean the watch will be suitable to wear not just for sporting occasions but even at a glitzy dinner with your friends. We therefore predict albeit with no clue whatsoever that a new Rolex Daytona reference will be released in Everose gold and steel with an increased size of 41mm. What say you?
A New IWC Ingenieur Materialises At Watches And Wonders
IWC were so far ahead of the game that they needed to slow down to let others catch up.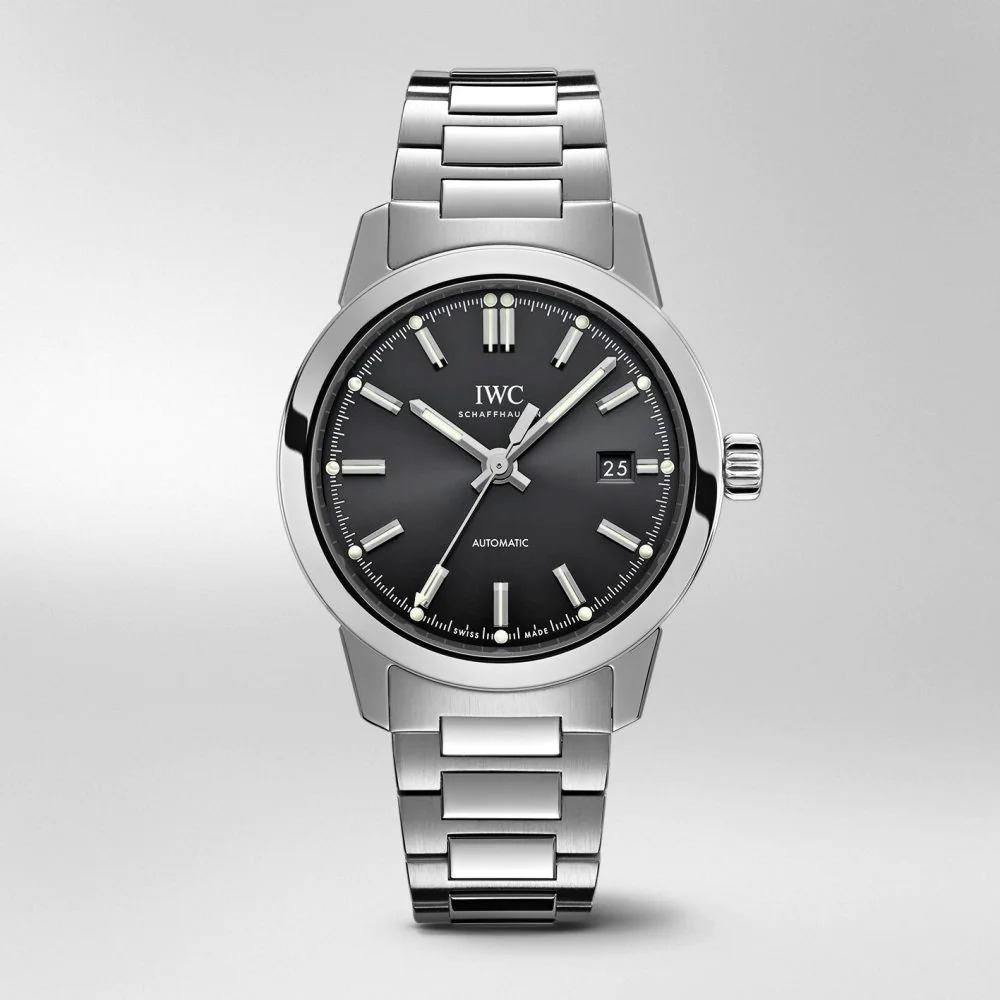 IWC Ingenieur - Source - IWC
Admittedly, that first line may have been slightly clickbaity but there is a little bit of truth to it. The demand for integrated bracelets as we move into an increasing dress watch world is rising. In fact, it's increasing so much that even the big brands are cobbling together to release past models with the integrated bracelet design.
Look no further than the PRX by Tissot which was originally released in 1978. They re-released it in 2021 and found it to be a massive success. Although not one of the top Swiss brands, the PRX is still the hot ticket in watch circles. This isn't an isolated example either. In our previous outlandish article on what we predict for 2023, the Vacheron Constantin Historiques 222 was brought up and for good reason.
Their release of this model in 2022 was extremely sought after, resulting in the possibility of another release in 2023 in the awesome yellow gold and steel colour scheme. Using these precedents, it wouldn't be silly to imagine that IWC joined the timekeeping party with their own integrated bracelet design, The Ingenieur. Think more of Singapore Sling rather than a Jagermeister.
The Igenieuer originates from the period when Gerald Genta was revolutionising the watch design world. As designer of the legendary Patek Phillipe Nautilus and Royal Oak, The Ingenieur could rise from the ashes as the third 'work of art' in the modern era. It doesn't just have the integrated bracelet to sell. It also has 5 exposed screws which although don't marry up to the Royal Oak's octagonal 8 screw design, create the same uncommon allure and retroism which watch peeps are looking for nowadays.
It was said to be released at Watch and Wonders last year but IWC have kept us in insufferable suspense. Previously released in 1955, it was geared for scientists and engineers as there wasn't anything design wise that related it to a dress or sports watch. Using a soft iron shield around the movement, the watches were resistant to magnetism up to 1000 gauss and preceded the highly lauded Rolex Milgauss.
It went from this fairly plain model with the unique 'Ingenieur' logo on the dial to a very bold, dynamic sports watch, offering 120m water resistance, five visible screw holes and a new integrated bracelet. This IWC has the potential to be very valuable if released. Taking inspiration from the Royal Oak and Nautilus, it could join and form a trio of uniquely designed watches with Audemars Piguet and Patek Philippe.
Furthermore, its eclectic design would allow the watch to be worn proudly as a casual chic number at a friend's birthday bash or teasing everyone below shirt sleeves while hosting a seminar. Either way it's definitely worth looking at if you want to buy an IWC.
A new Ignenieur release with an in-house IWC movement and increased anti-magnetism through silicon parts and balance wheel with hairspring could restore IWC Ingenieur's reputation as the anti-magnetic watch of the moment.
Conclusion
In our view, the Watches and Wonders exhibition will be a phenomenal affair with all the big horological dogs at the top table. If our predictions slide the right way, we could see a new world order for Rolex as they alter some of their greatest models like the Daytona and Submariner. As for The Tudor Pelagos, it could obtain even more kudos as the best dive watch around while IWC could modernise a watch that is comparable in aesthetics to the Royal Oak and Nautilus. Exciting times!
We've had a pop and a prod at what we think Watch and Wonders may bring. It's important to reiterate for those placing bets that we have no insider knowledge or have overheard any talk or gossip in Rolex's toilets. You'll just have to stay tuned.
Looking at both past and present, we can only work with what we have with a smattering of licking our fingers in the wind. We hope you enjoyed our bash at what Watches and Wonders could bring and enticed you to buy a watch if any of these come to fruition.
If you're looking to buy a Rolex to get ahead of the predictions or intend to buy an IWC with its Gerald Genta inspired design, why not have a chat with Chrono Hunter today? You only need to have a look at our outstanding Trustpilot reviews to see why we are so revered. Utilising our strong links with established luxury retailers, we can put you in contact with those who offer the best deals around. Feel free to contact us anytime if you are looking to buy a watch or sell a watch!
Discover, hunt, buy, sell
Further Reading:
Top 5 Rolex Watches To Buy This Month
5 Of The Best Watches To Show Off This Holiday Season
Buy Or Sell A Luxury Watch The Smart Way With Chrono Hunter
If you are considering your new purchase or perhaps the sale of a beloved timepiece, Chrono Hunter is the smart way to buy or sell a luxury watch.
Compare Offers from the world's most reputable luxury watch retailers.
Save Time.
Save Money.
Personalised Service.
Hassle-Free.
Trending
Former Procter & Gamble Executive Takes Over As New CEO Of Audemars Piguet
Rolex 1908: Is This The New Face Of Dress Watches For Gen-Z Spenders?
Question Time: How Do I Undo Or Replace My Rolex Strap?
Lab-Grown Diamonds And The Impact On Luxury Watches
New Launch: Hublot Big Bang Unico Nespresso Origin 42mm Made With Recycled Coffee Capsules
Pink Out Your Watch Collection With Our Top Salmon Dials